When Toys Change Everything
One toy can make a world of difference.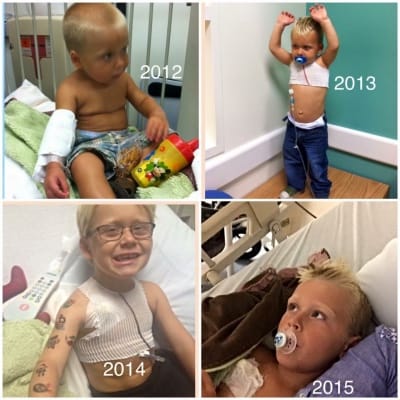 After nearly three years of extended stays at Children's Hospital Los Angeles, this was one of the most enduring takeaways for 6-year-old Valentino Ricciotti and his family. From early 2012 till late 2015, Valen, as his family calls him, was treated at CHLA for opsoclonus myoclonus syndrome (OMS) and neuroblastoma, a rare form of cancer. On some of the worst inpatient days, a new toy would keep Valen smiling for hours when he was too sick to leave his room.
So his family vowed to give back. On behalf of an organization named the OMS Life Foundation, they started a toy drive in Valen's name—an effort to collect toys for patients and money for OMS research.
In 2015 they collected nearly 1,000 toys and almost $2,000 for research. Last year, during the fifth annual toy drive, they collected even more: 1,300 toys and close to $4,000. The Ricciottis distributed the toys to kids at CHLA's outpatient Infusion Center, where Valen himself used to receive chemotherapy and intravenous immunoglobulin therapy.
"It's been the ultimate form of giving back," says Shandi Ricciotti, Valen's mom. "Those toys meant so much to Valen when he was a patient, we just wanted to share that with everybody else."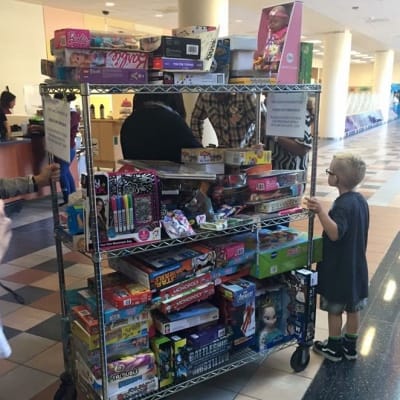 The toy drive is a hopeful legacy for a family that has endured a challenging journey.
That journey began in February 2012. Shortly after his first birthday, Valen lost his ability to walk and sit on his own. Shortly thereafter, he experienced uncontrollable eye movements, his body was constantly shaking and he couldn't lie down because of the internal pain he was feeling. After a frustrating visit to a hospital near their home in Dana Point, California, the Ricciottis brought Valen to CHLA to see Wendy Mitchell, MD, an expert in OMS. She found a small, suspect mass on his scans, and sent him to James Stein, MD, associate chief of Surgery and chief medical quality officer, who surgically removed it. Araz Marachelian, MD, attending physician in the Division of Hematology, Oncology and Blood and Marrow Transplantation, has been monitoring Valen's neuroblastoma as well.
It took considerable treatment to eventually control Valen's neurological symptoms. Because OMS is an autoimmune disease, Valen's body kept attacking his brain. Even after Valen's cancer was removed, OMS relapses persisted for several years. Under Mitchell's direction, Valen received an aggressive treatment protocol of multiple injected and infused immunosuppressants.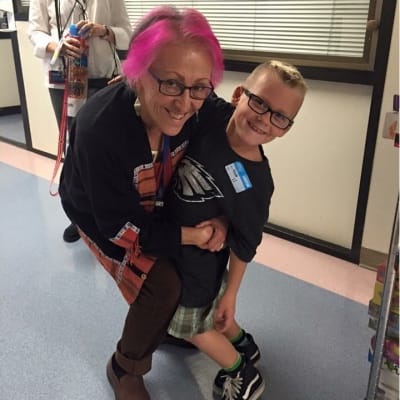 Because Valen's immune system was so vulnerable during this time, his doctors advised partial isolation, to avoid extensive exposure to viral illnesses. During this treatment at CHLA, the toys were invaluable.
Later in his treatment cycle, another favorite pastime of Valen's was hanging out in the Jane Vruwink Palmer Healing and Play Garden, and in one of the Child Life playrooms. On the playground, he'd climb on the play structure and run across the spongy fall surface. In the playroom, especially when his older sister visited, the two of them played video games they didn't have at home.
Finally, gradually, in early 2015 Valen started improving. He concluded OMS treatment in November 2015. While he experienced some lingering effects from the disease, he emerged a happy, healthy and incredibly rambunctious little boy. Mitchell, whom Valen loves for her pink hair, describes him as a "cute surfer boy who loves to do tricks" on a skateboard.
"When you consider how coordinated he is, and what he can do with sports and activities, it's pretty amazing," says Mitchell, who also serves as a professor of Clinical Neurology for the Keck School of Medicine of the University of Southern California. "He's a fearless little boy."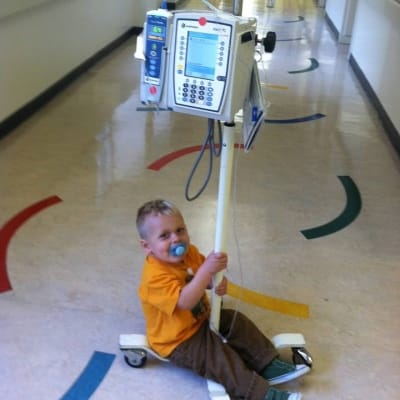 Still, since 2015, Valen has been grappling with other health issues. Due to lingering effects of OMS, Valen is cross-eyed, and is being treated by Mark Borchert, MD, director of the Eye Birth Defects and Eye Technology Institutes in The Vision Center at Children's Hospital Los Angeles. Last year he also was diagnosed with severe ulcerative colitis (UC), a condition that requires him to receive shots in the abdomen to suppress his immune system for the foreseeable future.
Despite these struggles, and despite the very real possibility of contracting a secondary disease or another type of cancer as a result of the medications he has been on, Valen and his family have managed to stay positive, focusing on their successes instead of the setbacks.
"I used to think that hospitals were bad, but [CHLA] makes kids like me feel good," says the 6-year-old. "I think Children's is the best."
His mother, Shandi, agrees.
"I don't know where we'd be without CHLA," she says. "We're all so traumatized by everything [Valen] has been though, and our team at [CHLA] has made this ordeal easier than it would have been anywhere else. Every single day, we are incredibly thankful for everything they've done for us."
—Matt Villano
How you can help
To help kids just like Valentino, please consider making a donation to Children's Hospital Los Angeles. Visit CHLA.org/Donate.