Children who visit our hospital are treated to an opportunity to play.
Outside the HBO Cafe, families can dine next to a whimsical, universally accessible playground with musical instruments, simulated sounds of the ocean and climbing sculptures in a garden setting.
The Jane Vruwink Palmer Healing and Play Garden, designed by Shane's Inspiration, is installed in front of the entrance to the Marion and John E. Anderson Pavilion.
Our play area delivers one of the most important visual messages to our patients and their families—that Children's Hospital is a place that honors children. When children are faced with traumatic illness or injury, we need to allow them to find joy.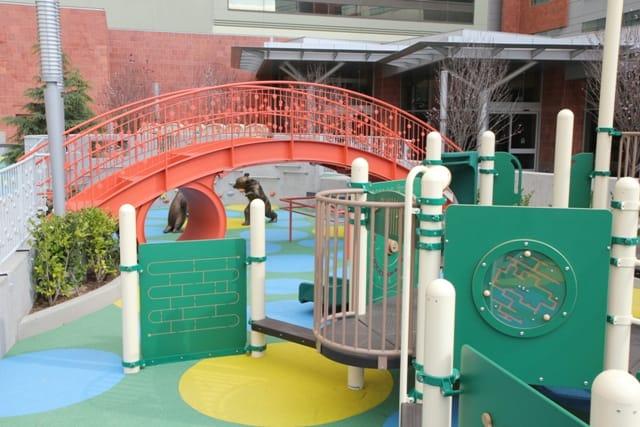 The Jane Vruwink Palmer Healing and Play Garden is available every day for visitors, patients and staff of all abilities. It is located in front of the HBO cafe of the Marion & John E. Anderson Pavilion. 
No smoking is allowed in the garden.
A designated smoking area is provided outside of the garden area.
Should you wish to smoke, please follow the signs to the smoking area.
A Winning Partnership
Shane's Inspiration, the non-profit organization who designed the play area, is dedicated to improving the lives of children with disabilities by creating universally accessible playgrounds. 
Shane's Inspiration leverages an entire team of advisors for each playground design, incorporating the expertise of physical, developmental and music therapists.

More About Shane's Inspiration
Simms/Mann Family Foundation Playground
Designed to accommodate children with wheelchairs, leg braces, crutches and other barriers that usually leave them sidelined at traditional playgrounds, the new play area also will feature sound and visual stimulation for children with hearing or vision loss. Children with no health limitations also enjoy the space. The play garden offers an environment for children to regain their much-needed sense of normalcy through outdoor fun in the California sunshine. Subtle changes in elevation and resilient rubber surfacing allows for the accessibility for wheelchair participants.
The area will provide many different forms of sensory stimulation through creative features such as the tonga drums, rain wheel and marimba musical panels. Children may climb bronze beaver, bear and penguin sculptures and enjoy an interactive sensory wall with buttons that make water spout out and simulate the sounds of sea creatures. Other unique features include different types of abacuses with wood beads, chime pipes and seashell and starfish climbing handholds.
Our main goal was to create a space that addressed specific disabilities, but also provided a common play area that's fun for siblings as well," explains Diane Scanlan, associate director of design for Shane's Inspiration, who designed the play area for Children's Hospital. "For example, we created a tunnel for kids to climb through and hear the sounds of waves crashing and thunder; next to the tunnel, there is a bridge that a child in a wheelchair can go under and hear the same sounds.
Outdoor Space at Our Hospital
The play garden is the second outdoor space created at our hospital. Recognizing the important healing aspects of nature, the hospital unveiled the Joyce and Stanley Black and Family Healing and Meditation Garden in 2004.
Located in front of the John Stauffer Lobby, the garden is a blissful sanctuary, with contrasting foliage and colorful children's art, where families, patients and staff are regularly seen having a picnic lunch, playing or quietly reading.