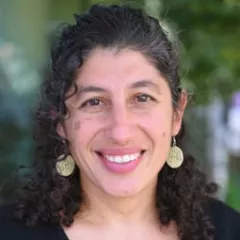 Araz Marachelian, MD, MS
Medical Director of Neuroblastoma MIBG Program
Attending Physician; Hematology, Oncology and Blood and Marrow Transplantation
Assistant Professor of Clinical Pediatrics, Keck School of Medicine of USC
Dr. Araz Marachelian is a board certified pediatric oncologist whose clinical and research focus is neuroblastoma. Dr. Marachelian completed her pediatric oncology fellowship training at CHLA with an emphasis on investigation at the New Approaches to Neuroblastoma therapy Consortium. She also obtained a masters in clinical investigation at USC. Dr. Marachelian is the medical director of the Neuroblastoma MIBG Program, and has also been the medical director of Operations of the NANT consortium since 2010. In this role, she is integrally involved in protocol development at the NANT consortium and oversees the conduct of studies and their completion. Her research emphasis is on studying new immunotherapeutic approaches to the treatment of neuroblastoma as well as in studying minimal disease detection. Dr. Marachelian chairs clinical trials within the NANT consortium, and leads the post consolidation task force in Children's Oncology Group.
Education
Medical School
University of California Irvine School of Medicine
Graduate School
University of Southern California (MS - Clinical Investigation)
Internship
Children's Hospital Los Angeles, Pediatrics
Residency
Children's Hospital Los Angeles, Pediatrics
Fellowship
Children's Hospita Los Angeles, Pediatric Hematology/Oncology
Accomplishments
Certification
Pediatrics
Pediatric Hematology/Oncology
Memberships
Member, American Society of Pediatric Hematology Oncology
Member, American Society of Clinical Oncology
Member, American Association for Cancer Research
Member, COG ANBL0532 committee (intermediate risk neuroblastoma)
Member, COG neuroblastoma non-high risk task force committee
Reviewer Pediatric Blood and Cancer
Co-leader, COG high risk maintenance task force committee
Abstract Reviewer and Translational Session Chair, Advances in Neuroblastoma Research, 2014
Member Advances in Neuroblastoma Research Association, 2014
Co-leader, COG OMA taskforce, 2013
Member, Pharmacy and Therapeutics committee, Children's Hospital Los Angeles, 2007-2011
Medical Awards
Cancer Clinical Investigator Team Leadership Award (CCITLA), 2015
Southern California Super Doctors, 2014
Pasadena Top Doctor, 2013
Nomination Humanism Award, 2010
Southern California Super Doctors, 2009-2010
AACR/ASCO Award for Clinical Trial Training Workshop, 2005
Outstanding Achievement in Pediatrics and Psychiatry, UC Irvine, 1999
High Distinction of Honors at Graduation, UC Berkeley, 1995
Outstanding Service Award, UC Berkeley, 1995
National Science Foundation Award for Undergraduate Research, 1994
Research
Research Summary
Dr. Marachelian is the head of the New Approaches to Neuroblastoma Therapy Consortium (NANT) which seeks to improve the survival rates and quality of life for children with this aggressive cancer.  Her research focuses on immunotherapies and minimal residual disease detection with an aim toward identifying novel agents that both target the cancer cells and the surrounding environment of normal cells that support tumor growth.