Associates & Affiliates
The Associates & Affiliates (A&As), Children's Hospital's all-volunteer force of 3,000 dynamic women and men have raised support for the hospital since 1914. Currently, there are 37 A&A Groups all raising funds for projects designed to enhance vital services for children. The A&As raise money and goodwill for Children's Hospital Los Angeles.
Current Projects
The Associates Endowed Chair for the Chief of the Children's Orthopaedic Center
The Associates Endowment for Liver and Intestinal Research
Affiliate Groups' Projects
Anchors Guild
Antelope Valley Guild
Bel Air Guild
Della Robbia Guild
Glendale Auxiliary
Las Hermanas Guild
Las Primeras Guild
Mary Duque Guild
Monrovia Guild
Northridge Guild
San Antonio Guild
Santa Monica Bay Auxiliary
Sierra Guild
Toluca Guild
Whittier Guild
BrightEyes - The Vision Center
Delta Delta Delta - Hematology / Oncology Research
FOCUS - Literally Healing Program
Friends of Children's Hospital - LIFE Program
Healing Arts Reaching Kids (HARK) - Expressive Arts Therapies
Las Madrinas Endowment for the Chief of Neurology Chair and the Neurological Institute Epilepsy Program
Pasadena Guild - Pasadena Guild Chair, Pediatrician-in-Chief and Sr. Vice President, Academic Affairs
Project CHLA - Cardiology
Spiritual Care Guild - Spiritual Care Program
The Green House - The Green House Endowment for Surgical Research
This Little Light - Plastic and Reconstructive Surgery
Meet the A&A's Chairman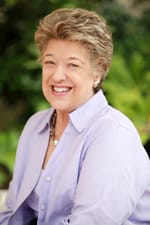 Bonnie McClure, Chairman, Associate and Affiliates; Member, Board of Trustees began her dedication to Children's Hospital Los Angeles as a volunteer when she was 17 years old.
Mrs. McClure served on the hospital's board of directors for 19 years and is a current member of Children's Hospital Los Angeles' board of trustees. She is a member and was past president of Children's Chain, and is an active member of the Spiritual Care Guild, two of the hospital's 37 Associate and Affiliate groups.
Mrs. Duque personally appointed Mrs. McClure as chairman of the Associates and Affiliates' long running and successful annual Doll Fair fundraiser, a four-year commitment. She served as co-chair of four hospital-wide premier theater fund raising events: Phantom of the Opera, Cirque du Soleil, Sunset Blvd., and Beauty and the Beast.
Mrs. McClure helped coordinate Children's Hospital Los Angeles' Centennial Celebration and its many events, in 2001. Her dedication continues as she trains the hospital's tour docents and manages the hospital's archives.
Mrs. Wilson stated, when she appointed Mrs. McClure as her successor, "Bonnie's devotion to Children's Hospital Los Angeles and our young patients knows no bounds."