Donate Items - Car Donation and Miscellaneous Items
Car Donation Program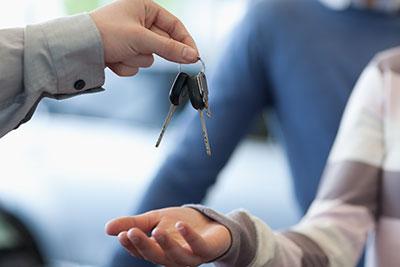 Your tax-deductible car donation helps to fulfill our mission: to create hope and build healthier futures.
Each year, more than 96,000 sick children come to our hospital for care. But we can't take care of these children alone. Support from the community helps pay for the breakthrough therapies and treatments that save young lives each year. Our vehicle donation program is a great way you can provide this support and get a deduction on your taxes!
Donating your vehicle is easy!
We accept the following vehicles:
Cars
Trucks
Vans
SUVs
Motorcycles
Boats
Trailers
Schedule Your Vehicle Donation Today
To schedule your donation, please call Riteway Charity Services at 888-366-0007, visit their website or go directly to the online donation form. Your vehicle donation will directly benefit Children's Hospital Los Angeles!
How It Works
Convenient, fast, free pick up and towing from anywhere in California
Acceptance of all vehicles as a donation, whether they are running or not
Professional service with a simple and easy vehicle donation process
The maximum possible charitable tax deduction for your vehicle donation
Thank you for your interest in making a vehicle donation to benefit the young patients receiving care at Children's Hospital Los Angeles.
Donate Toys
We welcome your toy donations for our patients. You can't imagine the difference your gift can make to a hospitalized patient. Learn more about donating toys.
Donate Baby Gear
Learn more about how to donate baby gear.
Donate Books
Learn more about how to donate books.
Donate Miscellaneous Items
To donate equipment, appliances, clothing, used books, or furniture, please deliver your items to one of the thrift shops managed by our Associates & Affiliates groups.
South Bay
South Bay Auxiliary Thrift Shop 
1418 Aviation Boulevard 
Redondo Beach, CA  90277 
310-376-3991
Delivery Hours 
Mon - Sat: 10:00 am - 4:00 pm 
Small items accepted at front door 
Large items should be dropped at the back door
Burbank
La Providencia Guild Thrift Shop 
3301 West Burbank Blvd. 
Burbank, CA  91505 
818-845-6606
Delivery Hours 
Tue - Sat:  10:00 am - 4:00 pm 
Donations accepted at the back door
Questions About Making an In-Kind Gift?
Please contact the Children's Hospital Los Angeles Foundation via e-mail at foundation@chla.usc.edu or by phone at 323-361-2308.