Surgery Nursing
Surgical Admitting
Nurses in Surgical Admitting help prepare children for surgery.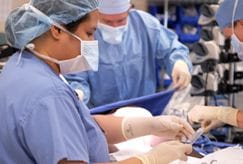 Operating Room
Nurses who work in the Operating Room of our hospital provide surgical care to children of all ages (neonate to young adult) who are to undergo general anesthesia for operative or invasive procedures. We perform more than 15,500 pediatric surgeries a year, including more complex surgical procedures than any other hospital in Southern California:
900 cardiothoracic surgeries, including heart, lung and heart-lung transplants
550 cardio catheterizations
720 neurosurgeries
1,585 orthopaedic surgeries
Post Anesthesia Care Unit (PACU)
The Post Anesthesia Care Unit (PACU) includes 10 beds. The average length of stay for these patients is four days - this is a fast-moving unit with great emphasis on the fundamentals of pediatric nursing. Find out more about PACU care.
Surgical and Medical Specialties
The following surgical and medical specialties are represented at our hospital:
Anesthesiology
Bone Marrow Transplant
Cardiothoracic Surgery
Dental Surgery
Gasteroenterology
General Pediatric Surgery
Neurosurgery
Oncology
Ophthalmology
Orthopaedic Surgery
Otolaryngology
Plastic Surgery
Urology
Surgery Facilities
The operating room facilities consists of 15 state-of-the-art surgical suits (two of which have been upgraded to support the growing field of pediatric minimally-invasive surgery) and four on-campus Ambulatory Surgery Center suites. A new da Vinci robot offers our patients an alternative to, not only traditional open surgery, but also to less traditional laparoscopic surgery.
Get Started
New registered nurses, skilled registered nurses with no operating room experience and trained operating room registered nurses are all welcome in this supportive educational environment. To get started at our hospital, please visit our Current Nursing Opportunities information online.