Collaborative Governance (CG) involves staff members in the process of decision-making and communication. Children's Hospital Los Angeles is unique in its CG structure because it involves all disciplines within Clinical Services. This structure facilitates communication and optimizes team member participation in decision-making across all disciplines.
Collaborative Governance Mission
To facilitate the provision of quality pediatric patient and family-centered care founded in collaboration, cultural sensitivity and innovation and supported by research and evidence-based practice.
Collaborative Governance Vision
The Clinical Services (CS) Councils guide decision-making processes at Children's Hospital Los Angeles and facilitate active participation and leadership by direct care staff members. Council recommendations support the provision of outstanding family-centered care, cultural sensitivity, lifelong learning, collaboration, and evidence-based practice.
Collaborative Governance Philosophy
The CS Councils embody the philosophy of collaborative governance in that responsibility for oversight of Clinical Services initiatives is shared equally among the disciplines that comprise the disciplines. The council model also serves to standardize the structure of the work groups at the unit/discipline level, to ensure consistent participation as well as encourage active involvement from areas that are sometimes underrepresented in hospital decision-making.
Collaborative Governance Structure
Clinical Practice & Education Council (CPEC)
Functions with the authority to make recommendations and decisions in relation to discipline-specific and interdisciplinary clinical practice standards and education.
Quality Council
The Quality Council provides oversight, integration and coordination of initiatives and programs which drive the pursuit of improved quality outcomes such as performance improvement, infection control, patient satisfaction, patient safety and regulatory issues.
Research Council
The CS Research Council promotes and supports CS research and the use of evidence-based practice at CHLA. The work of this council provides a streamlined process and a network of resources for CS team members conducting research or evidence-based practice projects.
Professional Development and Recognition Council
The Professional Development and Recognition Council provides oversight, integration and coordination of initiatives and functions that support and enhance the professional development and recognition of team members. This includes recognition programs such as the DAISY award and efforts to provide visibility of the various professional development opportunities throughout the enterprise.
Administrative Council
Supports all council co-chairs as a forum for disseminating issues, delineating unresolved issues, promoting inter-council communication and facilitating leadership skills development.
Department Collaborative Governance Councils (DCGC)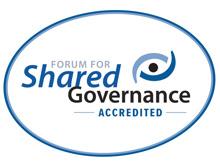 DCGCs function to bring together interprofessional department staff and leaders to collaboratively provide leadership and direction needed to improve professional practice in each work area. ​DCGCs have the authority for decision making relative to the functioning of the departments they represent.​Their purpose is to provide oversight and a forum of collaborative leadership for staff and management in addressing the operational, clinical, educational, and recruitment and retention needs of all clinical service departments.