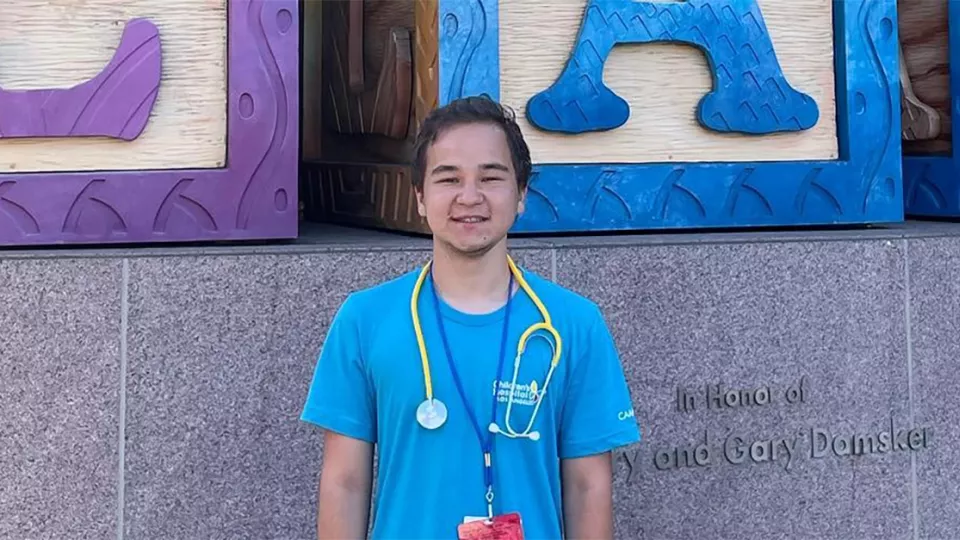 Our Patients
Teen Cancer Survivor Gives Back—With Gusto!
Zen, 17, has turned his passion for violin performance into a way to raise funds for Children's Hospital Los Angeles, in gratitude for the lifesaving care he received after being diagnosed with a rare childhood cancer as a toddler.
Even if classical music isn't your jam, chances are you've heard of Carnegie Hall. The prestigious concert venue in New York City has showcased nearly all of the world's top classical musicians since its opening in 1891. To say you've played at Carnegie Hall is one of the great badges of musical honor.
Last summer, 17-year-old Zen—a grateful patient and advocate for Children's Hospital Los Angeles—earned that honor. Zen is a violinist in the Pasadena Youth Symphony Orchestra (PYSO). More specifically, he's a member of the PYSO's Philharmonic Ensemble, which includes only the orchestra's most talented young musicians.
"We had the most amazing opportunity to go to New York and play at Carnegie Hall—on my 17th birthday! Total coincidence," Zen says, "and definitely one of the best birthdays I've had by far."
Zen started playing violin when he was 11, "somewhat late for people in the PYSO, since most start between 4 and 6." But Zen had to focus on other things in his youngest years—including battling cancer.
'In the best hands'
In February 2008, Zen was diagnosed with stage 4 neuroblastoma, a rare and difficult-to-treat pediatric cancer that affects about 700 kids in the U.S. each year. He was 2½ years old, and his mom, Atsuko, was pregnant with her third child.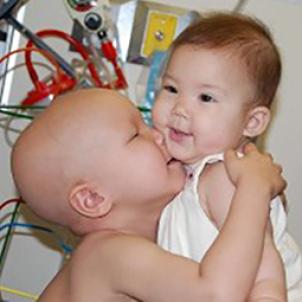 "My mom says when she heard the news, she just started crying, and my dad didn't know how to react," says Zen. "They felt helpless. All you can do as a parent is rely on the doctors, trust your child is in the best hands and pray it works out."
From the beginning, Zen's care has been overseen by Araz Marachelian, MD, MS, Medical Director of the Neuroblastoma MIBG Program in the Cancer and Blood Disease Institute at Children's Hospital Los Angeles. Dr. Marachelian is among the country's top experts in neuroblastoma clinical care and research.
The first step in Zen's treatment was chemotherapy to shrink the tumors in his abdomen. There were five days between his first and second rounds of chemo—which gave Atsuko just enough time to give birth to baby Scarlett.
"There I was with a newborn baby in one arm and Zen on my other hand, going to CHLA for his treatment," Atsuko recalls. "It was rough, but Scarlett gave great comfort to Zen during his treatment. I felt like she was a gift to us during our darkest time."
After five rounds of chemo, Zen has his first surgery to remove the cancerous tumors. Next, he underwent a bone marrow transplant to eliminate any remaining cells that might be "hidden" and resistant to continued therapy. In March 2009, Zen's scans came back clear, and Dr. Marachelian moved him to a maintenance and prevention phase, which included immunotherapy. To this day, thankfully, there has been no recurrence of neuroblastoma.
"It takes five years to say you're in remission," Zen says, "so when I was about 8 or 9, it started to feel like we could relax a little bit. But then I developed another cancer."
At 12, Zen was diagnosed with mucoepidermoid carcinoma (MEC), an unrelated cancer of the salivary glands, which was successfully removed with surgery. All told, he has had multiple surgeries, six rounds of chemotherapy, 40 days of radiation and a bone marrow transplant. It hasn't been easy, but Zen is a survivor, and he is determined to live life to the fullest.
Striving for excellence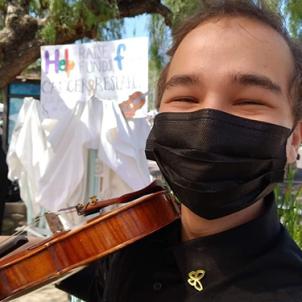 Zen's zest for life is evident in everything he does. Not surprisingly, he's an exceptional student.
"I take my education seriously, ironing out my academics and balancing it out with extracurriculars," he says. "I believe in putting in your best work every chance you get."
One of those extracurricular activities is playing violin. What's especially impressive about Zen's musical accomplishments is that he plays despite significant hearing loss—a common side effect of cancer treatment.
"Hearing has definitely been a struggle," he says. "I have hearing aids, but I specifically do not wear them while I'm playing music because of the authenticity of the sound. It just doesn't sound right."
In addition to performing with the Pasadena Youth Symphony Orchestra, Zen is the concertmaster of the Pasadena High School Orchestra. It's an important role that he is eager to explain, with his characteristic humility.
"Concertmaster is the person that sits on the outside part of the orchestra and is the lead violinist. They really only conduct when their conductor is absent." Or, as it turns out, when you are invited to guest-conduct the Pasadena Symphony and POPS Orchestra's playing of the national anthem, which he did last summer—in front of 5,000 people.
Also last summer, Zen was selected from hundreds of local high school students to attend Camp CHLA for five days of education, observation and participation in the daily activities of health care professionals at Children's Hospital Los Angeles.
"My mom mentioned Camp CHLA when I was looking for summer programs, and I was thrilled to get in!" he says. "I've been interested in a career in the medical field since I started high school, and this was an amazing opportunity to learn more about it."
Inspired to give back
Zen feels deep gratitude to Children's Hospital Los Angeles and all of the doctors, nurses and scientists who specialize in pediatric cancer for saving his life.
"I'm determined to put my skills to good use and raise money for neuroblastoma research at CHLA, as a way to give back and say thank you," he says.
In the last year, Zen has raised more than $8,300 toward his goal of $10,000 by asking for donations through his CHLA fundraising page and by giving public performances around his hometown of Sierra Madre, California.
Zen also hopes that by sharing his story, he can help make a cancer diagnosis a little less scary for other families.
"I remember my mom telling me she would go online and look for statistics and numbers [about neuroblastoma], which just worried her more. But imagine if families went online and found a story that was positive, with a positive future?" says Zen. "One of my goals is to be the type of story people come across and think, 'Hey, maybe it's going to be OK.' It would make parents worry less and they wouldn't have to go through what my mom went through."
Click here to help more kids like Zen.