Nurses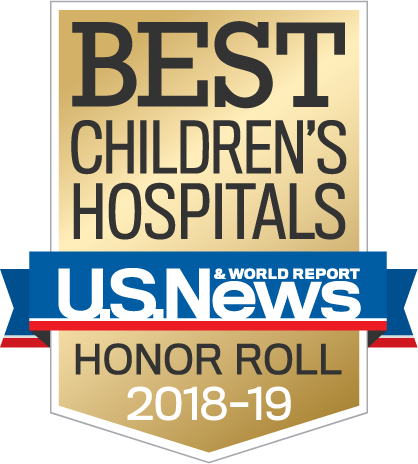 Our nurses are partners in the multidisciplinary care teams that form around each child we treat. People come from across the country and beyond to enjoy our working environment. We are a regional referral center for children, providing care in a multitude of subspecialties. As a result, we receive patients with a wider variety of health disorders than most community hospitals.
Nurse Education Program
Our commitment to care begins with our commitment to supporting our nurses' career goals. We are the founding hospital for the Versant RN Residency Program, now implemented across the nation to improve nurse education.
Training and Mentorship Opportunities
A new registered nurse (RN) graduate goes through a 22-week residency program and is precepted one-to-one by an experienced RN for the duration of the program.
New hire experienced RNs are also precepted for six weeks and mentored for the duration of their probationary period.
Children's Hospital Los Angeles (CHLA) offers nurses and RNs the opportunity to specialize in several critical care areas.
Cardiovascular Care Nursing

Hematology-Oncology Nursing

Neonatal Intensive Care Nursing
Cardiovascular Nursing Care
The Heart Institute at CHLA is known as an international leader in the treatment of heart disease and lung disorders in children. It is the largest pediatric cardiovascular center in the West, and serves as a global referral center. We provide virtually every advanced treatment for heart disorders and defects affecting children.
Cardiovascular Acute Unit
The Helen and Max Rosenthal Cardiovascular Acute Care Unit is a 21-bed unit. Nurses on this unit provide care for patients who are awaiting transplants and need intensive monitoring during this process.
Cardiovascular Cardiothoracic Intensive Care Unit (CTICU)
The 24-bed Cardiothoracic Intensive Care Unit, staffed by pediatric intensivists and located in the Heart Institute, is the only dedicated, separately-staffed unit for pediatric patients on the West Coast. About 900 patients are admitted each year, including children with the most complex diseases of the heart and lung.
Child Abuse and Neglect
The Audrey Hepburn CARES team provides comprehensive medical and mental health services to children in who are suspected victims of child maltreatment, including sexual and physical abuse, neglect and HIV infection.
Cardiothoracic Intensive Care Unit (CTICU)
The 24-bed Cardiothoracic Intensive Care Unit, staffed by pediatric intensivists and located in the Heart Institute, is the only dedicated, separately-staffed unit for pediatric patients on the West Coast. About 900 patients are admitted each year, including children with the most complex diseases of the heart and lung.
ECMO (Extracorporeal Membrane Oxygenation)
CHLA has one of the most active and productive Extracorporeal Membrane Oxygenation (ECMO) programs in the United States, providing long-term cardiac and pulmonary bypass support for infants and children who are in life-threatening cardiac or cardio-respiratory failure in the PICU, the CTICU and Center for Newborn and Infant Critical Care.
Emergency Department (ED)
The Emergency Department at CHLA cares for more than 66,000 infants, children and adolescents each year. Half of these children are managed through our Kids Care, or urgent care unit. The other half are often treated for severe illness or critical injury in our Emergency Department. The Department manages more than 25 percent of all pediatric emergency cases in Los Angeles County.
Emergency Transport
CHLA is home to a dedicated Emergency Transport Program that serves as a regional resource for children suffering from life-threatening illness or injuries who need very specialized medical care. When our transport team arrives at remote sites, they are bringing with them the cutting-edge intensive care capabilities provided at CHLA.
Newborn and Infant Critical Care Unit (NICCU)
The 58-bed Newborn and Infant Critical Care Unit provides innovative therapies for critically ill newborns and extremely low birthweight infants requiring Level III neonatal care, transferred from other hospitals to CHLA. In addition to providing ECMO, the tertiary care provided, includes nitric oxide and high frequency ventilation.
Pediatric Intensive Care Unit (PICU)
The 24-bed Pediatric Intensive Care Unit, is the largest such unit on the West Coast, providing care for trauma cases, critical medical cases and post-operative surgical patients from all subspecialties. Nearly 1,400 critically ill patients – too sick to be treated on general inpatient floors – are admitted each year for specialized medical and nursing services.
Because of our diverse patient population, we are well-versed in an array of pathophysiology and nursing management issues. The technologies used in the unit include non-conventional ventilation, nurse-run hemofiltration and extracorporeal membrane oxygenation (ECMO).
Our nurses are required to obtain pediatric advanced life support (PALS) certification and Association of Pediatric Hematology/Oncology Nurses (APHON) certification in chemotherapy and biotherapy within the first year of hire. They are also encouraged to receive certification in critical care nursing (CCRN) within the first three years of employment at Children's Hospital Los Angeles.
Trauma
CHLA is the only freestanding Level 1 Pediatric Trauma Center in Los Angeles County approved by the County Department of Health Services and accredited by the American College of Surgeons. We treat more than 1,100 pediatric trauma patients annually.
Our Children's Center for Cancer and Blood Diseases is one of the nation's largest pediatric hematology/oncology programs.
The Center sees nearly 1,200 newly diagnosed patients and patients seeking second opinions annually, and the Center's outpatient clinic sees nearly 25,000 visits a year.
Bone Marrow Transplant
The 14-bed Bone Marrow Transplant Unit treats a variety of malignant and non-malignant disorders with autologous hematopoietic stem cell transplants, allogeneic related hematopoietic stem cell transplants, allogeneic unrelated hematopoietic stem cell transplants and related and unrelated cord blood stem cell transplants. The unit is accredited by the Foundation for the Accreditation of Cellular Therapy (FACT).
The first bone marrow transplant was performed at Children's Hospital Los Angeles in 1983. More than 1150 hematopoietic stem cell transplants have been performed at the hospital, and approximately 50 to 60 are performed annually.
There are two separate inpatient hematology/oncology units - collectively comprised of approximately 85 percent oncology patients and 15 percent hematology patients, treating children requiring:
Diagnostic work to establish a new diagnosis
Administration of standard and investigational chemotherapy
Treatment of complications of therapy
Supportive care
End-of-life-care
The most common childhood cancer disorders treated at our hospital include leukemia and central nervous system tumors. The most common hematological disorders include sickle cell anemia, thalassemia and aplastic anemia.
About Our Care Units
Unit 4 East is for children with leukemia, lymphoma and hematology patients. Unit 4 West is for children with bone and soft tissue tumors and other solid tumors, central nervous system tumors and step-down hematopoietic stem cell transplant patients. 4 East and 4 West have 48 beds in total.
The Outpatient Center's ambulatory practice accommodates most procedures, including those requiring general anesthesia or conscious sedation. These clinics deliver comprehensive care in hematology, oncology, bone marrow transplant and the Long-term Information Follow-up & Evaluation (LIFE) program. The outpatient area also includes the Hematology/Oncology Day Hospital, radiation oncology, urgent care and a referral service.
5 East
Unit 5 East is a 32-bed unit for:
Adolescent medicine
Allergy-immunology
Neurology
Hematologic disorders
Genetics
Common pulmonary disorders treated on 5 East include pneumonia, bronchiolitis, asthma and cystic fibrosis, with complications.
5 West
Unit 5 West is a 32-bed unit for:
General pediatrics
Infectious diseases
Pulmonary conditions
Rheumatology
Diabetes, endocrine and metabolic disorders
This unit can accommodate up to 15 home ventilator and/or bilevel positive airway pressure (BiPAP) patients who are stable enough to be outside an intensive care setting. It is the only non-intensive care unit in the hospital managing patients with diabetic ketoacidosis on insulin drips. Common infectious diseases treated on 5 West include tuberculosis, pertussis and Kawasaki disease.
6 East
6 East is a 32-bed unit caring for children who have undergone procedures from the following specialty areas:
Ear, Nose and Throat (Otolaryngology)
Neurosurgery
Orthopaedic Surgery
Plastic and Maxillofacial Surgery
Urology
6 West
6 West is a 32-bed unit caring for children who have undergone procedures from the following specialty areas:
Gastroenterology
Nephrology
Ophthalmology
Pediatric Surgery
Solid Organ Transplant (excluding cardiothoracic transplants)
6 North
6 North is a blended, 30-bed, acute medical/surgical and rehabilitation unit. The Division of Rehabilitative Medicine treats children with:
Anoxic brain insults
Cancer and blood diseases
Cystic fibrosis
General surgery
Head trauma
Juvenile Rheumatoid Arthritis
Orthopedic
Rheumatoid diseases
Spinal cord injury
We care for critically ill newborns and infants that are born at other hospitals and transported to CHLA. The majority of infants transferred in need immediate medical or surgical intervention, followed by intensive nursing care. Some examples of the children we see, include:
Newborns and infants with surgical emergencies
Medical and surgical conditions associated with complications of extreme prematurity
Persistent pulmonary hypertension of the newborn requiring complex cardiopulmonary management and possibly extracorporeal membrane oxygenation
Preterm and term neonates with congenital heart disease, often having multiple other congenital anomalies
A host of general pediatric surgical and surgical subspecialty conditions affecting newborns
Our state-of-the-art NICCU is a tertiary regional center. It is specifically designed to address the needs of critically ill infants and promote family-centered care. We are actively involved and included by administrators and physicians in making care decisions and process changes on the unit.
Number of Beds, Volumes and Offerings
58 beds in private or semi-private rooms
Approximately 450 admissions of critically ill infants annually requiring neonatal medical and surgical subspecialty services, including ECMO and total body cooling.
March of Dimes Family Support Center
Training and Mentorship Opportunities
Specialized nurse training for ECMO and peripherally inserted central catheter (PICC) insertion
Versant RN Residency Program
Annual Neonatal Conference, designed and coordinated by staff nurses
Social Events
Biennial Neonatal Reunion and Health Fair
Annual Winter Holiday Party
The NICCU offers some of the latest advances in medicine. We have one of the first, and largest ECMO programs in California, and provide an extensive total body cooling/hypothermia program, nitric oxide therapy, and neurally-controlled ventilation.
Magnet Initiatives
Collaborative Governance
The NICCU has staff representatives on all four collaborative governance councils, including three members on the House of Representatives. Participation in the councils has allowed our staff to be increasingly involved in decision-making and implementation of new educational activities. They have also been able to lead change and transformation at the unit level.
Culture of Safety
Providing a culture of safety for our patients and families is a priority in the NICCU. Parents and families register at the reception desk upon arrival to the unit and are directed to their child's bedside by the unit assistant after proper hand hygiene.

Also, there is only one entrance to the unit to keep our patients, families and staff safe. Parents are encouraged to notify their nurse or a manager of any patient safety issues. Staff education on patient safety is ongoing, with performance improvement projects in process at all times.
Family-centered Care
Parents of infants are welcome in the unit at all times. One parent may spend the night beside their child during the night, which allows for parent-infant bonding and opportunities for parent education.

March of Dimes Parent Hour is held each month, focusing on a variety of interesting topics. Past topics include craft activities, facilitated by parents of previous NICCU patients, an hour dedicated to the introduction of Music Therapy for Infants led by our music therapist, and a presentation by one of the NICCU nurses on Infant Massage.

In addition, the NICCU Family Centered Care Committee sponsors NICCUniversity, an hour designated to teaching parents about various topics regarding the NICCU and its environment. Parents are encouraged to participate in their infant's care, when appropriate.
Surgical Admitting
Our nurses assess healthy, as well as chronically ill and fragile patients, preparing them prior to being cared for by anesthesia and the surgical team for procedures provided by one or more of the surgical specialties.
Operating Room
Nurses who work in the Operating Room of our hospital provide surgical care to children of all ages (neonate to young adult) who are to undergo general anesthesia for operative or invasive procedures. We perform more than 15,500 pediatric surgeries a year, including more complex surgical procedures than any other hospital in Southern California.
The unit consists of 15 state-of-the-art surgical suites (two of which have been upgraded to support the growing field of pediatric minimally invasive surgery) and four on campus Ambulatory Surgery Center suites where, in combination, approximately 16,000 cases are performed annually.
A new da Vinci robot offers our patients an alternative to, not only traditional open surgery, but also the usual laparoscopy technique. New registered nurses, skilled registered nurses with no operating room experience and trained operating room registered nurses are all welcome in this supportive educational environment.
Post Anesthesia Care Unit (PACU)
The Post Anesthesia Care Unit (PACU) includes 10 beds. The average length of stay for these patients is four days; this is a fast-moving unit with great emphasis on the fundamentals of pediatric nursing. We care for children of all ages ranging from infants to adults in both our 22-bed main recovery room and our 13-bed ambulatory surgery center recovery room. Nursing skill level ranges from novice – including new graduates to expert clinical nurses able to manage the care of critically ill patients while in PACU.
Surgical and Medical Specialties
6 West is a 32-bed medical-surgical unit. We specialize in renal and liver transplant but also care for children receiving care from the following specialties:
General surgery
Intestinal rehabilitation
Nephrology
Gastroenterology
Urology
Annual Social Events
Moving day celebration
Staff Christmas party
New Year's celebration at work
6 West newsletter
All of our staff, including patient care service aides (PCSA), has Basic Life Support (BLS) certification. Our licensed personnel have the following certifications:
Certified Pediatric Nurse
Pediatric Advanced Life Support (PALS)
Advanced Cardiac Life Support (ACLS)
Chemotherapy Administration Certification
Transplant
Surgery Facilities
The operating room facilities consists of 15 state-of-the-art surgical suits (two of which have been upgraded to support the growing field of pediatric minimally-invasive surgery) and four on-campus Ambulatory Surgery Center suites. A new da Vinci robot offers our patients an alternative to, not only traditional open surgery, but also to less traditional laparoscopic surgery.
Nurse Publications
Annual Nurse Essay Contest
During National Nurses Week, our nurses are encouraged to participate in this creative outlet. Winning essays are selected by editors of various nursing publications and are then read by CHLA physician leaders.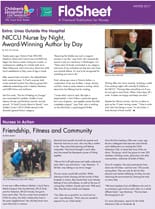 Flosheet
The life and times of our compassionate caregivers is caught by FloSheet, a magazine that features the accomplishments of our nurses.
Magnet Recognition Program®

We are honored to have achieved Magnet® recognition from the American Nurses Credentialing Center for our compassionate approach to bedside care. CHLA is one of the few hospitals to approach Magnet Recognition® and our collaborative governance model through a multidisciplinary approach.
Magnet Initiative: Flexible scheduling

Magnet Initiative: Collaborative governance

Magnet Initiative: Research
The schedulers provide a blank schedule for each nurse to complete.
The schedule is collected four weeks before it is due to begin scheduling, and filled according to our unit's scheduling guidelines.
Each staff member is responsible for filling the appropriate weekend obligations, approved vacation requests, education hours and meeting hours. Nurses are able to request time off up to six months in advance, allowing them to plan days off and vacations ahead of time.
Depending on the unit's established governance, staff members or a committee develops and facilitates the scheduling process with manager oversight.
We have strong, active unit-based committees that direct and provide education, training and guidance for preceptors, as well as boost and support social activities and morale.
Leaders of unit-based committees are asked to serve on the hospital's house-wide patient care services councils. This committee-council structure keeps our bedside staff nurses involved in governing and running hospital affairs. It also allows for information flow from the bedside to the councils and back.
Nurses participate in a number of nursing and physician-led research projects.
Many of our research projects are done in collaboration with the Children's Hospital Association and the National Institutes of Health.