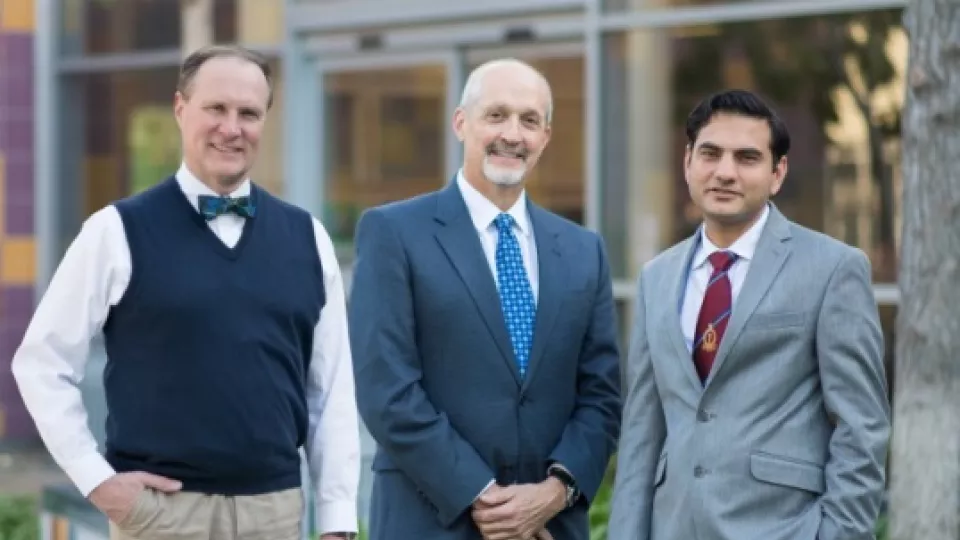 Three Children's Hospital Los Angeles Physician Leaders Named to American Pediatric Society
LOS ANGELES – Three top doctors from Children's Hospital Los Angeles (CHLA) have been accepted into the American Pediatric Society (APS) – a distinguished membership of leaders in academic pediatrics.
APS membership is reserved for individuals who have distinguished themselves as teachers, researchers and clinicians whose contributions to medicine have garnered national and international recognition.
"The American Pediatric Society provides one of the longest-running, most respected voices within the academic medical community," says CHLA President and CEO Paul S. Viviano. "This membership rightfully recognizes our physicians' individual achievements; their commitment to advancing child health through advocacy, education, and research; and their dedication to developing new generations of academic pediatric leaders right here at CHLA."
The following CHLA physicians will be honored alongside other new inductees at the APS Members' & Howland Dinner on May 6, 2018 in Toronto, Canada:
Rohit Kohli, MBBS, MS, is chief of CHLA's Division of Gastroenterology, Hepatology and Nutrition, and associate professor of pediatrics at the Keck School of Medicine of USC. Dr. Kohli is known for research focused on obesity-related fatty liver disease, including insight into the role of fructose in triggering liver injury and scarring. Dr. Kohli's team also developed a surgical model in mice now used around the world to better understand how weight loss surgeries improve obesity and associated morbidities.
Douglas Nordli, Jr., MD, is the chief of CHLA's Division of Pediatric Neurology and co-director of the Neurological Institute at CHLA, and also serves as professor of clinical neurology at the Keck School. Dr. Nordli is widely known for his work in pediatric epilepsy and clinical neurophysiology, including published research on epilepsy classification, epilepsy surgery, febrile seizures and the ketogenic diet used primarily to treat difficult-to-control epilepsy in children.
Robert E. Shaddy, MD, is CHLA's pediatrician-in-chief and senior vice president of Academic Affairs, as well as chair and professor of pediatrics at the Keck School. Dr. Shaddy is recognized nationally for his research into pediatric heart failure and transplantation, including use of echocardiography and other imaging in pediatric heart patients; transplant coronary artery disease; effectiveness of pharmaceutical drugs in treating child heart failure; and the use of ventricular assist devices in pediatric patients.
"The clinical and research accomplishments of Dr. Shaddy, Dr. Nordli and Dr. Kohli have saved countless children's lives and improved the quality of countless more," says Keck School Interim Dean Laura Mosqueda, MD. "We congratulate them for this recognition of not only their body of work, but their exceptional faculty leadership as well."
Founded in 1888, the APS is the oldest and most prestigious pediatric organization in North America, dedicated to the advancement of child health through the promotion of pediatric research, education, and advocacy. APS not only engages distinguished leaders shaping the future of academic pediatrics, but also provides a voice for child health in Washington, D.C., through the Pediatric Policy Council, which combines the advocacy efforts of the APS, the Society for Pediatric Research (SPR), the Association of Medical School Pediatric Department Chairs and the Academic Pediatric Association.
About Children's Hospital Los Angeles
Children's Hospital Los Angeles has been ranked the top children's hospital in California and sixth in the nation for clinical excellence with its selection to the prestigious U.S. News & World Report Honor Roll. CHLA is home to The Saban Research Institute, one of the largest and most productive pediatric research facilities in the United States. Children's Hospital is also one of America's premier teaching hospitals through its affiliation with the Keck School of Medicine of the University of Southern California since 1932. For more information, visit CHLA.org. Follow us on Twitter, Facebook, YouTube, LinkedIn and Instagram, and visit our child health blog (CHLA.org/blog) and our research blog (ResearCHLABlog.org).
For Media Inquiries Only, Please Contact: 
Owen Lei, CHLA Senior Media Writer 
323-361-8433 | olei@chla.usc.edu