Literally Healing
The Reading Room is open!
In response to COVID-19 and to support a safe environment, the Reading Room is currently open with limited capacity and adjusted hours. If you are at the hospital, please contact us for the latest schedule.
Literally Healing staff are on-site and providing books bedside every day. Please call or email our team to request a book.
Children's Hospital Los Angeles has published an illustrated children's book about COVID-19. To listen to Academy Award-winning actress Natalie Portman read "Careless Corny: A Cautionary Tale," or to download your free e-book, please visit CHLA.org/CarelessCornyBook.
Celebrate the gift-giving season with Literally Healing's Holiday Book Drive!
With any online Barnes & Noble purchase at BN.com through December 31st, a percentage of your total purchase can go toward buying books for CHLA patients and families. Simply enter Bookfair ID 12638482 when entering payment details.
Or, join us in gifting brand-new books to CHLA patients by visiting a participating Barnes & Noble or independent book store to purchase books or comics for donation:
Through December 9th
Through December 15th
Through December 31st
---
Literally Healing at Children's Hospital Los Angeles is an innovative reading program that gifts families at CHLA more than 65,000 books annually. During a period when literacy opportunities can be hard to find, Literally Healing helps strengthen reading skills and provides activities, events and story times to patients and families.
In addition to promoting literacy, we believe in supporting and strengthening our patient families through additional therapeutic literary resources.
The two branches of Literally Healing are the Gifting Library and the Therapeutic Library.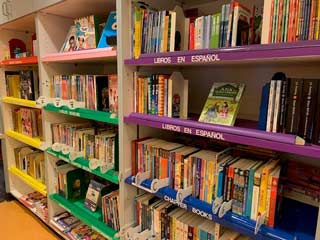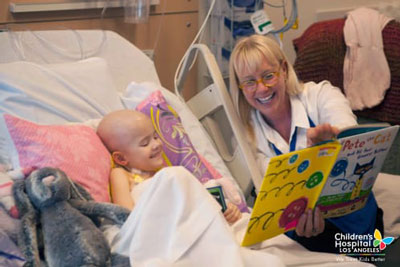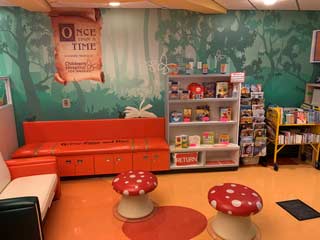 I'm at the Hospital and would like a book
Recreational Gifting Library

Inpatient Gifting Library Hours and Location
While inpatient, relax in our fun, literacy-themed Reading Room, where you can engage with books and literacy games or chat about your favorite titles with our staff and volunteers, who are available both in our Reading Room as well as at the bedside.
Each patient, sibling and parent/caregiver can take home one free, brand-new book every day from the Literally Healing Gifting Library, located inside the Reading Room. Patients and siblings receive an additional free book for each 20 minutes they spend reading in the Reading Room.
Bedside Reading & Delivery
Literally Healing has trained volunteers and staff who deliver books and read bedside in both inpatient and outpatient units. You may recognize our volunteers with their brightly colored book carts roaming the halls. Parent/caregivers, feel free to join in a fun story or allow our volunteers to read with your child while you grab a coffee or take a moment for yourself.
Call ext. 56801 from your room phone to request a visit from a Literally Healing volunteer or staff member. Due to scheduling, we cannot guarantee that a volunteer will be on every unit daily.
Audiobooks
Free audiobooks are available exclusively on the Get Well Network (the TVs in patient rooms), or on your own devices at www.PenguinRandomHouseAudio.com/chla while using the free CHLA Wi-Fi.
In response to COVID-19, the Reading Room has temporarily adjusted its hours. Please contact us for the latest schedule. Literally Healing staff are on-site and are providing books bedside every day. Please call 323-361-6801 or email literallyhealing@chla.usc.edu to request a book, and one of our staff members or volunteers will be happy to drop something off.
Make sure to include the patient's room number and age and what kind of book the patient would like. We are happy to provide books for siblings and caregivers as well, so let us know if you would like a chapter book or magazine for yourself.
Typically, Literally Healing offers up to nine story-time events every week for both our inpatients and outpatients. To provide a safe environment for everyone during the pandemic, most events are temporarily paused. We are still happy to provide one-to-one reading sessions, so please call 323-361-6801 to request a book and/or reader at your bedside.
Literally Healing has started to reoffer our popular, weekly Stories Under the Stars event. The event happens every Wednesday 5 – 5:30pm in the Reading Room. We sit on oversized mushrooms, as stars sparkle overhead, and read by flashlight. Due to limited capacity, this is an invite only event at this time. If you are at the hospital and want to join, please contact us.
Book Gifting
Families are welcome to ask their clinic front desk for a free book to read and take home during each clinic visit. Literally Healing currently supports over 35 clinics at CHLA.
Please note: You will not be able to access the Reading Room during an outpatient visit.
Events
To maintain a safe environment during the pandemic, we have temporarily cancelled all reading events.
Audiobooks
Free audiobooks are offered exclusively to CHLA visitors while using our Wi-Fi. Steps to accessing free audiobooks:
Make sure you are logged on to the free CHLA Wi-Fi.
You can enjoy as many books as you like while on campus
Literally Healing offers a unique and extensive Therapeutic Library with hundreds of carefully curated titles for our clinicians and staff to use while engaging with our families. These books are gifts for our families to take home.
The Therapeutic Library addresses sensitive issues in an accessible manner through the use of books as families navigate the unfamiliar hospital setting. Therapeutic books aid in discussions of difficult diagnoses, prognoses, treatments, and procedures, as well as working through associated emotional and effectual occurrences. These books provide families with not only narrative mirroring, but allow for metaphoric processing and normalization of a patient's adversity, which is facilitated with a clinician's guidance.
Healthcare providers request specific recommendations from our team for patients and families during particularly stressful times in their recovery. Providers then utilize these carefully selected books with patients or encourage families to experience them together.
If you are a CHLA family interested in receiving any of these titles, please speak to your Child Life Specialist, Social Worker, Therapist or any other healthcare provider or any other health care provider.
Donate to Literally Healing

Volunteer for Literally Healing
Please note – all book donations must be 100% brand new for infection prevention.
Monetary Donations
Your gift will make a difference in the life of a child, bringing them joy and strength and widening their horizons both during and after their stay at Children's Hospital Los Angeles.
You can visit our donation page here.
Donate Directly through Amazon:
Select your book, magazine subscription, or gift card donation and your gift will be shipped directly to us. The Amazon link below shows our most up-to-date wish list.
In addition to purchasing a book on Amazon, you may also purchase Amazon gift cards, which allows our staff the flexibility to make book purchases tailored to meet the needs or requests of specific patients during their stays. We use your gift cards to purchase "Dream Books" which would not normally be on our wish list or in our inventory.
You may also donate a magazine subscription for our caregivers. You may visit the link below to see our magazine subscription wish list, and they will be sent directly to us via mail.
Gift Card Drive
We are extremely grateful to our community for holding book drives to support Literally Healing so we can encourage and educate the young patients in our care. Space limitations at the hospital can make it challenging to find appropriate storage space to accommodate the books we provide the children. Please consider holding a gift card drive instead of a traditional book drive.
Book Drive
All book donations must be 100% brand new for infection prevention. If you have used books we would recommend reaching out to any other wonderful organizations in the Los Angeles area that aren't in the medical field.
If you would like to hold a book drive, please contact LiterallyHealing@chla.usc.edu and we will be able to give you our most up-to-date wish list and ideas.
Most Needed Books
Spanish books | All ages
Board books | Especially interactive and touch-and-feel
Dr. Seuss books | Picture books and Board books
Due to the diverse nature of our pediatric hospital, all new titles are reviewed before being accepted. Because we have such a small team, we have made the difficult decision that we can no longer accept independently published recreational books.
If you would like to donate an independently published therapeutic book (for example, a book on cancer), we would be happy to review the title, but we do have a few steps that need to be taken. Please see below:
1. Send one review copy of your book to:
Children's Hospital Los Angeles
4650 Sunset Blvd.
MS #16 | Literally Healing Book Review
Los Angeles, CA 90027
2. Please include a simple cover letter with your book and include the following information:
Full name
Email
Mailing address
Whether you want us to purchase these books or whether you are looking to donate (if donating, please tell us how many books you'd like to donate)
Feel free to provide any further information you think is pertinent.
3. Literally Healing staff will review your book while considering the setting within which it will be used. We strive to review all books within two to four weeks.
4. After the book has been reviewed, Literally Healing will reach back out to you about next steps.
Literally Healing is 100% funded by donations. We always appreciate the support of our fantastic community. Thank you for your consideration of CHLA and the wonderful families in our care. We look forward to reviewing your book!
Literally Healing is only made possible through the generosity of our volunteers! As Library Ambassadors they assist patients, families, and staff in selecting free books from the Gifting Library. They also deliver books to children in their rooms when they cannot visit the library and bring books to life by reading to patients at the bedside.
If you would like to volunteer with Literally Healing you will first need to apply through CHLA's Volunteer Resources. Once you have met all of their requirements they will assist you with applying to volunteer with Literally Healing.