Literally Healing
The Literally Healing Program uses books to lift the spirits of our patients and their families.
Our program has a dedicated therapeutic library with more than 1,000 specially selected books designed to help children build mastery, courage and hope during their stay at Children's Hospital Los Angeles. Another component of the program uses books as gifts for patients to provide them with a source of distraction during their recovery. We gift over 42,000 free brand new books to our patients and their siblings every year.
How You Can Help
Monetary Donations
Your gift will make a difference in the life of a child, bringing them joy and strength, and widening their horizons both during and after our protection and care.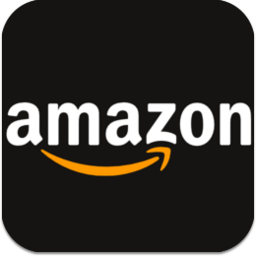 Select your donation and have your gift shipped directly to us. Gift cards allow us to maximize your gift to our patients. Our staff gain essential flexibility to make "on-demand" book purchases and meet the specific needs of specific patients during their healing process. We use your gift cards to purchase "Dream Books," which would not normally be on our wish list or in our inventory. By tailoring title purchases, your gift helps us support patients' dreams, be they learning about robots or considering a career as an architect. Together we can expand patients' horizons and possibilities.
Gift Card Drive
We are extremely grateful to our community for holding book drives to support Literally Healing so we can lift spirits, encourage and educate the young patients in our care. Space limitations at the hospital can make it challenging to find appropriate storage space to accommodate the wonderful books you provide the children. Please consider holding a "gift card drive" instead of a traditional book drive.
Deliver your gift cards to Literally Healing:
Send an electronic gift card to literallyhealing@chla.usc.edu.

Schedule an appointment to drop off your gift cards by calling 323-361-4312 or emailing literallyhealing@chla.usc.edu.

Mail your gift cards to us at:
The Literally Healing Program
Children's Hospital Los Angeles
4650 Sunset Blvd., #16
Los Angeles, CA 90027
Volunteer With Us
Generous volunteers make themselves available to assist patients, families and staff in selecting free books from the Gifting Library, delivering gift books to children in their rooms when they cannot visit the library and reading to patients at the bedside when they are unable to leave their rooms. To explore volunteer opportunities within The Literally Healing Program, please email literallyhealing@chla.usc.edu.
About Our Therapeutic Library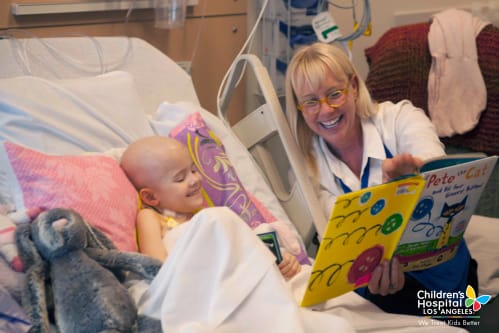 Health care providers request specific recommendations from our team for patients during particularly stressful times in their recovery. Providers then read these carefully selected books to patients or encourage families to experience them together. Doing so often paves the way for patients to disclose their worries and fears to their caregivers or their parents -- fears that they might not otherwise have felt comfortable sharing.
The most common issues that our program can address through books include:
Living with serious illness, physical limits and disability
Coping with negative feelings like worry, fear or sadness
Dealing with siblings who are jealous of the attention the child is receiving
Feelings of guilt for their condition
Coping with changes in family structure
Dealing with the fear of death or feelings of grief (for siblings)
Empowering Patients Who Start Chemotherapy
An eight-year-old patient was reluctant to cut her hair as she prepared to begin her chemotherapy treatment. With the encouragement of our program staff, her social worker read her Kathy's Hats by Trudy Krishner -- a story about a girl who discovers that her hair will grow back after she finishes treatment. After hearing the story the patient announced, "Oh, I see. My hair will grow back. Now I'm ready to have it cut off."
Therapeutic Book for Children with Spina Bifida
In 2005, Claire Austin, MPhil, founder of the Literally Healing Program, and Stacey Mizokawa, PhD, of our Spina Bifida program recognized that children with spina bifida had few resources to address questions about their condition. With generous support from First 5 LA, Claire Austin and Dr. Mizokawa partnered to create a one-of-a-kind online experience, Right Under My Nose, to address this need.
Experience the Book
Right Under My Nose is designed to help children with spina bifida understand their condition, discover new ways to enrich their lives and support their parents and caregivers in providing answers to their questions. The book is hosted as an interactive experience in both English and Spanish so more children and families can take advantage of this empowering story free of charge.