Literally Healing
The Literally Healing Program uses books to lift the spirits of our patients and their families.
Literally Healing at Children's Hospital Los Angeles is an innovative reading program dedicated to advocating literacy and its importance to children's success, no matter their medical situation. Our program gifts families at CHLA more than 55,000 books annually. In addition to promoting literacy, we believe in supporting and strengthening our patient families through additional literary resources.
The two arms of the Literally Healing Program are: The Therapeutic Library and The Gifting Library.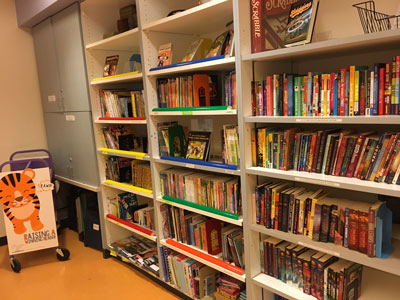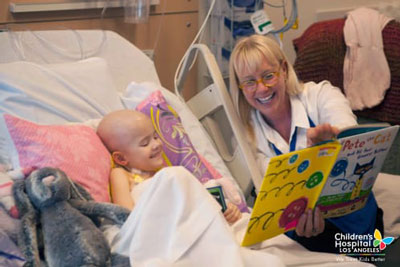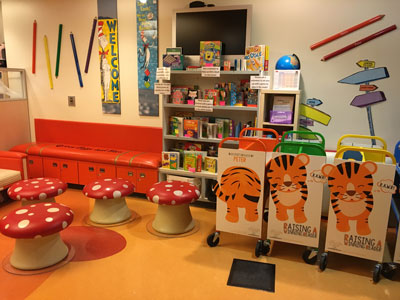 Gifting Library Hours and Location

Volunteer for Literally Healing
Hours:
Monday – Friday
Families from Anderson 2, 3, 5 & 6 and Duque 4, 5, & 6: 10 am – 12:30 pm & 6 – 7 pm
Families from Anderson floor 4: 1 – 2 pm & 5 – 6 pm (except Wednesday evenings)
Saturday
Families from Anderson 4: 11 am – 1 pm
Families from Anderson 2, 3, 5 & 6 and Duque 4, 5, & 6: 3 – 6 pm
Library Location:
Anderson 6 West, Room 6366
How to get to the Gifting Library:
Take the Anderson Pavilion elevators (by the HBO Café) to the sixth floor.
Turn left toward 6 West.
Press the doorbell and say you're visiting the library.
Walk to the end of the hallway then turn right.
You have arrived! Now enjoy your free books.
You Get Free Books!
Visit the Literally Healing Gifting Library and take home one free, brand new book for each patient, sibling, and caregiver every day.
Patients & siblings receive an additional free book for each 20 minutes they read in our Gifting Library.
Free audiobooks exclusively available on your Get Well Network (the TV's in your room), or on your own devices at www.PenguinRandomHouseAudio.com/chla while using CHLA Wi-Fi.
Patient on Isolation? No Problem!
Caregivers / siblings can get books at the door of the Gifting Library
You can also ask a nurse to request books for you.
You can call 56801 from your room phone to reach the staff and volunteers of Literally Healing to request a bedside reader or delivery
Literally Healing has trained volunteers that deliver books and read bedside in both inpatient and outpatient units. You may recognize our friendly volunteers with their brightly colored, kid-friendly R.A.W.R. (Raising A Winning Reader) tiger book carts roaming the halls. Caregivers, feel free to take this time to join in a fun story, or allow our volunteers to read with your child while you grab a coffee or take a moment for yourself. Due to volunteer schedules, we can't guarantee that a volunteer will be on every unit daily. Feel free to come up to the Gifting Library or to call 56801 from your room phone to request a visit from a Literally Healing volunteer or staff.
Weekly Literacy Events:
Wednesday:
Stories Under the Stars | great for ages 4 – 10
Join us as we turn our Gifting Library into a time machine and blast off into night for themed stories and adventures around a fake campfire as stars sparkle on our ceiling.
Families from Anderson floor 4: 4:15 – 5 pm
Families from Anderson floors 2, 3, 5 & 6 and Duq 4, 5, & 6: 5 – 6 pm
Thursday:
Unplugged | ages 12+
Play literacy games, write found poetry and hang out in the Teen Lounge on Anderson 6 West.
12+ year olds from all floors: 6 - 7 pm
Friday:
Stories At Sea | great for ages 4 - 10
Join us as we turn the Duque 6 cafeteria into a ship and sail out to sea for fun themed story times.
Families from Anderson 5 & 6 and Duq floors 4, 5, & 6: 4:15 - 5 pm
Therapeutic Books
To learn more about our innovative Therapeutic Library please open the tab below. You may request Therapeutic Library resources through your Child Life Specialist or Social Worker.
Literally Healing offers a unique and extensive Therapeutic Library with over 1,000 titles for our clinicians and staff to engage with our families. These books are gifts for our families to take home.
The Therapeutic Library addresses sensitive issues in an accessible manner through the use of books as families navigate the unfamiliar hospital setting. Therapeutic books aid in discussions of difficult diagnoses, prognoses, treatments, and procedures, as well as working through associated feelings.
Healthcare providers request specific recommendations from our team for patients and families during particularly stressful times in their recovery. Providers then read these carefully selected books to patients or encourage families to experience them together.
If you are a CHLA family interested in receiving any of these titles, please speak to your Child life Specialist, Social Worker, Therapist or any other health care provider.
Monetary Donations
Your gift will make a difference in the life of a child, bringing them joy and strength, and widening their horizons both during and after their stay at Children's Hospital Los Angeles.
You can visit our new donation page here.
Donate Directly Through Amazon
Select your book, magazine subscription or gift card donation and have your gift shipped directly to us. By selecting the Amazon link below you will see our most up-to-date wish list. You will be able to select the books you want and they will be mailed directly to us!
You are also able to purchase Amazon gift cards, which allow us to maximize your gift to our patients. Your gift allows our staff the flexibility to make book purchases tailored to meet the needs or requests of specific patients during their stay. We use your gift cards to purchase "Dream Books," which would not normally be on our wish list or in our inventory. Together we can expand patients' horizons and possibilities.
There is also the option of donating a magazine subscription for our Caregivers. One mother recently said "after my son was diagnosed we were in the hospital all the time. Initially it felt wrong to prioritize time and things for myself. It wasn't until a Literally Healing volunteer dropped off a silly gossip magazine about what celebrities were wearing that I remembered that it was important for me to do small things for my own self-care. Getting those magazines every few days was how I kept hold of the outside world and reality." These can be important distractions for our caregivers and are greatly appreciated.
Gift Card Drive
We are extremely grateful to our community for holding book drives to support Literally Healing so we can lift spirits, encourage, and educate the young patients in our care. Space limitations at the hospital can make it challenging to find appropriate storage space to accommodate the wonderful books we provide the children. Please consider holding a "gift card drive" instead of a traditional book drive.
Deliver your gift cards to Literally Healing:
Book Drive
If you would like to hold a book drive, please contact LiterallyHealing@chla.usc.edu and we will be able to give you our most up-to-date wish list and ideas.
Most Needed Books
Board books | Especially interactive and touch-and-feel
Dr. Seuss books | Picture books and Board books
Spanish books | All ages
Disney Princess picture books
Donating an independently published book is simple, but there are a few steps to complete so that our Literally Healing staff can review the title. Considering the diverse nature of a pediatric hospital, there are guidelines in place about what themes and content we are able to accept in order to protect our young patients and their families.
Steps to Donating an Independently Published Book at CHLA:
1. Send one review copy of your book to:
4650 Sunset Blvd.
MS #16 | Literally Healing Book Review
Los Angeles, CA 90027
2. Please include a simple cover letter with your book. We only need the following information:
Full name
Email
Number of books you'd like to donate
Any additional information you think is pertinent
3. Literally Healing's staff will review the book while considering the pediatric hospital setting it will be used within. We strive to review all books within two weeks.
Please note: we cannot guarantee that time frame as we are a small team with a large reach across the entire hospital.
4. After the book has been reviewed, Literally Healing will reach back out to you about next steps.
Seeing as Literally Healing is 100% funded by donations, we always appreciate the support of our fantastic community. Thank you for your consideration of CHLA and the wonderful families in our care. We look forward to reviewing your book!
Generous volunteers make themselves available to assist patients, families, and staff in selecting free books from the Gifting Library, delivering books to children in their rooms when they cannot visit the library, and reading to patients at the bedside when they are unable to leave their rooms. Our wonderful volunteers provide much needed reprieve and joy for our families.
Requirements:
From our volunteers, we require a minimum of:
100 hours over the course of one year
A commitment of at least two shifts per month

Most people choose to do one recurring shift every week on the same day/time: Monday-Friday between the hours of 9:00am and to be finished by 7:30pm or Saturdays between 10:30am - 6:30pm.
While Volunteers need only commit to a 2-hour shift, virtually all our team prefers 4-hour shifts.

Bear in mind you must be 18 years of age to be a volunteer at CHLA. If you are under 18, please take a look at our wonderful Junior Volunteer program: https://www.chla.org/summer-junior-volunteer-program.
Before you can volunteer with Literally Healing you must first apply through our Volunteer Resources Department and complete their requirements first. Once you have completed your outpatient shifts please get in contact with Literally Healing and we will be happy to schedule a time for you to meet our team!
The steps you must complete to become a Volunteer are:
Fill out the application found at https://www.chla.org/volunteering-our-hospital
Attend the next 4-hour Volunteer / Patient Care Orientation
A personal interview with the Volunteer Department
Health Clearance through Employee Health Services Department and Background Clearance through Volunteer Resources
Purchase a volunteer uniform (CHLA apron) and receive CHLA volunteer ID and parking permit
12 Outpatient shifts: 6 At Your Service & 6 Play Cart shifts (bear in mind that these beginning sessions are with Volunteer Resources and they don't offer evening or weekend opportunities at this time. Feel free to reach out to them with any questions.)
You will need to attend a quick interview with the staff of Literally Healing before you'd be able to work in the inpatient area of the hospital.
This might seem like a lot, but we're sure you can understand, CHLA takes our patient safety very seriously. If you have any questions or concerns, please do not hesitate to contact us by email or phone. All initial onboarding will have to go through Volunteer Resources.
Many thanks for considering volunteering with Literally Healing and Children's Hospital Los Angeles!