Literally Healing
The Reading Room is open!
Literally Healing staff are on-site and providing books bedside Monday-Saturday. Please call or email our team to request a book.
Children's Hospital Los Angeles has published an illustrated children's book about COVID-19. To listen to Academy Award-winning actress Natalie Portman read Careless Corny: A Cautionary Tale or to download your free e-book, please visit CHLA.org/CarelessCornyBook.
---
Literally Healing at Children's Hospital Los Angeles is an innovative reading program that gifts families at CHLA more than 65,000 books annually. During a period when literacy opportunities can be hard to find, Literally Healing helps strengthen reading skills and provides activities, events and story times to patients and families.
In addition to promoting literacy, we believe in supporting and strengthening our patient families through additional therapeutic literary resources.
The two branches of Literally Healing are the Gifting Library and the Therapeutic Library.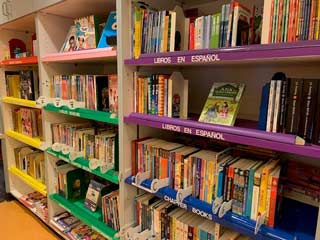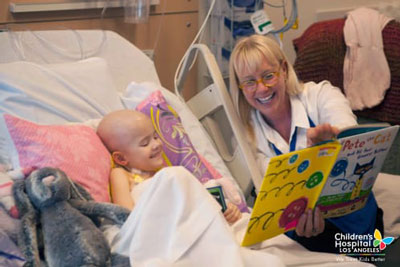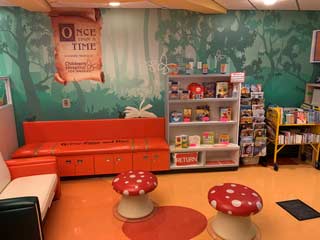 I'm at the Hospital and Would Like a Book
Recreational Gifting Library
Reading Room
While inpatient, relax in our fun, literacy-themed Reading Room, where you can engage with books and literacy games or chat about your favorite titles with our staff and volunteers.
Each patient, sibling and parent/caregiver can take home one free, brand-new book every day from the Literally Healing Gifting Library, located inside the Reading Room. Patients and siblings receive an additional free book for each 20 minutes they spend reading in the Reading Room.
Location: Reading Room Anderson Pavilion 6 West
Hours:
Monday – Friday
Anderson 4th floor families: 12 – 1 p.m.
All other in-patients: 1 – 3 p.m.
Saturday
Parents/caregivers only: 3 – 6 p.m.
If you are unable to visit the Reading Room, feel free to call or email to request a book. Please include the patient's room number, age and the type of book the patient would like. We provide books for siblings and parents/caregivers as well, so let us know if you would like a chapter book or magazine for yourself. One of our staff members or volunteers will be happy to drop something off.
Bedside Reading and Delivery
Literally Healing has trained volunteers and staff who deliver books and read bedside in both inpatient and outpatient units. You may recognize our volunteers with their brightly colored book carts roaming the halls. Parents/caregivers, feel free to join in a fun story or allow our volunteers to read with your child while you grab a coffee or take a moment for yourself.
Call ext. 56801 from your room phone to request a visit from a Literally Healing volunteer or staff member. Due to scheduling, we cannot guarantee that a volunteer will be on every unit daily.
The following events are for inpatients only. For outpatient story times, please see the Outpatient tab below.
Every Tuesday from 4:30 – 5 p.m., join us in the Duque 5 Playroom to enjoy our swashbuckling Stories at Sea. With your help casting off, we'll enjoy some rollicking reads on the high seas. You'll receive two extra books for joining us.
Join Literally Healing in our Reading Room every Wednesday for Stories Under the Stars as we journey in our time machine to nighttime where the stars sparkle overhead and we read by flashlight. This fun event is sure to make you smile as you sit on our oversized mushrooms and laugh along with some silly tales. If you are on Anderson 4th floor, join us in the Reading Room 5 – 5:30 p.m. Patients from all other floors can join us 5:30 – 6 p.m. You'll receive two extra books after the story time.
Book Gifting
Families are welcome to ask their clinic front desk for a free book to read and take home during each clinic visit. Literally Healing currently supports over 35 clinics at CHLA.
Please note: You will not be able to access the Reading Room during an outpatient visit.
Events
Join us Monday, Tuesday, Thursday and Friday in the Saban Story Corner across from the gift shop on the first floor 11:30 a.m. – 12:30 p.m. for our fun, engaging Stories Under the Sun. You'll also receive a free book to take home with you.
Literally Healing offers a unique and extensive Therapeutic Library with hundreds of carefully curated titles for our clinicians and staff to use while engaging with our families. These books are gifts for families to take home.
The Therapeutic Library addresses sensitive issues in an accessible manner through the use of books as families navigate the unfamiliar hospital setting. Therapeutic books aid in discussions of difficult diagnoses, prognoses, treatments, and procedures, as well as working through associated emotions. These books provide families with not only narrative mirroring, but allow for metaphoric processing and normalization of a patient's adversity, which is facilitated with a clinician's guidance.
Healthcare providers request specific recommendations from our team for patients and families during particularly stressful times in their recovery. Providers then utilize these carefully selected books with patients or encourage families to experience them together.
If you are a CHLA family interested in receiving any of these titles, please speak to your Child Life Specialist, Social Worker, Therapist or any other healthcare provider.
Donate to Literally Healing

Volunteer for Literally Healing
Our program is entirely philanthropically funded, which means all our services, from book gifting to story times and other events, are only possible through the support of generous donors. Thank you for your kind consideration of the children and families in our care!
Please note: All book donations must be 100% brand-new for infection prevention.
Monetary Donations
Your tax-deductible donation will bring joy and empowerment by widening a patient's horizon while hospitalized and long after.
Gift Card Donations
Gift cards to retailers like Amazon, Barnes & Noble, Bookshop.org, Target, Walmart, and independent bookstores allow us the flexibility to meet the ever-changing needs of patients and families.
Amazon Wish List Donations
Select books, magazine subscriptions, or gift cards from the program's Amazon wish lists, and they will be shipped directly to our Reading Room.
Book or Gift Card Drives
Invite your community to participate in supporting literacy at CHLA. All book donations must be 100% brand-new for infection prevention. If you have used books, we recommend reaching out to any other wonderful organizations in the Los Angeles area that aren't in the medical field.
Space limitations at the hospital can sometimes make it challenging to find appropriate storage to accommodate the books we provide the children. Gift card drives can be a meaningful alternative to traditional book drives.
Due to the diverse nature of our pediatric hospital, all new titles are reviewed before being accepted. Because we have such a small team, we have made the difficult decision that we can no longer accept independently published recreational books.
If you would like to donate an independently published therapeutic book (for example, a book on cancer), we would be happy to review the title, but we do have a few steps that need to be taken. Please see below:
1. Send one review copy of your book to:
Children's Hospital Los Angeles
4650 Sunset Blvd.
MS #16 | Literally Healing Book Review
Los Angeles, CA 90027
2. Please include a simple cover letter with your book and include the following information:
Full name
Email
Mailing address
Whether you want us to purchase these books or whether you are looking to donate (if donating, please tell us how many books you'd like to donate)
Feel free to provide any further information you think is pertinent.
3. Literally Healing staff will review your book while considering the setting within which it will be used. We strive to review all books within two to four weeks.
4. After the book has been reviewed, Literally Healing will reach back out to you about next steps.
Literally Healing is 100% funded by donations. We always appreciate the support of our fantastic community. Thank you for your consideration of CHLA and the wonderful families in our care. We look forward to reviewing your book!
Literally Healing is only made possible through the generosity of our volunteers! As Library Ambassadors they assist patients, families, and staff in selecting free books from the Gifting Library. They also deliver books to children in their rooms when they cannot visit the library and bring books to life by reading to patients at the bedside.
If you would like to volunteer with Literally Healing you will first need to apply through CHLA's Volunteer Resources. Once you have met all of their requirements they will assist you with applying to volunteer with Literally Healing.