Nephrology Fellowship

About the Fellowship
The Children's Hospital Los Angeles Nephrology fellowship offers fellows the opportunity to pursue subspecialty training in one of the largest pediatric nephrology programs in the United States. The fellowship is a three-year program designed to provide pediatricians with the clinical and research skills necessary to pursue an academic career in pediatric nephrology.
Learn More About the Program
Research
The Division of Nephrology offers a wide array of research opportunities, including participation in high-profile National Institutes of Health-funded initiatives, such as CTOTC-2 collaborative studies. As one of the nation's top three institutions for pediatric kidney transplantation, Children's Hospital Los Angeles offers a unique opportunity to participate in cutting-edge research in transplant medicine.
Over the last five years, we have averaged more than 20 patients transplanted per year. In addition, we currently have the second largest outpatient dialysis population (hemodialysis and peritoneal dialysis) in the country. Our fellows also have the opportunity to participate in studies in the following areas:
Clinical epidemiology, outcomes research and behavioral studies
Industry-sponsored pharmacologic research in dialysis and transplant patients
Stem cell research
Digital biopsy interpretation
Metabolic bone disease in dialysis patients
Nephrotic syndrome
Collaboration
The Nephrology team at Children's Hospital Los Angeles provides care for more than 1,500 patients per year. During the course of the fellowship rotation, fellows can expect to provide care for hundreds of children with a large variety of kidney diseases. Fellows work with specialists in some of the following areas: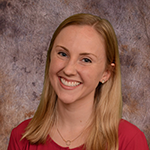 Elizabeth Kermgard, MD
Elizabeth grew up in Evanston, Illinois. She completed her undergraduate degree in Molecular, Cell and Developmental Biology at UCLA and then went on to complete her medical degree at Saint Louis University. She returned back to sunny California to complete her pediatric residency at Children's Hospital Los Angeles. In her free time, she enjoys hiking and exploring new restaurants.
The CHLA Nephrology Fellowship Program is a part of the National Resident Matching Program (NRMP). Our program takes applications via the Electronic Residency Application Service (ERAS). If you are interested in applying for our fellowship program, you will need to apply through ERAS application process.
ACGME Accredited: Yes
Fellows per year: 2
Application Deadline:
See ERAS deadline
Duration: 15.6 months – clinical rotation; 20.4 months – research rotation
Postgraduate Training Required: 3 years
Salary Minimums:
Post Graduate Year 4: $71,550 minimum
Post Graduate Year 5: $73,150 minimum
Post Graduate Year 6: $74,900 minimum
Post Graduate Year 7+: Compensation will be at the discretion of each division
Benefits Include: Health and dental insurance, 14 days paid vacation+ 6 protected sick days, yearly educational stipend, monthly meal stipend, and 401(k) matching up to 3%