Adolescent Medicine Fellowship

About the Fellowship
The Division of Adolescent and Young Adult Medicine at Children's Hospital Los Angeles was established in 1963, making it one of the most established adolescent medicine divisions in the United States, and the first on the West Coast. The Division has been training adolescent medicine fellows and producing experts in the field since 1967. In fact, the national Society for Adolescent Health and Medicine was formed in our division, and was based in our office for many years prior to centralizing its headquarters in the Midwest. Most recently, the Division was awarded a Leadership Education in Adolescent Health (LEAH) grant from the Maternal and Child Health Bureau, making it one of only seven LEAH programs nationwide.
Learn More About the Training Program
The Adolescent Medicine Fellowship at Children's Hospital Los Angeles is a three-year program intended to prepare fellows for a career in clinical and academic adolescent medicine (please see 'program tracks' below for additional details). It features an interdisciplinary, bio-psychosocial model of care, and offers fellows a unique, rich clinical experience via numerous programs and training sites. It also offers extensive opportunity to conduct original research, and to participate in ongoing research, with formal mentoring through the Division of Adolescent and Young Adult Medicine's faculty, as well as utilization of resources at The Saban Research Institute of CHLA and the Keck School of Medicine of USC. Additionally, the program aims to prepare fellows for Board certification in adolescent medicine. The Division's programs and faculty have been recognized both locally and nationally, through numerous ongoing research and service grants, as well as through many awards.
Enriched Clinical Experience Is Available In:

Research, Policy and Advocacy
Our clinical experiences are tailored to expose fellows to adolescents in a variety of settings:
Teenage and Young Adult Health Center - hospital-based outpatient clinic that provides both primary and consultative care to both healthy and chronically-ill youth from the community, as well as to youth in foster care.
Job Corps - federal vocational trade program with comprehensive on-site health services.
Homeless Adolescent and Young Adult Wellness Center - medical and behavioral health services for youth experiencing homelessness.
Covenant House - residential shelter for high-risk youth with in-house medical clinic.
College Health - longitudinal rotation at USC Engemann Student Health Center.
Inpatient Consult Service – located at Children's Hospital Los Angeles, diverse patient population at large, urban, tertiary care free-standing children's hospital.
My Voice Adolescent Transition Program - transition medicine services for young adults with chronic medical problems and special healthcare needs preparing to enter into adult care.
There are various elective rotations that are available both at our hospital and at outside institutions, including:
Sports medicine
Comprehensive Pain Management Clinic
Family planning
Endocrinology
Eating Disorders
Juvenile Court Health Services
HIV care
Transgender care
Obesity care
Interdisciplinary Adolescent Hematology care
The CHLA LEAH program provides medical fellows a 9-month long interdisciplinary training curriculum that brings them together with psychology, nursing, nutrition, and social work professionals and professionals-in-training, to learn together and to move the field of adolescent health forward, through public health and advocacy-centered projects, using innovative teaching methodologies and community partnerships.
Additionally, a cross-divisional, didactic, lecture-based core curriculum focused on teaching and research methods is delivered to all Children's Hospital Los Angeles fellows in both the first and third years. Fellows conduct research and are mentored by medical and behavioral health faculty, and are involved in advocacy and policy development activities through the Division's community-based programs.
In coordination with the program director, fellows choose their research project and identify mentors and a Scholarship Oversight Committee, during the first fellowship year. During the second and third years, fellows will conduct their studies, analyze their data, and prepare a manuscript. They are encouraged to attend and present their research at institutional, local, and national scientific meetings, through poster presentations and lectures, and are strongly encouraged to submit their prepared manuscript for publication in a peer-reviewed, scholarly journal.
Recent fellow research projects titles/topics have included:
Characterizing and Understanding the Experience of Trafficked Youth in Los Angeles
Chest Dysphoria in Transmasculine Minors and Young Adults
Adolescent Experiences with the Contraceptive Implant
Transgender Youth and Family Support
Transition Medicine
Sexting
Advance Supply of Emergency Contraception
Regional variations in PID diagnosis
Emergency Contraception use among Job Corps participants
Adolescent Medicine Providers and attitudes towards the Internet as a knowledge extender
In addition to the traditional three-year fellowship track, which maximizes fellows' potential research impact, a two-year track is also available (though for pediatric graduates wishing to become board-certified, three years of fellowship are required).
Arek Hidirsah

I'm a California native. I grew up in Northridge in a close knit Armenian Family. After graduating high school, I moved to San Diego for my undergraduate degrees in Biochemistry (B.S.) and Psychology (B.S.). During my college years, I struggled greatly with my weight and decided to adopt a new healthier lifestyle. My struggle with weight and my transformation was the reason why I decided to go into the medical field. I felt my life experience could help other individuals struggling to maintain a healthy weight, which has become a huge epidemic within our country and around the world.
I attended medical school at the Uniformed Service University and completed my pediatrics residency at Walter Reed National Military Medical Center in Bethesda, MD. During my time in residency, I realized Adolescent medicine combines several areas of interest that I have and that's what prompted me to pursue a fellowship. I feel so fortunate to be given the opportunity to train at Children's Hospital of Los Angeles and look forward to learning more about this great field.
In my spare time, I enjoy spending time with my daughter and wife, cooking for family and friends, and training for endurance events like marathons and triathlons.
Misha Khalighi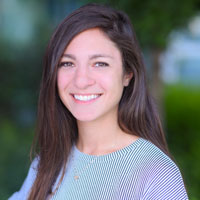 Misha Khalighi is a second-year fellow in Adolescent Medicine. She is a graduate of Jefferson Medical College (now Sidney Kimmel Medical College) in Philadelphia and completed her residency and chief year in general pediatrics at Children's Hospital of Orange County. Her desire to specialize in adolescent medicine stemmed from her personal interests in reproductive health and justice, sports medicine, and advocating for youth and young adults. Outside of medicine she enjoys hiking, yoga, and running, going to concerts, traveling, eating all foods (except olives), and playing with her three nieces. As much as she loves Michigan which is where she grew up and went to college, she loves the sunny weather, beaches, and mountains of California. She dreams of being a doggy mom very soon!
Marianela Gomez Rincon

Marianela was born and raised in Mexico where she attended medical school at Tec de Monterrey. She moved to the United States to complete her pediatrics residency at Lincoln Hospital in Bronx, New York. Her areas of interest in Adolescent Medicine are gender care, mental health, and medical education, and she is a member of the Diversity and Inclusion Committee at CHLA. She enjoys lettering, going to the opera, trying new foods, and sleeping.
Erik Su

Erik was born in Beijing, China and moved to Florida at a young age. He attended Duke University for college, studying biomedical engineering, and the University of Florida for medical school. He completed his general pediatrics residency at Cohen Children's Medical Center in New Hyde Park, New York, and is excited to continue his training here at CHLA, surrounded by so many like-minded individuals passionate about adolescent health. His clinical interests are obesity management and medical education. He is a huge Duke sports fan, video game music enthusiast, and a budding Instant Pot chef.
How to Apply
The CHLA Adolescent Medicine Fellowship Program participates in the National Resident Matching Program (NRMP), and takes applications via the Electronic Residency Application Service (ERAS). All interested applicants must submit their application through ERAS.
Program Fast Facts
AGME Accredited: Yes
Fellows per year: 1-2
Applicants are welcome from the following primary specialties:
Combined Internal Medicine-Pediatrics
Family Medicine
Internal Medicine
Pediatrics
Application Timeline: Applications will be accepted via ERAS from July through September
Duration: 2-3 years, depending on residency
Postgraduate Training Required: 3 years
U.S. Citizenship Required: No
Salary Minimums:
Post Graduate Year 4: $71,550 minimum
Post Graduate Year 5: $73,150 minimum
Post Graduate Year 6: $74,900 minimum
Post Graduate Year 7+: Compensation will be at the discretion of each division
Benefits Include: Health and dental insurance, 14 days paid vacation+ 6 protected sick days, yearly educational stipend, monthly meal stipend, and 401(k) matching up to 3%
Where Do Fellows Go When they Graduate?
Fellows who have graduated from our program in the last 10 years have obtained positions at the following institutions:
Children's Hospital Los Angeles
Children's Hospital Orange County
Torrance Memorial Medical Group
Otis School of Design Student Health and Wellness Center
University of Illinois College of Medicine at Chicago
Rady Children's Hospital-San Diego/UC San Diego
Lurie Children's Hospital, Northwestern University Feinberg School of Medicine
Kaiser Permanente Southern California Medical Group
Lucille Packard Children's Hospital, Stanford University
University of Rochester Medical Center