DAISY Award
Children's Hospital Los Angeles was the 27th hospital to partner with the not-for-profit DAISY Foundation to provide monthly DAISY Awards to exceptional nurses commended by leadership and peers for their compassionate care at the bedside of sick and injured children. As of January 2011, there are now 1,400 hospitals and medical facilities listed as partners.
Every nurse who receives The DAISY Award reminds us that her/his entire team is deserving of recognition and that it takes a team to provide great patient care.
Melissa Aguirre, RN, Takes Home the DAISY Award
Melissa Aguirre, a nurse on 4 West, received the DAISY Award this past May. A most grateful patient submitted the nomination to honor and thank Aguirre for her thoughtful care.
The in-patient referred to Aguirre as a "second mom" because of her comforting words and reassurance during a time that can be scary for a young patient. Aguirre makes the extra effort to check on the patient even when not under her care during her shift. It's this type of thoughtfulness that eases the nervous minds of patients and families at CHLA.
Aguirre's patient said it best: "She is a lady with a big hear for children." CHLA - and it's patients – are fortunate to have Aguirre as a nurse.
Congratulations Melissa!
Lisa Costantino, RN, Honored with DAISY Award


Ambulatory PCS Manager, Lisa Costantino, RN, has made significant contributions over the years 16 years that she has been at CHLA. It is because of these contributions to Ambulatory Care Services and Patient Care Services, that she was honored with April's DAISY Award.
Costantino has won the admiration and respect of her peers because of her knowledge, dedication and organizational skills. Her efforts to champion the revision and standardization of the PCS performance evaluation, revision of the MA job description and competencies, and standardization of the ambulatory documentation forms, to name a few, has earned high praise from many.
As one co-worker put it, "Lisa's accomplishments and contributions are visible and so deserving of the honor of being a DAISY nurse!"
Well done and congratulations Lisa.
Christina Cerda, RN, Announced as March's DAISY Award Winner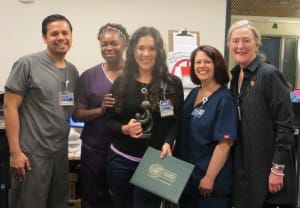 Cerda, RN, center, surrounded by 6 West staff and family
On March 13, 2015, staff of CHLA's 6 West gathered to celebrate with DAISY Award winner Christina Cerda, RN, on her well-deserved honor.
Vice President and CNO Mary Dee Hacker, RN, MBA, NEA-BC, FAAN, was on hand to present the award to Cerda and thank her for the exemplary and invaluable work she performs every day. Cerda's co-workers and patient families whole-heartedly agree.
Cerda is described by her peers as gentle in her approach, a strong patient advocate, assertive – yet calm, passionate about CHLA and always going above and beyond in her daily work. One co-worker said it best, "Christina embodies DAISY values every moment as it is part of her character."
The team on 6 West agrees that Cerda is a model team player, tremendous support and instinctively exemplifies the characteristics of a DAISY Awards winning nurse.
Congratulations to Christina!
Karena Schneider, RN, DAISY Award Winner for the Month of February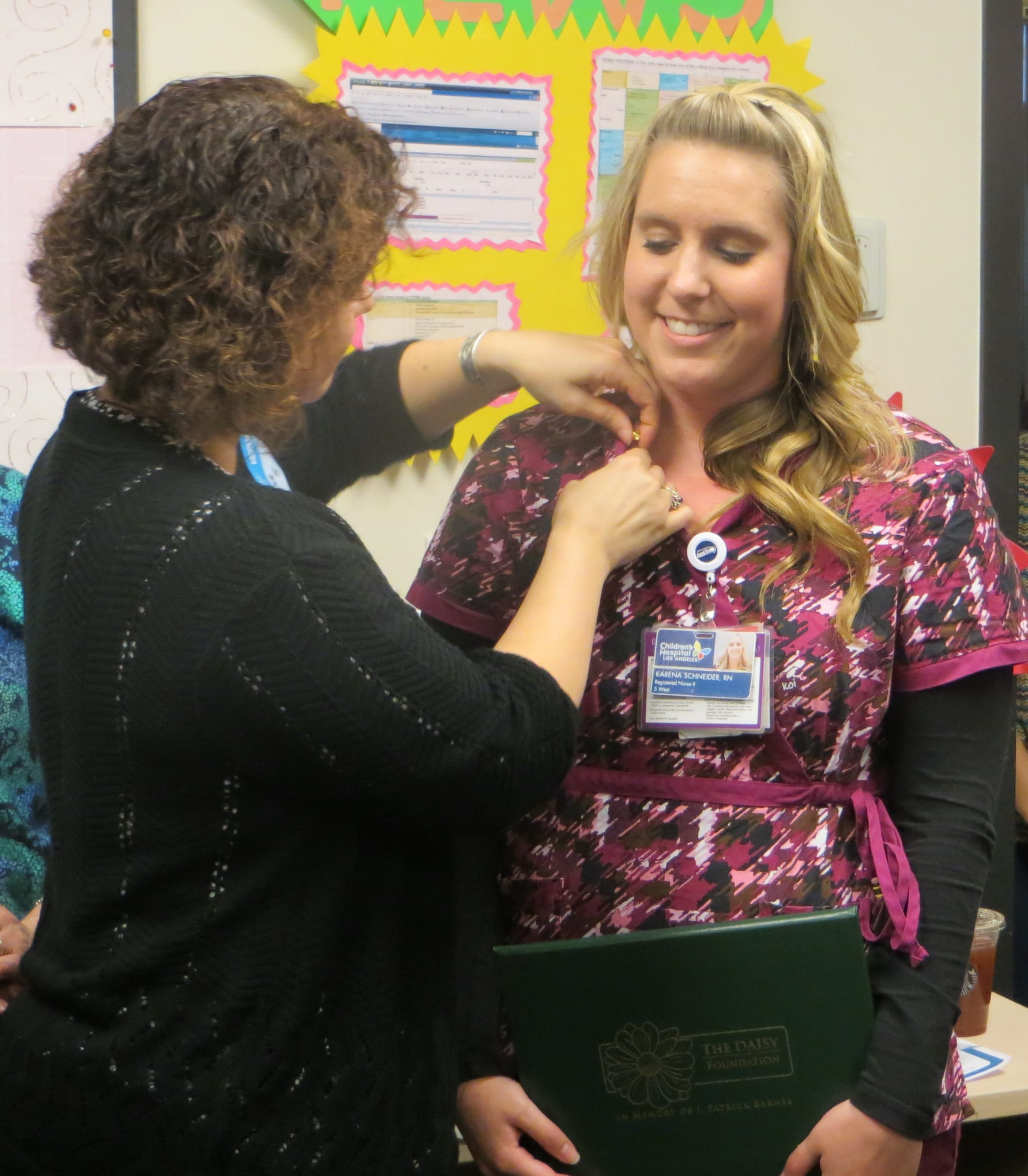 On the afternoon of Feb. 5, 2015, Karena Schneider, RN II, on 5West, opened the door to a staff lounge and was surprised to find dozens of her co-workers and Vice President and CNO Mary Dee Hacker, RN, MBA, NEA-BC, FAAN, squeezed into the small room.
She soon discovered, to her delight, that they were all there to present her with February's DAISY Award.
In addition to her 5West colleagues on hand to congratulate her, Schneider was honored to see Melissa Barnes in attendance. Barnes, vice president The DAISY Foundation, was pleased to be in town and able to thank Schneider for her tremendous work in person.
Schneider won the prestigious award because of her positive and caring attitude towards patients, families and staff. Always composed, no matter how hectic the situation may be, she intuitively knows just the right words of comfort to say to a co-worker or parent in distress.
Schneider's adaptability was evident when she was asked to float to the less familiar CTICU with ease and calm. She accepted the challenge willingly and with a positive attitude. Schneider is seen by her peers as a caring and compassionate role model.
Well done and congratulations.
Staci Castillo, RN, Announced as January's DAISY Award Winner
We begin 2015 with an announcement of the January DAISY award winner, and that honor goes to Staci Castillo, RN, 4 East unit.
Castillo brightness the mornings of everyone on the unit with her positive outlook, special care and consideration of other, sense of humor and of course, the surprise chocolate treats she leaves on everyone's desks.
In addition to her joyful nature, Castillo is an outstanding leader and excellent communicator. Both patients and families appreciate her holistic approach to health care and respect her dedication to her work.
Congratulations to Castillo for being recognized for her passion, diligence, commitment and kindness.
Alicia Voyatzis, RN, Announced as DAISY Award Winner for December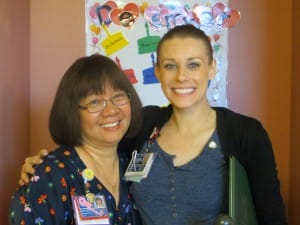 Alicia Voyatzis, RN, a member of the Cardiothoracic ICU, was honored with the DAISY Award for her exceptional care and compassion for a newborn patient and his frightened family when they arrived at CHLA shortly after his birth.
Alicia was there to help them understand exactly what was happening, comforting and reassuring them every step of the way. She took the time to keep the parents up-to-date on their child's status, including staying after hours to continue caring for the patient, and talking to them about everyday things allowing them a sense of normalcy in a stressful situation.
Alicia was presented with the DAISY Award on Dec. 3 by Mary Dee Hacker, MBA, RN, NFA-RC, FAAN, vice president of Patient Care Services and CNO, with her team, husband and the family and patient who nominated her, all by her side. During the ceremony gratitude towards Alicia was expressed by the family, who call her "an angel in scrubs", for her dedication to their child's care. In turn, Alicia communicated how truly honored and touched she was to receive such recognition.
Congratulations Alicia for being such an extraordinary nurse.
Claudia Chavez, RN, From Bone Marrow Transplant, Is the Winner of June's DAISY Award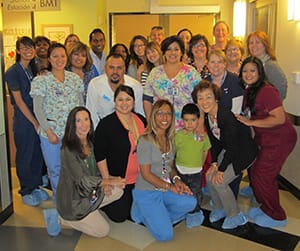 Donna Quiroz, RN, the nurse who nominated Claudia explained, "I want to nominate Claudia for the DAISY Award because she is an amazing nurse. She goes the extra mile every day and it shows in the care that she gives to her patients and the compassion she shows them."
Mary Dee Hacker, MBA, NEA-BC, FAAN, Chief Nursing Officer, expressed at the ceremony, "Your work is extraordinary and beyond spectacular. Thank you for your everyday work. Nursing, particularly in BMT, is a team profession. The work is complicated on multiple levels, both emotionally and intellectually."
Lisa Hatter, Manager of PCS Operations described, "Claudia, you are fabulous and you do fabulous work. The way you work with physicians, the mutual respect you show, how you interact and support everyone else, is outstanding.
When accepting the award, Claudia commented, "Teamwork is what gets the work done. Thank you to everyone who supports me."
Congratulations, Claudia!
October 2014 DAISY Award Winner – Sona Daldumyan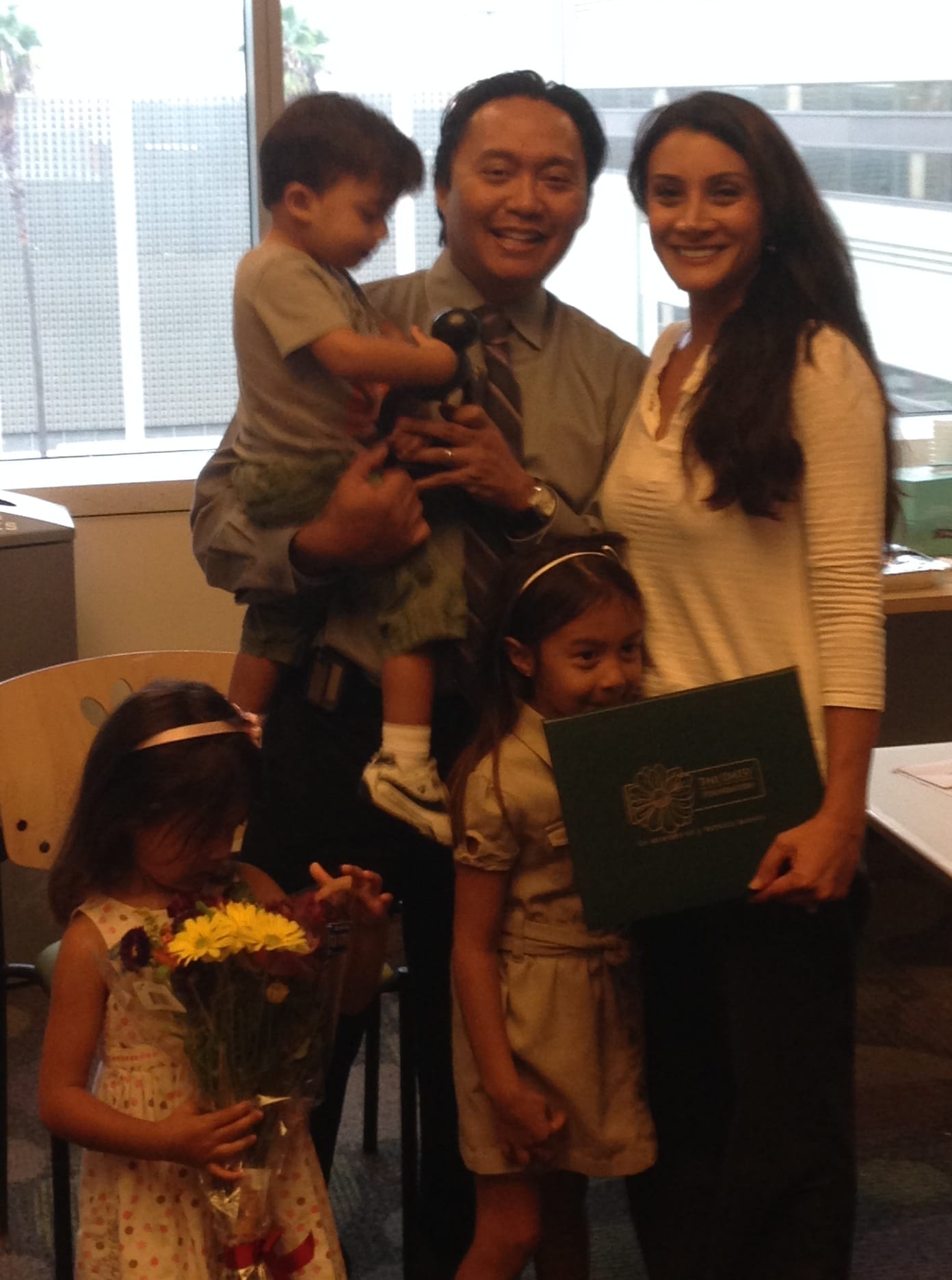 As one of the lead charge nurses in the 4 West Hematology/Oncology Unit, Sona Daldumyan, RN, has contributed significantly to the delivery of care for many of CHLA's patients. Throughout the years she has managed to consolidate her knowledge and experience, giving her the admiration of her nursing colleagues, physicians and other caregivers.
Is it no surprise then (except to Sona herself!) that she was honored with the prestigious DAISY Award by Mary Dee Hacker, MBA, RN, NFA-RC, FAAN, vice president of Patient Care Services & CNO, last week, on Oct. 14. Sona shed tears while accepting the award with her daughters proudly by her side. Her family, Mary Dee and CHLA co-workers could not have been more pleased to see her receive the award.
One of Sona's greatest strengths is her ability to positively impact others. She leads by example and demonstrates the true meaning of caring and professionalism on a daily basis. Her peers are in awe of how well she handles the most delicate of situations, garnering their respect and admiration. Patients and families have regularly commented on how caring and empathetic she is when caring for them.
She has been described by one of her peers as "a very insightful person who can frequently be found at the patient's bedside listening to their concerns and answering any of their questions, regardless of the demands placed on her at the time." It is clear that Sona's warmth and caring attitude is valued by CHLA staff and appreciated by the patients she cares for each day.
Sona truly exemplifies the values held by CHLA by advocating for quality patient care and doing her best every day. Thank you Sona – you are an inspiration.
Congratulations!
September DAISY Award Winner – Tere Jones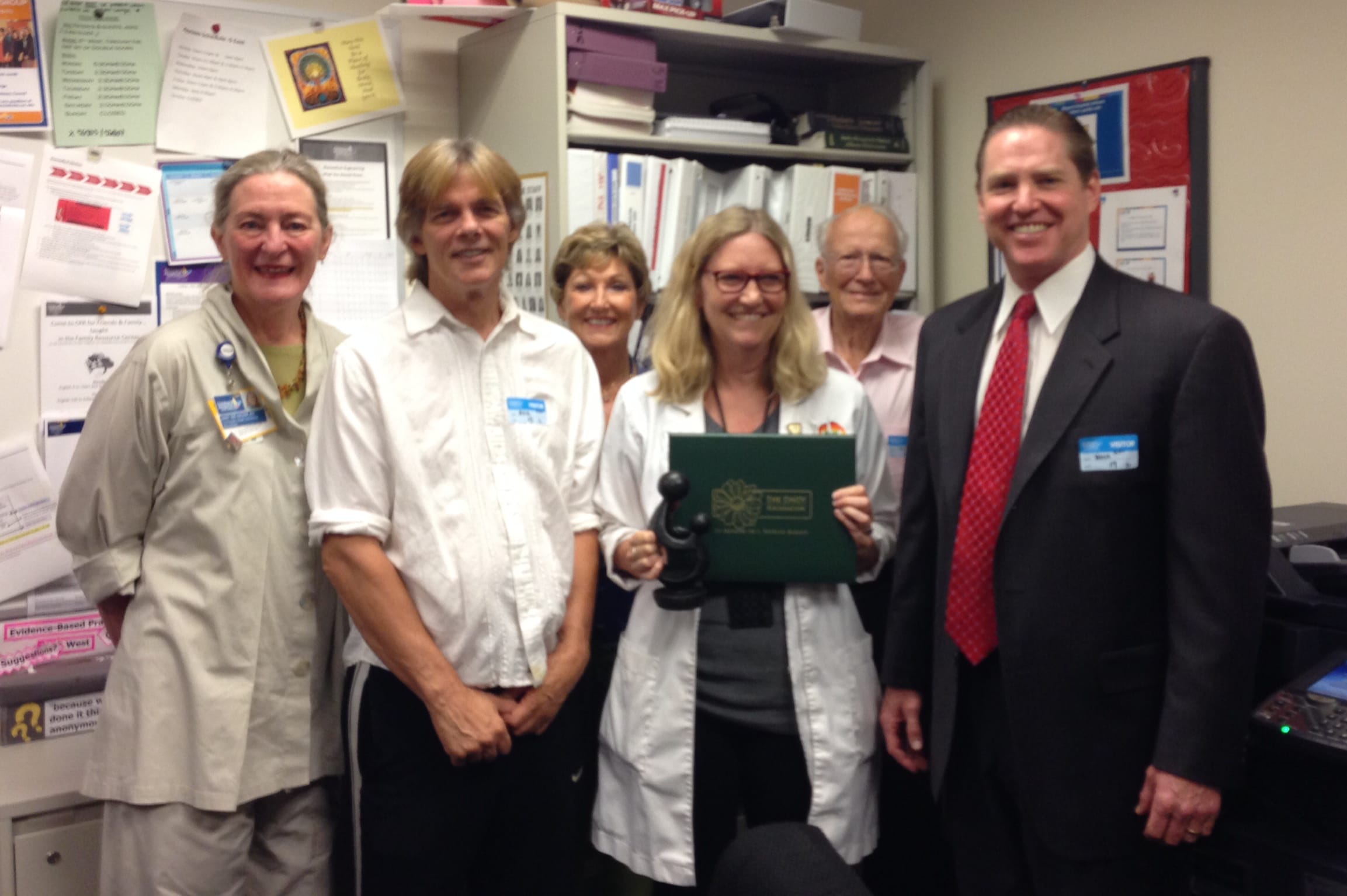 Tere Jones, RN, was honored with the DAISY Award for the month of September. As in integral member of the clinical care coordination for the 5 West team, Tere has impressed those around her with her vast knowledge in the complex discharge planning and coordination of CHLA's most challenging patients.
She has demonstrated her endless dedication and compassion to patients on numerous occasions. On one such instance, Tere spent countless hours coordinating a multi-layered discharge for a patient that had been at CHLA for nearly two years. Organizing this discharge took intensive planning, including working with nursing agencies, insurance companies and other resources such as sub-acute facilities, vendors and social workers, all of which Tere took on with compassion and commitment. It was no small feat to ensure this patient went home safely and with everything needed to live a normal life at home with family.
As one of her co-workers observed, "Tere's knowledge and quick decisions made a difference in this child and family's life, making their experience a positive one. She contributed to better days for the bedside RN and manager of the unit as well."
Tere is certainly deserving of the DAISY Award and was presented with the honor by Mary Dee Hacker, MBA, RN, NFA-RC, FAAN, vice president of Patient Care Services & CNO, on Sept. 19 with family and co-workers cheering her on. Mary Dee echoed the sentiments of those that know Tere emphasizing that she is indeed a compassionate and dedicated nurse.
Thank you for your commitment and stellar coordination skills Tere, and congratulations!
Nicole Ainsworth, RN IV, BSN, RNC-NIC, Receives July's DAISY Award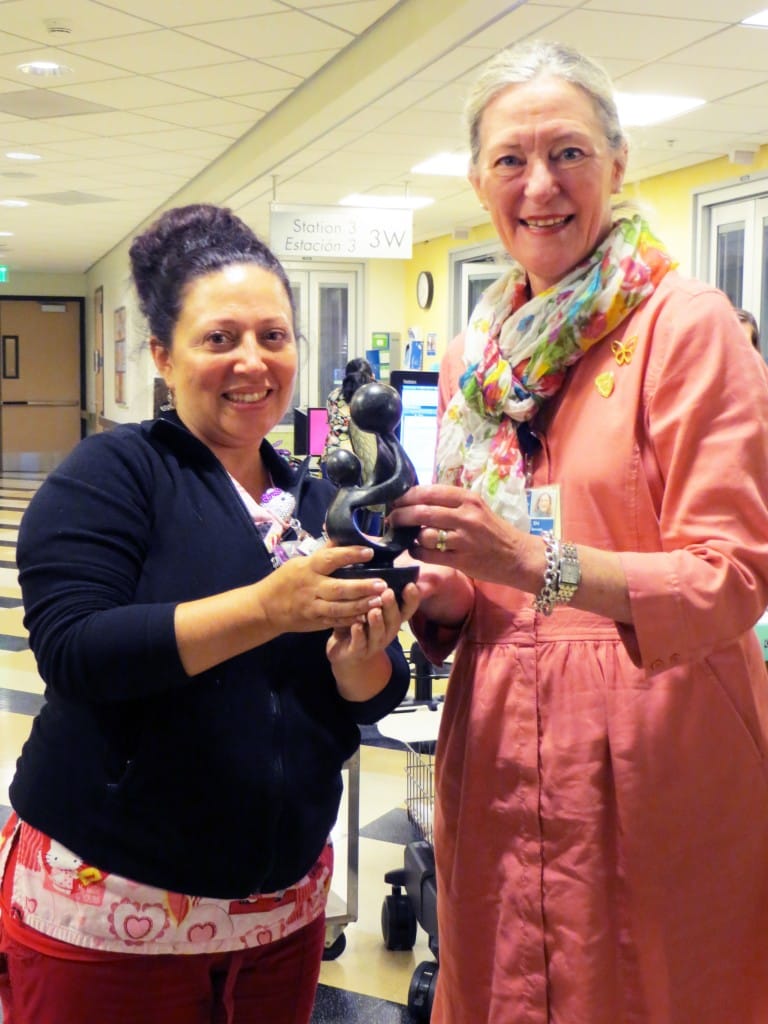 Ainsworth receives "The Healer" from Hacker–another tradition held during every DAISY Award celebration.
Nicole Ainsworth, RN IV, BSN, RNC-NIC, Newborn and Infant Critical Care Unit (NICCU) was in for a surprise as many of her colleagues, husband and two sons gathered around to see her being honored with this month's DAISY Award.
Ainsworth was tricked by her fellow NICCU nurses of who this month's recipient would be. She waited quietly in the corner as Mary Dee Hacker, MBA, RN, NFA-RC, FAAN, vice president of Patient Care Services & CNO, spoke about the importance and meaning of the DAISY Award, "In my opinion, the DAISY Award is the most important award given at this hospital. The DAISY Foundation has helped us show our nurses just how much they mean to the hospital and families."
Ainsworth's nomination came from a patient's parent who noted that she "…took the initiative to be a part of our son's transport to CHLA. We are aware that she did not have an obligation to do this, but it bonded her more with our son. …She always made our son a priority and was very attentive to his needs…"
The celebration ended with box of cinnamon rolls from Cinnabon—a tradition held during every DAISY Award ceremony—and a speech by Ainsworth that was abruptly interrupted by an emergency on the floor. "I feel very honored to receive this award," said Ainsworth.
Ainsworth has been with CHLA for 19 years and presently works night shift in the NICCU. She has been described by colleagues as "…a dependable nurse who has years of knowledge. If I ever have a question, I know I can go to her for an answer." Ainsworth is currently studying to receive her Master of Science in Nursing.
Congratulations Nicole and enjoy those cinnamon rolls!
Jesi Bernardo, RN, 6West, Gets May DAISY Award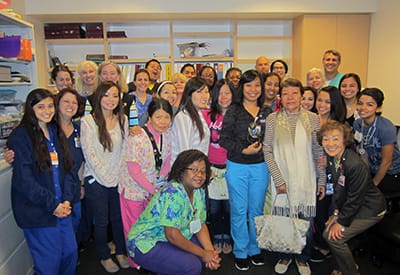 Linda Sy, RN, who nominated Jesi Bernardo, RN explained, "To choose one specific story or example that illustrates the work and care Jesi Bernardo provides is near impossible. It is continually on display when patients return to our unit or while visiting as an inpatient. Not only do the patients and families feel her warmth, the staff does as well. Jesi is a strong patient advocate and a nurse advocate."
When presenting the award to Jesi, Mary Dee Hacker, Chief Nursing Officer, explained, "We do not say thank you to nurses enough. You've made a difference to patients and families. As strong as you are, the excellence is in the team."
With not a dry eye in the room, Jesi emotionally thanked her colleagues, friends and family for helping her achieve her dreams and being present for the ceremony. While accepting the award, she remarked, "I can't thank you enough. It means a lot. I know that you appreciate all that I do."
"Jesi is an awesome team leader and is a strong backbone to our unit. When Jesi is charge nurse, you know that you are going to have a good day. She is the kind of charge nurse that cares deeply about the patients and the nurses on the unit," Linda said.
"Jesi never hesitates to lend a hand and provide advice for any problematic situation. Jesi is always organized and aware of situations with the patients, nurses and their assignments throughout the shift. She is very flexible and approachable, as well as extremely knowledgeable."
Jesi who is a lead nurse on 6West, not only contributes everyday to the smooth functioning of the unit, she also contributes in the background, as she was recently instrumental in the launching of Clarivia, an online scheduling system for CHLA clinicians.
Congratulations Jesi!
Erika Winn, RN, MSN, CV Acute, Awarded January 2014 DAISY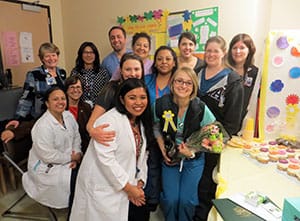 Melanie Guerrero, RN, CV Acute, clinical manager said, "Erika Winn is an exemplary nurse who goes above and beyond for her patients and co-workers. She has an uncanny ability to ease a parent's worry. She is very thorough in educating parents and keeping them aware of any updates or changes in their child's care."
"Erika resolves and clarifies nursing issues for the staff such as best practices for administering formula drip feedings. The Breast Milk Policy is now in the process of the being revised and updated due to her efforts," Guerrero said.
Erika is a member of the Clinical Practice Council, Central Venous Catheter (CVC) Committee; Policy and Procedure Committee; and Work Area Leadership Team (WALT). She spearheaded changes to the Transport Policy after an intense literature review, recommendations from RN clinical experts and the legal team. Erika is also one of the creators of the new discharge form, which is in progress of becoming a house-wide initiative.
Erika began her career at Children's Hospital Los Angeles in 2009 as a nurse resident and she was recently promoted to RN III.
It is clear that Erika goes the extra mile to facilitate a parent's hospital stay. Her nomination, written by several of her nurse peers, stated, "She takes ambulatory patients for walks in the unit. Most recently, she was reading a book to a 7-year-old who has been hospitalized for more than two months. The patient was not assigned to Erika, yet she made time for the patient."
Small acts such as this make a world of a difference to patients.
"Although she is quiet and determined, the wheels are always turning for Erika, whether it be for patients, families, staff or clinical operations," said Kay Gilmore, RN, PCS operations manager. "She is a great employee. As a manager, I am honored."
"I want to celebrate Erika, and also the teamwork and the extraordinary work of nurses," said Mary Dee Hacker, MBA, NEA-BC, FAAN, chief nursing officer at Children's Hospital Los Angeles.
"I am so honored. Being a nurse is what I love to do. I also have my team to thank," Erika said.
This month's DAISY award ceremony marked another special occasion at Children's Hospital, as Melissa Barnes -- sister-in-law of Patrick Barnes, who is memorialized with the DAISY Foundation -- was in attendance, along with DAISY Foundation national sponsors. Erika was also surprised to see her mom, dad, two sisters and fiancé at the ceremony.
Congratulations, Erika!
Anthony Opimo, RN, BSN, CPHON, is December's DAISY Award Winner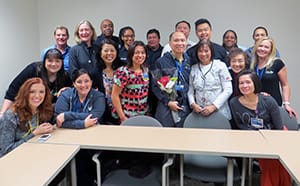 When Radiation Oncology began a department-wide remodeling project in September 2012 to May 2013, the entire department had to move to another part of the hospital to continue providing care for cancer patients.
For eight months during the remodel, Radiation Oncology nurses took on the responsibility for inpatient transport via an ambulance and coordination of radiation treatment at the University of Los Angeles (UCLA), while continuing with oncology care at CHLA. Throughout this challenging period of renovation, Anthony was the key to smooth inpatient care.
Thamani Delgardo, BS, RN, RTT, who nominated Anthony on behalf of CHLA Radiation Oncology Department, explained, "Anthony was the de facto transport nurse for all inpatients requiring radiation therapy treatments since September 2012. He took on the role of a care manager due to the extraordinary level of coordination required to ensure patients were transported in a timely and safe fashion daily."
She added, "Anthony was the coordinator between inpatient unit staff and managers, Schaeffer Ambulance service and UCLA's Radiation Oncology Department."
With such complex coordination involving multiple departments, units and teams, Anthony served as the pivotal point of communication. "The information he summarized and provided was extremely thorough, detailed and clear."
Because UCLA's Radiation Oncology Department treat very few pediatric patients, it was critical that the nurses receive training from CHLA nursing staff. Anthony was the leader in training UCLA's nursing staff on how to care for pediatric radiology oncology patients receiving treatment under anesthesia.
Furthermore, Anthony assisted in updating and creating Radiation Oncology Department policies and procedures at CHLA, to incorporate renovated department, equipment and workflow.
While accepting the award, he humbly remarked "I thought I was just doing my job. Everyone has been eager and willing to help."
Anthony is an exemplary nurse because of the knowledge, skill and leadership that he has demonstrated. "Anthony routinely arrives early and stays late to assist patients, families, nurses, physicians and other employees." We appreciate all of your hard work.
Congratulations, Anthony!
Nancy Hart Wins November's DAISY Award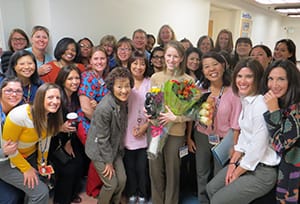 Nancy has been at the forefront of the Infusion Center as the unit has gone through a number of changes and transitions in order to create a more effective and efficient department. She has been a pivotal member of the team in countless ways by standardizing the unit's practices in creating a unique appointment scheduling system, by creating a system for fulfilling order sets for physicians to use in the outpatient setting to bridge the gap between paper-based and electronic medical records and by streamlining a process to find missing orders by enlisting the help of a department nurse to help with the "hunt."
In her line of work, Nancy has managed to apply the nursing model to fit a nurse manager's role, as she is able to listen to her colleague's concerns, collect data and to help create solutions. As a unit manager, Nancy also prides herself on being "fair" and "rational."
When presenting the award to Nancy, Mary Dee Hacker, MBA, RN, NEA-BC, FAAN, chief nursing officer, explained, "Wear this pin with a sense of honor." This also marks a milestone for the DAISY Award because it is the first time that the DAISY plaque will be displayed in the Infusion Center.
One of her nurse colleagues, Nancy Pedroja said, "Nancy has shown amazing leadership through a challenging time. She is always willing and eager to listen to our endless concerns, complaints, frustrations and suggestions. It is a comfort to always know that there is someone who listens and someone who is always looking out for the best interest of everyone on the unit."
Another nurse colleague, Christina Cruso said, "She is constantly making changes to make the Infusion Center fantastic for the patients, families and staff." While managing a fast-paced and demanding unit, "Humor is one thing that helps us during stressful times. I appreciate the fact that she still has hers. She is quiet but she has a quick wit and she is able to keep us all smiling!"
The Infusion Center plans to celebrate this honor by proudly displaying Nancy's plaque in the center of the unit.
Congratulations Nancy!
Jeri Fonacier Receives October DAISY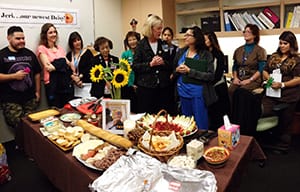 Geraldine (Jeri) Fonacier, RN, 5 East, was presented with the October DAISY Award at Children's Hospital Los Angeles.
Jeri, who has been with Children's Hospital for more than 20 years, was described by fellow nurses, colleagues and friends as "tenacious," "caring," "compassionate" and "resourceful". She is also a "worrier" who is always concerned with providing the best care for patients, while being an "advocate for everyone."
While accepting her award, an emotional Jeri exclaimed, "I am shocked and overwhelmed. I care about everybody here. I wouldn't be here if it weren't for all of you."
While presenting the award to Jeri, Mary Dee Hacker, MBA, NEA-BC, FAAN, vice president of patient care services and chief nursing officer, described nursing as "the most important job in the world" because nurses are healers within the hospital community.
Hacker explained that nurses not only care for the sickest patients, but they also take the time to provide family-centered care, a fundamental value that is near and dear to the Children's Hospital way of providing care.
The entire staff at Children's Hospital Los Angeles congratulates you, Jeri.
Maxine Ogbaa, RNIII, Receives September 2013 Award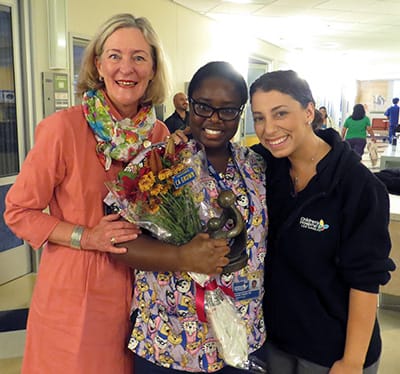 We are thrilled to announce that Maxine Ogbaa, RNIII, from the Newborn and Infant Critical Care Unit (NICCU), was the winner of September's prestigious DAISY Award for her continued efforts in not only selflessly caring for young patients, but for her commitment to education for the benefit of Children's Hospital Los Angeles. Maxine's manager said "she has truly left a lasting impact on our hearts and the lives of our patients in the short time she has worked here."
In the brief time that Maxine has been with Children's Hospital, she has made an outstanding impact on fellow nurses, managers and families. Her strong work ethic and passion have propelled her to enhance the discharge process.
Maxine values health care that is family centered. She is a member of the Family-Centered Care Committee and she has even developed a "NICC-University," which meets twice a month to educate parents.
"Parents have expressed how much they appreciate Maxine and her support during their infant's NICCU stay. She not only does this with an open heart, but she also brings cookies and treats for the families and helps support them during this difficult time," her manager said.
"Her ability to develop a discharge teaching template, teach and create a NICC-University and work her regular shifts are just a small reflection of all of the things she does on an everyday basis that go unrecognized."
During her acceptance speech, Maxine gave credit to her peers and recognized that she "stands on the shoulders of giants" and that her efforts would not be possible without the support of her team.
We could not be any more proud that you are a part of the Children's Hospital team. Thank you for all that you do.
Congratulations, Maxine!
Gigi Giesler, RN, BSN, Receives August 2013 DAISY Award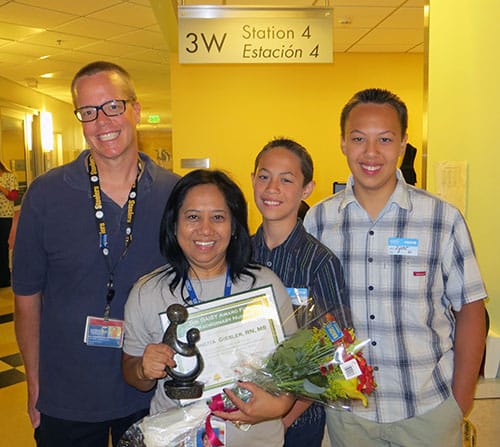 Gigi Giesler, RN, BSN, from the Newborn and Critical Care Unit (NICCU), was awarded the DAISY Award for her continued service and dedication to Children's Hospital Los Angeles, as her husband, sons and fellow nurses watched proudly. The award came as a total surprise to her since her family managed to trick her into coming to the hospital on her vacation.
Gigi has been a pivotal member of Children's Hospital for 11 years, helping to care for critically ill infants and being an emotional support system for their families.
"Every single nurse in the entire NICCU agrees that Gigi exemplifies the incredible work done by nurses every day," said Audrey Arndt, RN, BSN, who is Gigi's colleague and nominated her. "Working with Gigi has been a blessing. She is such a caring and compassionate nurse. Her knowledge of caring for our fragile population is something we can only gain with time and dedication."
Brandi Bowen, RN, BS, Receives July 2013 DAISY Award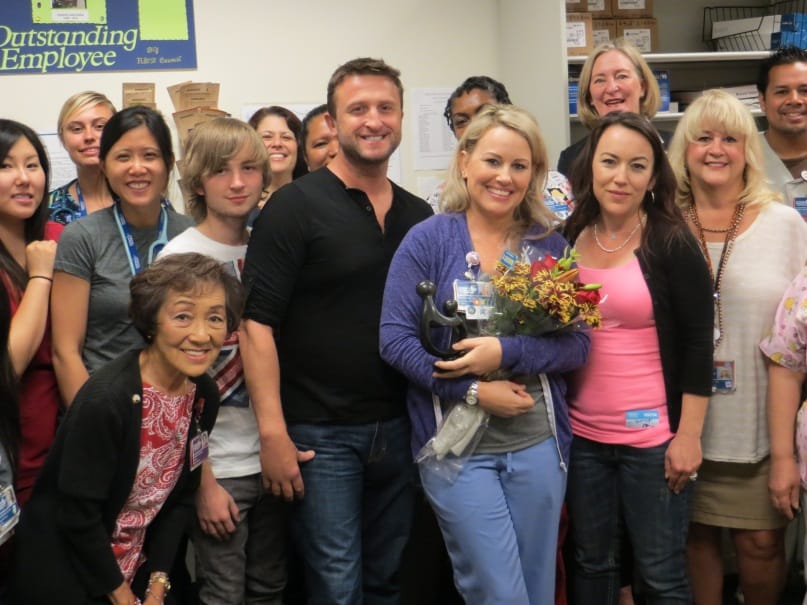 Brandi Bowen, RN, BS, 6 West, was happily surprised with the DAISY Award for July 2013. Her co-workers, sister, boyfriend and his son were in attendance to congratulate her, along with special presenter Mary Dee Hacker, MBA, RN, chief nursing officer.
During the presentation, Hacker shared the history of the DAISY Award and why it is special to nurses.
"Brandi is well deserving of this award," said James Mandani, Manager of PSC Operations, 6 West, in his written nomination of her and during the surprise ceremony. "It is the way she shines and her personality is magnetic. She makes everyone, including patients and new staff, feel welcomed and at ease."
At the end of the ceremony, Bowen shared "Since I was in the RN residency, I've always wanted to be a DAISY nurse!"
Congratulations, Brandi.
Julie Fiore, RN, Receives June 2013 DAISY Award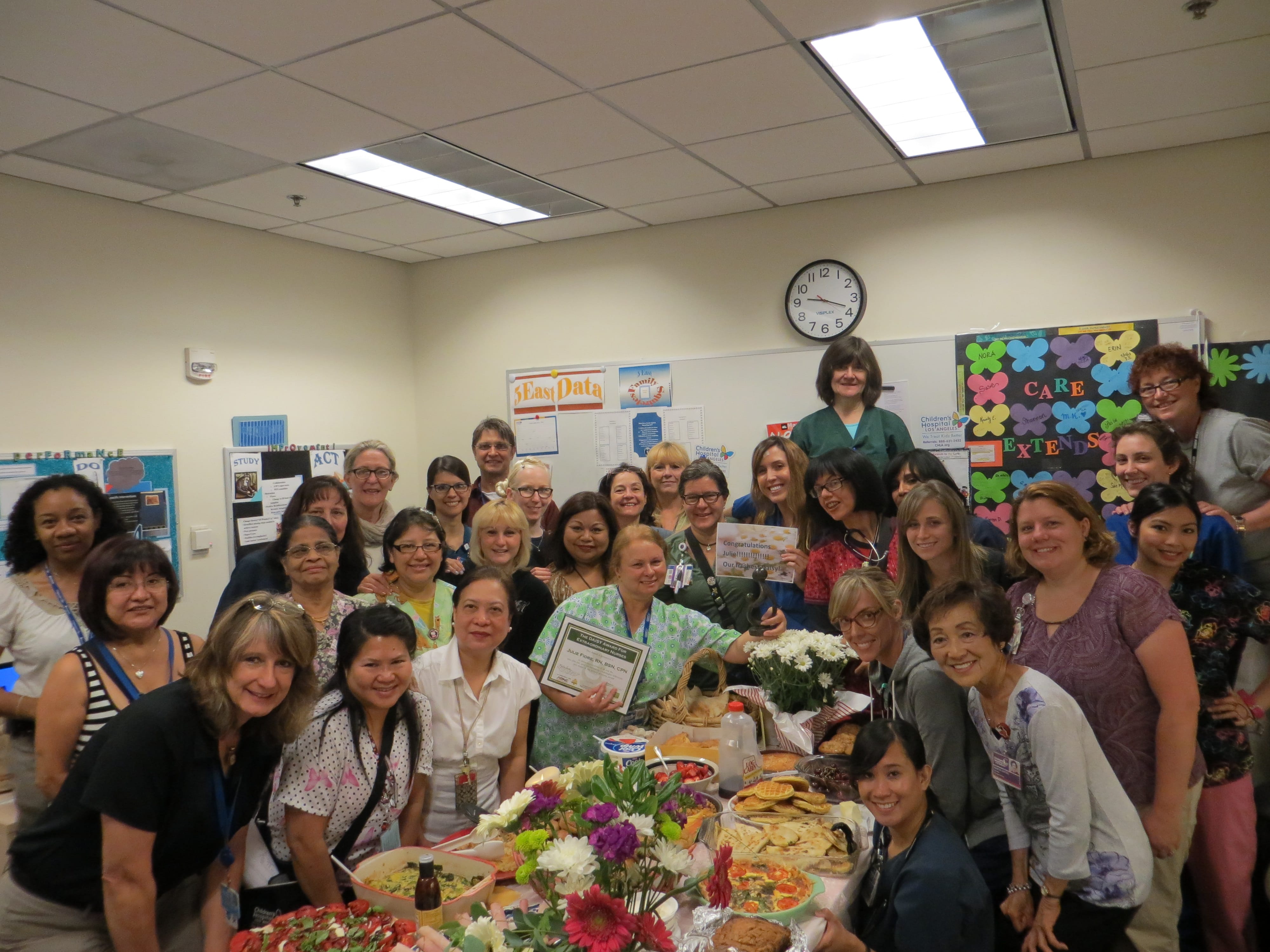 Julie Fiore, RN, 5 East, is the June 2013 recipient of the DAISY Award at Children's Hospital Los Angeles. Colleagues and co-workers congratulated Fiore as she was presented with the award. Fiore was teary eyed as she received her award and stated "Children's Hospital Los Angeles is my second family."
She is a veteran in her department, having worked here for 34 years. Fiore is the center of her family, as well as the hospital unit that she works in. She also stated that she loves the "philosophy of Children's Hospital and its team of nurses that care for both patients and families."
Fiore has joined the more than 70 DAISY nurses who have been honored by Children's Hospital for more than 10 years. At the ceremony, Susan Santner, MSN, RN, 5 East Operations Manager said, "Julie is a wonderful clinician. She shares information with new people and can treat any patient on the floor." Santner also stated that Fiore's award is "long deserved."
Fellow nurse and colleague, Charlene O'Brien, RN, 5 East said in her written nomination of Julie, "She is an outstanding patient advocate characterized by her clinical expertise and devotion to her patients and families. She is always diplomatic and respectful in any situation. Julie is a role model for the excellence and values of a Children's Hospital nurse."
Congratulations, Julie, for being selected as a DAISY nurse!
Dawn Landery, RN, Lead Nurse in BMT, Receives May 2013 DAISY Award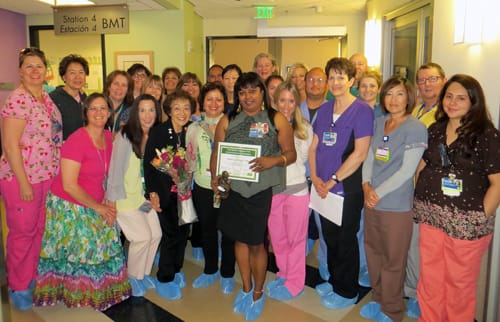 Dawn Landery, RN, Lead Charge Nurse in the Bone Marrow Transplant (BMT) unit was surprised to see her husband come around the corner to surprise and celebrate her efforts with a room full of her colleagues as she was honored with the DAISY Award for May 2013.
Landery received several nominations from all areas of the hospital including nurses and physicians on her unit, staff from the Blood Donor Center and staff from the lab in Smith Tower.
One of her nominators described Landery as "a distinguished and outstanding nurse and role model."
"Landery is exactly the type of nurse that should be in a charge nurse position, as she is able to multi-task, prioritize and meet all of the patient care goals by the end of the day," said another colleague who nominated her. "Dawn goes beyond the expectation of the role of charge nurse by engaging those around her in activities and motivating staff to become involved in projects, research and the multidisciplinary journal club, which she started."
Landery successfully started the multidisciplinary journal club to foster communication and improved patient care. She is also described as having excellent teaching skills as a provider of clinical instruction and supervision to nurse students, new NPs and rotating residents through the BMT unit. Congratulations Dawn Landery for earning the DAISY Award!
Inge Morton, RN, BSN, CPN, Receives April DAISY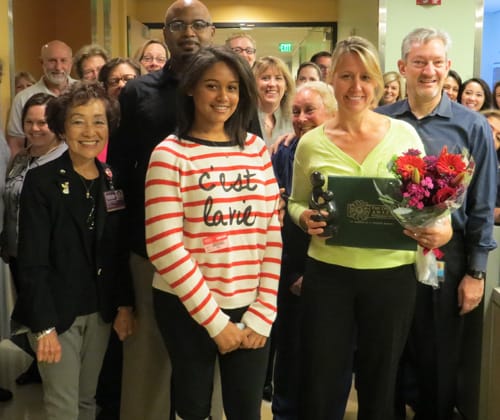 Inge Morton, RN, BSN, CPN, in the emergency department was busy rounding up colleagues on the unit for an early morning surprise DAISY Award celebration, unaware that she was the honoree. Once everyone was gathered, Mary Dee Hacker, MBA, NEA-BC, FAAN, vice president for patient care services and chief nursing officer asked the unit on the count of three to announce the winner. Needless to say, Inge was surprised when her name was called out by her colleagues.
During the ceremony, Susan Cline, RNC, MSN, MBA, education manager of the emergency department, described Inge as a patient advocate, an example of nursing excellence and went on to say "Inge makes us all better at what we do."
Inge started her career at Children's Hospital Los Angeles in 1992. She has served as a staff RN, education manager and clinical manager in the emergency department and Level 1 Pediatric Trauma Center. Several colleagues from her unit participated in the nomination. Here are a few compelling snippets:
"Inge is one of the best managers I've had in my life because she is passionate about her work."
"Inge has personally influenced the way I practice nursing. I'll take those lessons with me throughout my career."
"Inge is the catalyst for a number of important changes that have improved the emergency nursing care we provide to our patients."
Considered a role model to patients, families and staff, Inge is a deserving DAISY Award winner for the month of April.
Congratulations, Inge!
Tanisha Kipling, RN, BSN, Receives March DAISY
Tanisha Kipling, RN, BSN, was surprised as she started her dayshift on the Newborn and Infant Critical Care Unit (NICCU) only to be greeted by her parents, husband, brother, sister and other nurses on the unit from the day and night shift in a celebration recognizing her as DAISY Award recipient for March 2013.
Kipling worked at Children's Hospital Los Angeles for one year as a unit assistant followed by six years as a registered nurse. She is the type of nurse who lets nothing stand in her way and is continually going the extra mile for the families of sick infants.
"There is never a day when she is grumpy or upset; she always has a calm and reassuring smile on her face that warms even a cold heart. Her compassion for the critically sick infants here in the NICCU exceeds, by far, any other nurse I have had the privilege of working with," described Robert Giesler in his nomination supporting Kipling. Robert also recalled a time where a parent pulled him aside and said that she is a hero.
Children's Hospital Los Angeles agrees that Kipling is a true hero and is deserving of the March DAISY award for her incredible work, knowledge, compassion and clinical skills. She is truly a great asset to the CHLA family.
Congratulations, Tanisha.
Grace Ruiz, Clinician III, CV Acute, Receives February DAISY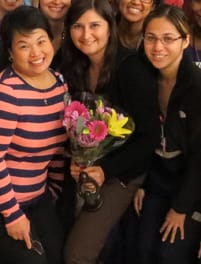 As a member of the DAISY Award committee, Grace Ruiz, a nurse in the Cardiovascular Acute Unit (CV Acute) at Children's Hospital Los Angeles, didn't think she was eligible to receive the hospital's top recognition for exceptional nurses.
That's why she was shocked when she was presented with the award for February 2013 during an early morning gathering with Chief Nursing Officer Mary Dee Hacker and her nurse colleagues.
"Grace is a wonderful nurse whom all nurses admire and respect," is what Aileen De Guzman, RN, wrote in the nomination of her CV Acute coworker.
One of the stories shared about Ruiz centered on a patient whom she cared for during their final hours of life. While it was a very difficult time for the family and staff alike, Ruiz remained professional at the bedside and "provided care that was gentle and reassuring."
De Guzman summed up her nomination by saying that "Grace's care for everyone is an example of the hard work, compassion and love that CV Acute nurses provide on a daily basis to patients, families and the CHLA family."
Congratulations to Ruiz for receiving the DAISY and for all her caring work.
Julita Reyes, RN Lead, Receives January 2013 DAISY Award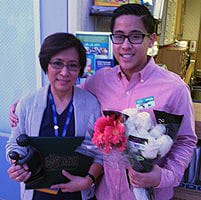 Julita "Lita" Reyes, RN, a compassionate and caring nurse with more than 30 years of experience is one of the lead nurses for the night shift and has been described as one of "6 North's finest. "
Reyes was recently honored as the DAISY Award recipient for January 2013 in a celebration with her colleagues. She was quite surprised to find her son, Patrick among the crowd with flowers in hand for her. She was very thankful and humble when receiving the award. "Thank you, I feel honored to receive this award," was her heartfelt sentiment.
Her colleague, Yvonne Hughes-Ganzon recognizes how lucky they are to have her, "6 North is fortunate to have Lita as a great leader, team player and resource. She is always available to staff, patients and families."
Congratulations, Lita, for your award and thank you for all your hard work and many years of service!
Meghan Middleton, CPNP-PC/AC, CNS, Receives February 2012 DAISY Award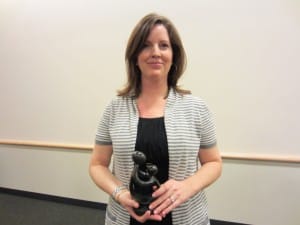 In a surprise ceremony that included her parents—who flew in from Massachusetts—Meghan Middleton, CPNP-PC/AC, CNS, was presented the DAISY Award at Children's Hospital Los Angeles.
Middleton's co-workers from the Comfort, Pain and Palliative Care Program originally gathered with her to "discuss" organizing their work as blue and white chip items when her parents walked into the meeting room, along with her husband, Michael.
"Blue chips, white chips, I was wondering what was going on, and then I saw them come in the room," Middleton said. "I thought to myself, I know they are my blue chips but what are they doing here?"
Middleton arrived at Children's Hospital in 2007, with a strong background in pain management and palliative care from her previous career at Yale University. Since then, she has helped grow the Comfort, Pain and Palliative Care Program at the hospital, working to help create a monthly educational series on end of life care and family support and helping to recruit palliative care team members.
With a calm demeanor and the ability to soothe a scared children, Middleton not only comforts the patients and families she works with but also is a strong role model for nurses in the Versant RN Residency Program.
"To me, Meghan is a trusted colleague and friend," said Debbie Jury, RN, CPNP-PC/AC, CNS, reading from Middleton's nomination form. "We have worked in harmony to develop pain management protocols and standards of care that ensure that evidence-based pain management practices are being followed throughout the Children's Hospital campus. It's amazing to me how well we complement and build upon each other when it comes to developing new research ideas, writing for publication or just problem-solving.
"In eastern medicine they say there is a Yin for every Yang," Jury continued, "these are not opposing forces but rather complementary opposites that work within a greater whole as part of a dynamic system. As nurse practitioners we've got this Yin-Yang working relationship … hands down.
Ann Alvarez, RN, BSN, Wins DAISY Award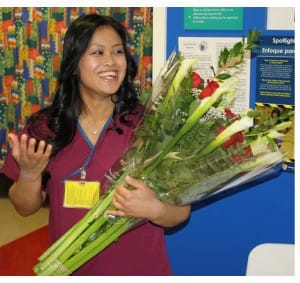 Ann Alvarez, RN, BSN, (BMT) is the latest winner of The DAISY Award at Children's Hospital Los Angeles. Her win was announced in a surprise ceremony on January 12.
Surrounded by friends and co-workers, Alvarez accepted her award with customary grace and modesty. Her husband was on hand for the festivities, having been sneaked into the unit to surprise his unsuspecting wife.
Alvarez now joins the elite group of 75 fellow DAISY nurses to be honored at CHLA since the program began nearly a decade ago.
Alvarez's nomination was particularly meaningful because it came from the parent of one of her patients. This parent wrote in glowing terms about the care that Ann provided for her son:
"This has been a difficult process for our family, as you all know. One of the best things that happened here at this hospital is Ann Alvarez. She is one of the most encouraging, supportive, nurturing and engaging nurses I have met here. Her mere presence is that of a leader, a person willing to go the extra mile.
"She has such an inviting but firm way of helping my son to push himself into healing. It's a pleasure to watch her work her magic. When my son gets depressed and starts to shut down, Ann begins to find ways to bring him out of this stage. This is even with her very busy schedule [that] she makes time for him. She's a Champion in her field of work and for that I'm grateful. I have met some great nurses, however, she's the best by far to ME.
"I feel she is very clear and consistent with her reports about [my son's] status while sharing the updates with me. She takes her time to make sure I understand what's really going on with my son. If something changes she calls me to keep me posted on his needs. Because of the relationship with her, I feel my boy is in excellent hands with the BMT team."
Christina Cruso Wins December DAISY Award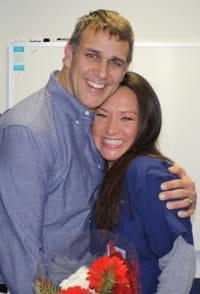 Christina Cruso with patient Chase Stecyk, and his parents, Amy and Randy Stecyk.
Christina Cruso, RN III, BSN, CPON, has become the 75th DAISY Awardee at Children's Hospital Los Angeles.
Her DAISY Award win was announced at a surprise ceremony on Dec. 13. During the ceremony the conference room was filled with many of Crusos' co-workers, friends and supporters, including her husband, George Cruso (a nurse in the Emergency Department), and one of her patients, Chase Stecyk, and his family.
Cruso shares the honor of winning a DAISY Award with 74 of her fellow CHLA nurses, and now joins a group that has been characterized by Mary Dee Hacker, RN, MBA, FAAN, chief nursing officer and vice president, Patient Care Services, as the "Who's Who of CHLA nursing."
Cruso (formerly Chris Smith; she and George married last October) served as co-captain of the CHLA Nautica Malibu Triathlon team this year, along with Rod Hanners, senior VP and COO. Hanners commented on Cruso's win by saying: "Chris is just excellent. I cannot imagine anybody better suited for the award."
Cruso with her husband, George Cruso, at the ceremony.
In fact, several of Cruso's co-workers submitted quotes included in her nomination package:
"Chris is a confident and knowledgeable nurse who is a valuable resource to her colleagues. She takes the initiative to make our unit better by benefiting the staff, patients and families."
"Chris is the nurse that I want there when there is a sick patient. She is calm, efficient and a great team player. Her approach to patients and families is wonderful. She puts 200 percent of her energy into her work. She leads the CHLA Triathlon Team with patience and grace and we all love her for it. No one is more deserving."
"I think she is very deserving of this award. She is a great leader and innovator. When she is in charge in the Day Hospital, you have the sense that things will go well during the day. She knows what is going on with all nurses on the unit and helps out personally. She has given 110 percent to Nautica and needs much recognition for this."
"One of the qualities that I most admire and respect is Christina's professionalism. I always know when I call or go to the Day Hospital/Clinic that she will treat me respectfully and listen to me. I have observed her many times with patients, and she is professional and respectful of them also."
Cheryl Barton Receives November DAISY Award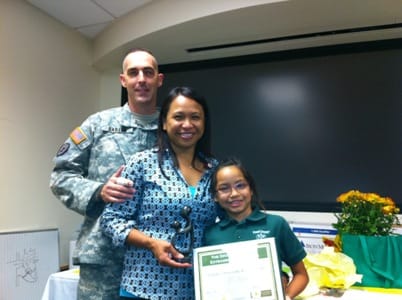 Cheryl Barton, RN, MSN, NP (Cardiology) has been honored with The DAISY Award at Children's Hospital Los Angeles.
Cheryl was honored by her co-workers, friends and family members in a surprise ceremony held Nov. 9. Guests included Cheryl's husband, Todd, who is in the California Army National Guard, and her daughter, Jasmine. The ceremony was put together just in time for Todd, who soon left for deployment to Iraq, to attend.
In a celebration held dear at CHLA, Cheryl now joins the many other nurses across the United States honored each month with this prestigious national award.
She received the Healer's Touch statue, a living daisy plant, a DAISY Award pin, a certificate and the praise of her many friends and co-workers.
Since every nurse who receives The DAISY Award reminds us that her/his entire team is deserving of recognition and that it takes a team to provide great patient care, all the nurses and staff in the recipient's unit are treated to Cinnabon® cinnamon rolls at each presentation.
Cheryl's many nominators had these kind words to say about her:
"Cheryl acts with genuine compassion and empathy in all aspects of her professional and personal life. She absolutely exemplifies nursing and, as a role model, helps me to become a better nurse every day!"
"Cheryl embodies the definition of a team player. She is always delivering patient care with a smile and unmatched compassion. Cheryl's attention to detail ensures her patients get the highest level of care."
"It is always a pleasure consulting with Cheryl on cases due to her expansive knowledge base as well as her respect for other disciplines. She always goes above and beyond for her patients, families and colleagues.
Stephanie Brown, RN, BSN (PICU) has received The DAISY Award for October.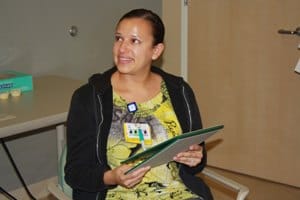 Brown was joined by her co-workers in a celebration now very well-known at CHLA. She joins the many other nurses across the United States who have been honored each month with this prestigious national award. She received the Healer's Touch statue, a living daisy plant, a DAISY Award pin, a certificate and the praise of her colleagues.
Since every nurse who receives The DAISY Award reminds us that her/his entire team is deserving of recognition and that it takes a team to provide great patient care, all the nurses and staff in the recipient's unit are treated to Cinnabon® cinnamon rolls at each presentation.
Brown's nomination is all the more meaningful because it was submitted by a parent of a patient for whom Stephanie cared.
Some excerpts from that nomination form:
"Her commitment to the patients goes beyond just knowledge. We saw how she took care of my son, how she not only did her job, but truly cared for the patient, how she loved not only the patient, but the whole family. She would give hope to what seemed hopeless.
"Every visit my son had, she was there for any questions, for information and support. I didn't want to leave my son alone, but she reassured me that she was there and she wouldn't let anything happen to him. She was someone to rely on. Some nurses just do their job; she does what her heart tells her. I thank her for all she did for my son. We will never forget her for giving us support, love, affection — people she had never met before. I think that takes courage. Thank you for everything, and God bless her."
Donna Quiroz September DAISY Award Winner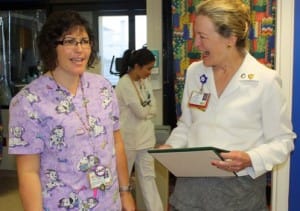 Donna Quiroz, RN, BSN, CPON (BMT Unit) has been chosen as September's winner of The DAISY Award at Childrens Hospital Los Angeles. Her win was announced during a surprise ceremony on Sept. 2.
Donna now joins the many other nurses who have been similarly honored. Mary Dee Hacker, RN, MBA, vice president of Patient Care Services and chief nursing officer, calls our DAISY winners the "Who's who of CHLA nursing."
The following excerpt from Donna's nomination form tells the story of her dedication to the profession of nursing and the young patients for whom she cares.
"Donna is an outstanding nurse who is deserving of this recognition. She has been a CHLA nurse since May 1993. As her supervisor and colleague, I have witnessed her superb clinical nursing skills as well as her abilities as a leader, teacher, mentor and patient advocate.
"The knowledge and expertise required to care for acutely ill children who are undergoing bone marrow transplant entail extreme competence and confidence in providing critical oncology care. She has repeatedly demonstrated excellent nursing care for many patients over the years throughout this time-intensive procedure. She is often a key staff nurse who is dedicated and top-notch preceptor and nursing resource. I hear so often that patients and families 'adore' her.
"She is a leader on the BMT unit. Her leadership abilities include charge nurse, primary nurse, liaison with team members, and role model of nursing care and documentation, as well as direct patient care routinely or urgently. Her peers and patients are secure, safe and happy when Donna leads the way.
"Additionally, Donna is an awesome teacher and mentor for students and novice nurses on the BMT unit. She graciously, calmly and expertly shares her wealth of knowledge and support with many. She assists staff to integrate and become part of the BMT social team easily. She reassures them when times are tough and has a great sense of humor and positive attitude, which is a strong attribute. She is involved in our national pediatric oncology organization and has participated in many local and national educational endeavors.
"One of her greatest strengths is her passion and role modeling of patient advocacy. This characteristic of Donna's is perhaps the pivotal reason why I nominated her for this award. Time and time again as she takes the lead primary nurse role for many of our BMT patients, she displays the utmost compassion and dedication to each of them and their families. She is extremely detailed in their day-to-day acute care, orchestrating their ongoing plan of care and communicating and advocating to all health care providers the best quality of care that each of her patients deserve. Whether it involves pain management, nutritional support, chemotherapy administration or social support, she puts forth maximum effort and communication at all times.
"The nurse-patient therapeutic relationship or interaction that I recall often when I see Donna on the unit is related to a long-term patient for whom she cared recently from his admission, readmission and unfortunate death. As I walked through the unit over many weeks and months during this child's hospitalizations, I would pause and witness Donna's interactions with this young boy. I would observe her tender touch to his face and head and arms as he was in his 'swimming pool' bathtub. I would hear her sweet voice telling him stories and words of love and support. I would see her rocking him in her lap and gently rub his 'sore' belly or head as they watched a movie or TV together.
"These were picture perfect moments of what Donna Quiroz and nurses do here at CHLA and how extraordinary they are. His parents were not able to be present all the time due to other family responsibilities. Donna recognized from Day One that after a rocky road since his diagnosis and time spent on the 4 East oncology unit that this boy's experience on BMT would be nothing short of difficult and lengthy. Her care and compassion for this patient was just natural to her and I knew she loved him dearly. In my mind, the truth is told that her care and compassion is extraordinary and unforgettable — and makes me and everyone else remember why we are pediatric oncology nurses.
"Donna Quiroz exemplifies a DAISY nurse and is so deserving of this award. I wish her to join this special group of CHLA nurses."
Lindsay Quirk: Our DAISY Award-winning Nurse for August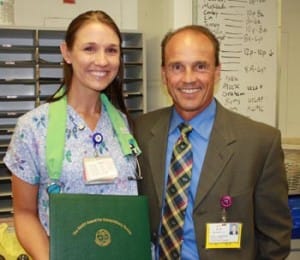 Lindsay Quirk, RN, BSN, Emergency Department (ED), was chosen to receive The DAISY Award for the month of August. And it was an interesting turn of events that led to her nomination.
CHLA's Senior Vice President and Chief Operating Officer Rod Hanners had brought his daughter to the ED for a broken wrist. After that experience, he was so impressed with Lindsay and the quality of care she provided to his daughter and his whole family that he nominated her for a DAISY Award.
"The biggest thing with Lindsay," says Rod, "is that she just really connected with my daughter. As close as you are to CHLA, it just makes you proud.
"When I got back into work that Monday, I dropped off a card to Lindsay that my wife and I had gotten for her," says Rod. "But I wanted to do more, so I spoke with Mary Dee [Hacker, chief nursing officer], and she suggested I nominate Lindsay."
An excerpt from Lindsay's nomination form:
"I had the misfortune of needing to bring my 17-year-old daughter to the Emergency Department with a broken wrist. As unpleasant as that event was to my wife, younger daughter and myself, the silver lining was the opportunity to meet and get to know Lindsay Quirk. Technical competence was a given… what stood out was the spirit with which she approached her duties that captivated us.
"Lindsay embodied all the qualities we aspire to for every caregiver and non-caregiver at Childrens Hospital Los Angeles, and while it took an injury to my daughter to see her in action, I am thankful that I had the chance. In the words of my daughter coming out of anesthesia (I call it 'truth serum'): 'Lindsay…' (Lindsay says, 'I'm here.') 'I love you!' says my daughter."
Lindsay Quirk, RN, BSN, with her DAISY Award nominator Rod Hanners, senior VP and COO at CHLA.
"She had such a positive, reassuring personality and immediately connected with my anxious wife, inquisitive younger daughter and injured older daughter — easing their fears and frustrations with the injury.
"As a father I couldn't have been more pleased, but as the chief operating officer of this hospital, I couldn't have been more proud. In those late hours on a Friday evening, I had the privilege of experiencing what so many families experience each and every day — a super committed nurse who cares so much about the work she does, all on display through her gestures, her eyes, her movements, her patience and her spoken words."
Margaux Chan: July DAISY Award Winner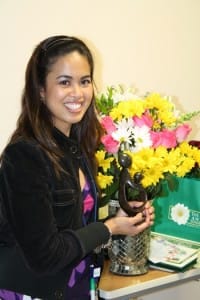 Margaux Chan, RN, BSN, of the Post-Anesthesia Care Unit (PACU), has been named the recipient of the prestigious national DAISY Award for July.
Margaux was thoroughly surprised by her award announcement ceremony on July 8. After being present for DAISY Award ceremonies for many of her co-workers, this time it was Margaux's turn!
She came in to work that day never suspecting that she would win the award. But when she saw her husband, Kevin, walk in, all that changed. In fact, according to reports, she was so emotional that co-workers had to give her a box of Kleenex.
"PACU really goes all out for their DAISY nurses," DAISY Award Committee chair Marion Antoku says. "Margaux received a daisy-patterned crystal vase from Tiffany, a gift card from Nordstrom and a framed photo around which the entire PACU staff wrote personal notes. They also served bagels, coffee and other great snacks."
Margaux now joins the many other nurses across the United States who have been honored each month with this prestigious national award.
She received the traditional Healer's Touch statue, a daisy plant, a DAISY Award pin, a certificate and the resounding praise of her co-workers.
DAISY is an acronym for Diseases Attacking the Immune System. The Foundation was formed in January 2000 by the family of J. Patrick Barnes, who died at age 33 of complications of Idiopathic Thrombocytopenic Purpura (ITP).