Clinical Anesthesiology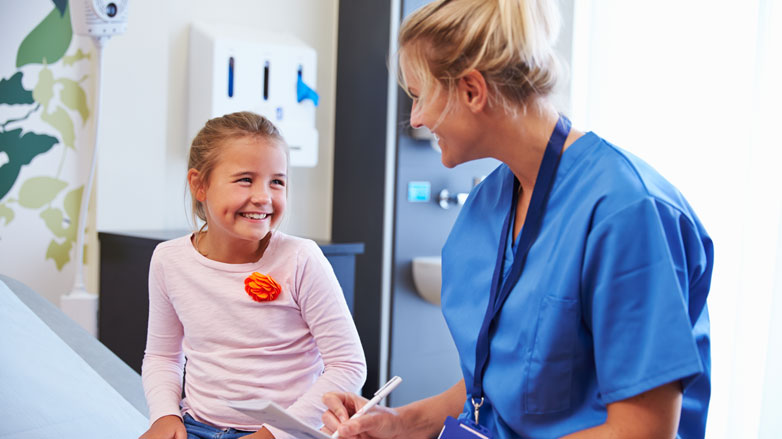 The Division of Clinical Anesthesiology at Children's Hospital Los Angeles, the top-ranked hospital in the Western U.S., is a national leader in providing anesthesiology services. Our pediatric anesthesiologists provide services for children of all ages who have a wide range of medical conditions, from fragile newborns and babies with surgical emergencies to children with birth defects and life-threatening diseases.
We perform anesthesia in the hospital's operating rooms (ORs), Ambulatory Surgical Center (ASC), Interventional Catheterization Program and in the Department of Radiology. In the fiscal year 2018, we treated approximately 24,702 cases in the following areas:
Main OR cases – 11,664
ASC cases – 5,502
Interventional Catheterization Program cases – 721
Cardiac bypass cases – 661
Radiology cases – 5,605
Radiation oncology cases – 549
Our anesthesiologists practice in 15 state-of-the-art operating rooms within the main OR and the ASC. Each room is outfitted with the most advanced anesthesia equipment available.
Patient documentation is performed through a fully automated, online computerized system. The preoperative and intraoperative records are integrated. Providers in the Division are further supported by annual retreats for leadership training, planning and problem resolution.
Fellowship Program
Our purpose is to create an educational environment that will attract, recruit, educate, and develop excellent physician leaders in pediatric anesthesiology. Our Anesthesiology Fellowship program is accredited by the Accreditation Council for Graduate Medical Education (ACGME) and the fellowship training is based on clinical, didactic and self-directed experiential learning in relation to the six ACGME core competencies. The program provides outstanding clinical experience in all the surgical specialties, including pediatric organ transplantation and is a level I pediatric trauma center. Opportunities to participate in the administration of anesthesia outside of the operating room for diagnostic and therapeutic procedures, as well as functioning as a consultant for the hospital's Comfort and Pain Management Program (acute and chronic) are integral parts of the Fellowship training. The main strength of the Fellowship Program lies in its educational balance of outstanding clinical cases, leadership curriculum, and clinical and basic research opportunities.
Rotations
The clinical training program occurs over one year including the following rotations:
Main OR and remote locations - 6 months
Cardiac Service - 2 months
Ambulatory Surgical Center – 1 month
Critical Care (PICU) - 1 month
Pain Management Service - 1 month
Electives - 1 month
Education/Conference and Vacation time - 1 month
Additional Resources
Grand Rounds
Journal Club
Mentor-Mentee Program
Resident Lecture Series
Anesthesiology Fellow Lecture Series
Conferences

Morbidity and Mortality Conference
Quality Assurance Conference

Leadership Curriculum

Physician Executive Training

Pediatric and Oral Board preparation
OSCE Board Preparation
Medical Simulation Lab
Career Development Course
Wellness Curriculum
Other Opportunities
Optional second-year non-ACGME fellowships are available upon acceptance, including:
Pediatric Cardiac Anesthesiology Fellowship
Regional Anesthesia and Acute Pain
Scholarly Activity
We require every fellow to be involved in some form of scholarly activity during their fellowship year. In recent years, all of our fellows had scholarly projects submitted and accepted to the Society of Pediatric Anesthesiology annual conference and were given the opportunity to present their work. Each fellow is paired with a faculty mentor from their first day to aid in academic and professional development. In addition, there are numerous research opportunities within the Department. Fellows and Faculty are actively engaged in projects including:
Retrospective studies - using combination of local sources of anesthesia data for research questions: impact of specific intraoperative procedure on postoperative outcome, defining similarities between patients, predicting effects of anesthesia techniques
Prospective and interventional studies – effects of intraoperative procedures or anesthetics on specific patient population, predicting improvement in postoperative management
Quality Improvement Projects
Pain and Sedation studies
Fellowship Candidate Infromation Packet : Recruitment Packet Link
Anesthesiology Education
In addition to providing leadership in training pediatric anesthesiologists, the Division has also taken a leading role in providing education to anesthesia practitioners across the United States. We host the annual Clinical Conference in Pediatric Anesthesiology, which is the oldest continuous pediatric anesthesia program in North America.
Clinical Conference in Pediatric Anesthesiology: https://pediatric-anesthesiology-foundation.com/
The extraordinary skills of our physicians, nurses and clinical staff combined with their passion and expertise help us to deliver superior patient care.
Patient and Family Resources
All our providers are Board-certified by American Board of Anesthesiology in Pediatrics. The training background of our faculty is diverse, representing many programs from across the country.
Below are some resources and information on potential safety concerns and risks associated with Anesthesia.
Consensus Statement on the Use of Anesthetic and Sedative Drugs in Infants and Toddlers
Each year, millions of infants and toddlers require anesthesia or sedation for surgery, procedures and tests. Concern has been raised about the safety of the medicines used for anesthesia and sedation in young children. This concern is based on research in animals demonstrating long-term, possibly permanent, injury to the developing brain caused by exposure to these medicines. This injury results in abnormalities in behavior, learning and memory in animals. The effect of exposure to anesthetic drugs in young children is unknown; however, some but not all studies have suggested that problems similar to those seen in animals could also occur in infants and toddlers. It is important to recognize that the studies in children suggest that similar deficits may occur. These studies in children have limitations that prevent experts from understanding whether the harmful effects are due to the anesthetic drugs or to other factors such as the surgery or related illness. Additional research is necessary to understand whether children are harmed by anesthesia, and if so, what alternative medicines might be used to minimize its risks. Because there is not enough information about the effects of anesthetic drugs on the brains of young children, it is not yet possible to know whether use of these medicines poses a risk, and if so, whether the risk is large enough to outweigh the benefit of the planned surgery, procedure or test.
The U.S. Food and Drug Administration (FDA) is warning that repeated or lengthy use (greater than three hours) of general anesthetic and sedation drugs during surgeries or procedures in children younger than 3 years or in pregnant women during their third trimester may affect the development of children's brains.
Should my child's surgery be delayed?
The current consensus supported by organizations such as the American Academy of Pediatrics (AAP), American Society of Anesthesiologists (ASA) and the Society for Pediatric Anesthesia (SPA), states that elective surgery in children should be undertaken only if the benefits outweigh the risks for surgery and anesthesia. Until there is more definitive data it would be unethical to withhold anesthesia from children undergoing necessary surgeries and procedures. Furthermore, delaying essential surgery can have other detrimental effects on your child and should be discussed with your care provider who is familiar with your child's unique medical condition.
If you have any questions regarding neurotoxicity, please email: SafeAnesthesia@chla.usc.edu
Online Resources:
http://smarttots.org/wp-content/uploads/2015/10/FAQsParents10.2015.pdf
http://www.smarttots.org/resources/faq.html
The Division of Clinical Anesthesiology includes 37 Board-certified and Board-eligible pediatric anesthesiologists. In addition, several faculty members are boarded in pediatrics and pediatric critical care. With approximately 200 years of combined experience and nearly 200 publications, our faculty members facilitate and coordinate the complete care of all patients and play an active role in the education of residents and fellows as it relates to perioperative care and pain management.
Certified Registered Nurse Anesthetists (CRNAs) are Board-certified registered nurses with a graduate degree in nurse anesthesia. They are an integral part of the pediatric anesthesia team at CHLA, providing anesthesia services in all practice settings including in the hospital's operation rooms, Ambulatory Surgical Center, Cardiac Catheterization Laboratory and in the Department of Radiology.