"CATCH" Hand Differences Program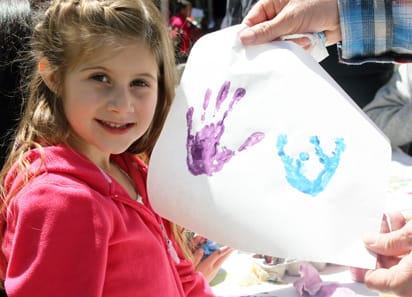 Since 2011, the Center for Achievement of Teens and Children With Hand Differences (CATCH) within the Jackie and Gene Autry Orthopedic Center at Children's Hospital Los Angeles has established a welcoming community for patients with missing, small or weak arms, hands or fingers.
Through mentor programs, peer and parent support groups, special events, scholarships, prosthetics, volunteering opportunities and fun activities such as adaptive rock climbing, CATCH aims to empower patients of all ages and strengthen their resilience and confidence.
CATCH is entirely funded and sustained by philanthropy. Thanks to the support of our donors, this program has been an invaluable resource to children and teens with hand and upper extremity differences.
Events
Annual Picnic
Come for an afternoon filled with fun and educational activities including arts and crafts, games, music, raffle prizes and resource booths. The outdoor picnic features inspirational talks from a variety of guests and speakers from the community, as well as group discussions led by orthopedic providers, occupational therapists, prosthetists, social workers and psychologists. Patients and their families eat lunch together around large tables to encourage socializing and community building.
Annual Holiday Party
Join the CATCH crew for face-painting, magic, arts and crafts, presents, music, prizes, resource stations and special guests to help keep us connected during this festive time of year. Patients and families eat lunch together to encourage socializing and community building.
Support Programs
Handy Heroes Therapy Camp
Handy Heroes Therapy Camp is the only camp of its kind within the greater Los Angeles area. Created and led by the Occupational Therapy program at Children's Hospital Los Angeles, the camp is designed specifically for children with cerebral palsy, a condition which often limits a child's ability to use one side of their body (especially the hand on the affected side) due to lack of strength, coordination and motor skills.
Camp provides physical, psychological and social benefits and creates a sense of acceptance, unity and empowerment among campers. The opportunity to participate in a camp experience with children who have similar challenges is priceless.
Visit the Handy Heroes Therapy Camp page for more information.
CATCH Scholarships
Fundraising efforts allow CATCH to provide scholarships that help children and teenagers express themselves as artists, musicians, dancers, engineers, athletes or anything they need or want to be. Musical instruments, adaptive sports equipment, technologic devices, classes within the community, a day with their hero and prosthetics are just a few of the items and experiences that may be awarded to scholarship recipient.
Support Us
Click here to support!
Please specify CATCH Program on the donation form.