Cell Therapy Program - CAR T-cell Therapy
The Cell Therapy Program at CHLA is led by Alan Wayne, MD who has significant expertise in CAR T-cell therapy and other cutting-edge immunotherapeutic and cell therapy approaches, having treated many patients.
CAR-T Therapy
The U.S. Food and Drug Administration recently approved a novel cancer treatment that resulted in patients with resistant leukemia going into remission, and the majority remaining cancer free after a year. The approach is called CAR-T therapy, and it uses a patient's own white blood cells that have been genetically re-engineered to specifically target and kill cancer cells. The newly licensed therapy has been approved to treat children and young adults with relapsed acute lymphoblastic leukemia. CHLA is the only center in Southern California approved to offer CAR-T therapy to these patients.
"CAR-T Therapy has been called the most significant therapeutic advance in childhood leukemia in a generation."
– Alan Wayne, MD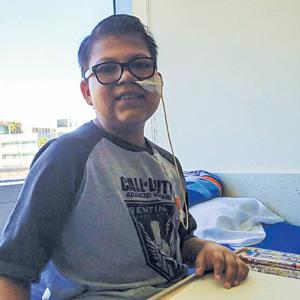 Personalized Medicine
Ninety percent of children diagnosed with acute lymphoblastic leukemia are cured. However, of those who relapse, only a minority survive long-term. So when Alexis Bonilla was 11 years old and his disease returned for the third time, his doctor immediately referred him to CHLA.
Alexis' blood was collected and sent to the lab so that his T-cells could be genetically engineered to recognize and destroy leukemia cells. The opposite of a "one size fits all" strategy, this treatment is individually created for each patient using his or her own cells. Read more.
Kymriah T-cell Therapy
Kymriah (tisagenlecleucel) is a FDA-approved CD19+ targeted Chimeric Antigen Receptor (CAR) T-cell therapy. Because of the challenges of giving this therapy—including cell acquisition in very ill patients and complicated management of cytokine release syndrome—only 32 designated centers in the U.S. will be initially approved to administer Kymriah. CHLA is the only approved center in Southern California, having played a pivotal role in the two multicenter trials leading to approval. For more information, please contact our New Referrals Office.