CHAMP Grads Build Skills for Health Careers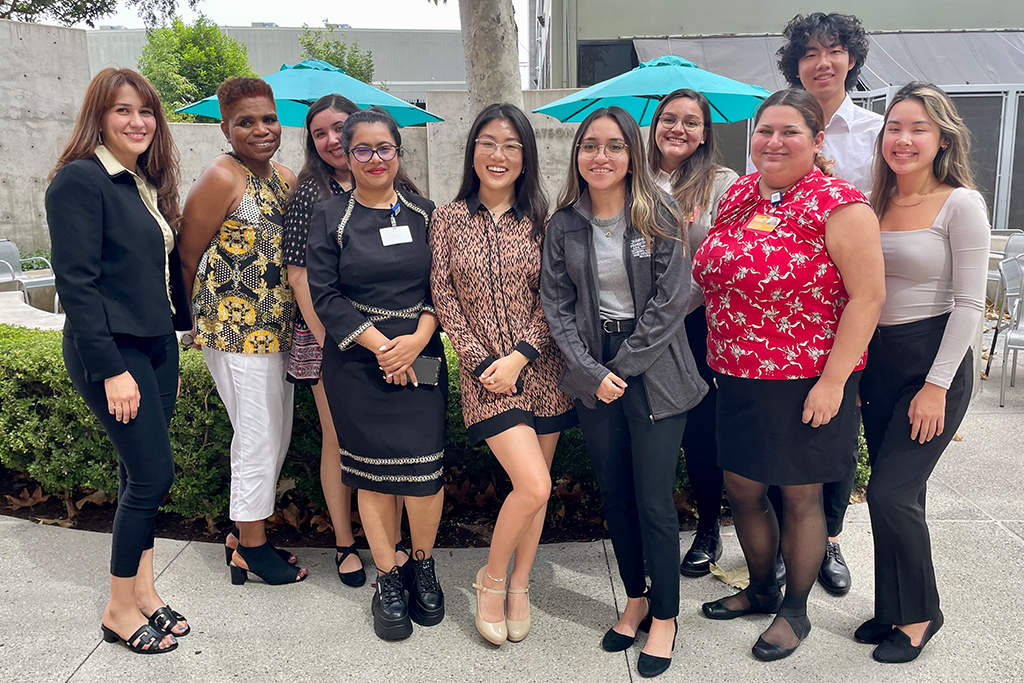 2022 CHAMP interns, left to right: Vanessa Sanchez, Shawn Swanier, Alexandra Garcia, Namrata, Esther Kim, Erika Aguilar, Sara De Leon, Sahar Kazem, Riley Yen and Nina Nguyen.

The Careers in Health and Mentorship Program (CHAMP) gives young adults practical experience and career tips to pursue a future in health administration.

By Candace Pearson
At age 13, Esther Kim's life was abruptly interrupted by a diagnosis of diffuse large B-cell lymphoma. After four rounds of chemotherapy, she couldn't wait to get out of Children's Hospital Los Angeles, even though "everyone was so kind to me," she says.
Little did she know she would return seven years later to take part in the hospital's singular Careers in Health and Mentorship Program (CHAMP), a project that started in 2013 with contributions by Bank of America and Zolla Family Foundation.
CHAMP gives students, often young adults, from L.A.-area colleges and universities the opportunity to explore careers in health care administration and gain resume-building experience by going behind the scenes at a major pediatric medical center.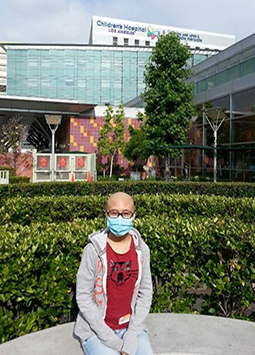 Esther Kim, age 13, while a patient at CHLA
The 11 interns in CHAMP 2022, who graduated from the three-and-a-half-month program in September, came from such schools as USC; California State Polytechnic University, Pomona; California State University, Dominguez Hills; University of La Verne and more.
Each year, the internship draws students nearing completion of their bachelor's degree (and some earning their master's) in fields like global health, health innovation, public health policy, health administration, business management and more.
For Kim, returning to Children's Hospital Los Angeles was "a full-circle moment." She recently started her third year at Occidental College, majoring in cognitive science with a minor in biology. Her goal in applying for CHAMP was two-fold: to learn what it takes to run a busy medical center and "to see if I could work in a hospital after overcoming cancer."
She quickly discovered that she loved it. As an intern in the hospital's Patient Experience Department, Kim's main responsibility was doing technology rounds, checking on GetWellNetwork devices that enable patients to order food and entertainment.
The internship was particularly important to her because Kim was inspired by her diagnosis to change her career goal from writer to pediatric oncologist. "I'd like to be someone who treats kids with cancer the same way I was treated," she says.
Investment in community
CHAMP reflects CHLA's commitment to helping build strong communities where "wellness" goes beyond health care. That includes using its medical expertise, employment power and knowledge of workforce development to benefit the community.
On the verge of CHAMP's 10th anniversary in 2023, the program has touched the lives of more than 280 interns. "We want to maximize the ability of our CHAMP graduates to gain employment following their participation, if that is their ambition, or to bring their practical experience to their plans for higher education," says Rolando Gomez, Director of CHLA's Community Relations and Strategic Initiatives.
Career preparation
Erika Aguilar, another 2022 "Champer," also had an inside view of CHLA, working for three years as a barista at hospital coffee carts, where she met many employees. "I tried to uplift their day while they uplifted their patients," she says.
Now a senior at California State University, Los Angeles, Aguilar is majoring in economics with a minor in health care administration. Her CHAMP assignment for the Information Systems team at CHLA included data management on a clinical trials website.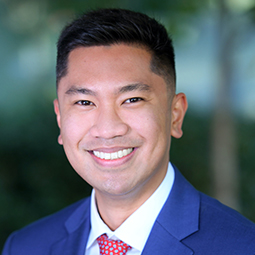 Adrian Sibal, IRB Coordinator, Human Subjects Protection Program at CHLA and CHAMP alumnus
Aguilar appreciated CHAMP's career readiness workshops, which introduce participants to CHLA department heads and mentors. Among other topics, the students took a deep dive into health law, hospital finance and infrastructure, government and community affairs, innovation, enterprise strategy, general pediatrics and diversity, equality and inclusion.
Many of the department heads were women, which "inspired me to push through toward my own goals," says Aguilar. As she makes post-college plans, CHAMP "has given me a taste of what I could do in the future."
Among the CHAMP alumni who addressed participants this year was Adrian Sibal, a member of the 2021 CHAMP cohort, who also had an early connection to CHLA. A friend and classmate during elementary school was diagnosed with leukemia and Sibal visited him in the hospital. Though his friend died in 2011, Sibal was left with an impression of Children's Hospital as a place that "recognizes each patient and family are unique."
His CHAMP internship was a hybrid—part virtual, part in person—due to the COVID-19 pandemic. Even so, he says, he got a "strong foundation for what could be next for me" working in the Office of Community Affairs.
Building a future
Sibal is among the half of CHAMP interns who go on to get hired in a health care position. (The other half typically continue their education.)
In November 2021, Sibal became an official CHLA team member as Institutional Review Board (IRB) Coordinator in the hospital's Human Subjects Protection Program, which oversees the safety of clinical trial participants. "It's a wear-all-hats opportunity," he says.
He especially enjoys working with scientists, physicians and pharmacists. "It's a privilege to get to learn from them," says Sibal, who is simultaneously pursuing his master's in health care management.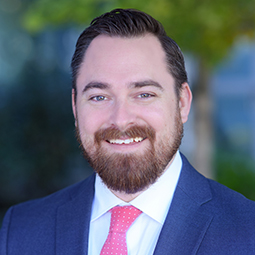 Kevin Lewis, Director of Specialty Care Centers at CHLA and CHAMP alumnus
Kevin Lewis had been working as an emergency medical technician for a decade when he decided to pursue a career in health care administration. But making that change "felt like a huge risk," he recalls.
CHAMP eased the way for his life-changing move, Lewis says, with its real-life insights and "access to executive leadership." Seven years later, Lewis is now Director of Specialty Care Centers at CHLA, with six outpatient clinics under his supervision.
From the very start of his CHAMP internship, Lewis focused on building relationships—something he advises other participants to do. He also encourages them to "get comfortable with being uncomfortable and push yourself beyond what you believed you could ever do."
Aguilar agrees. She advises other students,"If you're committed to doing something in health care, CHAMP is one of the best opportunities. They work with you and want you to succeed, no matter the obstacles. Go for it."
Before her CHAMP internship ended in September, Esther Kim visited the Cancer and Blood Disease Institute and found her former patient room. "It all came back to me," she says, "including the sense that I was proud of myself for all I had achieved."
Standing in that room where she'd gone through so much, Kim got a hint of her future in medicine. "I told myself, 'You're here—right where you're supposed to be.'"
---
Related Content