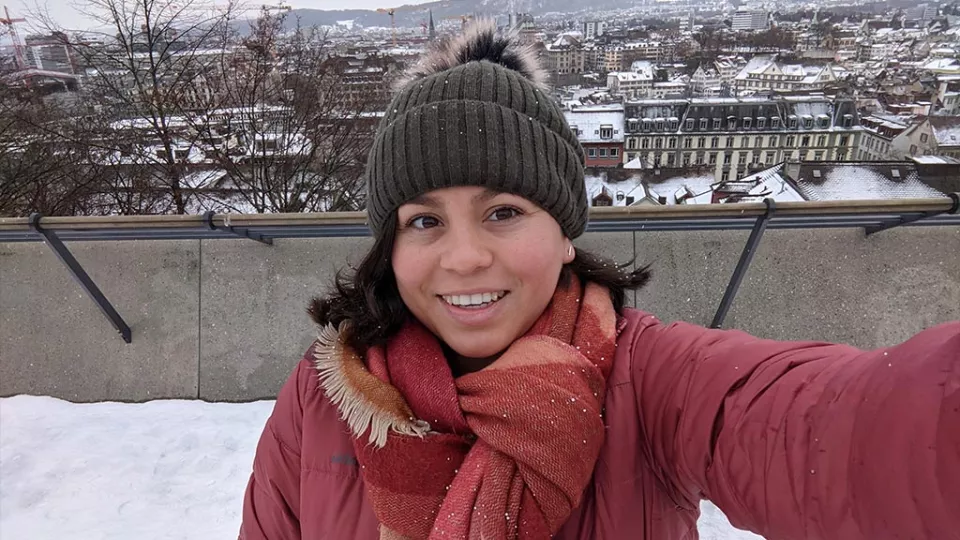 Serving the Community
A Student Turns Scientist: How a Mentorship Program at CHLA Helped Dafne Achieve Her Dreams
"The most important thing LA-HIP gave me was opportunities—to learn from experts and be in a different setting than where I would normally find myself," says the 28-year-old about the Samuels Family Latino and African American High School Internship Program.
Nearly 6,000 miles away from the South L.A. neighborhood where she grew up, Dafne Sanchez finds herself immersed in a whole new world.
"It was a bit of a culture shock at the beginning. Making friends was hard because you just don't understand each other on the same level or laugh at the same things," she says. "Everything is incredibly orderly here. I had never been to a place that takes care of its infrastructure so well, but I'm slowly adapting to the Swiss way of life."
These days, home for Dafne is Zumikon, Switzerland, a small, picturesque town about 15 minutes south of Zürich where she's a doctoral candidate at the Life Science Zürich Graduate School. How she ended up in the heart of Europe can be traced back to one decision she made more than a decade ago.
"I think the main reason I became a scientist was because I did LA-HIP," says the 28-year-old, referring to the internship program for high school students at Children's Hospital Los Angeles.
A roadmap to college
During her sophomore year in high school, Dafne began to hear about the Samuels Family Latino and African American High School Internship Program (LA-HIP), first from a friend who was participating in it and then from one of her school counselors.
Created nearly two decades ago at Children's Hospital Los Angeles, LA-HIP supports students from underrepresented minorities who are interested in careers in science, technology, engineering or math (STEM). The yearlong internship combines hands-on biomedical research and mentorship with intensive college prep guidance, including SAT classes and application workshops. It culminates with interns writing scientific abstracts and presenting their work at a symposium.   
Dafne, who had always been interested in science and took AP classes in biology and environmental science, was intrigued.
"I felt it would give me a roadmap to get to college because my parents didn't have the opportunity, so I had no idea what the entire process was like," she says.
LA-HIP was designed precisely to help students like Dafne get ahead.
'The smart thing to do'
"If you look at the scientific community, it is so different demographically from the actual population of California," says LA-HIP Director Mark Frey, PhD. "Giving all kids opportunities, regardless of what ZIP code they live in, is important because it's the right thing to do—but it's also the smart thing to do. If you shut the door on people who want to become the next physician or scientist, you're cutting out potential expertise and great points of view that could be contributing to the scientific enterprise."
Getting into LA-HIP can be competitive. In 2022, 174 students from the Greater Los Angeles region applied and only 24 were selected based on their academic record, extracurricular activities in STEM and personal essays.
For Dafne, one of the most influential parts of the program was working side by side with a senior PhD student and being mentored by Kasper Wang, MD, FACS, FAAP, Principal Investigator in The Saban Research Institute of CHLA. Their time together in the lab, which focused on liver disorders in children, sparked Dafne's interest in chronic diseases, which she's studying today. More importantly, the mentorship allowed Dafne to envision her future in science not as a lofty goal but a real possibility.     
"They both treated me like a young adult, someone who had the capacity to understand complex material and could make an impact," she says. "It's rare that people treat you that way when you're that age. It was this self-realization of, whoa, what I'm doing is important, it can help people, and it does matter."
Curious and daring
After graduating from LA-HIP, Dafne was accepted to the University of California, San Diego, where she completed a dual bachelor's degree in human biology and global health. While she enjoyed studying biology, she's drawn to more direct ways of influencing human health.
"When you're a biologist, you look at cells and RNA and DNA, but you can't even see it. For me, it was clear there are bigger factors at play when it comes to health outcomes," she says. "It's not just curing a disease on a molecular level but managing how we interact with each other and understanding how we are affected by topics like politics and economics. I've always felt it was important to examine this concept of health from more than one academic lens."
From San Diego, it was off to Switzerland, a move that was part financial decision, part love story. Dafne and her boyfriend applied to several graduate school programs, hoping to stay together. When they both got into the University of Basel—Switzerland, like many countries in Europe, subsidizes higher education—they sold most of their belongings, packed a few bags and moved.
Moving to Europe was daunting, but Dafne was determined to make it work. That drive to take on challenges has always been there, according to her mentors from LA-HIP.
"I remember Dafne being very curious and very daring," says Dr. Wang, whose lab hosted Dafne during her internship. "Even though she had only textbook knowledge of science, she was unafraid and willing to give new things a try. She wanted to learn, and we were there to show her things."
After completing her master's at the University of Basel, Dafne began her PhD work at the University of Zürich.
Opening up more doors
As a doctoral student in epidemiology and biostatistics, Dafne is researching methodological approaches for geriatric oncology. She's drawn to research that focuses on healthy aging and the opportunity to influence decision-making in health care. Her goal is to work in academia or in the private sector as a researcher supporting clinical trials.
Pursuing a doctorate wasn't part of her initial plan, but Dafne saw the degree as "a way to open up more doors when it comes to careers." There was a more personal reason, too.
"I wanted to prove to myself and to everyone rooting for me that I can do this. I see my future as mostly a ladder of self-improvement. A lot of my life has come one step at a time," she says.
When it comes to measuring LA-HIP's success, the program's leaders consider several criteria: the number of teens who participate in the internship, how many go on to complete higher education, and what percentage remain in a STEM-related field once they're in the workforce.
But above all, it's about increasing awareness and providing opportunities for students from underrepresented communities.
"We would love to see more Dafnes—alumni who have gone on to do some really great things. At the same time we like to take the long view," says Dr. Frey. "Even if we have participants who don't stay in science, if we have helped to encourage one person to be science-literate, who then shares their experience and shows someone else that there are these possibilities, that in itself is a victory."
'Give it your best shot'
It's an enormous team effort to execute a program like LA-HIP. Dr. Frey points to Director Emeritus Emil Bogenmann, PhD, EdD—who established LA-HIP in 2005 and continues to support it philanthropically—as well as the program's coordinator, all the postdoctoral researchers and faculty members contributing their time to be mentors, and the many donors who help fund and sustain the program's operations.
Ultimately, though, the students are what make LA-HIP so impactful.
"They are bringing it when they do this program, and we can't take too much credit for their success," says Dr. Frey. "All we're doing is trying to remove barriers and give them opportunities. The ability to do incredibly well comes within them, and our program is here to help uncover that."
Dafne's advice to high schoolers who may be thinking about applying to the program or contemplating a career in science is to be open to new experiences, especially ones that might be uncomfortable.
"There isn't often a chance for kids from disadvantaged backgrounds to meet with professionals. It's a huge disconnect," she says. "The most important thing LA-HIP gave me was opportunities—to learn from experts and be in a different setting than where I would normally find myself.
"In those spaces, you discover a lot about yourself and, while it's challenging, it helps you grow," she adds. "If you're going to do something, might as well give it your best shot!"
Click here to support community impact programs like LA-HIP at Children's Hospital Los Angeles.