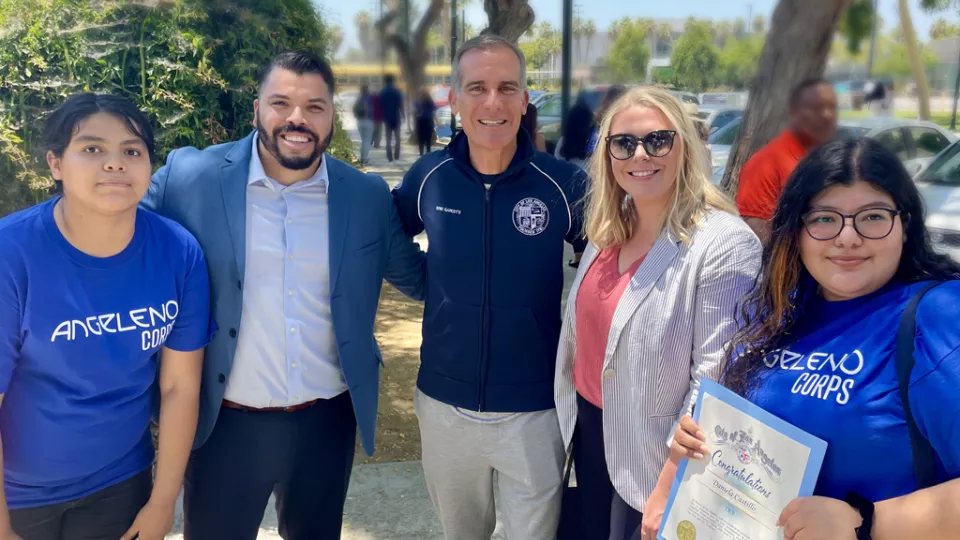 Serving the Community
Angeleno Corps Interns Gain Work Experience—and Serve the Community
Three graduates of the inaugural youth jobs program share their stories—and what it was like to intern at Children's Hospital Los Angeles.
On July 29, more than 300 young people gathered at EXPO Center in Los Angeles for the first-ever graduation for Angeleno Corps—a new program from the office of Los Angeles Mayor Eric Garcetti. Among those who earned their certificate of completion? Three talented interns from Children's Hospital Los Angeles.
CHLA was one of 38 organizations to host interns from Angeleno Corps, a 10-month program that provides youth from areas highly impacted by COVID-19 with the chance to gain valuable work experience while serving their city, pursuing their education goals and earning a paycheck—a $1,000 monthly stipend and a $1,000 college scholarship.
"While the COVID-19 pandemic has had a negative impact on youth across Los Angeles, we know that that impact has been particularly devastating for communities of color, leading to high unemployment rates and disconnection from education," says Carolyn Hull, General Manager, Economic and Workforce Development Department, City of Los Angeles. "Angeleno Corps is a critical program designed to meet the urgency of the moment by re-engaging youth into education and their community."
At Children's Hospital Los Angeles, the three Angeleno Corps interns—Dalila Carrillo, Daniela Castillo and Casandra Rodriguez—worked part-time for the Office of Community Affairs, helping staff with community events, the Community Health Needs Assessment and other projects.
The hospital will also host two interns from the next Angeleno Corps cohort, which begins in the fall.
"One of our longtime initiatives is to help underserved populations in our community gain access to career and work opportunities," says Natalie Jorgensen Romero, Program Manager for Community Affairs at CHLA. "The beauty of it is that we not only are helping community members access jobs, but we're also introducing CHLA to talented young people who then may come back to work for the hospital later on. It benefits everyone."
Below, the hospital's first Angeleno Corps interns share their stories—and what they gained from the past year at CHLA.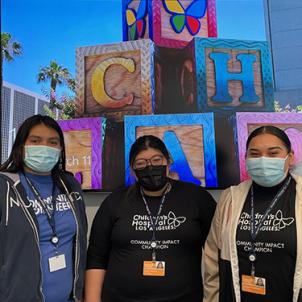 Dalila Carrillo
"I'm starting my first job!"
That was Dalila Carrillo's joyful reaction when she got the email saying she had been accepted into the Angeleno Corps program.
"It was such a good opportunity to build up my resume for the future," says Carrillo, 20, who is pursuing a culinary degree at Los Angeles Trade Technical College. "I was so happy I got in."
At Children's Hospital Los Angeles, one of her main assignments was to assist with the Community Impact Champions Network, which gives CHLA employees an opportunity to volunteer in the local community. Carrillo worked alongside the volunteers—picking up trash in East Hollywood neighborhoods, building planter beds for a community garden and boxing up food for delivery to homebound residents.
She loved the work—and built leadership skills, too. At one event, the CHLA staff person in charge was sick and unable to attend. Carrillo stepped in to lead CHLA's volunteers, communicate with other groups on site, take pictures and more.
"It was scary at first. I had to raise my voice to talk to a big group of people, and I'm not used to that," she shares. "But then I got the nerves out of the way, and it was really fun!"
The volunteer events were particularly meaningful for Carrillo. Growing up, she sometimes received free backpacks and school supplies, or even food, from similar community efforts. "It helped me and my family during hard times when we didn't have much," she explains. "This was a way to say thank you."
Looking back on her internship at CHLA, Carrillo is grateful for the experience she gained, the new friends she made—and her own personal growth.
"I think I gained a better, more social me," she explains. "I'm more talkative when meeting new people; I'm not as shy. It helped me to be more brave, be more bold. They say an opportunity only comes once. So you have to try for it. You have to take the chance."
Casandra Rodriguez
Thanks to her internship at CHLA, Casandra Rodriguez now has a new career possibility in mind: community affairs.
"I didn't even know that career existed," says Rodriguez, 19, a pre-nursing student at Los Angeles Trade Technical College. "It was so interesting to see people at CHLA working together to create these projects that benefit the community. It was amazing. I really enjoyed it."
Along with the other Angeleno Corps interns, she helped out at local volunteer events, including a food preparation event for Project Angel Food, which delivers healthy meals to residents impacted by serious illness. She also assisted with CHLA's 2022 Community Health Needs Assessment Youth Photovoice Project—which allowed local youth to take pictures to express how they saw their community's strengths and needs.
"I live in the city, and it's a little dirty, but other areas the kids were in were worse than mine," Rodriguez notes. "It was eye-opening."
Another eye-opener? The number of resources available to help people. She learned about six food pantries in her community that she hadn't known existed. Inspired to spread the word, she and fellow intern Daniela Castillo created and distributed flyers highlighting those resources.
Rodriguez says she is grateful for the opportunity to learn new skills, meet new people and make valuable contacts for the future.
"Being able to work in a big organization like CHLA gave me a boost in confidence," she says. "I feel like, no matter what, I can do it."
Daniela Castillo
Daniela Castillo has long wanted to be a pediatrician—and work at Children's Hospital Los Angeles. So she couldn't believe her luck when the Angeleno Corps program placed her at CHLA.
"I was ecstatic!" she remembers. "I was so fortunate to get this opportunity."
A student at Santa Monica College, Castillo, 24, has faced a lot of bumps in the road in trying to pursue her career dreams. First, as a freshman at California State University Los Angeles, she had to drop out of school to take care of her father, who was diagnosed with cancer.
She returned to school a year later—this time at Santa Monica College. But after just three semesters, her father passed away in November 2019. Again, she had to drop out to help her family. A few months later, the pandemic hit, and the store where her mom worked closed.
"The pandemic was very difficult," Castillo says. "Everything just came crashing down."
Fortunately, she was able to return to Santa Monica College in the fall of 2021, and she is on track to transfer back to Cal State LA next spring to major in biology. Meanwhile, her Angeleno Corps internship only reinforced her dream of one day working at CHLA.
"I learned a whole other side of the hospital," Castillo explains. "Even though I still love medicine, I found the community-based work really fulfilling and enriching."
She gained practical skills, too. "I learned so many new things about Excel that I didn't know before!" she says with a laugh. "I learned how to write my emails better; I learned how to upgrade my resume. Everyone from the Community Affairs office taught me something different."
Meanwhile, she calls the program's monthly stipend a "lifesaver" for her and her family. "That was money we really depended on," says Castillo. "If I hadn't been in this program, I don't know where we would be.
"I was so appreciative of this opportunity," she adds. "Not a lot of people get these chances, and people really need them! I hope this program continues on for many more years. I hope it keeps going and going and going."