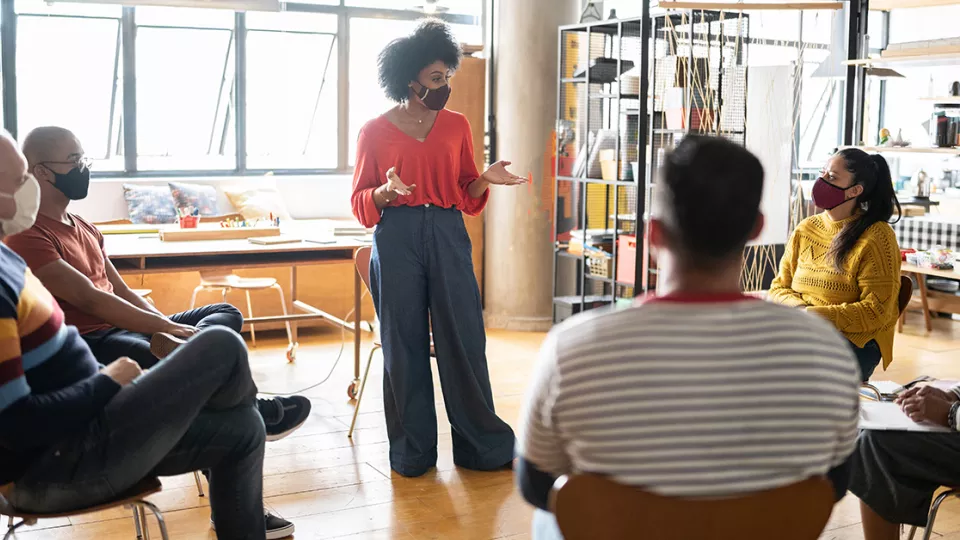 Serving the Community
What Is a Community Health Needs Assessment?
Conducted every three years, this community review helps Children's Hospital Los Angeles determine how best to use its strengths to support and collaborate with the surrounding neighborhoods.
At Children's Hospital Los Angeles, our mission is to create hope and build healthier futures. Our main way of doing that is by providing outstanding health care for children. But we also focus efforts on supporting the communities in which we operate. A Community Health Needs Assessment can provide data and insights about those communities and neighborhoods. We talked with Susan Gantan, MPH, Senior Program Manager for Community Affairs, Government and Public Policy at Children's Hospital Los Angeles, to find out more.
What is a Community Health Needs Assessment (CHNA)?
A community health needs assessment gives organizations like Children's Hospital Los Angeles comprehensive information about our community's health status, needs and concerns. One of our priorities is to truly understand our community on a deep level—both its assets and its needs. The information we gather guides us in determining how we may best utilize our strengths and resources to make an impact on community needs today and in the future.
Why does Children's Hospital undertake a CHNA?
All nonprofit hospitals nationwide are required by federal and state law to conduct a CHNA every three years. We are called on to identify significant health needs of the community, prioritize those needs and identify ways to potentially address them. In this systematic process, we also are required to seek input from people and organizations who represent the interests of the community served by the hospital.
We could do the minimum but we go far beyond that. CHLA believes that the health of individuals is linked to the health of their community. We also recognize that the hospital has many important roles to play—as health provider and educator, to be sure, but also as employer and community partner.
How does Children's Hospital Los Angeles conduct its assessment?
To assemble the 2022 report, our Office of Community Affairs reached out to a wide range of people and organizations with a stake in our community. These include nonprofits, government and social service agencies, neighborhood groups, community activists, schools and colleges.
We held focus groups and a few community and family fairs. But the pandemic prevented many in-person meetings. Instead, we met via the Internet. That restriction turned out to be an advantage—we gained the opinions of people for whom transportation might be an inconvenience or even a hardship.
We also surveyed some 350 community members of all ages about health assets and disparities in their neighborhoods. To back up the surveys, we called on the Center for Nonprofit Management to conduct extensive data research about communities across L.A. County, home to 85% of our patient population. Together, all of this data begins to tell a story.
What is the "community" that CHLA serves?
Our hospital cares for patients from throughout Southern California and many other states and countries. However, 85% of our patient population lives in Los Angeles County. That is the definition of community we follow for the CHNA.
How often is the CHNA done?
The CHNA report is issued every three years, but the work is continuous. As soon as the report is published, we begin analyzing what the findings mean and where and how to focus and prioritize our efforts.
Why is the CHNA important?
Healthier communities create healthier, more resilient children. They also create opportunities for families to feel safe and secure, neighborhoods to thrive and individuals to have the opportunity to pursue their dreams and ambitions.
The more we know about our community—the kind of information the CHNA develops—the more we know how to move forward and make the greatest difference.
What is a Community Benefit Implementation Strategy?
The findings in the CHNA guide the development of our Community Benefit Implementation Strategy—the CBIS. That strategy focuses on three areas: health access, economic advancement and community growth. We look at how well each potential strategy for change relates to our organizational strengths, other initiatives, available resources and our mission.
We refine and update the CBIS and community benefit plan based on the analysis of the CHNA.
What has the 2022 CHNA revealed?
The priorities identified by the CHNA include issues related to the pandemic, such as mental health and infectious disease, but many of the community challenges are ongoing, including homelessness and housing, economic security and poverty, patient- and family-centered health care, health services communication, obesity and food security.
What do the CHNA and CBIS accomplish?
Together, the CHNA and CBIS give us a snapshot of our community in real time. They enable us, and our many partners, donors and volunteers, to target our collective ideas and resources on behalf of positive community change. We tackle difficult problems, armed with the evidence of our studies and in collaboration with many community partners.
Can you give us an example of positive action that has come from the CHNA?
In just one example, we took multiple steps in 2021 to respond to food security concerns. We ramped up a hospital-wide food reclamation project, so that food ordered but unused in CHLA operations is shared with the community. We work with the Hollywood Food Coalition and other partners to get the food supplies to those most in need.
We also expanded our involvement in The City's Garden at Los Angeles City College. CHLA provided start-up funding for this community garden and our volunteers contribute people power. The garden educates its neighbors about healthy foods and provides a supply of fresh vegetables and fruit to areas often considered "food deserts."
What's next?
We're just beginning to look at strategies for change inspired by this year's report, and we're excited to move forward.