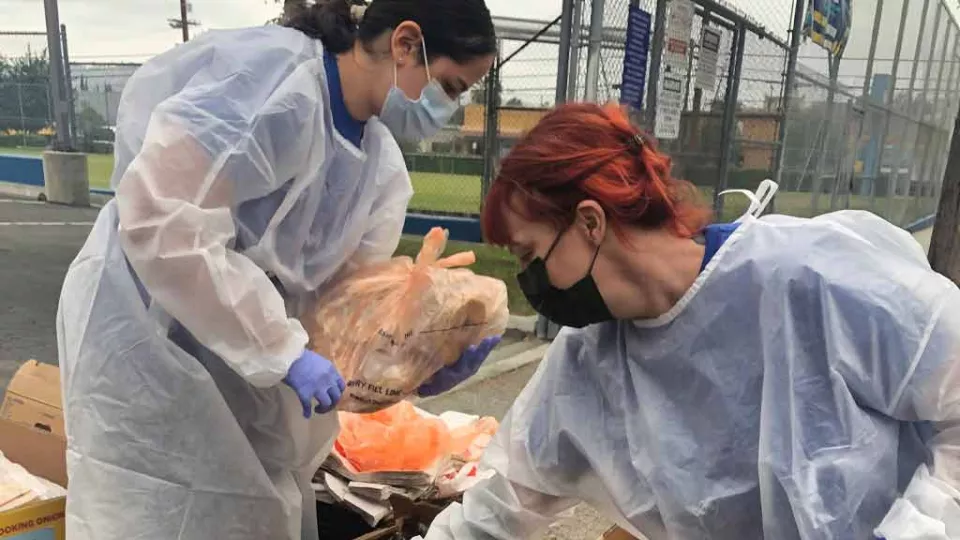 Serving the Community
How Children's Hospital Los Angeles Is Helping Fight Food Insecurity
Whether reclaiming food, donating meals or seeding a city garden, Children's Hospital Los Angeles is committed to reducing food insecurity in the community.
There is ample evidence that food insecurity—a crisis that has surged during the coronavirus pandemic—has adverse health effects. Children's Hospital Los Angeles is creating hope and building healthier futures by helping to feed those in need.
Rather than a single definition, the U.S. Department of Agriculture has established labels to define "ranges of food security and food insecurity." However measured, experts acknowledge that food insecurity is a major health crisis, particularly for kids.
"Current statistics show that nearly a quarter of children in L.A. County are food insecure," says Susana Gantan, MPH, Senior Program Manager of Community Affairs, Government and Public Policy at CHLA. "To be food insecure basically means there isn't enough food to feed everyone in the family and live a healthy life."
Gantan notes that one of the biggest challenges brought on by the COVID-19 pandemic was that children were no longer in school, where gaps in food access are often filled.
"Even if they qualified for a free lunch program, many kids couldn't get that meal," she explains. "Compound that with a parent's job loss, childcare needs, etc., and the food insecurity issue drastically worsened."
Food reclamation fills a basic need
Long before the pandemic, CHLA began exploring food reclamation as a way to leverage what was unused to benefit the community. COVID-19 jumpstarted these efforts.
"Our Food Services Department began taking a closer look at what we were preparing," says Kelie Lam, Food Services Director at CHLA. "We quickly realized there was food that was not being used, whether due to not meeting forecasting expectations, drastic changes in personnel coming to the hospital, or maybe there weren't as many customers at the HBO Café as expected in a given day contributing to excess food."
Some days, food donations came into the hospital to be shared with patients or hospital team members. Any excess food that had already been prepared by Food Services for that day could be shared with the community.
"The way we looked at it is: we just don't want food to be wasted," Gantan says. "All of this good will, all of this food that was either created internally or externally should not go to waste because there is need in our community."
Children's Hospital worked strategically with community partners, including the Hollywood Food Coalition, to make sure the food was distributed to those most in need.
"Not only does the Hollywood Food Coalition serve meals to people in need every day," says Olga Taylor, Community Relations Project Manager at CHLA. "They also share any excess food that they get with other local organizations. We are grateful to be partnering with them to help more people in the community."
Reclaiming food that would otherwise go to waste is also good for our environment. According to Gantan, CHLA has reclaimed 37,725 pounds of perishable food to date—the equivalent to eliminating 18.86 tons of waste and 34.68 metric tons of CO2 gas emissions. That's like taking 7.5 cars off the road for an entire year.
Improving access to fresh produce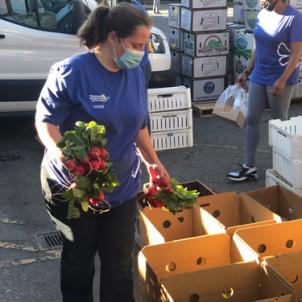 To address food insecurity in its local community, Children's Hospital sponsored and provided volunteers for over 15 produce box giveaway events in the East Hollywood/Virgil Village neighborhood near the hospital. In partnership with the East Hollywood Neighborhood Council, the office of Councilmember Mitch O'Farrell and Rick's Produce Market, more than 1,400 boxes—about 35,000 pounds of fresh produce—have been given to families and individuals facing food insecurity.
Additionally, CHLA mobilized employee volunteers from the hospital's Community Impact Champions Network (CICN) to support additional food distribution events to provide an additional 1,100 boxes to the community, raising the overall total to more than 2,500 boxes or 50,000 pounds of food.
"We have also had the opportunity to support some of our patient families who live in the local community," says Taylor. "The boxes are packed with fresh produce, straight from a local farm. It's an amazing all-around collaboration with our partners, CICN volunteers and the community."
Children's Hospital also seeded and sponsored The City's Garden at Los Angeles City College (LACC). Employee volunteers from the CICN have been busy helping to plant and seed the garden, which will provide LACC students and the community with a place to come together, grow their own fresh produce, and learn about nutrition and diverse cuisines.
'No face to food insecurity'
As we think about how to address the issue of food insecurity, Rolando Gomez, MBA, Administrator of Government and Community Affairs at Children's Hospital Los Angeles, suggests keeping one thing in mind.
"There really is no face to food insecurity. These types of initiatives are not just for people who may have experienced poverty previous to the pandemic, but also for families that have experienced job loss and other economic impacts."
Taylor agrees. "There is a stigma about food insecurity. But we hear that story often. It's easy to look at someone and think they're fine but they may not be. You can't just take it for granted that they are OK."
Click here to learn more about CHLA's commitment to community impact.