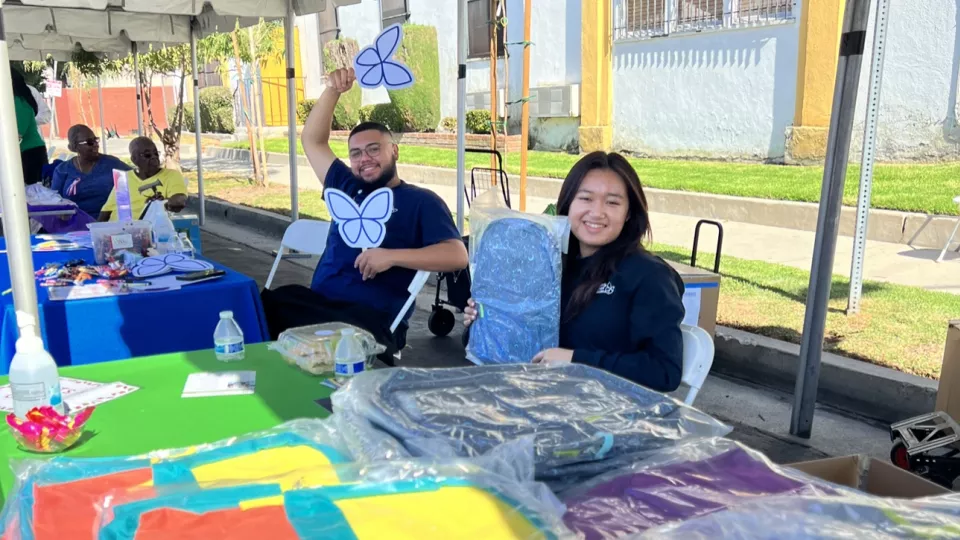 Serving the Community
Family Health Fair Takes It to the Streets
The annual collaboration between CHLA and the Macedonia Baptist Church turned a South L.A. neighborhood into a celebration of health and wellness.
The third annual Family Health Fair returned to South L.A. on Oct. 28, opting for a new vibe to go along with its traditional health and wellness themes.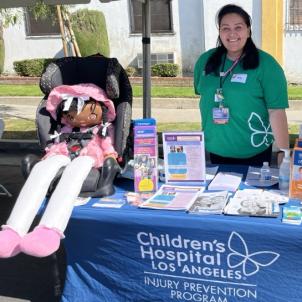 A partnership between Children's Hospital Los Angeles and the Macedonia Baptist Church, this year's fair, called "Fall Into Wellness," was moved off the church grounds and into the neighboring streets.
"Each year we're trying to reach more and more of the community, hoping that more folks will come out and join us," says Val Jimenez, Professional Development Associate with the hospital's Patient Care Services Education and Research Department.
Jimenez says this year's attendance nearly doubled that of previous fairs. "In past years the people passing may have thought it was only a church event. So we moved the fair out onto the street in hopes that it would make everyone feel welcome. We were hoping for more of a block party kind of feel."
Thirty booths lined 114th Street and Graham Avenue, roughly half of them spotlighting CHLA's programs and services, including Injury Prevention, Stop the Bleed, Patient Family Education and Engagement, and Dog Therapy. Flu and COVID vaccine stations were set up and health screenings were offered. The Community Affairs team handed out 200 backpacks filled with school supplies, and facilitated participation of Los Angeles Fire Department Station 65, which displayed its fire truck and brought coloring books for the kids.
Launched three years ago, the Family Health Fair grew out of a brainstorming session between Jennifer Baird, PhD, RN, Associate Chief Nursing Officer for Professional Practice at Children's Hospital Los Angeles, and Rev. Dr. Shane B. Scott of the Macedonia Baptist Church, a mainstay in the Watts area of South L.A. since 1908.
The church, the oldest Black Baptist church in Watts, was the site of four COVID-19 vaccination clinics staffed by CHLA clinical team members in early spring 2021. Dr. Baird and Rev. Scott looked for ways that the two groups could work together further and landed on the idea of a family-oriented health and wellness fair.
A key change to this year's edition was the emphasis on participation from the community's youth. That intention could be seen in booths run by members of the Samuels Family Latino and African American High School Internship Program (LA-HIP) and Camp CHLA, a weeklong summer program for L.A. high school students who are interested in learning about the health care field.
"We figured the fair was a great opportunity to reach a younger crowd and hopefully make a difference," Jimenez says.
Free boxed lunches were offered, and a DJ provided entertainment. A main attraction was the raffle, which culminated in the grand prizes—two children's bicycles.
Jimenez's hope is that the event left all the fairgoers better educated about how to maintain good health than they were when they arrived.
"Hopefully they gained a little bit more knowledge about typical things like their vital signs or blood glucose," she says, "and had some fun at the same time."