Samuels Family Latino and African American High School Internship Program (LA-HIP)
The overall goal of the Samuels Family LA-HIP is to provide students who identify as an underrepresented minority in medicine and science with the opportunity to learn hands-on laboratory-based research and to support them in their quest to become scientists or physician scientists. Eligible students are those who are applying in the Fall of their Junior year of high school, and who have a strong interest in the field of Science, Technology, Engineering and Math (STEM).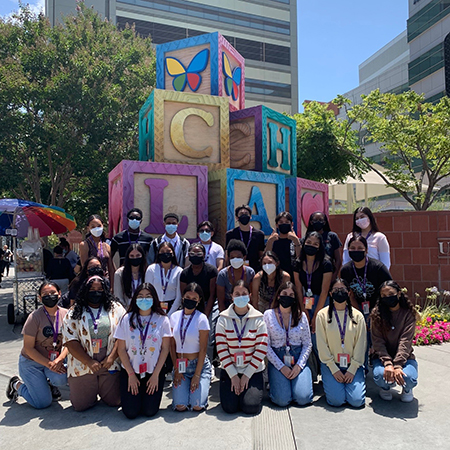 LA-HIP Class of 2022-23 in front of the Children's Hospital Los Angeles Blocks

What Is The Samuels Family LA-HIP?

Eligibility and Application Details
The Samuels Family LA-HIP was founded 17 years ago, and has trained over 200 high school students from the Los Angeles area. LA-HIP is a comprehensive yearlong high school internship program that combines biomedical research with intensive college counseling guidance. Our interns have access to college level didactic instruction in biology, SAT prep classes, and college application workshops. Students perform cutting-edge biomedical research experiments under the mentorship of scientists at The Saban Research Institute of Children's Hospital Los Angeles during the summer before their senior year.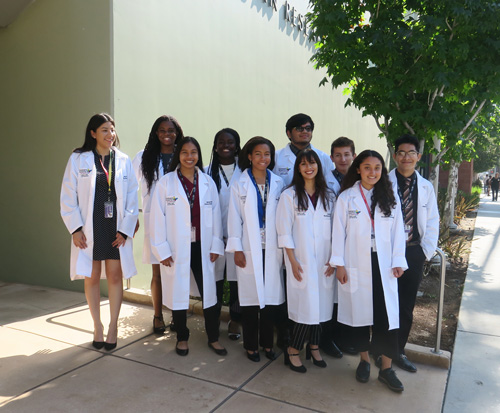 The class of 2018 in their lab coats
LA-HIP's purpose is to provide students from underrepresented minorities the opportunity to experience laboratory research and excel in the sciences.
Eligibility Criteria
Identify as an underrepresented minority in medicine and science*
Be a current Junior in high school
Have a Social Security Number or DACA Number
*(e.g. Black, African American, Hispanic, Latino/a/x, American Indian, Alaska Native, Native Hawaiian or other Pacific Islander)
Students must complete an online application. For the class of 2023, the application will open on Monday, November 7, 2022 and will close Friday, February 3, 2023. The summer science program will start on Monday, June 19, 2023 and end with the Science Symposium in the beginning of August. College preparation with the program continues through the academic year.
How to Apply
Click here (link will open 11/7/2022 - 2/3/2023) to complete our online application.
The complete application consists of the following components:
Personal information
Academic Information
Extracurricular activities
Personal Statement and Essay
Recommendation Letter by a science or math teacher or counselor
Unofficial or Official High School Transcript
A panel of science and education experts select participants based on their academic strength, extracurricular activities in STEM, quality of essay writing, and the recommendations submitted by a teacher or academic counselor. Students may apply to other summer programs, but if admitted into LA-HIP, students are expected to decline all other summer program offers. LA-HIP is a time intensive program, that requires students to attend all required program elements. Finalists will be announced by the end of March of 2023.
Late or incomplete applications will not be considered. For questions please contact Keara Reilly at kreilly@chla.usc.edu.
2020-2021 LA-HIP Application Essay Prompts
Application Essay 1
Tell us your story. We want to learn about who YOU are. Where do you come from and where do you want to go? Limit to 300 words.
Application Essay 2
We want to know about your interest in science. How have you explored the world of science and what fascinates you about it? Limit to 250 words.
Application Essay 3
Thought experiment: you've just made a life-changing scientific discovery. What is it and how will it impact the world? Limit to 250 words.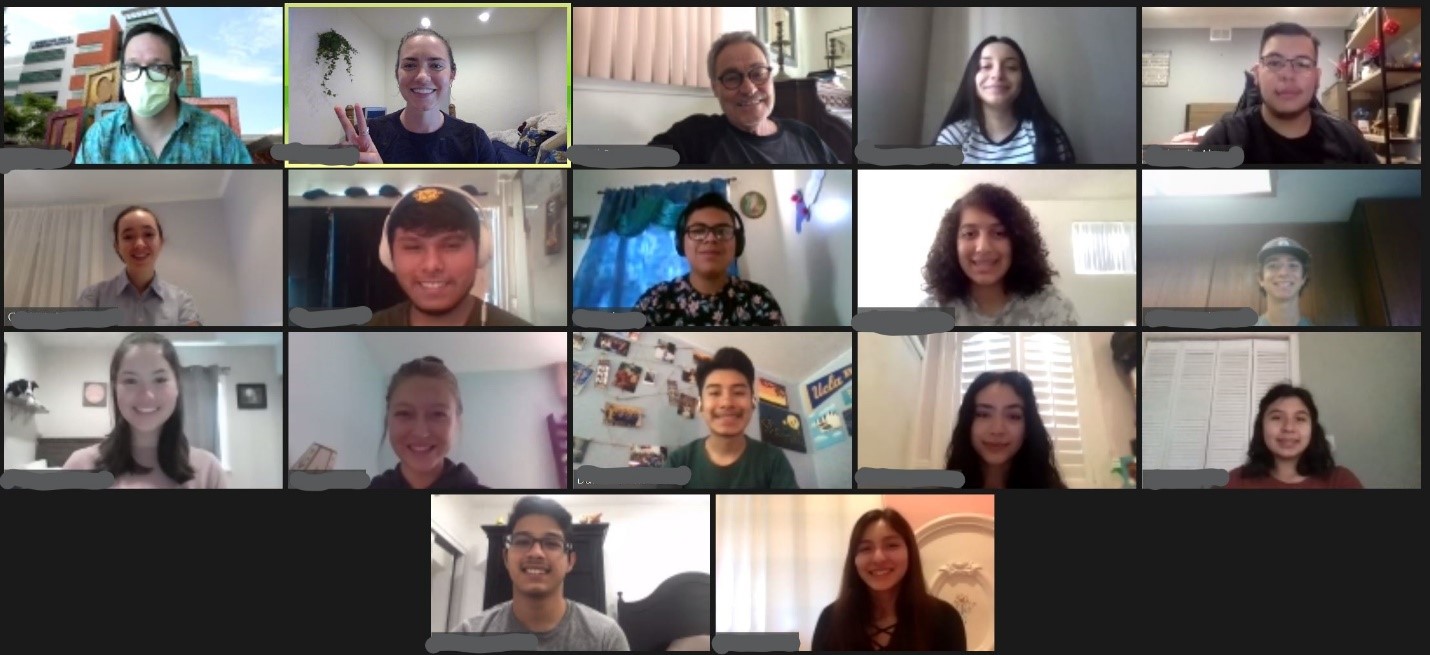 LA-HIP class of 2020 ready for virtual science class
Application and Program Timeline
For the class of 2023, the application will open on Monday, November 7, 2022 and will close Friday, February 3, 2023. Notice this application requires at least 1 letter of recommendation, but no more than 2. To ensure your application is submitted on time, make sure you notify your recommender as soon as possible.
The summer science program will start on Monday June 19, 2023 and end with the Science Symposium in the beginning of August. College preparation with the program continues throughout the academic year. As we encourage students to apply to other programs, if a student does accept the offer to participate in LA-HIP, they will be expected to not participate in any other programs during the summer that would interfere with the program elements.
A program orientation for accepted students and their families will be held in early April 2023 to describe program guidelines, expectations, and the on-boarding process. Due to the time commitments required by this program, it is important for students and their families to attend all mandatory meetings.
Laboratory Research Training
LA-HIP is a laboratory-based research training program that offers hands-on experimentation in projects relevant to pediatric health and disease (e.g., regenerative medicine, cancer and blood diseases, diabetes, neuroscience). During the seven-week long summer program, interns work full-time learning and performing research in a laboratory of a faculty scientist in The Saban Research Institute. Students learn cutting-edge techniques and methodologies normally not learned until college or graduate school. Their research is part of the overall program of the laboratory, and thus they participate in making scientific discoveries and advances. Interns are also instructed in the art of keeping a laboratory notebook, interacting with other scientists and presenting their results in laboratory meetings. Interns also write a scientific abstract and present their accomplishments at the Science Symposium at the end of the summer.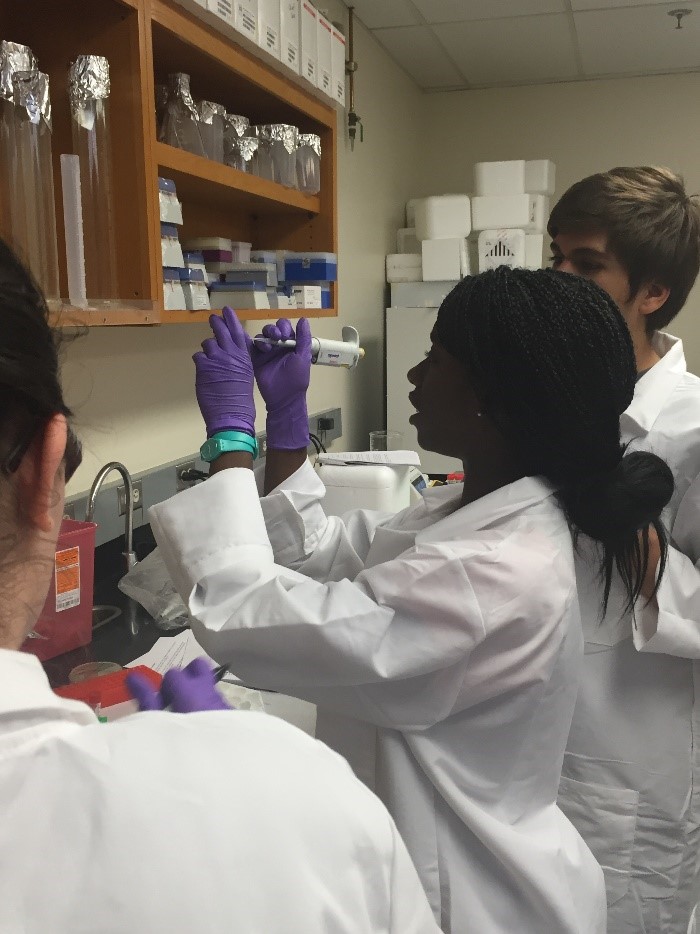 LA-HIP 2018 students performing Western blot tests
Preparing for College
To help prepare students for college, they work with professionals from Mosaic College Counseling and The Princeton Review. College counselors provide personalized insight into the college selection and application process, and financial aid. These mandatory counseling sessions help prepare interns for the complex processes involved in applying for college. LA-HIP takes its interns to local campuses where they participate in informational sessions and campus tours to prepare for recruiting visits later in the year. Furthermore, interns are prepared for college through workshops and readiness exercises (time management, goal setting, self-advocacy, note taking, etc.). These activities help interns to become competitive college applicants and guide them to the schools where they will thrive. Students will also be immersed in an SAT course to prepare them for the standardized testing that is required for admission to many universities and colleges.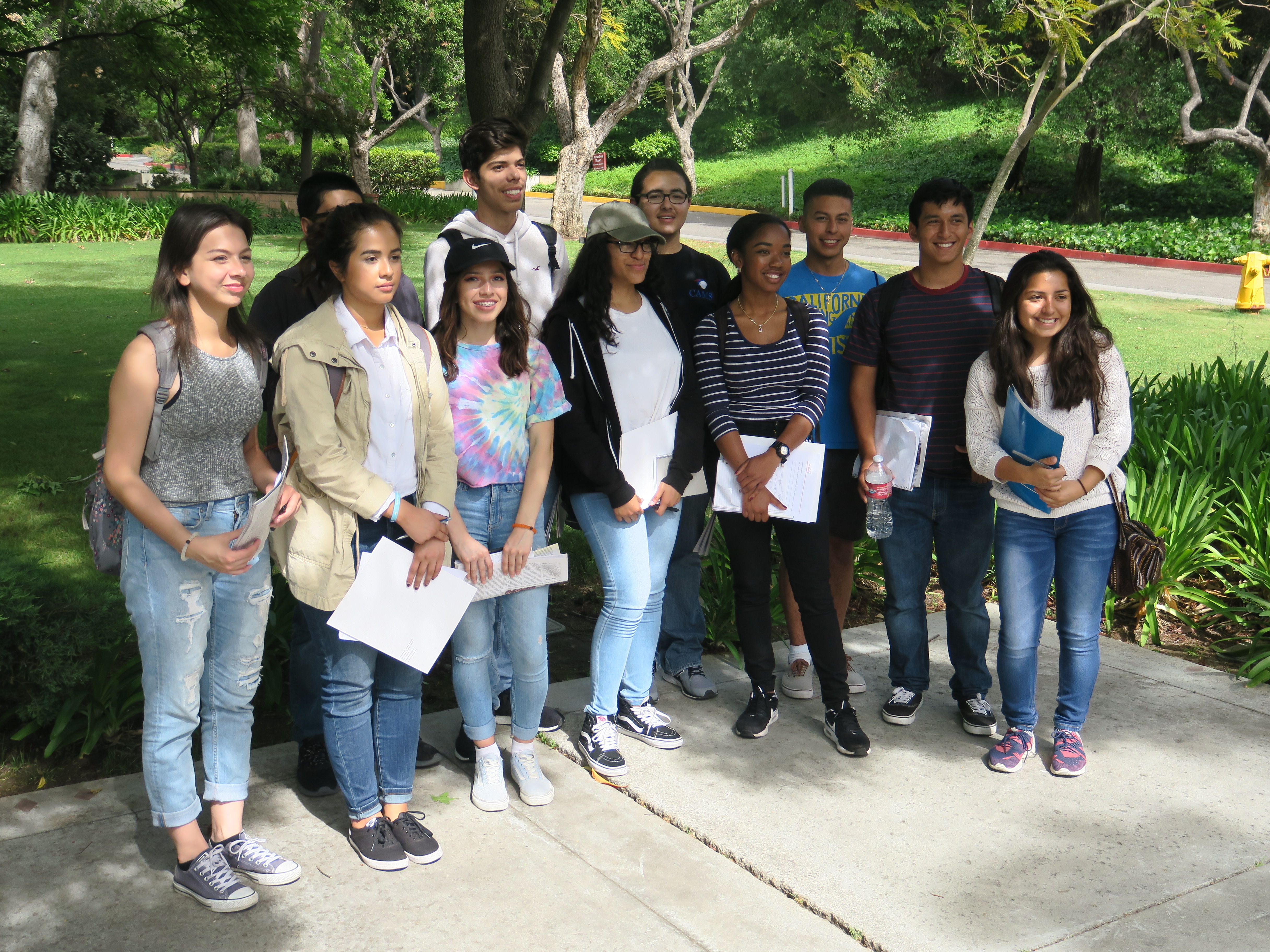 Class of 2017 visits Occidental College in spring of 2017.
What Else Do We Offer?
The Samuels Family LA-HIP provides a stipend, Metro card and meals at the hospital cafeteria to all accepted students.
What Are We Looking For In Interns?
LA-HIP is looking for curious students interested in how the living world works, and who have a genuine interest in STEM and/or medicine. We want to train students who are dedicated to their education, have an enthusiasm for learning and have a vision for their own professional career. Interns must be dedicated to completing the program and demonstrate professionalism while working in The Saban Research Institute.
Director
Mark R. Frey, PhD, who joined CHLA in 2010, is a basic and early-translational researcher focused on epithelial biology and intestinal disorders. In particular, he studies how cell-cell interactions driven by growth factors maintain the intestinal stem cell niche but are deregulated in chronic disease. Dr. Frey's undergraduate work was in the History of Science and Medicine at the University of Chicago. From there, he went on to a PhD program in Pharmacology and Experimental Therapeutics at the State University of New York at Buffalo, where he studied cell cycle regulation in cancer, followed by postdoctoral work on intestinal inflammation at Vanderbilt University. Dr. Frey is an Associate Professor of Pediatrics and of Biochemistry and Molecular Medicine at the Keck School of Medicine of USC.
Dr. Frey was appointed Director of LA-HIP in late 2019. Prior to this role, he was a lab mentor for the program for nine years. He also serves as Director of the Programs in Biomedical and Biological Sciences (PIBBS) PhD feeder program, an interdisciplinary graduate program that provides USC biomedical graduate students with a core curriculum and laboratory rotations and facilitates placement in topic-specific dissertation programs (cancer biology, stem cells and regenerative medicine, etc.).
Program Coordinator
Keara Reilly was appointed Program Coordinator for the Samuels Family LA-HIP at The Saban Institute of Children's Hospital Los Angeles in June of 2020. She received a Bachelor of Arts in Psychology from Loyola Marymount University. From there, she applied to work at the Training, Education, Career Planning and Development Office in Research Administration at CHLA. As the LA-HIP Coordinator, her goal is to facilitate an environment that allows students to recognize their full potential so that they can continue to succeed. Keara is responsible for the organization and coordination of the program to support academic and personal growth.
Our interns come from many different high schools in the Los Angeles area. The Samuels Family LA-HIP has accepted more than 200 students since 2006. All alumni have graduated from high school and matriculated to college.
LA-HIP Class of 2021-22 College Decisions
College/University
Columbia University
Yale University
Swarthmore College
University of California, Davis
George Washington University
University of California, Los Angeles
University of California, Irvine
Johns Hopkins University
Massachusetts Institute of Technology (MIT)
University of Southern California
University of California, Santa Barbara
University of California, Berkley

LA-HIP Class of 2021 in front of the Children's Hospital Los Angeles Blocks

What Do Our Interns Say?
"LA-HIP has given me a head start on my research career. The techniques I learned in Dr. Frey's lab at The Saban Research Institute opened the doors to so many other research opportunities. Since finishing the program in 2017, I've been able to continue my path in research by being a part of several projects such as running Western Blots to understand the effects of bisphenol-A at Harbor-UCLA's Los Angeles Biomedical Research Institute, to creating and designing scaffolds for the engineering of cardiac muscle tissues within CSULB's Therapeutic & Regenerative Systems Laboratory. As a junior in college, I would say it's a big accomplishment to already have so much knowledge about the lab and even a couple of publications under my belt."
Gabriela Pena Carmona, Class of 2017
"Through seven weeks in the lab I have had the opportunity to experience something unique in my life, something that has had limitless effects on my perception of myself and my future. This experience has offered me equal amount of discovery and growth"
Revanna Navarro, Class of 2017
"Throughout this program I learned a lot about myself, all of which really helped me grow as a person. Knowing how to be more confident in my ideas, being able to communicate effectively, being able to work with others are skills essential for my future."
Marcelo Mazariego, Class of 2017
"It has been a summer of self-discovery, accomplishment, and new friendships. I'm proud of everything that I have accomplished during this program. It was hard work and that makes my accomplishments even sweeter."
Keyanna Daniels, Class of 2015

The LA-HIP Class of 2017 at their finest showing their skills in the bowling alley.
The Samuels Family LA-HIP is funded by grants and donations, and was initiated in 2005 with a generous gift from Lori and Theodore Samuels, a member of the CHLA Foundation Board of Trustees. Lori and Ted have consistently supported the program since its inception, and LA-HIP was named in their honor in 2013.
The program has enjoyed strong support for many years from additional donors and foundations including:
California Institute For Regenerative Medicine (CIRM)
The Chuck Lorre Family Foundation
Doris Duke Charitable Foundation
Achieving America Foundation
David and Marianne Fisher
Emil Bogenmann, PhD, EdD
Fletcher Jones Foundation
Leonetti/O'Connell Family Foundation
Mary Adams and O'Connell and Kevin O'Connell
National Institute of Diabetes, Digestive and Kidney Diseases
Richard and Ruth Lavine Family Foundation
Rose Hills Foundation
We would like to thank all the contributors for their generosity.
If you are interested in donating to the Samuels Family LA-HIP, please contact us at kreilly@chla.usc.edu.