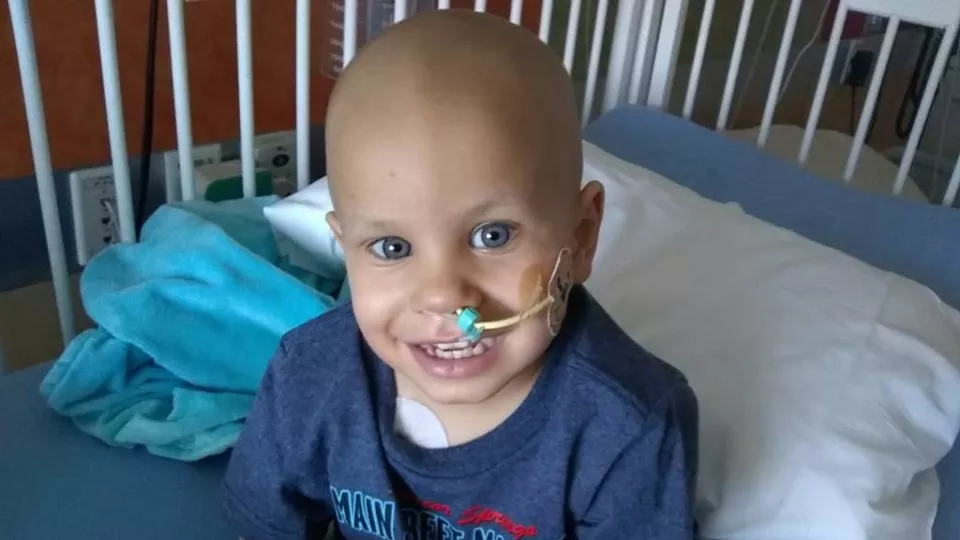 Our Patients
Javier's Cancer Journey: From Mexico to L.A.
A family travels to Children's Hospital Los Angeles to find specialized treatment for their son.
The morning of March 5, 2019, started off like a normal Tuesday for Belén, Enrique and their four children. Enrique went off to work. The three older children went off to school. The weather was warm and sunny—a typical early spring day in their hometown of Hermosillo, Sonora, Mexico.
But starting at noon, there would be nothing normal about the day—or their lives—anymore. 
Noon is when Belén took their youngest child, Javier, to the doctor for his 15-month well-baby visit. Javier had been healthy, but his parents had one concern: His belly had been getting bigger. Could it be the new formula they were feeding him?
The doctor pressed his hands around Javier's abdomen. He looked up, concerned. This had nothing to do with new formula. "He needs an ultrasound," he told Belén. "Right away."
By 9 p.m., she and Enrique were sitting in the office of a pediatric oncologist, hearing one of the scariest words a parent can hear: cancer. Plus, they were hearing a word they'd never even heard before: neuroblastoma. 
"What is that?" Belén remembers thinking. "We were like, is this true? Is this correct? Is this really happening to us?"
Flying too fast
At 11 p.m. that day—the same one that had started out so normally—Javier was admitted to a hospital in Hermosillo. Belén's mother took care of the other children, while Enrique and Belén stayed with Javier.
The couple did not come home until two nights later. And that was only to pack their bags. The next morning, Friday, they boarded a plane. They were headed to the United States for Javier's treatment.
"Everything went, like, flying too fast," Enrique says. "We were not really capturing reality. It was like a dream." He pauses, then corrects himself. "No. A nightmare."
Neuroblastoma is the second-most common solid tumor in children (after brain tumors). The cancer develops from immature nerve cells called neuroblasts, and it typically affects children ages 5 or younger.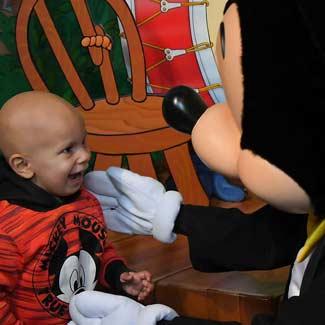 Javier was diagnosed with stage 4 high-risk neuroblastoma, with a large mass around his kidneys and adrenal glands. His parents decided to come to the U.S. so he could receive more advanced care.
At first, they took Javier to a hospital in Arizona. It was the closest option from Hermosillo, and they had relatives in the area. They rented an apartment and brought their other children to live there, too.
But after a few months of treatment—six cycles of chemotherapy and a surgery—Belén and Enrique began looking at other options. The next step would be for Javier to receive back-to-back autologous stem cell transplants. The family wanted to be sure that they were at the best possible hospital—one with deep expertise in treating neuroblastoma.
"That's when we started to consider Children's Hospital Los Angeles," Enrique says.
'The best hands'
The first call Enrique made was to the International Patient Services team, part of the Center for Global Health at Children's Hospital Los Angeles. Team members serve as the main point of contact and support the unique needs of international patients and families who are traveling to CHLA for specialty care.
International Case Coordinator Stephanie Salcedo and the Center team immediately began working on Javier's case to facilitate his care. Just a few weeks later, on Sept. 23, 2019, Javier's parents were meeting with Araz Marachelian, MD, MS, Director of the Neuroblastoma Program at Children's Hospital Los Angeles.
Right away, they knew they were in the right place.
"We were really happy with her because she has so much experience with this type of cancer," Enrique says. "We felt like we'd landed in the best hands we could and also in the best hospital. It was like a miracle."
Children's Hospital Los Angeles has long been a major referral center for children with neuroblastoma. The hospital has pioneered several new therapies for advanced neuroblastoma, and it sees roughly 100 patients a year with the disease. Those patients come from across Southern California and the Southwest, as well as from countries around the world.
"Everyone on our team—the nurses, the radiologists, the social worker, myself—knows how to deal with this cancer," Dr. Marachelian explains. "It's what we focus on, so we can help families know what to expect. We can give them confidence that yes, they can get through this."
In Javier's case, Dr. Marachelian decided that the first step would be to do one more cycle of chemotherapy and collect more stem cells before his transplants. That would help ensure that he had plenty of "backup" cells available should he need them during the transplant or at a later date.
A month later, after that extra treatment, Javier's scans showed good news: His cancer was completely gone.
"That was a big day for us," Belén says. "We were hugging and happy, and Dr. Marachelian was hugging us, too. But she told us, 'This is not the end. You have to finish the treatment.'"
The next day, Belén and Enrique took Javier to Disneyland to celebrate. It was a wonderful, joyous day. Then, the next morning, Javier was admitted to Children's Hospital Los Angeles for the first stem cell transplant.
The toughest part of the treatment was about to begin.
Hard days, close bonds
The stem cell transplants are a key part of neuroblastoma treatment. The therapy allows doctors to give extremely high doses of chemotherapy to battle the cancer. Then patients receive a transplant with their own stem cells to recover.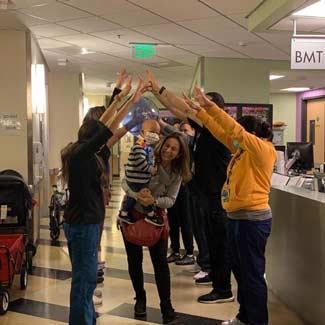 It's an intense process. "In both transplants, there were some days—very hard," Belén says.
Still, there was plenty of support around them. Doctors and nurses took careful note of Javier's side effects and helped to lessen them when possible. Child Life specialists brightened Javier's day; going to the playroom was his favorite activity. The Spiritual Care team—especially Fr. Tim Meier, SJ, PhD—was an ongoing source of comfort and strength.
Another constant support: the Center for Global Health team, including Salcedo and colleague David Sosa.
"We try to take care of all the back-end details so the parents can focus on their child," Salcedo explains. "We do our best to make it as comfortable as possible for the family, to make it a home away from home during this difficult time."
Salcedo and Sosa frequently checked in with Javier's parents—and Javier himself. When Javier celebrated his second birthday during his first transplant, they brought him little toy cars and other gifts and joined with nurses in singing "Happy Birthday" to him.
Over time, the Center's team builds close bonds with the families they serve. "Some of these families are thousands of miles from home," Sosa says. "They look to us for comfort or to answer questions like, 'Do you know of any hotels? Where can I buy this type of food?' We try to be there for them as much as we can."
The family's biggest source of strength, though, was Javier himself. A happy, outgoing child, he quickly made friends with other patients and won the hearts of his nurses.
"He was teaching us how to smile in the middle of all this," his mom says. "He showed that you can smile in the middle of a difficult time."
A new kind of normal
After the transplants, Javier had 12 radiation treatments, as well as six months of immunotherapy, an advanced treatment not available in Mexico.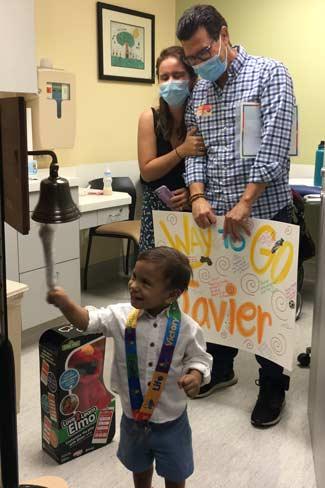 "Treatment for neuroblastoma generally takes 18 months, and it's very intense," Dr. Marachelian notes. "Javier was a young child growing and developing through all of this. But at the end of the treatment, he was thriving. That's the success."
The last six months of Javier's treatment also coincided with the COVID-19 pandemic. This meant that at the time, only one parent could stay with Javier. (It was usually Belén.) Still, the family appreciated the hospital's efforts to protect patients, families and staff.
"Children's Hospital Los Angeles does a great job at COVID prevention. We felt very safe and comfortable with all of the requirements and rules," says Enrique, adding that the hospital tested Javier for the coronavirus before all hospital checkups and admissions. "The staff wore their masks and washed their hands, and they really controlled the flow of people through the hospital."
In September 2020, Javier's family finally headed home. His siblings greeted him in the car with balloons and hugs, crying out with joy: "We are going back to Mexico!"
Today, Javier is doing great, and his scans are clear. Now 3, he's running around the house with his siblings, riding his tricycle and playing with his beloved dog, a golden Lab named Cuco.
The family returns to Children's Hospital Los Angeles every three months for checkups. But mostly, their lives are—finally—back to normal. But it's a different normal than before.
"We are back to the life we used to have, but we see everything different," Belén says. "We go out to the sidewalk every afternoon to ride bicycles. We would do that before, but now, we are so happy we can do this. We see everything with more value. It's like a miracle every day."
For more information on the Center for Global Health at Children's Hospital Los Angeles, click here.