A Passion for International Compassion
International patients and their families can rely on International Case Coordinators for support and hope.
Every employee at Children's Hospital Los Angeles brings unique expertise, unmatched professionalism and a drive to help children survive and thrive. For International Case Coordinators, their detail-oriented job helps ensure sick children from around the world can receive CHLA's life-changing care.
Serving as a single point of contact for international patients and their families, International Case Coordinators help navigate all aspects of care from initial inquiry to appointments and follow-ups, and seamless return back to a patient's home country.
Additional services include providing preliminary treatment plans with estimated medical costs, issuing a Letter of Appointment to support the visa application process required for medical travel to the United States, and coordinating an interpreter to accompany families during appointments and family conferences.
Housed within International Patient Services in the Center for Global Health, case coordinators are dedicated to ensuring that the health and well-being of sick children and their families reaches far beyond America's border.
Meet Mona Lisa – International Case Coordinator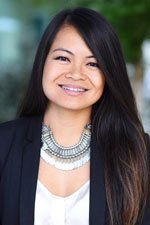 Deciding to join Children's Hospital Los Angeles as an International Case Coordinator was an easy and immediate decision for Mona Lisa Navarro, as the position combines her passion for international services and children.
"This role is so unique and rewarding," says Navarro, who has been with the pediatric academic medical center for more than three years. "We help children from around the world, ensuring their complex needs are met with the best doctors in the nation and the right treatment options."
Taking the Burden Off International Patients
As the main point-of-contact for international patients, Navarro spends much of her time building relationships with traveling families, calming any worries or anxieties they may have, and handling all of the detailed, behind-the-scenes coordination required to make the most of their visit to the United States.
"When a family decides to travel oversees to receive care from our team, it's our responsibility to take the burden off of them and manage all of the logistics on their behalf," she says.
And that care goes well beyond appointment coordination and serving as a direct contact with a patient's insurance provider and home embassy.
"One of our most important jobs is advocating for patients and their families to ensure their health care goals—and cultural needs—are met," says Navarro. "This often means providing support beyond our medical center walls by offering information on transportation, housing, support services and tourist information."
A Long Journey to Seek CHLA's Care
Although patients travel from all corners of the world to receive care at Children's Hospital Los Angeles, a large majority of families Mona Lisa supports are from Kuwait, Qatar, Saudi Arabia and the United Arab Emirates. Patients from these areas are often sponsored by their embassy, because their home country cannot offer the complex care or services needed to treat, or cure, the child.
"When we first receive a patient referral, it's often a parent filled with anxiety," says Navarro. "These parents have tried everything in their home and neighboring countries. Once we get them to our hospital, for the first time, they feel relief."
For Navarro, that's the most rewarding part of her job as an International Case Coordinator.
"Not only do patients and their families finally have answers, but they also have a medical game plan for their child," she says. "We are helping kids who aren't getting the care they need elsewhere and serving as a source of support for them. It's an honor to do this type of work."
Meet Stephanie – International Case Coordinator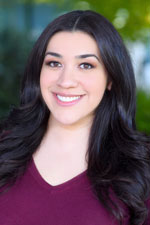 "There are so many complex cases that families cannot get treatment for in their home country," says Salcedo. "To support a family traveling to Children's Hospital Los Angeles for a life-changing treatment is incredible. There is nothing better than watching a patient come to our medical center sick and leave healthy, with a new outlook on their future."
Behind the Scenes of an International Case Coordinator
Each day looks different for Salcedo, who prioritizes her time answering emails and phone calls to ensure patients and their families have answers as soon as they become available.
"I bring my best to my job every day, because these patients deserve the absolute best support and best care," she says.
Behind the scenes, she coordinates care internally with the larger CHLA team, including three medical directors within the Global Health Program, as well as care teams throughout the medical center.
After Salcedo works with a family to complete all the initial requirements—including coordinating medical records, visa coverage, insurance information and embassy-related paperwork—she then provides an update to the medical directors, including one outpatient doctor and two inpatient doctors.
Teamwork at its Finest
From there, the medical directors determine a preliminary treatment plan and identify which clinics or programs the patient will need to meet with. Salcedo then works with nurse care managers within those areas to coordinate appointments and ensure every moment of a patient's time here will be well utilized.
"By working collaboratively with so many clinics and programs at the hospital, it's safe to say the entire organization is committed to providing the best experience for our international patients," she says. "It's truly teamwork at its finest."
And, when the time comes for these families to leave CHLA and travel back home, Salcedo says you can see the relief and joy on their faces.
"At the end of every visit, you see how grateful and appreciative our international patients are for the support and services they received from the entire team," she says. "Helping patients from their initial inquiry to escorting them out of the hospital, healthy, is a beautiful process that I'm thankful to be part of."
---
Find your career at Children's Hospital Los Angeles
Join a hospital where the work you do matters. Visit Jobs.CHLA.org and apply today!