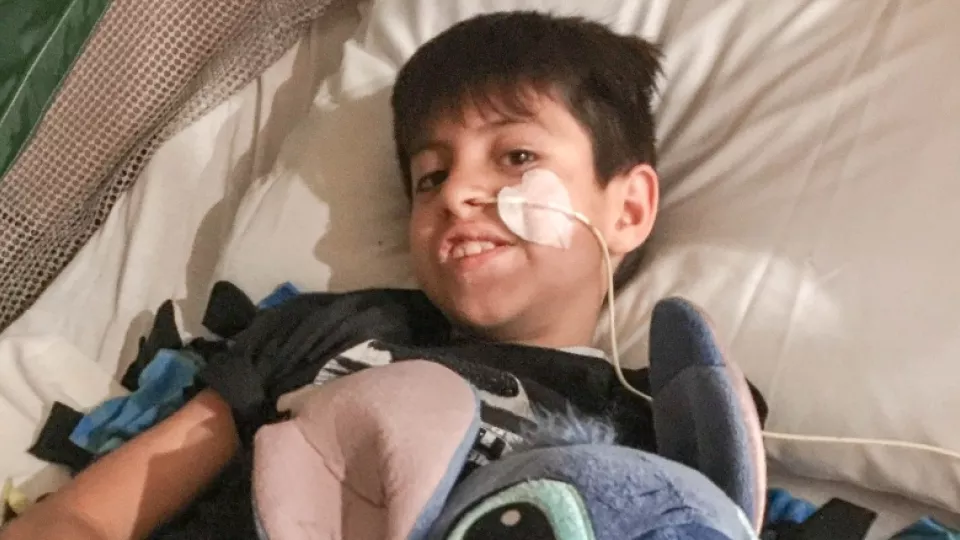 Our Patients
How Justin Got His Voice Back
Twelve-year-old Justin Ybarra likes to joke around, and he likes to have fun. Very rarely does he take life too seriously—even though there have been plenty of things in his life that have been plenty serious.
So when you ask him why he got along so well with Ashley Hall—his speech therapist while he was an inpatient at Children's Hospital Los Angeles—his answer is not surprising.
"She's not boring," the sixth-grader explains. "She's fun!"
She's also effective. In fact, Hall helped Justin utter his first word—after three months of being unable to speak.
That word was cause for a lot of celebration. After all, no one had really known if Justin would ever talk again.
Losing everything
For the first few years of his life, Justin was a healthy kid living a normal life. But at age 4, he came down with the flu. Virtually overnight, he lost the ability to talk, walk and control his hands and arms, particularly on his right side.
He spent a week in a local hospital, then underwent years of therapy. While he didn't get everything back—his speech was often unclear, and the fine motor skills in his right hand did not return—he was doing well.
Then, on Jan. 29, 2016, when he was 9, he woke up with the flu again.
"His speech was muffled," his mom, Lily Ybarra, remembers. "I tried to help him out of bed, but he started to fall to the ground like spaghetti."
Once again, he was hospitalized. Like before, he wasn't paralyzed, but he had dystonia—a movement disorder in which the muscles contract involuntarily. Dystonia can vary in severity, but in Justin's case, he couldn't talk, walk, or control his hands or arms. He even had trouble swallowing.
"Everything we had worked so hard to get back," Lily says, "he lost."
And this time, he wasn't getting better. After two weeks, doctors told his parents, Lily and Joseph, that Justin needed more specialized care, and he was transferred to Children's Hospital Los Angeles.
No easy task
At CHLA, Justin first was in an isolation unit. Once his flu was gone, he was admitted to the hospital's acute rehab unit—the Margie and Robert E. Petersen Foundation Rehabilitation Center honoring Bobby and Richie Petersen—to begin the long process of trying to walk and talk again.
The Center provides coordinated care—through nursing, physical and occupational therapy, hearing and speech therapy, social work and Child Life—for children with some of the most complex diagnoses, including brain injuries and dystonia.
"What Justin had was rare, but it's not rare for us; we see very complicated cases like this all the time," says Kevan Craig, DO, chief of the Division of Rehabilitation Medicine at CHLA. "We take an interdisciplinary team approach, collaborating with each other and the subspecialists throughout the hospital to provide the individualized care each patient needs."
Justin needed physical, occupational and speech therapies. And while all his therapists helped him, Hall, his main speech therapist, was special.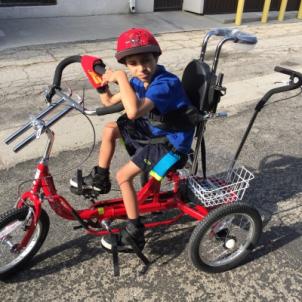 "Justin and Ashley had a great relationship," Lily says. "When he wasn't having a good day, Ashley would always make it better. She was really patient with him, and she somehow always knew what he wanted to communicate."
That communication was no easy task. Justin's mind was perfectly OK. But to communicate, he had to spell out words using a letter board. Someone would point to a row of letters, and if the first letter of the word he wanted to say was in that row, Justin would raise his right leg—the only movement he could control—to indicate "yes." If it wasn't, he would not lift his leg.
The process was painfully slow.
"Justin had never been a good speller. It was really hard to figure out what he was telling us," recalls his mom. "He would get frustrated really fast."
There was another big stress, too: the worry that Justin might never talk again. Although specialists at CHLA continued to run myriad tests, no precise cause of his dystonia had been identified. That meant there was no way of knowing if he would regain his abilities.
"Honestly, I didn't think he was going to get his speech back," says Lily. "I was really scared."
'Guess what happened?'
Hall, a speech-language pathologist II at CHLA, says she was impressed with Justin's drive and determination.
"Being in a situation where you're not able to communicate, it's very frustrating, and it's pretty easy to give up," she notes. "But he worked really hard to let people know, 'Hey, I'm still in this body!'"
To help ease the frustration, Hall arranged for Justin to receive an "eye gaze" device, a special computer that he could control with his eye movements and that would then "talk" for him.
And while the daily therapy was hard work, Hall kept it fun—something that was important for Justin's fun-loving nature.
"He's a goofball!" she says, laughing. "He's definitely the class clown, just a really smart little guy. He's very opinionated, too!"
Slowly but surely, Justin made tiny but important gains—first, making vowel sounds, and then making some consonant sounds, like "b" and "p." When he learned a new sound, he'd say it over and over, trying to get more practice.
One day, Hall and Justin returned from a session with particularly exciting news.
"She said, 'Guess what happened?'" Lily remembers. "And all of a sudden, Justin said, 'Hey.' I said, 'Oh my God, Ashley, he said a word!' It was really clear, too. I was so happy. You don't know how relieved I was. It had been such depressing times, but once he started talking, it changed everything."
Home at last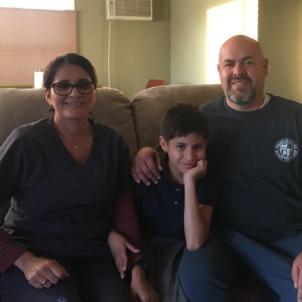 After three months at CHLA, Justin went home. Although he could only say a few short words—like "hey" and "no"—he'd made huge strides. His physical strength had also improved, though he was still in a wheelchair.
Since then, he's continued speech, physical and occupational therapies. Today, he can walk and run, although he uses a walker at school for extra safety and stability.
He's also talking again—in full sentences, with clarity. He still goes to speech therapy, and he's still improving. At CHLA, he sees neurologists Leigh Ramos-Platt, MD, and Quyen Luc, MD, and he recently started a new medication to help further with his dystonia.
And yes, he's still his same "goofball" self who loves to clown around and play with his many friends, his two dogs and his chinchilla. Like his favorite CHLA speech therapist, he is definitely not boring—he just has fun.
How you can help
To help kids just like Justin, consider making a donation to Children's Hospital Los Angeles. Visit CHLA.org/Donate.