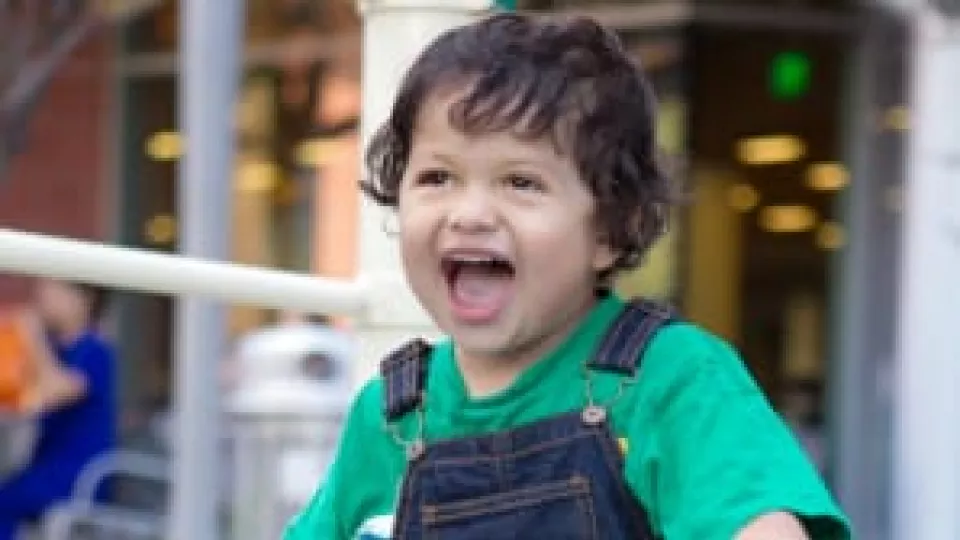 Our Patients
A Gift for Gabriel
Two-year-old Gabriel Lopez had been hospitalized for more than a year, hooked up to a 200-pound machine. Then, on Christmas Eve, he got the gift of a lifetime.
Monica Horn, RN, CCRN, CCTC, was tired.
That wasn't surprising, considering it was the middle of the night, and Horn had been working since that afternoon. Fortunately, as a veteran transplant coordinator at Children's Hospital Los Angeles, she was used to long nights. And on this particular night, there was extra excitement in the air.
After all, it was Christmas Eve. And the little boy on the operating table was getting the best Christmas present she could think of: a new heart.
Horn, like many of the doctors, nurses and support staff working that night, knew the boy well. In fact, she'd seen him almost daily for more than a year. She even knew his favorite song: Elvis Presley's "Love Me Tender."
As she worked through the night, one image in her mind eased any fatigue and renewed her energy.
"I can't wait," she thought, "to see him run down the hallway."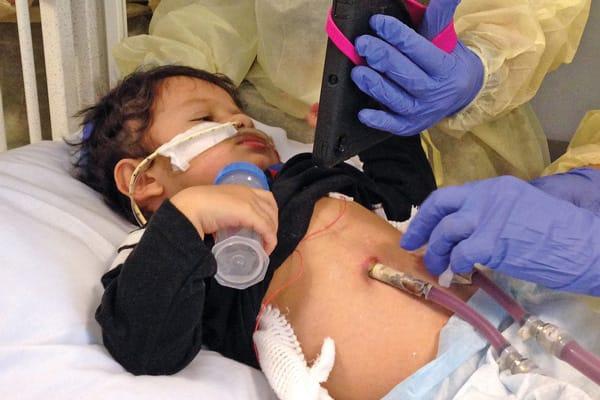 Failing heart
When Ivonne Moreno and Robert Lopez welcomed their son, Gabriel Lopez, into the world in June 2012, he seemed like a healthy baby. But after six months, everything changed.
"He started being really fussy all the time," his mom says. "I was always taking him to the doctor, and they would say, 'Oh, he has an ear infection.' But he wasn't getting better."
One night, with Gabriel breathing hard and vomiting, his parents brought him to a local emergency room. The next thing they knew, an ambulance was rushing Gabriel, then 6 months old, to Children's Hospital, where he was admitted to the Cardiothoracic Intensive Care Unit (CTICU).
"Everything happened at once," Moreno recalls. "When I saw him in the hospital bed, with all the tubes and wires coming out of him, I started freaking out."
It was a scary scene, but Gabriel was in good hands. The Heart Institute at CHLA is one of the largest and busiest pediatric cardiac programs in the country, treating nearly 8,000 children a year and providing the most advanced, lifesaving treatments available for virtually every heart disorder and defect seen in children.
Gabriel's diagnosis was dilated cardiomyopathy, a disease where the heart becomes weak and enlarged and is unable to pump blood as well as a healthy heart.
On that first trip to CHLA, medications stabilized him, and he went home soon afterward. But over the next several months, his disease progressed rapidly, and he was put on the waiting list for a heart transplant.
By October 2013, after catching a cold, his body fell apart. Once again his parents brought him to Children's Hospital, and Gabriel was admitted to the CTICU. But even after a month in intensive care, on the strongest possible doses of intravenous heart medications, his condition deteriorated.
"The blood flow to his body was so poor, we had to put him on a ventilator," says Jondavid Menteer, MD, medical director of the Cardiac Transplant Program and the Mechanical Cardiac Support Program. "Even breathing was getting to be exercise for him."
---
"The Berlin Heart has changed the face of heart transplant for pediatric patients. It's been a godsend. Not only are kids able to survive long enough to get a transplant, but their organs are better supported. It puts them in a much better physiologic place when transplant occurs." —Cynthia Herrington, MD
---
A 'bridge' from Berlin
If Gabriel had been born a decade ago, he would have almost certainly died.
"That was the story of probably a third of the babies we listed for heart transplant," Menteer says. "Older children were faring better, but a third of the babies were dying. They couldn't live long enough to get a heart."
Then, the Berlin Heart came along.
The Berlin Heart is a type of ventricular assist device (VAD), a mechanical pump that takes over the work of one chamber of the heart and pumps blood to the body and vital organs.
Ventricular assist devices have been used in adults since the late 1980s, but adult-sized devices pump too much blood to be used in babies and small children.
The Berlin Heart was the first "miniature" VAD designed specifically for these young patients, providing them a desperately needed "bridge" to transplant. First used in Europe (the company is based in Berlin), it's the only VAD approved for children by the U.S. Food and Drug Administration.
Since 2008, CHLA has implanted 17 Berlin Hearts; nearly all patients have made it to transplant.
"The Berlin Heart has changed the face of heart transplant for pediatric patients," says Cynthia Herrington, MD, program director of the Heart Transplant Program. "It's been a godsend. Not only are kids able to survive long enough to get a transplant, but their organs are better supported. It puts them in a much better physiologic place when transplant occurs."
Herrington implanted Gabriel's Berlin Heart on Dec. 5, 2013. With the device now taking over his heart's toughest task—pumping blood to the body—Gabriel improved significantly. The catch? His mechanical heart pump was tethered to a 200-pound machine. He would have to stay in the hospital until a heart was available.
His parents and family at his side, Gabriel did his best to resume the business of being a toddler, even with the awkward tubes dangling from his body that kept him from running free. He grew taller. He learned to walk. He played with his toy cars and watched his favorite cartoons.
Most of all, he loved music, especially Elvis Presley songs. Music therapists in the Mark Taper-Johnny Mercer Artists Program at CHLA not only helped Gabriel with his speech, but also distracted and calmed him during medical procedures and hours-long dressing changes.
Meanwhile, Gabriel's doctors and nurses provided the complex, collaborative and highly specialized care that's critical for Berlin Heart patients, working together in seamless fashion to prevent complications such as bleeding, stroke and infection.
Still, the months dragged on.
"When the year mark came, it started hitting me a lot," says Moreno. "I wanted to see him with other kids, running around. I wanted him to come home. I was praying every hour that he would get a heart."
'He's finally got it'
At 2:15 p.m. on Dec. 23, 2014, Monica Horn's smartphone dinged. A possible donor heart was available for Gabriel.
After 21 years as a transplant coordinator at CHLA, Horn has learned not to get her hopes up when such calls come in. Many times, the heart turns out to not be a good fit—either for size reasons or because it's not truly healthy.
But this time, she couldn't contain her excitement. Yessss! she thought. He's finally got it.
The donor heart, it turned out, was in excellent shape. Transplant surgeon Ram Kumar Subramanyan, MD, PhD, got the call to perform the surgery.
Subramanyan knew Gabriel well and had assisted in implanting his Berlin Heart. At CHLA, two Board-certified heart surgeons participate in every open-heart surgery.
"What I love about this program is our team mentality," he says. "It's a dream job. Gabriel isn't 'my' patient or another person's patient. He's everyone's patient."
At midnight on Dec. 24, Gabriel was wheeled into the operating room. Over the next six hours, Subramanyan and the surgical team carefully removed his swollen, atrophied heart, along with the Berlin Heart that had sustained his life for 384 days—the longest period a CHLA patient has spent on the device.
In their place, Subramanyan deftly sewed in the strong, healthy donor heart, and watched it beat in Gabriel's chest.
"It's one of the greatest things we do," he says. "In someone else's loss, a new life is created. It's an unbelievable feeling."
Heartfelt thanks
After 15 months at Children's Hospital, Gabriel went home Jan. 22, 2015. With a healthy heart, he's no longer "leashed" to the Berlin Heart machinery. Gabriel is making up for lost time.
"Every morning, he wakes up so happy," says his mom. "He's constantly playing. He doesn't want to take naps; he doesn't want to miss one second of the day. He just loves life.
"I'm so thankful for Children's Hospital," she adds. "The people there, they became our family. If it wasn't for them, I wouldn't still have my son."
Gabriel, now 3, is also grateful. When he returns to CHLA for checkups, he happily greets his doctors and nurses. Although he has some developmental delays, he's catching up and making strides in his speech and physical development.
And yes, Horn did get to see him run down that hallway.
In fact, when Gabriel saw her at an outpatient clinic several weeks after his transplant, he not only ran to her—he threw his arms around her in a hug.
She couldn't have imagined a better reward.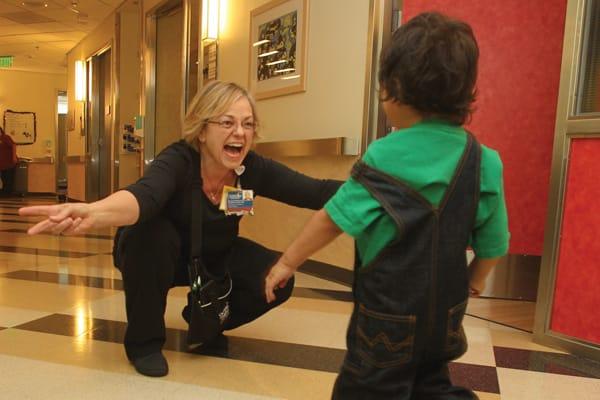 How you can help
Help save local heart patients like Gabriel. Give today at CHLA.org/GiveLA.
Video Spotlight