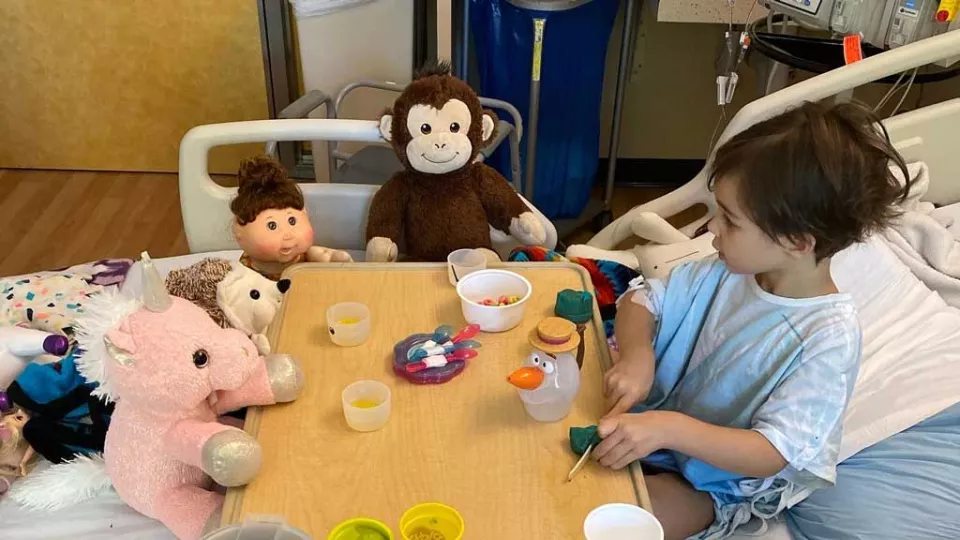 Our Patients
Emme Got a New Heart—and Made New Friends—at CHLA
The hospital's 'game-changer' technology kept the 3-year-old alive long enough for a heart transplant.
Britney and Chris knew something was seriously wrong when their littlest girl, Emme, lost all the energy that she was known for.
"It was kind of a four-day process," Britney said of the events that started in June 2020. "She was breathing funny, then sleeping the next day, and threw up right after she ate. The next day, she was really tired and her chest was really heaving, and that's when we took her in. It was a chain of events that just weren't right."
Their parental instincts were proven right in the worst possible way: Emme's heart was failing.
No warning signs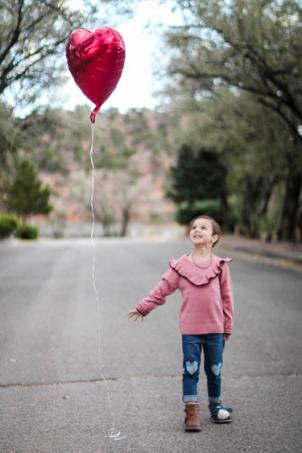 "Emme was born the day after Valentine's Day—luckily, because my wife really didn't want to have a Valentine's Day baby," says Chris. "And two days later, we were bringing her home. There actually wasn't any sign there was an issue with her heart."
Emme grew into a vivacious, outgoing toddler. She loved horses, running around outside and playing with her big sister, Lucy, who is two years older than Emme. Over time, she developed some issues—vomiting once in a while, undergoing sleep changes, but not things that, by themselves, would seem extraordinarily worrisome to her parents.
But when the bundle of energy that was Emme just couldn't make it out of bed during that four-day period, her parents knew it meant trouble. They rushed her to her regular pediatrician, who told them she had a galloping heart—meaning he heard extra beats in her heartbeat—and that she needed to go right away to an emergency room in Tarzana, California. But what was wrong with Emme was more than the ER there could address.
"They told us they were transferring her to CHLA because CHLA, I've come to find out, is one of the very top hospitals as far as care goes for children and transplants," says Chris. One of the top three hospitals for pediatric heart care in the U.S. and a top-five hospital overall in the nation according to U.S. News & World Report, to be specific.
CHLA's Emergency Transport team rushed Emme and Britney to the hospital. There, specialists at the Heart Institute performed an echocardiogram, an electrocardiogram and a chest X-ray. It was nighttime when they shared the results with Britney: Her daughter was in complete heart failure. She had dilated cardiomyopathy, in which the heart has trouble pumping blood around the body.
"It was hell, having to relay the worst information of your life to your husband, who has no idea and is in the dark, and having to hear that information alone and hide your emotions from your kid so you're not scaring her," says Britney.
"My mother-in-law had to drive to CHLA, because I don't think I was quite in the right state of mind to be driving by myself," Chris said. "With dilated cardiomyopathy, the whole left side of her heart had been enlarged to the point where the heart was the same size as an adult female's. One of the very first people we saw with the transplant team said this one of the largest hearts she had ever seen in a child."
The CHLA heart team explained that Emme was going to need a heart transplant.
"The thing about dilated cardiomyopathy is that it can stay hidden for a while until the kids get really sick," says Cynthia Herrington, MD, Surgical Director of the Heart Transplant Program and the Ryan Winston Family Chair in Transplant Cardiology. "But when they fall off the cliff, they really fall off."
Britney appreciated the straightforward tack they took.
"They kept asking us, 'Are you OK with that?'" she recalled. "And at a certain point we had to say, 'Is there any other way we're going to walk out of here with her?' And they said, 'No.' And we said, 'Then we're OK with it.'"
At home at CHLA
For the next few months, Children's Hospital Los Angeles was Emme's new home as she waited for a match with a donor heart. The family settled into a routine: Britney was at CHLA with Emme from Sunday through Thursday, and Chris stayed with her on weekends. Back at home in Acton, Britney's parents took care of Lucy—because of COVID-19 protocols, Lucy could only talk to her sister through FaceTime. But the staff did what they could to keep Emme's spirits up.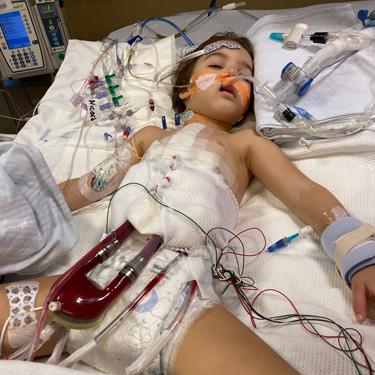 "One nurse in particular was my daughter's favorite," Chris says. "When he should've been going to lunch, he would come into her room and check on her just to play with her, and he was one of the only ones who, no matter what kind of day she was having—if she saw him, she automatically had a smile on her face. He would play with her toy horses and take latex gloves and make balloons for her. One day he and another nurse played hide-and-seek with her, taking a big roll of poster paper and putting that over her to hide behind with her stuffed animals for 20 minutes."
Meanwhile, though, Emme was getting weaker and weaker.
Cardiologist Molly Weisert, MD, now an Attending Physician in the Heart Institute, had just started the Heart Failure and Transplant Fellowship in July 2020; Emme was one of the first patients she took care of as a fellow. She worked with the family extensively and was involved in every big decision that came up with Emme—and she felt a special connection, as Emme was close to her own daughter's age. Dr. Weisert's daughter, who knew her mother was caring for a girl like her, even gave her temporary tattoos to share with Emme.
Sometimes in late summer, it became obvious that more drastic measures would need to be taken for Emme to survive the long wait for a heart transplant.
"She'd had good days before, when she was able to sit in bed and play with her dolls for a couple hours, but it got to be where that little bit of exertion was enough to wipe her out," says Dr. Weisert. "She'd try to work out with physical therapy, and her heart rate would jump up 30 to 40 points—and it would take hours for her recover from that."
Emme's parents saw a disturbing change in her too.
"She was not eating, we couldn't keep anything in her at all, and she was only on bags of IV fluid," Britney says. "Her mood was down. She was just kind of over it. You could tell she was just needing something."
Not only were Emme's energy levels plummeting, she started having both abnormal atrial and ventricular arrhythmias. Her heart had overcompensated for its difficulty pumping blood by growing larger, but it was now so big that it could barely contract. That lopsidedness in heart function was leading to a dangerously imbalanced heartbeat.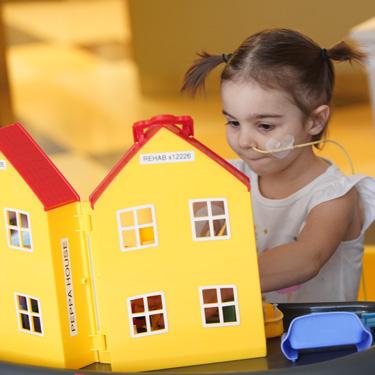 "Once the heart muscle's weak enough that it's going into the arrhythmias, it's very difficult to get them out, and we didn't want it to turn into an emergency, middle-of-the-night situation," says Dr. Weisert.
The CHLA team decided to implant a Berlin Heart EXCOR in Emme, a kind of external artificial heart that pumps blood from the left ventricle to the aorta, taking a lot of the pressure off the patient's overworked heart. The surgeons inserted tubes into Emme's heart that led to a computer-regulated pump that hung outside her body. The device has been used in about 1,000 cases worldwide and, though strictly a temporary fix, is the only solution of its kind for small children.
"She instantly felt better with the Berlin," says Britney. "After the pain and waking up and all that, she knew that it made her feel better."
"The Berlin heart is kind of the workhorse in the VAD [ventricular assistive device] for kids her age and size," Dr. Herrington says. "Ventricular assistive devices have been a game changer. If you look at the period before the Berlin heart was used, we had a lot of children dying on the [transplant] list."
A new heart
About two months after the successful Berlin Heart implantation, the family got the call for which they'd been hoping against hope. Emme had been matched with a donor heart.
"It's bittersweet, because you know someone else had to lose their baby to save yours," Britney says. "They just came and saw her for rounds and we were going to go for a walk, but then they came back in and needed to take a measurement to see how tall she was. And then they said, 'You have a heart. Those are the right measurements.'"
"It was actually Emme who called me on the phone," Chris says, who recalls the confusion—and then relief and elation—he felt when he got the call. "I was at work, and she said, 'Guess what! I get a new heart!'"
"After four months, when a heart became available, Emme's organs were strong and healthy thanks to the VAD support, which relieved the stress on her body caused by her failing heart," says Dr. Herrington.
Emme got her new heart on Nov. 19. She went home on Dec. 9.
"We get the new heart," says Chris, "and I was like, 'What is the recovery time for something that drastic?' And they're like, 'Usually two to three weeks.' It was actually fairly easy."
"She wanted to leave, but she didn't want to leave because she didn't want to say goodbye to everyone at the hospital," says Britney.
"It was funny, bringing her home. That was the first time she had been out of the hospital—off her floor—in six months," Chris says. "So it was her first ride on the elevator. When it started to go down, she almost sat down because she didn't know what it was doing. On the car ride home, she was like, 'Oh my gosh!' for all the bumps. She hadn't been in a car in six months."
At first, Emme had to relearn how to run and go up and down stairs. But within two or three days, she was already playing with her sister in the way she had before she got sick. Nowadays, she's riding the horses that the family keeps at their new home in New Mexico. But once a month, Emme goes back to CHLA for her follow-up and to see the friends she made there.
"She was recently back here for a visit," Dr. Herrington says. "She looks great. She's doing well with her new heart."
"She gets all excited when she knows she's going to see Dr. Weisert or the others because they're always so soothing and they were with her from the beginning," Britney says. "She knew everyone's names. She really made connections with everyone."
Find out more about the Heart Transplant Program at Children's Hospital Los Angeles.