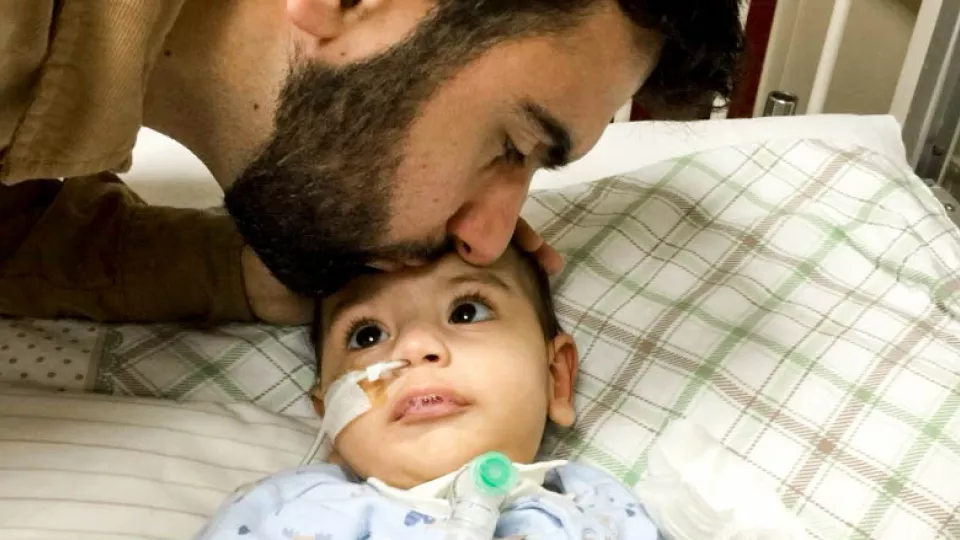 Our Patients
Ali's 13,000-Mile Journey of Hope
First, he wiggled his fingers. Then he wiggled his toes. Now, he moves his head side to side, and he furrows his eyebrows when he doesn't agree with you.
For 3-year-old Ali Al-Mutawa—and for his parents and family, and his doctors, nurses and therapists at Children's Hospital Los Angeles—these seemingly simple movements are nothing short of extraordinary.
That's because Ali was born with spinal muscular atrophy (SMA), an often fatal genetic disorder that causes progressive weakness and muscle wasting. The disease has no cure, and it had no treatment, either—until Dec. 23, 2016. That's when the Food and Drug Administration approved a drug called nusinersen, the first-ever SMA treatment.
Ali has been undergoing treatment with the drug, which goes by the brand name Spinraza, at CHLA since October 2017. "It's a game-changer," says Leigh Ramos-Platt, MD, Ali's doctor and director of the Multidisciplinary Neuromuscular Clinic at CHLA. "He's actually gaining function when he should be losing function."
'This is the only hope'
When Ali was born in July 2015, he appeared to be perfectly healthy. But his parents—Sarah Al-Musaileekh and Musallam Al-Mutawa—soon had him tested for SMA.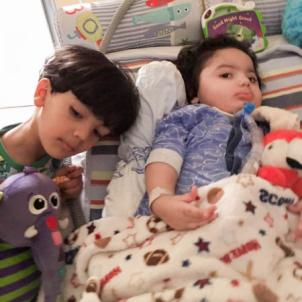 They had good reason to be concerned. Although they have two healthy children—daughter Nadirah, 10, and son Aqeel, 5—the couple has lost two other children to SMA. Both of those babies, a girl, Fatima, and a boy, also named Aqeel, died before they were a year old.
So when Ali's SMA test came back positive, his parents were devastated.
"I was very sad, just feeling that I will have to go through the same conditions and the same hard things I went through before," Al-Musaileekh explains.
Sure enough, at 6 months, Ali—who has the most severe form of SMA—began to rapidly lose his ability to swallow, move and even breathe. He was hospitalized and needed a full-time ventilator to breathe and a gastrostomy tube (G-tube) to eat.
He had been in the hospital for nearly a year when Al-Musaileekh spotted the news of nusinersen's approval while scrolling through her Instagram feed on Christmas Eve in 2016. Her first reaction was elation. But there was a problem.
At the time, nusinersen was only available in the U.S., at a few specialized pediatric hospitals. Ali and his family lived half a world away, in Kuwait. The drug was not expected to be available in their country for two years—too late for Ali.
Ali's doctor encouraged the family to apply for a Kuwaiti government program that would sponsor Ali's treatment in the U.S. At first, Al-Musaileekh, herself a doctor, hesitated. It's difficult to transport a critically ill child on a ventilator to the other side of the globe. Would this new drug really work? Or would she just be putting Ali and her family through more hardship and pain, on top of everything they had already endured?
Still, she and Musallam applied for the program. When they were accepted at Children's Hospital Los Angeles, the family packed their bags and boarded a plane—embarking on a 13,000-mile journey.
"I told myself, you have nothing to lose," says Al-Musaileekh. "This is the only hope you have."
An innovative protocol
Ali arrived at CHLA on Oct. 2, 2017. A week later, he received his first dose of nusinersen. Chadi Zeinati, MD, director of Interventional Radiology at CHLA, carefully injected the medication into Ali's spinal fluid.
Five days later, Ali wiggled his fingers.
It was his first movement of any kind since SMA symptoms surfaced. His family rejoiced.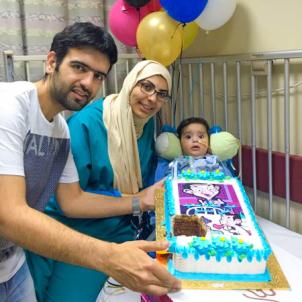 There was no doubt now they had made the right decision.
"For the first time since Ali's birth, I felt happy," says his mom.
While not a cure, nusinersen helps the body make more of a protein called survival motor neuron (SMN). SMN is essential for motor neurons, which control muscle movement. In SMA patients, the gene that normally makes SMN is missing or mutated, causing their motor neurons to die.
Nusinersen is not the only part of Ali's treatment, though. Although most children receive the drug as an outpatient injection, CHLA is one of the few centers in the country to also develop an innovative inpatient treatment protocol. The protocol combines nusinersen injections with intensive physical, occupational, respiratory and speech therapies.
Like Ali, many children on this protocol have made dramatic strides. "We have a couple of patients who are even coming off their ventilators for the entire day, and only need ventilation while sleeping," Ramos-Platt notes. "It's remarkable."
About 50 patients, including seven from Kuwait, are being actively treated with nusinersen at CHLA, both as inpatients and outpatients. The program—a collaboration between Neurology, Pulmonology, Rehabilitation, Interventional Radiology and Orthopedics—began just three months after the drug's approval.
"A lot of people from across CHLA worked extremely hard to get this program started quickly so we could make a difference for these kids, no matter where they come from," Ramos-Platt adds. "This has been a huge team effort."
For Kuwaiti patients like Ali, a big part of that effort is the Center for Global Health at CHLA, which serves as a vital liaison between families, embassies and the hospital's medical team. The Center works closely with each family throughout their stay at CHLA—giving them a primary point of contact and coordinating everything from admissions, meetings with the medical team, translation services, assistance in securing housing and a bank account, and eventually, discharge planning and seamless transfer of care back to their home country.
"It's not easy to come to a new country, a totally new place, a totally new health system, and families have no relatives or friends here to help them," explains Anahit Petrosyan, RN, BSN, nurse care manager for the Center for Global Health. "We become their first point of contact, and we advocate for them. It's a very close relationship."
From teddy bears to storytime
So far, Ali has received five nusinersen injections, along with intense rehab, and is continuing to improve. He can now flap and turn his hands and flex his feet. He's even trying to grasp objects with his fingers.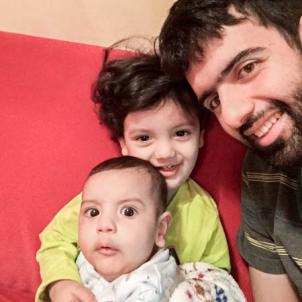 Although his tracheostomy tube has prevented him from talking, he makes frequent "baby sounds" to try to communicate. In SMA, cognitive development is completely normal.
That means that inside, Ali is just like any other 3-year-old boy. The things that bring him joy will be familiar to any parent of a young child: Curious George cartoons; a soft, cuddly teddy bear; toys with bright lights and fun sounds; and most of all, the telling of a story.
"He loves stories!" says his mom. "Especially jungle stories and stories with animals."
Eventually, Ali and his family will be able to go home and receive nusinersen treatment in Kuwait. That date is not yet set. But there's more hope on the horizon. Research in SMA treatments is ongoing, and a gene therapy currently in clinical trials has shown promise.
"This disease was a death sentence," Ramos-Platt adds. "To see this progress is really, really exciting."
Ali's parents want to let other families know that there is hope for children with SMA. They also want to say thank you.
"Everyone at CHLA has been very caring and supportive," Al-Musaileekh says. "I am just thankful for God's blessing and for the staff at CHLA, and for having the opportunity to have hope for this devastating condition."
To help provide lifesaving treatments for kids like Ali, please consider making a donation to Children's Hospital Los Angeles. Visit CHLA.org/Donate.