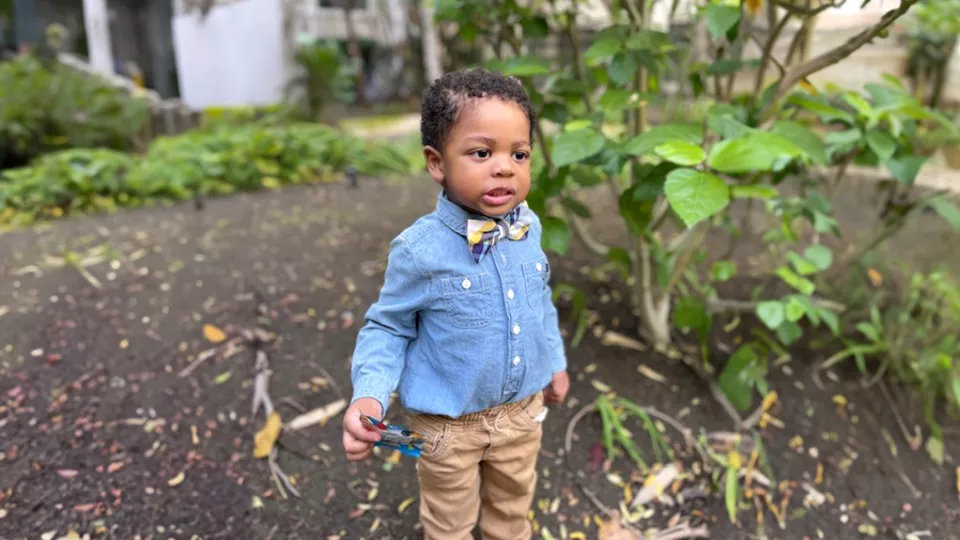 Our Patients
After Beating Liver Cancer, Aaroh Gets the Gift of Life
Three-year-old Aaroh is thriving after chemotherapy and a liver transplant at Children's Hospital Los Angeles.
Chantal was seated on the couch watching TV when her 17-month-old son, Aaroh, made his way over to her from where he had been playing on the floor. He pulled himself upright between her knees, turned to face the television, and immediately got the real reward: belly rubs from mom. That was his favorite way to watch TV, and something they did often. Except this time, Chantal felt a hard spot on one side of his stomach.
"That's weird," she thought, as she nervously called her older son, Elijah, over for his own belly rub. Chantal didn't feel anything hard when she pressed on Elijah's belly. She called her mom, sister and best friend to ask for their advice. "They all said the same thing: Get Aaroh to the doctor."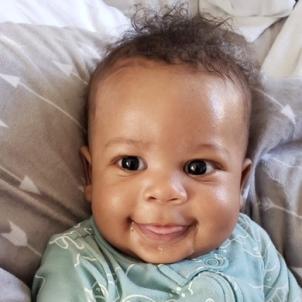 At the pediatrician's office, Chantal tried to stay upbeat. "I went there half expecting the doctor to kick me out and tell me, 'It's his ribs, go away,'" she says with a chuckle. Unfortunately, that's not what happened. The hard spot wasn't his ribs or an organ, the pediatrician said, and the only way to know definitively was through X-rays, an MRI or a CT scan.
Aaroh's pediatrician, who previously had worked at Children's Hospital Los Angeles, called ahead to make sure a care team was expecting his arrival. Chantal drove straight to the hospital's Maurice Marciano Family Foundation Emergency Department and Trauma Center. They sat down after checking in, prepared for a lengthy wait, when a doctor approached and asked, "Are you Chantal, mother of Aaroh? Come with me."
"My heart was in my feet as I was following her," Chantal says. "I thought, OK, either our pediatrician is the mayor of Children's Hospital and has all kinds of connections, or this is not good."
An unexpected journey
On that day in November 2021, a CT scan revealed something Chantal could never have imagined: two tumors on Aaroh's liver. Within hours, he was moved to a room on the fourth floor of the Marion and John E. Anderson Pavilion, which Chantal says became their new home.
Aaroh was diagnosed with hepatoblastoma—a pediatric liver cancer, usually seen within the first three years of a child's life. Although considered rare, with 50 to 70 cases occurring in the U.S. each year, hepatoblastoma is the most commonly occurring liver cancer in children.
"We literally had to begin everything the next day," says Chantal, "and it was just so fast-paced, so overwhelming."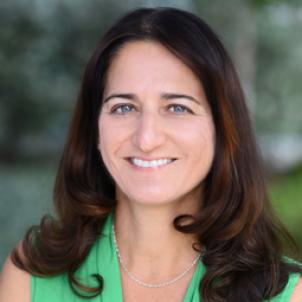 Aaroh's first surgery was a port placement, and a few days after that he started chemotherapy. His oncologist, Fariba Navid, MD, spent time with the family, carefully explaining the entire treatment protocol: six rounds of chemo and a liver transplant. In addition to treating patients with bone and soft tissue tumors, Dr. Navid serves as the Medical Director of Clinical Research in the Cancer and Blood Disease Institute at CHLA.
"Dr. Navid explained that with the first two rounds of chemo, what they were looking for was to ensure that the tumor responded well to chemo, that it shrunk," Chantal says. "And in January [2022], she had already scheduled us for an intake session with the Liver Transplant team. I said, 'Are you sure? How about a resection? Maybe the chemo will take care of everything?' But based on her experience, she knew Aaroh would more than likely need a liver transplant."
"Aaroh had tumors in both lobes," Dr. Navid explains. "He was not a candidate for surgical resection because the surgeon would not be able to remove all of the tumors and leave enough normal liver behind to survive."
Aaroh tolerated the chemotherapy well, and when January came, Chantal and Dr. Navid met with the Liver Transplant Program nurse coordinator as well as Yuri Genyk, MD, Chief of the Division of Abdominal Organ Transplantation and Surgical Director of Liver and Intestinal Transplant at Children's Hospital Los Angeles. Together they reviewed Aaroh's chart and determined that he was a good candidate for a transplant.
On Jan. 31, 2022, less than two weeks after he was placed on the transplant list, Chantal got a call about a possible match. Two days later, Aaroh got his new liver. After the successful surgery, Aaroh was doing well, but he still needed to complete additional chemotherapy to give him the best possible long term outcome.
"With Aaroh's stage of hepatoblastoma, there is about a 15% likelihood of the cancer recurring," says Dr. Navid. "Aaroh finishing the final four rounds of chemo was very important—to ensure the best chance of it not returning."
'Angels in scrubs'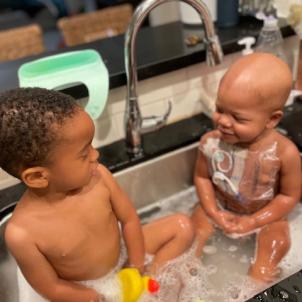 Despite some side effects, Aaroh pulled through from his post-transplant chemotherapy like a champ. Most days now you'll find the happy 3-year-old wrestling with his big brother, playing music on one of his many instruments, or obsessing over trash trucks.
Chantal is forever grateful to Aaroh's liver donor and the family who lost their own child while giving hers the gift of life. She is also thankful for the wonderful team of caregivers in the Cancer and Blood Disease Institute that helped her and Aaroh get through the darkest days.
"They instinctively know how to meet you where you are, to help you acknowledge, accept and absorb what's happening to you and your kid," Chantal says. "Some days in our journey were awful, but they were just amazing, like angels in scrubs."
---
The Liver Transplant Program at Children's Hospital Los Angeles is one of the largest pediatric liver transplant programs in the United States. Since it was founded in 1998, the program has performed 470 transplants—with roughly one-third of them coming from living donors. That's a major reason why the median wait time for a new liver is roughly only 3 ½ months at CHLA—versus about 10 ½ months regionally and nearly eight months nationally. The Liver Transplant Program is part of CHLA's Division of Abdominal Organ Transplantation and the Division of Gastroenterology, Hepatology and Nutrition, which is ranked No. 5 in the nation for Gastroenterology and GI Surgery by U.S. News & World Report.