A Teen's Story of Triumph After Cancer and a Liver Transplant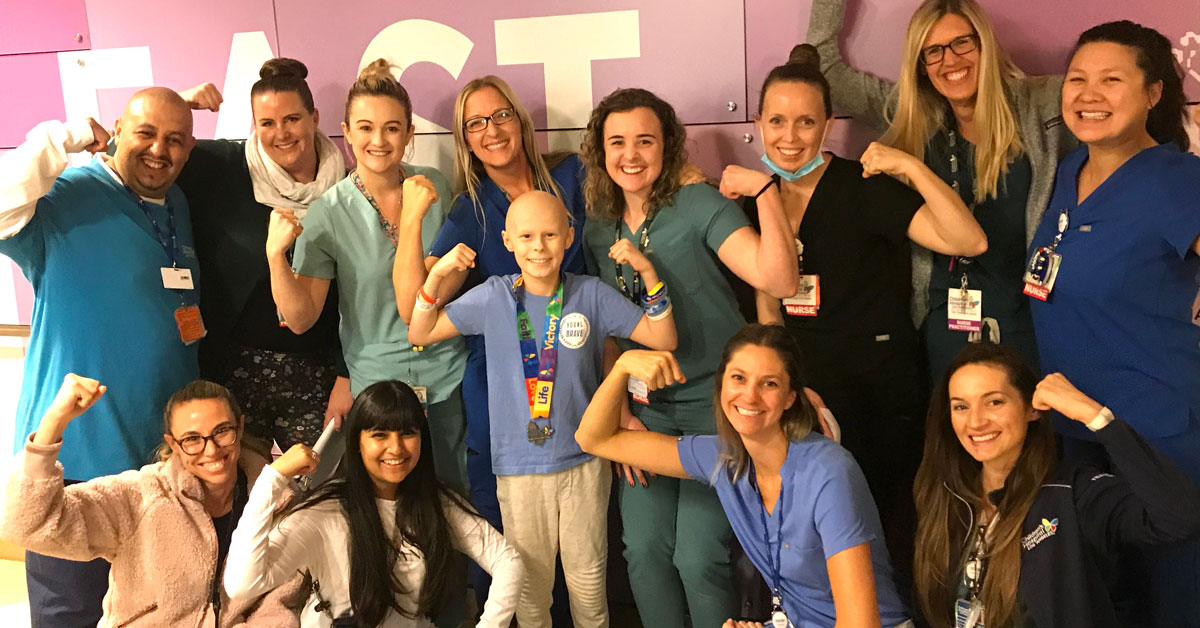 Thriving after months of chemotherapy and a liver transplant at Children's Hospital Los Angeles, Malakai is passionate about spreading positivity.

By Sara Nafie
Sometimes it takes decades of personal growth and reflection to find a silver lining. Not so for Malakai.
"I think about it like this," the 13-year-old explains. "Sure, I would have wanted to get cancer over with earlier. But if I had, I wouldn't have made all the new friends I have now. All the good things that have happened wouldn't have necessarily happened."
It's a remarkable perspective from an eighth-grader who endured months of chemotherapy and a liver transplant surgery since being diagnosed with a rare cancer in 2019. He doesn't remember certain things about the treatment, so he relies on his parents to fill in the blanks. Nevertheless, this teen with a disarming smile is passionate about helping others and spreading positivity.
Looking for an answer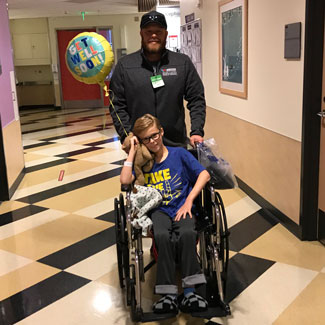 For as long as they can remember, Cheri and Todd had been trying to figure out what was making their son so sick.
"Malakai was just not well. He was tired and nauseous a lot," his mom recalls. Over the years, they took him to countless specialists near their home in Ventura, had MRI scans and allergy tests done, and even wondered if bad eyeglasses were causing his constant headaches.
There was something else that just didn't seem right. When he was about 10 or 11, "he lost 15 pounds and grew zero inches," Todd remembers. The dramatic weight loss—at a time when he should have been gaining—caused his pediatrician to refer Malakai to a gastroenterologist.
After years of uncertainty and invasive testing, what Cheri calls a "simple ultrasound" revealed the source of Malakai's chronic discomfort. There was a mass in his abdomen about the size of a small football.
The best treatment for a rare diagnosis
"We weren't told much detail about the ultrasound," Cheri says, "but [the gastroenterologist] immediately set up an appointment for us at Children's Hospital Los Angeles."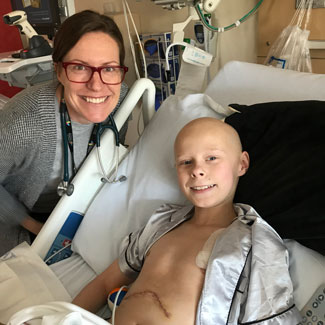 The first specialist to see Malakai at CHLA was George Yanni, MD, Attending Physician in the Division of Gastroenterology, Hepatology and Nutrition. "I remember Dr. Yanni feeling my abdomen and saying, 'Yes, you definitely have a type of cancer,'" says Malakai. "I asked him all about what the liver does, because that's where my tumor was located. He was so good at explaining things to me."
A surgical biopsy confirmed that Malakai had malignant hepatocellular neoplasm (HCN-NOS), a rare liver cancer.
Initially after diagnosis, the family explored enrolling Malakai in a multisite research study that CHLA was participating in. However, because of the severity of his case and the urgency to start his treatment, his oncologist, Diana Moke, MD, and the family decided to move ahead with chemotherapy immediately.
"That CHLA is big into research is something we love about this hospital," Cheri says. But, she adds, the chemotherapy recommended by Dr. Moke and her team "ended up being the best therapy for Malakai."
Initial plan of attack
In May 2019, Malakai started months of chemo. The goal was to shrink the tumor away from the critical parts of his liver, so only a small part of it would need to be removed surgically.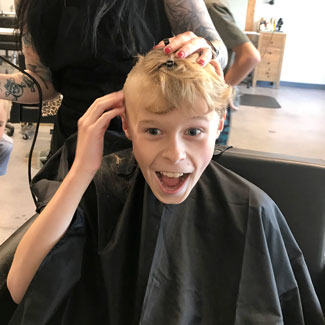 "In Malakai's case, the tumor was too big and too close to the structures of the liver for surgery," Dr. Moke explains. "We had to use chemotherapy to shrink the tumor away from these vital structures."
Although the medical team hoped that Malakai would not need a new liver, they wanted to prepare for the possibility of a transplant.
"At first, we weren't getting the results we wanted, so Malakai met with the Liver Transplant Team, just in case," says Todd. "But shortly after we met with them, the chemo kicked in and started working."
In August 2019, the tumor had shrunk enough for surgery. James Stein, MD, MSc, Senior Vice President and Chief Medical Officer at CHLA, who holds the Ford Theodore Miller Murphy Chair in Surgical Oncology, performed a procedure that removed the remaining tumor from his liver.
"Dr. Stein was able to resect the whole tumor," says Dr. Moke. "When the pathologists got the tumor, though, they saw that there were some satellites of cancer cells. Because of that, we viewed Malakai as having multifocal cancer."
Multifocal cancer, which essentially means more than one tumor, has a much higher risk of reoccurrence.
"Even though we got the main bulk of the tumor, there could be other cancer in the liver," says Dr. Moke, referring to microscopic tumor cells that could grow within the organ. "So, at that time we brought Malakai's case back to the Liver Transplant Team. We knew the best way to have a durable cure for Malakai was with a liver transplant."
Malakai's 'perfect liver'
After the success of chemo and the resection, Todd and Cheri were disappointed to still be facing the prospect of a liver transplant. They wrestled a bit with the idea yet ultimately agreed it was the best course for their son.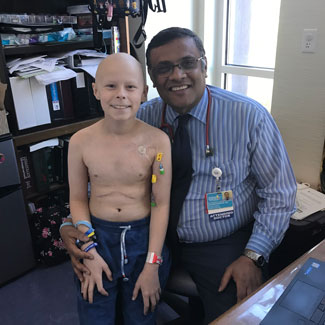 "It was hard for all of us because everything had gone exactly as we had wanted it to," says Dr. Moke. "The tumor shrank, it was able to be removed—and that's everything we wanted—and then there was the blow that even though we got everything we wanted, we still needed to go ahead with a liver transplant."
With more than 20 years of experience, the Liver Transplant Program at Children's Hospital Los Angeles performs the highest number of pediatric transplants in Southern California, serving pediatric patients in need of liver transplantation through both deceased and living donor transplants. Because of the successes Children's Hospital has had with a tumor even as rare and aggressive as Malakai's, the team knew they needed to be aggressive and move toward liver transplant to give the teen the best prognosis.
Malakai, Cheri and Todd knew that Children's Hospital was the right place for them. However, there was one obstacle moving forward: Patients with cancer are generally placed higher on the transplant list, and Malakai was now cancer-free. He was at the bottom of the list.
Leo Mascarenhas, MD, MS, Deputy Director of the Cancer and Blood Disease Institute and Section Head of Oncology, had a plan. Together, Dr. Mascarenhas, Dr. Moke and the Liver Transplant Team successfully argued to the United Network of Organ Sharing, a federally managed agency that determines placement on the list, that Malakai should be moved up because of how little is known about his type of cancer. The petition was successful—and Malakai was moved up the list. Three weeks later, his family got the call that a new liver was available.
"I remember the nurse practitioner called and said, 'We've got the perfect liver for Malakai!' But when you're working your way up the list you get put as back-up for other patients," Cheri explains. "We didn't think he'd actually get it." But the next morning, they learned that the liver was theirs. "I screamed, and poor Malakai immediately started bawling because he knew—and because he was scared."
That same afternoon, on Nov. 25, 2019, Yuri Genyk, MD, transplanted the perfect liver into Malakai. "His liver did great the whole time, and his numbers have never dipped down," says Cheri.
Todd is amazed at how well his son is doing less than a year post-transplant. "Before the transplant he was in the mid-50 pound range—at age 12. And now he weighs 110. That, to me, is a testament to how successful the transplant was."
To this day, Malakai is cancer-free with no evidence of disease. "He rang the end-of-chemo bell about 10 days after his transplant, and there's been no looking back," Todd adds.
That's not to say there haven't been complications. Malakai still comes to CHLA for physical therapy to increase his strength and endurance, and he has suffered significant hearing loss—a common side effect of his course of chemotherapy. But that's another challenge that Malakai is taking as an opportunity to help others. He posted a video of himself getting his hearing aids to encourage other kids, and he's part of a research study looking at ways to reduce hearing loss.
Lifelong friendships and enduring gratitude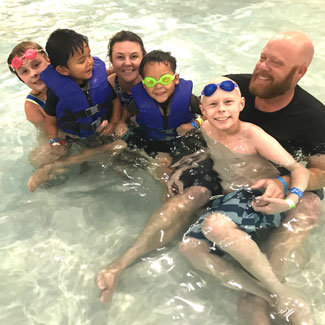 Among the many silver linings Malakai sees in his medical journey, the most precious is his friendship with another CHLA patient. "An unbelievable, amazing coincidence," he calls it. "We were diagnosed a couple days apart, and we became friends in the Child Life playroom."
As their friendship grew, they tried to schedule their chemo treatments on the same day, hoping they'd get beds next to each other. A couple of times they got lucky. And when his friend was nervous about having a team member access his port, Malakai sat with him in his room and held his hand.
"Obviously before COVID!" Cheri quickly points out. "They still talk daily, and it's all because of the playroom. It's a really remarkable friendship thanks to CHLA.
"Our family is forever grateful to his doctors, nurses, everyone—not only because they helped our son live, but because they give their hearts. Malakai wasn't just another patient. He was a real person who they genuinely cared for."
"Absolutely," Todd agrees, "we're just unbelievably grateful for everything the hospital does for us."
Learn more about our Programs and Services
---
Related Content