Oliver Is 'A Whole Different Kid' After Kidney Transplant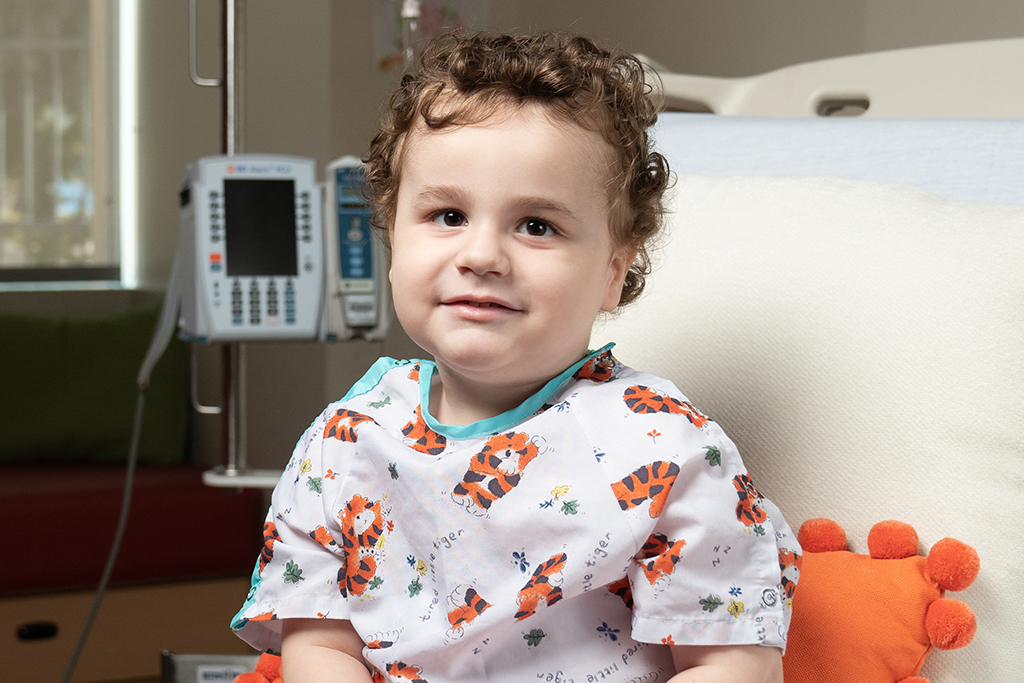 Born with a rare genetic disorder, Oliver needed a new kidney—and lots of care. Thanks to a multidisciplinary team at Children's Hospital Los Angeles, the 3-year-old is now thriving.
By Candace Pearson

At nearly 3½ years old, Oliver loves superhero characters, his big sister Emelia, and playing the drums while singing all the words to "Twinkle, Twinkle, Little Star."
It's impressive considering that Oliver has already undergone 15 surgeries at Children's Hospital Los Angeles in his young life—and has come through them so cheerfully that his nurses nicknamed him "Mr. Happy."
Oliver's parents Violet and Lionel first discovered that their unborn child was in trouble during a routine prenatal scan. "There was a big black hole on the ultrasound—it was very scary," Violet recalls. "His bladder had expanded so much it was crushing him."
In utero, Oliver was found to have a large bladder filled with urine but no amniotic fluid surrounding the baby. Ramen H. Chmait, MD, Director of Los Angeles Fetal Surgery at CHLA and USC, inserted a shunt into his bladder aimed at decompressing the bladder, normalizing the amniotic fluid volume and improving his lung growth, thereby improving the chances of survival. The procedure was successful, but was not a long-term solution.
Help on the way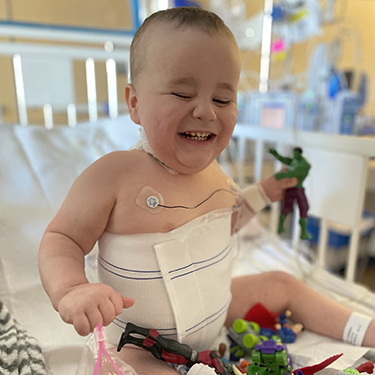 Oliver spent much of his first year of life as an inpatient at CHLA.
But lucky for Oliver, a multidisciplinary dream team existed at Children's Hospital Los Angeles to treat him as soon as he was born.
While Violet was pregnant, she and Lionel met with Evalynn Vasquez, MD, MBA, Associate Chief of the Division of Urology and Director of the Complex Reconstruction and Malformations Program. Later, others joined Oliver's care team, including Rachel Lestz, MD, MHS, Clinical Director of Pediatric Nephrology and Medical Director of the Pediatric Kidney Transplant Program; Rachel Goldstein, MD, Director of the Hip Preservation Program; Melinda Chang, MD, an attending physician in Ophthalmology; and Kambiz Etesami, MD, Surgical Director of Kidney and Intestinal Transplantation.
The team also included intensive care specialists, neurologists, transplant coordinators, specialized nurses, occupational and speech therapists, Child Life specialists, social workers and more.
"It takes the entire hospital and all its resources to succeed in the care of our patients, especially a patient like Oliver, who's had multiple services taking care of him," says Dr. Vasquez. "We can't exist in silos."
Before Oliver was born, the experts at CHLA suspected he had Prune-Belly syndrome, also known as Eagle-Barrett syndrome, which is characterized by partial or complete absence of abdominal muscles, failure of the testes to descend and urinary tract malformations. The condition gets its name from the wrinkled, prune-like appearance of the skin on the newborn's stomach. About 95% of cases involve boys. But the condition can't be definitively diagnosed until after birth.
"The clues were there," says Dr. Vasquez. "Oliver stopped making amniotic fluid, essentially baby urine, which tells you how well his bladder and kidneys are working."
A plan quickly unfolded. Violet would give birth at Hollywood Presbyterian Hospital, next door to CHLA, then the baby would be immediately transferred to the Steven & Alexandra Cohen Foundation Newborn and Infant Critical Care Unit (NICCU) at CHLA.
A baby arrives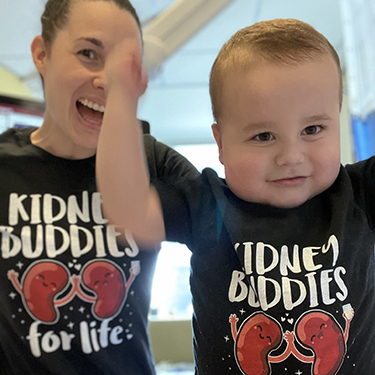 Oliver's mom, Violet, was a very good match to donate a kidney to her son.
When Oliver came into the world July 23, 2019, his diagnosis was confirmed. His dad accompanied him to the NICCU, while his mom left her maternity room the following morning, telling nurses, "I've got to go meet my son."
"Initially, our goals for Oliver were the same as for any baby," says Dr. Lestz, "appropriate nutrition for growth and development."
Oliver's left kidney never functioned. His right kidney was working but didn't have enough filters to do its jobs of removing waste. He had other complications, too, including a mild case of cerebral palsy, a weakness on the left side of his body and hip dysplasia, an abnormality of the hip joint.
Meanwhile, his parents were adjusting to their new reality. "I had to change my perspective and stop asking why this happened," says Violet. "We had to help Oliver live his best life, whatever that looks like, and celebrate the small wins. Oliver needed us. Emelia needed us. Life had to move forward."
And so it did. At just 3 weeks old, Oliver had his first surgery, as Dr. Vasquez created an opening between his abdominal wall and bladder to drain it and prevent further harm to his kidneys.
Other surgeries and procedures followed, including hip surgery at 1½ years old and strabismus surgery to help his misaligned eyes look the same direction at the same time. With his flaccid abdominal muscles, Oliver's bladder had nothing to press against, making it difficult to empty on its own. He was unable to safely eat by mouth, so required a feeding tube to his stomach.
Defying the odds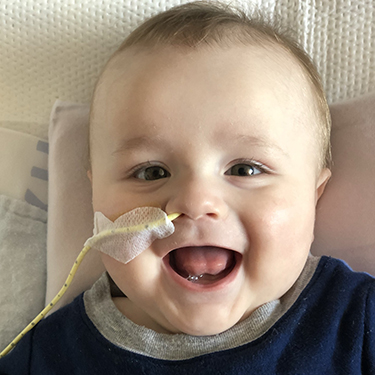 Even while he was hospitalized, Oliver was so cheerful that his nurses nicknamed him "Mr. Happy."
Yet, all the while, Oliver was growing—and charming his caregivers. At times, Oliver got to return home with his family, but spent much of his first year as an inpatient at CHLA. The hospital was "our second home," says his mom.
In 2022, Oliver's doctors agreed it was time for a preemptive kidney transplant—before his one good kidney deteriorated to the point where he would need dialysis to take over its normal filtering task.
"Dialysis can be lifesaving, but it is life-altering as well," explains Dr. Lestz. "Preemptive transplants result in better transplant outcomes." Avoiding dialysis would improve Oliver's life expectancy.
Oliver's mother was very interested in providing a donor kidney for her son. "Violet was very, very compatible—only one mismatch, which is about as good as it gets," says Dr. Lestz.
"Recipients of kidneys from living donors tend to do better," says Dr. Etesami, Oliver's transplant surgeon. "A kidney can be from a parent—or even an unrelated person—but as long as it is immunologically compatible, having a living donor is preferable." The close match meant there was a better chance that Oliver's body would not reject his new kidney.
Although Oliver had multiple medical issues, Dr. Etesami was confident about moving ahead with the surgery. "At CHLA, we have continued to make advances in transplant surgery, allowing us to operate on the smallest and sickest kids like Oliver."
On March 9, 2022, three teams were at the ready—a transplant team at Keck Hospital of USC, which would remove one of Violet's kidneys; a urology team a CHLA led by Dr. Vasquez that would remove Oliver's nonfunctioning kidney to make room for his new kidney and manage his bladder, and a transplant team at CHLA led by Dr. Etesami.
After Dr. Etesami navigated around some scarring from Oliver's previous surgeries, he placed Violet's donated kidney inside Oliver's belly, a common strategy in infants. He then attached it to blood vessels and the ureter to the bladder.
Welcome! A new Oliver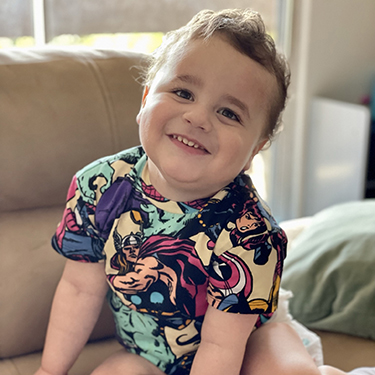 After his kidney transplant Oliver "was a whole different kid, with energy and zest for life," says his mom.
After a few days of recovery in the Pediatric Intensive Care Unit, Oliver bloomed. "He was a whole different kid," his mom says, "with energy and zest for life." He quickly began pulling himself up in his crib to stand and taking sideways "cruises."
Today, Oliver's new kidney is functioning well. His progress is being monitored closely and Oliver still spends time as an inpatient at CHLA. Thanks to the transplant, however, Oliver is growing and thriving in ways that he never could have done before the surgery.
At around a year post-transplant, Oliver's medical team will determine when he might undergo abdominal reconstruction to shore up his core strength. Developmentally advanced, always smiling, curly-haired Oliver still has mobility issues, but he is working on them with a team of specialized therapists including ones focused on physical therapy, speech and feeding.
Oliver's mom and dad appreciate that his doctors treat them as partners in his ongoing care and development. Equally important, Violet says, "every person who works at CHLA cares deeply. And they don't just care about the patient, they care about the parents, too."
Click here to help more kids like Oliver.
---
Related Content