A Lifesaving Move for Ella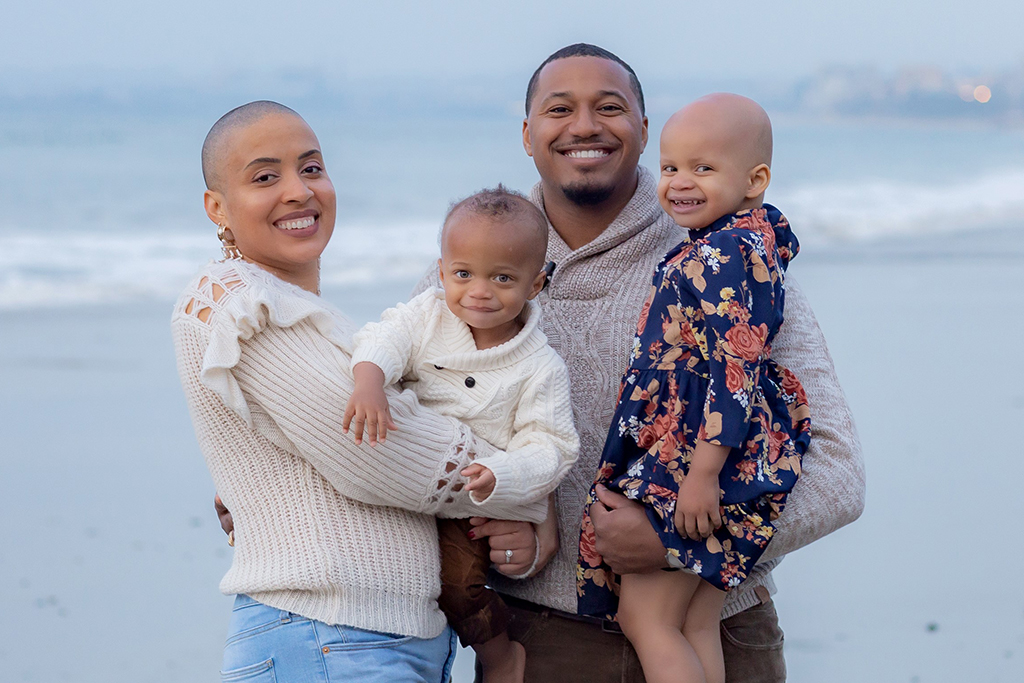 Left to right: Megan, Francis, Marcus and Ella
Ella and her family moved from the East Coast to Southern California in search of the best treatment for high-risk neuroblastoma—and found it at Children's Hospital Los Angeles.
By Sara Jones

Ella was just shy of 2 years old when she became a big sister. It was May 2020—still the early days of the pandemic—and her grandma had flown from Arizona to Virginia to spend time with the new family of four.
"We were getting ready to take my mom back to the airport," says Ella's mom, Megan. "It was literally three weeks after I gave birth to Francis. My mom was giving Ella a hug and she felt a lump on the right side of her abdomen where her kidney would be. 'Hey, Megan, feel this,' she said, and I immediately knew it was not normal."
Megan and Ella's dad, Marcus, took their daughter to the pediatrician that same day and were referred to the emergency department near their home in Virginia. Because of COVID, only one parent could accompany Ella, so Megan went home with their newborn son. Meanwhile, Ella underwent lab tests, an ultrasound and a CT scan.
"It all happened so fast. I remember Marcus texting me saying, 'It's something. They're not sure what yet, but it's not looking good,'" says Megan, whose mom immediately returned from the airport to watch Francis. Once at the hospital, Megan was given a waiver so that she and Marcus could meet with the doctors together.
They were told that Ella had cancer, and because of how she was presenting—happy, energetic, healthy, other than the lump in her abdomen—the doctors were almost certain it was Wilms tumor. In line with the standard protocol for this condition, Ella immediately went into surgery to remove the tumor, as well as her kidney. When the tumor came back from pathology, however, it turned out Ella had a different cancer: stage 4 neuroblastoma.
'The best decision'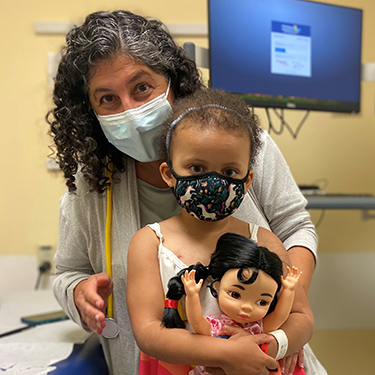 Ella and Dr. Marachelian
Neuroblastoma is a relatively rare and difficult-to-treat pediatric cancer that affects about 700 kids in the U.S. each year. It develops from immature nerve cells in the body, and most often affects children ages 5 and younger.
"I immediately started researching top hospitals in the country for neuroblastoma," says Megan. "My dad lives in L.A., and one of my stepmom's best friends [Quynh Dao, NP] is a nurse practitioner at CHLA. So the whole time we were in Virginia, I was texting Quynh, and once the pathology came back, she put us in touch with Dr. Marachelian."
Araz Marachelian, MD, MS, Medical Director of the Neuroblastoma MIBG Program in the Cancer and Blood Disease Institute at CHLA, is one of the nation's preeminent experts in neuroblastoma. Within a week of getting the diagnosis, Ella and her family were on a flight to Los Angeles.
Megan believes "the best decision we made as a family was to come to CHLA."
Specialized therapy for Ella
Once at Children's Hospital, Ella went through five cycles of chemotherapy in preparation for a stem cell transplant. Scans showed that the chemo was successful in killing the cancer in her abdomen and femur, but a brand-new spot had developed in her skull.
"As a team we had to decide what to do," says Megan. "We couldn't move forward with a stem cell transplant, so we decided to take Ella off protocol and enroll her in a clinical trial—which I still believe to this day is why Ella is clear."
Ella received a combination of chemotherapy and an immunotherapy drug called dinutuximab, as well as difluoromethylornithine (DFMO), an experimental drug that has shown promising results when used to treat aggressive tumors like Ella's, also known as neuroblastoma with MYCN amplification.
Megan is still amazed at the results.
"Literally after two cycles she was clear—no evidence of disease as of January 2021. We stayed on that trial for a year and she remained clear, then we completed protocol with just immunotherapy and radiation, and she completed treatment officially in June 2022."
"I can't say enough about Dr. Marachelian," Megan continues. "There are some doctors who are by the book, black and white. No room for adjustment. But she looks at each patient individually and says, 'This is what I think she needs but let's make this decision as a team.' I really truly felt a part of the team. And we feel she is part of our family now because of what she has done for our Ella."
'No looking back'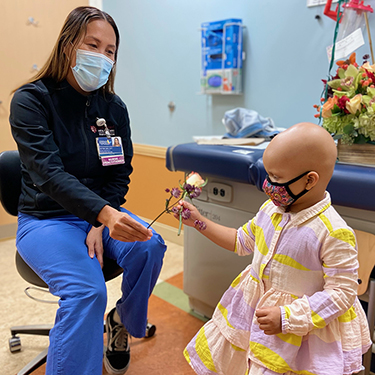 Ella with Quynh Daou, NP, a family friend and Nurse Practitioner in Radiology
Two years after their sudden move across the country, Megan and Marcus have decided to make California their permanent home. Marcus recently graduated from law school, and Megan started a new position at a pharmaceutical company that specializes in using CAR T-cells to treat and potentially cure cancer. After years of uncertainty and chaos, things are falling into place.
Megan is thrilled to say Ella is now a happy, healthy 4-year-old. "She spent the summer swimming and playing, and she's been doing really, really well. I attribute all of that to Children's Hospital Los Angeles.
"We took advantage of everything the hospital has to offer in terms of making the stays better for kids," Megan says. "Going to the [Child Life] playrooms. Music therapy. There are so many things that really did make our time go by easier. Honestly, it helped me a lot mentally—because whew! My mental health was wavering! But as long as I saw that Ella was OK, I was OK."
Click here to help more kids like Ella.
---
Related Content