Hazel's Slice of Life
The Internet's 'Pizza Girl' bites back at cancer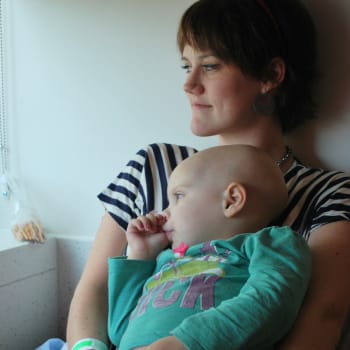 Hazel Hammersley, a usually bubbly toddler, was clearly in pain. She also had a fever, had stopped eating and was very lethargic. Lauren Hammersley's motherly instincts told her that something just wasn't right.
"I took her to the pediatrician the day after I first noticed Hazel had stopped eating or drinking," Lauren says. "Something told me it was cancer."
Her doctor told Lauren to get Hazel, who was 2 years old at the time, to the Emergency Department at Children's Hospital Los Angeles right away. Lauren's worst fears were confirmed; a tumor was found in Hazel's abdomen, and it was diagnosed as neuroblastoma.
Neuroblastoma is the most common solid tumor found outside of the brain in children, and accounts for about 15 percent of deaths from childhood cancer. There are around 1,000 new cases per year in the United States and, despite advances in therapy and supportive care, about half of the children with aggressive tumors will die from their disease.
"In hindsight, I'm so thankful that doctors at CHLA diagnosed her so quickly," Lauren adds. Neuroblastoma often spreads to other parts of the body before any symptoms are apparent, and the majority of children aren't diagnosed until their cancer has spread.
Hazel's cancer was at stage 3. The news was overwhelming, but there was hope. Lauren knew that a lot of the toughest cases of neuroblastoma were treated at CHLA.
"CHLA did an amazing job in the first few days. The doctors, nurses, Child Life team, social workers—everyone was so supportive."
Still, Lauren was scared. With four children to care for—her youngest child was 5 months old at the time—she says the prospect of Hazel's treatment seemed "insurmountable." Within days, her daughter began the first of what would be five rounds of chemotherapy to shrink the tumor prior to surgery.
Four months later, surgeons at CHLA removed a softball-sized mass from Hazel's abdomen in a daylong procedure, eliminating nearly 98 percent of the cancer, a millimeter at a time. The remaining live cancer was still deeply concerning, so she had to go through one more round of chemotherapy in preparation for a stem cell transplant—in the hopes of eliminating any resistant tumor.
In the following months, the Hammersley family experienced a lot of ups and downs, including a couple of months of rehabilitation as Hazel learned how to walk and talk again after the transplant. However, she took it in great stride and made the most of her time at the hospital.
"If you ask the nurses, they would say she was hardly in her room," says Lauren. "She would play hide-and-seek with them, sit on the bottom of her IV pole and ride it up and down the hallway. Aside from those occasional days where she wasn't feeling well, she had a lot of spunk during her treatment."
On one occasion, Hazel took full advantage of this spunk when she and her grandmother decided to spell out "Send Pizza Rm 4112" on her hospital window as a fun project. Soon, the sign, which faced Sunset Boulevard, attracted passersby and was eventually posted on the community website Reddit. Generous people began to send pizza to the hospital for Hazel to enjoy. She was dubbed "Pizza Girl" by the internet.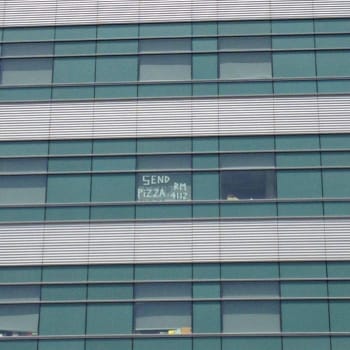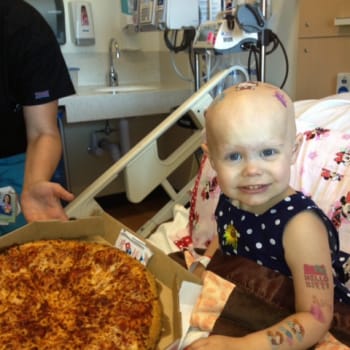 Although Hazel has fond memories of the hospital, nothing beats going home. And we're glad to say that for over a year, Hazel has been at home, doing well and currently showing no signs of cancer. She is back to being like any other 4-year-old who loves to sing, dance, play dress-up and go to preschool, and wonders what she wants to be when she grows up. But as much as Hazel seems like a normal kid, she understands that she's not; she understands how amazing it is to beat cancer.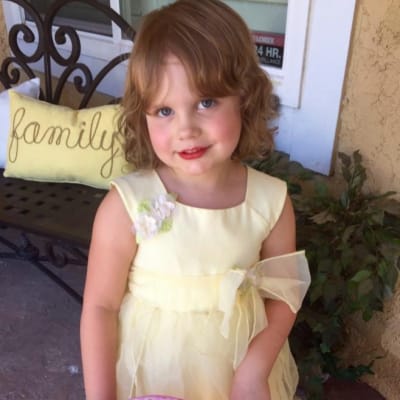 "She was standing in the bathroom one day and yelled for me to come over," says Lauren. "She says to me, 'Mom, I just love my scar. It's so important to me, because it means my neuroblastoma is all gone.'"
How you can help
Help local kids like Hazel fight cancer. Give today at CHLA.org/GiveLA.