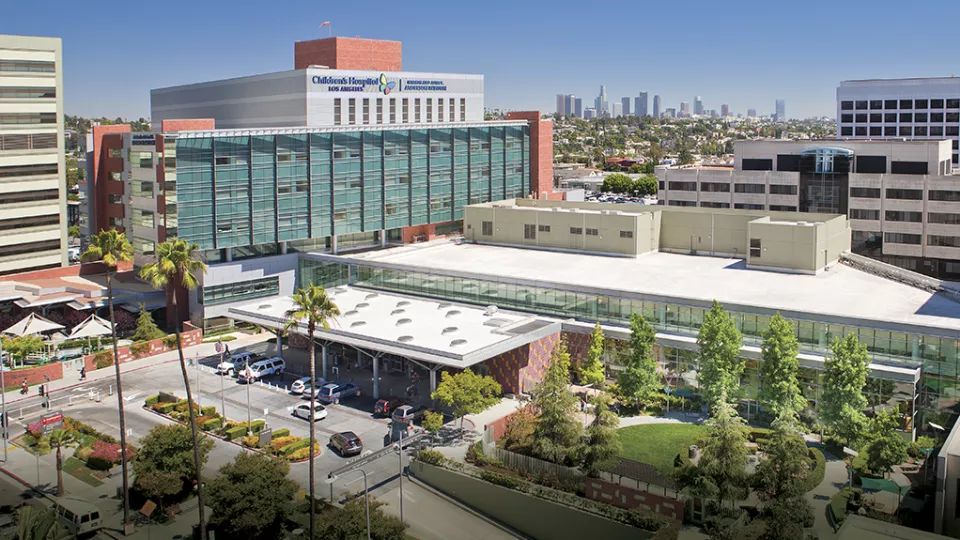 Marion and John E. Anderson Pavilion: 10 Years of Excellence
A decade ago, the state-of-the-art building helped launch a new era of advanced care at Children's Hospital Los Angeles.
In 2011, Children's Hospital Los Angeles opened the Marion and John E. Anderson Pavilion, creating an unparalleled medical facility in Southern California dedicated to caring for children.
Marion and John E. Anderson, longtime supporters of CHLA, made a $50 million gift to complete the state-of-the-art building designed to provide the latest treatments in a welcoming, family-centered environment.
Thanks in part to the family's transformational investment—and the nearly 750,000 other donations of all sizes—Children's Hospital Los Angeles is among the leading pediatric medical institutions in the nation, recognized for its excellent clinical care and supportive services. It is ranked fifth in the country and No. 1 in California by U.S. News & World Report.
Designed specifically with kids and families in mind, the Anderson Pavilion incorporates family-friendly amenities and advanced clinical spaces that create a healing environment for patients and their loved ones. Many of these areas were made possible by generous philanthropy, including the Maurice Marciano Family Foundation Emergency Department and Trauma Center, the Ahmanson Foundation Pediatric Intensive Care Unit, the Thomas and Dorothy Leavey Foundation Cardiothoracic Intensive Care Unit, the Walt Disney Company Foundation Reception Area, and others named in honor of philanthropists who supported the hospital during the Living Proof Campaign.
"A core belief at our institution is that we achieve our best together, and the Anderson Pavilion embodies that," says Paul S. Viviano, President and CEO of Children's Hospital Los Angeles. "As we celebrate this milestone, I would like to thank all the donors who helped make this groundbreaking facility possible—many of whom still support the hospital to this day."
Led by the Andersons' daughter, Judy Munzig, the Anderson Stewart Family Foundation is among those that have continued their legacy of generosity at CHLA.
"The Anderson family is honored to continue our support of Children's Hospital Los Angeles," says Munzig. "The hospital's steadfast devotion to its mission to provide world-class care to critically ill children inspires us and makes us very proud to be among its supporters."
Now, more than ever, there is a significant need for the expert pediatric care, community support and early interventions that CHLA provides. "As I look back on the last decade with pride, I am struck by the bright outlook I see for our institution," says Viviano. "And I'm grateful for the community of supporters who invest in children's futures."
How you can help
To help support Children's Hospital Los Angeles, please visit CHLA.org/Donate.