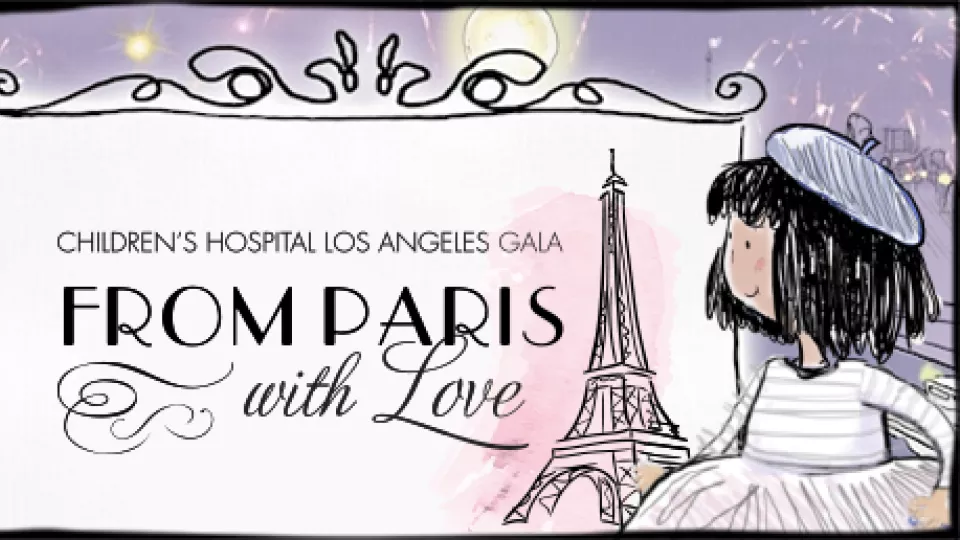 Jimmy Kimmel, Vin Scully and Hasbro To Be Honored at the 2018 'From Paris With Love' Children's Hospital Los Angeles Gala
Jesse Tyler Ferguson will host the sold-out event, which will feature live musical performances by Grammy-winning artists Pharrell Williams and Foo Fighters
On Saturday, October 20, 2018, more than 1,400 people will attend the Children's Hospital Los Angeles From Paris with Love gala presented by Hasbro at The Event Deck at L.A. LIVE. The biennial event brings together prominent philanthropists, business and entertainment community leaders, local dignitaries and hospital supporters to raise funds for the hospital to provide expert critical care to its pediatric population.
Late night talk show host and comedian Jimmy Kimmel, legendary Dodgers play-by-play announcer Vin Scully and global play and entertainment company Hasbro are the evening's Courage to Care award honorees. While these champions of children and child-related causes come from varied backgrounds and industries, they share a common bond through their altruism and their participation in philanthropy and activism to improve the welfare of children worldwide. Past CHLA gala honorees include Drew Barrymore, Natalie Portman, Jennifer Lopez, Heidi Klum, Jamie Lee Curtis, Pau Gasol, the Los Angeles Kings hockey team, the Billy and Audrey L. Wilder Foundation, Costco Wholesale and The Walt Disney Company.
"This evening is a celebration of the dedication these compassionate individuals have made to the Los Angeles community and to the patients and families we serve," says CHLA President and CEO Paul S. Viviano. "Their efforts give voices and faces to the children we work so valiantly to serve so that no child goes without critical healthcare when they need it."
Honoree Jimmy Kimmel is host and executive producer of the seven-time Emmy Award-nominated "Jimmy Kimmel Live!," ABC's longest-running late-night talk show now entering its 16th season. In April 2017, Kimmel and his wife, Molly, welcomed their son, William 'Billy' Kimmel into the family. He was born with rare congenital heart defect, tetralogy of Fallot with pulmonary atresia, which was first detected hours after birth. At just 3 days old, Billy underwent successful open-heart surgery at Children's Hospital Los Angeles, a story Kimmel bravely shared on "Jimmy Kimmel Live!" in a heartfelt monologue that touched millions of viewers around the world. Kimmel has continued to advocate for health care coverage for all children and families in America.
Vin Scully is the legendary voice of the Los Angeles Dodgers who retired in 2016 after delighting listeners for 67 consecutive seasons of play-by-play. During his career, Scully received numerous accolades, including the Ford Frick Award from the National Baseball Hall of Fame in 1982, a Lifetime Achievement Emmy Award for sportscasting in 1995 and an induction into the National Radio Hall of Fame in 1995. On Nov. 22, 2016, President Barack Obama presented Scully with the nation's highest civilian honor, the Presidential Medal of Freedom, at the White House. Even in retirement, Scully has gained a new generation of listeners at CHLA by reading storybooks to patients in the hospital's Literally Healing room. He's also the voice of public service announcements supporting Proposition 4, the bond initiative to raise funds for children's hospitals throughout California.
Hasbro is this year's corporate Courage to Care honoree and the gala's Title Sponsor. From toys and games to television, movies, digital gaming and consumer products, Hasbro offers a variety of ways for audiences to experience its iconic brands, including Nerf, My Little Pony, Transformers, Play-Doh, Monopoly, Baby Alive and Magic: The Gathering. Hasbro is committed to making the world a better place for children and their families through corporate social responsibility and philanthropy, and consistently ranks in the top 5 on CR Magazine's list of '100 Best Corporate Citizens.' Through its philanthropic programs like "BE FEARLESS BE KIND," Hasbro works passionately to create a universe where every child experiences hope, kindness and joy. Hasbro is a proud supporter of Children's Hospital Los Angeles, providing charitable grants, product donations and employee volunteers at events throughout the year.
"We are proud to support Children's Hospital Los Angeles and the dedicated teams of doctors, nurses and researchers who are making a difference in the lives of so many children and families," said Brian Goldner, Hasbro's chairman and chief executive officer. "On behalf of all of our employees, many of whom have volunteered personally with the hospital, we are truly honored and humbled by this recognition."
The evening's special guest and mission ambassador is Vaughn A. Starnes, MD, co-director of the Heart Institute and founder of the Division of Cardiothoracic Surgery at Children's Hospital Los Angeles. In 1990, Starnes performed the world's first lobar transplant using a lung segment from a living, related donor (the girl's mother). The following year, he performed a heart and lung transplant on a 1-month-old baby, the youngest heart-lung transplant patient ever.Joining CHLA as the Division head in 1992, Starnes founded the hospital's Heart Institute and launched the pediatric heart transplant program, which marked its 25th anniversary earlier this year. Starnes, who performed the lifesaving heart surgery on Billy Kimmel, also specializes in treating damaged heart valves with minimally invasive repairs and valve replacements. In addition, he is a distinguished researcher and is currently investigating the use of gene therapy to prevent scarring following heart surgery, and stem cell usage to treat rare cardiac defects in children. Dr. Starnes is currently the vice president of the American Association for Thoracic Surgery (AATS) and will be the 100th president of the AATS in 2019-2020.
Red Carpet arrivals begin at 5:30 pm, followed by a cocktail reception and sit-down dinner prepared by celebrity chef Wolfgang Puck. The evening's 'From Paris With Love' theme will be represented with a Parisian carousel and a ballet performance. Emmy-nominated actor Jesse Tyler Ferguson will serve as the evening's host and Grammy Award-winning music artists Pharrell Williams and Foo Fighters will provide special live performances. Other special gala guests include Robert Iger, Chairman and Chief Executive Officer of the Walt Disney Company; Mary Hart, television personality and longtime CHLA supporter; entertainment and media mogul Haim Saban and his wife, philanthropist and CHLA Foundation Board of Trustees member Cheryl Saban, PhD, who designed the artisan glass awards that will be presented to the evening's honorees.
Gala Benefactor sponsors are Costco Wholesale, The Walt Disney Company and The Sydney Smith Trust. Premier sponsors are the Goldhirsch-Yellin Foundation and Kristin and Jeffrey Worthe, chair of the CHLA Board of Directors.
NOTE TO EDITORS: To request media credentials or to receive photos or video following the event, please contact Lauren Song at lasong@chla.usc.edu. All media credential requests must be received by Friday, October 12, 2018. Confirmed media will receive an email with instructions on credential pickup and parking information.
About Children's Hospital Los Angeles
Children's Hospital Los Angeles is a nonprofit pediatric health care organization dedicated to creating hope and building healthier futures for children. Founded in 1901, CHLA is one of the nation's leading children's hospitals and is acknowledged worldwide for its leadership in pediatric and adolescent health. CHLA is one of only 10 children's hospitals in the nation — and the top-ranked pediatric facility in California — to be named to the prestigious U.S News & World Report Honor Roll for 2018-19.
As a pediatric charity of choice, the hospital relies on the generosity of the community to support its groundbreaking pediatric research and the complex care it provides for critically ill and injured children. To learn more, follow us on Twitter, Facebook, LinkedIn and Instagram, and visit our child health blog (CHLA.org/blog) and our research blog (ResearCHLABlog.org).