Connecting With Patients, Wherever They Are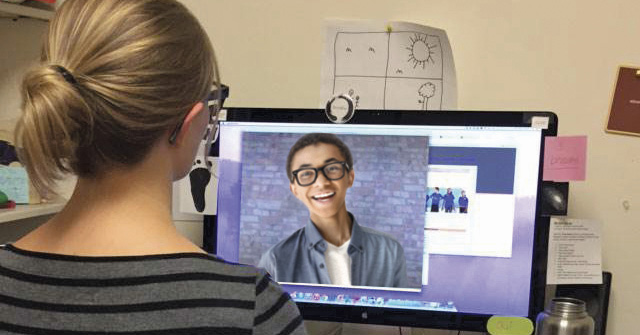 Long before COVID-19, Jennifer Raymond, MD, MCR, was pioneering virtual care for her patients with diabetes.
By Katie Sweeney

"Dr. Raymond! I've been thinking about you ever since COVID-19 started."
The young adult on the computer screen had just started his routine virtual visit with Jennifer Raymond, MD, MCR. But before he even talked about his diabetes, he was eager to talk about a different topic: virtual care.
"You're probably doing [telehealth] with everyone now, right?" he asked her excitedly. "Because I've been thinking that's how people should see their doctor now."
Jennifer Raymond, MD, MCR
He was right. Since the start of the COVID-19 pandemic, the use of telehealth, particularly virtual visits, has skyrocketed at Children's Hospital Los Angeles and around the country. CHLA fast-tracked efforts already in the works, developing hospital-wide virtual care capabilities through its Connected Care program. The results have been impressive, with more than 700 clinicians providing virtual care in over 35 specialties. The numbers continue to grow as interest and services expand.
As her patient pointed out, telehealth was nothing new for Dr. Raymond. Through her research, she's long been doing virtual visits with adolescents and young adults who have type 1 diabetes. So when the COVID-19 crisis hit in March—making telehealth a necessity—she was more than prepared.
"Without realizing it, I'd been training for this moment for six years," says Dr. Raymond, the Chief of the Center for Endocrinology, Diabetes and Metabolism at CHLA. "I am so ready for this."
Soon after Dr. Raymond began her research into virtual care, she knew she was onto something.
"I realized that it makes sense to do this care all the time," she recalls. "I felt I was connecting more with patients. They were feeling more comfortable about participating in their visit because it was in a context and a platform that they were familiar with. Just being in their home space versus a sterile clinic environment—it really shifted their experience with medical care."
Expanding virtual care
Since joining CHLA in 2016, Dr. Raymond has been building on her research success. Patients in her studies have logged on for appointments from their home, from a school nurse's office, from work, and more.
"It's interesting because other family members who can't come to in-person visits now get to be involved," she notes. "I see a lot of diabetes supply drawers, too. It's nice because we can go through everything together and refill what they need, and they're right there at home with all their medications."
The future of telehealth
Since the start of the COVID-19 crisis, Dr. Raymond has led the expansion of telehealth services throughout the Center for Endocrinology, Diabetes and Metabolism. By early April, the Center was able to offer nearly all appointments, when appropriate, as virtual visits. (The Center now provides both in-person and virtual visits.)
Dr. Raymond, co-Chair of the Virtual Care Strategy Committee at CHLA, also advised other divisions at the hospital on adding virtual care capabilities during COVID-19. And she created how-to videos on telehealth for the Pediatric Endocrine Society, as well as webinars for the American Diabetes Association and the College Diabetes Network.
Still, she stresses that telehealth is not for every disorder—or every visit.
"There are benefits to in-person care. Sometimes you need a physical exam, or there are barriers to virtual care," she notes. "Fortunately, CHLA has done an amazing job making it safe for families to see us in person, too.
"My vision is that telehealth will always be an option," she adds. "Sometimes you will see your doctor online, and sometimes in person. But either way, you'll get the same excellent care."

Interested in a virtual visit?
Learn more about CHLA's Connected Care program at CHLA.org/Connected-Care.