THE DOCTOR WILL SEE YOU NOW

By Melinda Smith
Telemedicine can be used to tackle chronic diseases like type 1 diabetes in difficult-to-treat patient populations.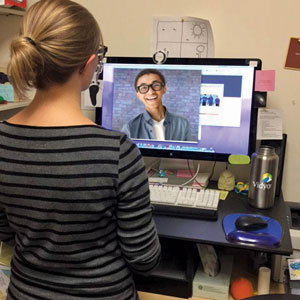 A virtual medical appointment
The American Diabetes Association (ADA) recommends that patients visit their doctor four times a year to monitor diabetes control and optimize therapy. Patients devote hours or even days to these appointments, missing school or work several times a year. Jennifer Raymond, MD, MCR, the clinical diabetes director at Children's Hospital Los Angeles, foresees a future in which appointments are better accommodated to patients' schedules.
Raymond is using the growing field of telemedicine—treating patients remotely—to improve the care of adolescents and young adults with type 1 diabetes.
"I want to help young adults with type 1 diabetes obtain proper health care while respecting their academic, work and social priorities," says Raymond, who is also an associate professor of Clinical Pediatrics at the Keck School of Medicine of USC.
She conducted a pilot telemedicine study with young adults—the age group where clinic attendance drops the most. Patients had blood drawn at local facilities and uploaded data from glucose monitors and other diabetes devices through secure software. Then, using devices equipped with internet, a camera and a microphone (e.g., laptops, tablets and smartphones), patients simply clicked a link to begin their "virtual appointment."
The result was a drastic improvement in clinic attendance: 74 percent of patients in the virtual appointment group met the ADA recommendation for quarterly appointments, while none of the patients in the in-person group did. Significantly, they also increased their engagement outside of appointments, actively seeking medical care and advice—a rare trait for this age group.
"We need medical care to be more patient-centered," Raymond says. "Innovations in technology and clinical care models are helping us meet that need."

To learn more about this research, visit CHLA.org/JenniferRaymond