Transition RN Fellowship in Pediatrics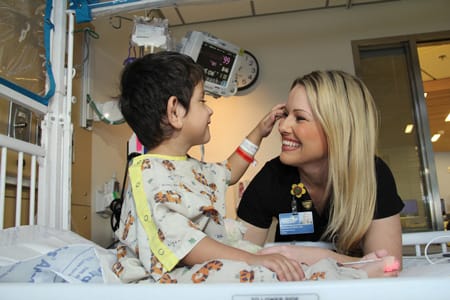 Children's Hospital Los Angeles (CHLA) is excited to present a new training program for the experienced registered nurse who is interested in transitioning to an acute care pediatric setting. The Versant Transition RN Fellowship at CHLA will prepare and support the experienced nurse as they enter into a pediatric specialty area. This program will be offered twice a year, August and February. 
Program Recognition
Versant Transition RN Fellowship in Pediatrics is accredited with distinction as a Practice Transition Program by the American Nurses Credentialing Center's Commission on Accreditation.
Unique Features
The Transition RN Fellowship, ranging from 12 weeks to 16 weeks depending on the area of specialty, includes competency-driven clinical immersion and curriculum, as well as formal mentoring and debriefing.
Each transition RN receives an individualized learning plan for competency acquisition based on a performance gap analysis process.
Vital professional development topics, such as career planning, conflict resolution, the culture of a new unit, self-confidence and goal setting, are presented and discussed.
Eligibility Criteria
Eligibility for the Transition RN Fellowship Program at Children's Hospital Los Angeles: 
A registered nurse with at least 1 year of experience working as an RN in an acute care setting
BSN or MSN degree is required
Current American Heart Association CPR and PALS certification
Important Dates 
Children's Hospital Los Angeles has had to respond rapidly to new and changing business needs prompted by the novel coronavirus (COVID-19) so that we may continue to deliver the highest level of care to our patients and employees. As a result, the organization has decided to delay the Transition Fellowship.
Application
Apply online using our Nursing Career Opportunities Search.
You will be able to view and apply to the areas accepting applicants to this program.
Please complete the entire online application; attaching a resume is highly recommended.
Upcoming Program Dates
To be determined