Small Animal Imaging Core
About Us
The Small Animal Imaging Core provides investigators with access to radiology imaging equipment and specialized high end computers and software for research that involves animal models of health and disease. Its function is similar to radiology departments in the clinical setting. Staffed by highly experienced research imaging specialists and technologists, the core provides images to investigators and facilitates image processing and interpretation via collaboration with the Translational Biomedical Imaging Laboratory, the Optical Imaging Core and individual research laboratories.  The equipment is typical of instrumentation found radiology department with the addition of special optical based techniques useful for imaging very small subjects: Bioluminescence/Fluorescence imaging, Micro-CT, 11.7 Tesla small bore MRI, High-Res plain film X-ray, Micro-Spect-CT.
How We Support
The facility is designed to provide not only imaging technologies, but also guidance in terms of imaging protocols. One of the core's major capabilities is handling different kinds of research projects including working with small rodents with or without imaging equipment. The core is open to academic investigators and commercial/non-commercial organizations.
Please review the general Core Use Policy.
Fee Structure
The following internal prices are for Principal Investigators at CHLA and USC; rates are subject to change in the future.
2022 SAIC Line Item Costs
Service
Cost
MRI Imaging
$220.00/hr
MRI-Overnight (5 p.m. thru 9 a.m.)
$450
uCT Imaging
$165.00/hr
BIoLuminescence
$145.00/hr
Plain Film Radiograph
$11.00/hr
Intra-Cranial Xenografts
$82.50/per mouse
Animal Handling, Treatments Biological Tissue Harvesting
$38.50/hr
Animal Husbandry
STD-$0.52, Cage per day
ID Mice-$0.57, Cage per day
Rats-$2.00, Cage per day
Animal Purchase
$110.00, varies by strain and type
Hemi-Splenic Xenographts (survival surgery)
$82.50
Beetle Luciferin (BLI contrast)
$460.00/gr, can vary
Data Reconstruction
$44.00/hr
Data Processing
$88.00/hr
Software Training
$88.00
2022 SAIC Full Project Costs
| Service | Cost |
| --- | --- |
| Professional Time | $110.00/hr |
| Technologist Time | $38.50/hr |
| Administrative Time | $55.00/hr |
| IACUC Protocol Submission | $5,500.00 |
| Materials | Price on Request |
| Other Imaging Contrast Materials | Price on Request |
The Small Animal Imaging core provides basic images to investigators as well as image data collection, reconstruction, and storage. Image processing and interpretation require collaboration with the Radiology Department.
In addition, the Core provides project management, precise intracranial xenographts, fixed and non-fixed biological sample harvesting, complicated perfusions, technical training and consultations, and access to advanced computer systems.
CoreConnect
This facility utilizes CoreConnect, a web-based core management system that supports the centralization of services and equipment scheduling, billing and usage tracking. Use of the new system is required for all core users, core leaders and core staff.
Learn more about CoreConnect
This Core participates in the CHLA Core Pilot Program. To learn more click here.
CHLA welcomes external users to utilize our Core facilities. Please contact Gevorg Karapetyan at gkarapetyan@chla.usc.ed.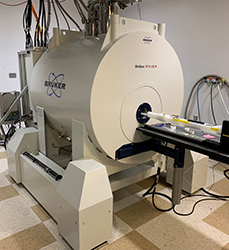 11.7 T BioSpec uMRI (Bruker) 2020 - A multipurpose high field MR scanner for both magnetic resonance imaging(MRI) and magnetic resonance spectroscopy(MRS) for preclinical, pharmaceutical, and fundamental research. The instrument is based on the AVANCE NEO MRI scanner architecture, consisting of 11.7T, 11cm Bore US/R magnet, Faraday RF-Shielding Cabinet, Main Gradient and Shim, MRI RF Coil, MRI Cryo Coil, 1H Transmit and Receive Channel.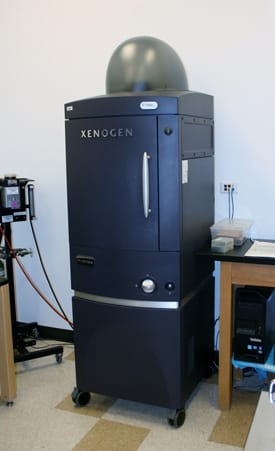 IVIS 200 Bioluminescence/Fluorescence (Perkin-Elmer, former Xenogen) 2013 - in vivo imaging technology platform, that allows non-invasive visualization and tracking of cellular and genetic activity within a living organism in real time. This equipment is work-horse with high throughput capacity. An optimized set of high efficiency filters and spectral un-mixing algorithms lets you take full advantage of bioluminescent and fluorescent reporters across the blue to near infrared wavelength region. It also offers single-view 3D tomography for both fluorescent and bioluminescent reporters that can be analyzed in an anatomical context using Digital Mouse Atlas.
Faxitron MX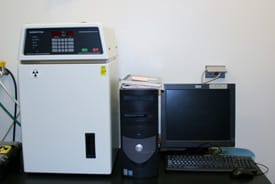 -20- is the industry standard in cabinet X-ray systems for point-of-care specimen/small rodent radiography, specified in bone studies and implants.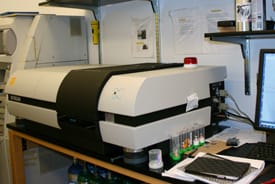 SkyScan1172 HighRes uCT (Bruker) - High-resolution desktop X-ray uCT system for small samples. The flexible geometry of the scanner is particularly advantageous over intermediate resolution levels. Good for biological tissue structural studies.
The Research Imaging Core is equipped with a wide variety of commercial tool sets for imaging data analysis and visualization.
CTAn, CTVol - Bruker's data analysis and visualization tool suite
Analysis - Olympus's image analysis software
Amira - FEI's platform for 3D and 4D data visualization, processing and analysis
Fiji (ImageJ) - A NIH image processing tool
Lightwave 3D - NewTek's 3D computer graphics software
Imaris - 3D and 4D Real-Time Interactive Data Visualization Platform
Living image - In Vivo Imaging Software
Arivis 4D - Data visualization Platform
Analyze Direct – Image processing software
MATLAB – computing environment and proprietary programming
Visual Studio - Interactive developmental environment for programming