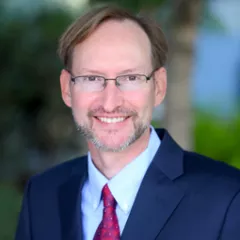 Douglas Vanderbilt, MD, MS
Division Chief, Developmental-Behavioral Pediatrics
Medical Director, Newborn Follow up Clinic
Attending Physician
Professor of Clinical Pediatrics (Educational Scholar), Keck School of Medicine of USC
Dr. Vanderbilt is the Division Chief, Developmental-Behavioral Pediatrics (DBP) at Children's Hospital Los Angeles (CHLA) and a Professor of Clinical Pediatrics (Educational Scholar) at Keck School of Medicine and Occupational Science/Occupational Therapy at University of Southern California (USC). He completed his medical school at the University of Tennessee, residency at UCLA, and DBP fellowship and a 2 year faculty appointment at Boston University.
At USC and CHLA, he attained a KL2 Mentored Career Development Award to study the outcomes of High-Risk Infants (HRI) and has contributed to over 90 manuscripts, policy statements, editorials, and chapters. He also obtained several federal MCHB training grants for the California Leadership Education in Neurodevelopmental Disabilities and DBP training programs and been a Co-I on over 5 NIH grants. He co-leads the Saban Institute's Best Starts to Life strategic priority. He is a site PI for the Developmental-Behavioral Pediatrics Research Network (DBPnet), which is the only national professional society devoted exclusively to DBP disorders and has published on Autism and ADHD with a recent study in JAMA. As ACGME DBP fellowship director, he has graduated 13 DBP fellows and is partnering across the pediatric residency programs of the Los Angeles basin at Los Angeles County + USC, UCI-CHOC, Kaiser, and UCLA for DBP training. As the medical director of the Newborn Follow-up clinic at CHLA, he has led the effort to bring an interdisciplinary team of nutrition, nursing, occupational and physical therapy, psychology, and social work staff together to enhance the parent-infant relationship of NICU graduates.
Dr. Vanderbilt was an executive committee member for the Council on Early Childhood with the AAP. He serves as a member of the subboard for DBP with the American Board of Pediatrics and permanent member of the NICHD Biobehavioral and Behavioral Sciences (CHHD-H) Study Section. He is the Pediatric Academic Society liaison for the Society for Developmental-Behavioral Pediatrics and on the leadership team for the Health Equity Node of DBPNet. He holds active membership in the American Pediatric Society and Society for Pediatric Research.
Clinical Interests
High Risk Infant Follow-up; Behavioral Health; Autism; ADHD; Learning Problems
Education
Medical School
University of Tennessee, Memphis College of Medicine
Internship
UCLA Medical Center: Pediatrics
Residency
UCLA Medical Center: Pediatrics
Fellowship
Boston University School of Medicine: Developmental-Behavioral Pediatrics
Accomplishments
Certification
Pediatrics, Developmental-Behavioral Pediatrics
Memberships
American Pediatric Society; Society for Pediatric Research; American Academy of Pediatrics; Society of Developmental Behavioral Pediatrics; Zero to Three Graduate Fellow
Medical Awards
Top Doctors from Los Angeles Magazine, Pasadena Magazine, The Hollywood Reporter; Alpha Omega Alpha Medical Honor Society; Ralph D. Feigin Visiting Resident Scholarship; Robert Summitt Distinguished Student Service Award
Publications
Publications
Schifsky K, Deavenport-Saman A, Mamey MR, Sheth N, Mirzaian CB, Schrager SM, Chmait RH, Vanderbilt DL. Risk Factors for Parenting Stress in Parents of Children Treated with Laser Surgery for Twin-Twin Transfusion Syndrome 2 Years Postpartum. Am J Perinatol. 2020 Jan 27. PubMed PMID: 31986541. 
Vanderbilt D, Bushley T, Young R, Frank DA. Acute posttraumatic stress symptoms among urban mothers with newborns in the neonatal intensive care unit: a preliminary study. J Dev Behav Pediatr. 2009 Feb;30(1):50-6. PubMed PMID: 19194322. 
Vanderbilt DL, Schrager SM, Llanes A, Hamilton A, Seri I, Chmait RH. Predictors of 2-year cognitive performance after laser surgery for twin-twin transfusion syndrome. Am J Obstet Gynecol. 2014 Oct;211(4):388.e1-7. PubMed PMID: 24681290; PubMed Central PMCID: PMC4175130. 
Lakshmanan A, Kubicek K, Williams R, Robles M, Vanderbilt DL, Mirzaian CB, Friedlich PS, Kipke M. Viewpoints from families for improving transition from NICU-to-home for infants with medical complexity at a safety net hospital BMC Pediatrics. BMC Pediatr. 2019 Jul 5;19(1):223. PMID: 31277630 
Xiao R, Shida J, Vanderbilt DL, Smith BA. Electroencephalography power and coherence changes with age and motor skill development across the first half year of life. PLOS ONE. 2018 Jan 12;13(1):e0190276. PMID: 29329316
Research
Research Summary
Developmental-Behavioral Pediatrics; Twin-Twin Transfusion Syndrome; NICU follow up; Infant-maternal mental health; Traumatic stress; Physical health outcomes