Pediatric Residency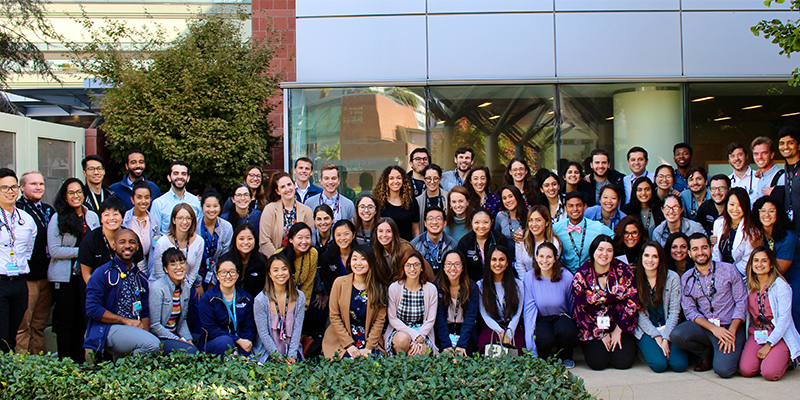 As a regional referral center for children, Children's Hospital Los Angeles is the perfect place to gain expertise in pediatric care. With outstanding board exam pass rates, our program helps residents meet their career goals and respects their personal lives and time.
Our residents come from across the United States. Check our 2020-2021 House Staff Roster to see where our residents hail from.
About the Residency Program
Superior Training Setting
Our hospital has become a global resource for pediatric clinical care, research and teaching.
Computer and Technology Resources

Nearby Attractions and Life in L.A.
All applications for the residency training program must be submitted through ERAS and must consist of at least the following:
Personal statement
Curriculum Vitae
Two letters of recommendation (not necessarily from the Department Chair)
Dean's letter
A copy of your USMLE score(s)
Medical school transcripts
All documentation must be received before an applicant's file is reviewed. Applicant files are processed in the order in which they are received. Program staff begins interviewing potential candidates in late October and continue through the end of January.
Our housestaff complete their training well prepared for any career choice in pediatrics. Following 3 years at Children's Hospital Los Angeles, residents choose to pursue careers in a variety of pediatric fields.
Three Chief Residents are selected each year to serve as junior faculty on the medical staff.
Many residents choose to join general pediatric practices in the surrounding Los Angeles area or in a variety of locations throughout the United States.
In addition, many graduates pursue fellowship training in a variety of subspecialty areas, ranging from Adolescent Medicine through Toxicology.
In recent years we have had residents go to the following institutions for a variety of fellowships:
Boston Children's Hospital
Children's Hospital Colorado
Children's Hospital Los Angeles
Children's Hospital of Philadelphia
Children's Hospital in Seattle
Children's National Medical Center
Johns Hopkins University
Packard Children's Hospital at Stanford
Texas Children's Hospital
University of California, Los Angeles
University of California, San Diego
University of California, San Francisco
University of Southern California
Vanderbilt University
Yale University
Insurance
During resident orientation, several insurance packages are presented. Residents are able to select the benefit options that they want within the categories indicated below.
For Residents

Health Insurance
Dental Insurance
Vision Insurance
Life Insurance
401K Matching

For Residents' Spouses and Dependents

Health Insurance
Dental Insurance
Vision Dental
Meals
All residents receive a meal allowance of $200 each block rotation that they are on call in the hospital or in the Emergency Department. Lunch may also be provided during occasional noon conferences. Meals are also provided to residents free of charge while on rotation at HPMC.
Salary (2020-2021)
Post Graduate Year 1 Resident: $62,745
Post Graduate Year 2 Resident: $65,425
Post Graduate Year 3 Resident: $69,208
Professional Fees
The program covers PALS, BLS and NRP expenses, and reimburses the full cost for the USMLE Step III exam and California Medical Licensure.
Children's Hospital Los Angeles residents are well prepared for the American Board of Pediatrics Certifying Exam at the end of their residency training. Over the last 17 years our immediate graduates have had a 96 percent pass rate. In addition to all the educational conferences throughout the year, we conduct a free annual Board Review Course for our residents.
There are two call rooms adjacent to each ward's physician work room. These are furnished with beds, telephones, and computers and include adjacent bathroom facilities.
Interns and residents are truly involved with our local community. In addition to providing medical care to the surrounding neighborhood, our housestaff may give lectures on important health topics to parents and students at nearby schools and participate in health fairs.
During the adolescent rotation, much time is spent working in free clinics in the neighborhood. In addition, a community pediatric elective is available for residents, which provides exposure to a variety of general pediatric issues.
Housestaff may also choose to do additional electives in the community, which may involve direct patient care, child education and/or research.
Finally, many of our residents provide invaluable service to the surrounding community through their efforts while rotating on the advocacy block and while conducting a home safety visit for a continuity clinic patients during the PL-2 year.
Kids
To improve patient care, our hospital has developed and implemented a clinical information system called KIDS – Knowledge Information and Decision Support. This system allows residents to view all their patients' clinical information online. With a wireless network throughout patient care areas, residents are able to access and maintain patient lists, see their patients' vitals, lab results, medication history and progress notes (by all clinicians) online and in real time. This creates efficiency for the residents and improves patient care.
Dictation
The hospital has an automated digital dictation system. Admission History & Physicals and discharge summaries can be directly entered into the computer or dictated. As in all hospitals, interns and residents are required to keep their medical records up-to-date.
Synapse
The hospital has also implemented the Synapse system to allow for film-less retrieval and viewing of radiological studies.
Residency Program Web Portal
The residency program also has a web-portal, which allows residents access to career guidance information, schedules, a learning center, advocacy information, and other useful educational material.
In general, CHLA interns and residents are off on holidays and weekend days that they are not on call. During the CHLA Rotation, residents get 8 days off. During the intern outpatient rotations, all weekends are off, except for the 1-2 weekends designated as jeopardy call.
During intern year, there are 5 weeks of vacation.
Four of the five weeks are taken during outpatient rotations and are usually divided into two 2-week blocks.
Since interns start one week early, they get their last week of internship off, totaling 5 weeks vacation time.
Second and third year residents have four weeks of vacation during each year.
In addition, there are four consecutive days of holiday vacation during the Christmas/New Year's holiday. During this time, half of the residents will work on Christmas and the other half will work on New Year's. Residents are assigned to work an every-other-night (Q2) call during the 4-day period of the holiday which they do not have vacation. We also observe Martin Luther King Jr. Day, Memorial Day, Independence Day, Labor Day and Thanksgiving.
Each ward has a physician work room designated for the ward team. In each room, there are computers for each intern on the team (with KIDS and Internet/Medline access), as well as telephones, pediatric textbooks, a refrigerator, general office/physical exam supplies, whiteboards, and a water cooler.
The hospital owns an apartment building (affectionately called "The Rodney"), which is located one block from the hospital. There are studios, one-bedroom and two-bedroom apartments available. Parking is included in a secure lot. Approximately 2/3rds of our residents live at the Rodney, many live in other parts of Los Angeles (i.e., West Hollywood, Glendale, Los Feliz and near the beaches). The rental rates include free utilities.
Current Monthly Rental Rates are:
Studios $600.00
One-Bedroom Apartment $750.00
Two-Bedroom Apartment $900.00
Interns are assigned to two weeks of jeopardy call during the year (during their call-free months). PL-2 residents are assigned to jeopardy call during a call-free elective with jeopardy call every fourth night (a total of seven call nights). PL-3 residents have jeopardy call during a two-week block that is free of any other clinical responsibilities (alternating nights). All residents are relieved of any clinical duties if they are post-call from a jeopardy call overnight shift.
The hospital has an automated digital dictation system. Admission History & Physicals and discharge summaries can be directly entered into the computer or dictated. As in all hospitals, interns and residents are required to keep their medical records up-to-date.
Communication Meetings
Meetings are scheduled every one to two months and used to discuss residency program issues. All the residents, chief residents, assistant program directors and program director attend these meetings.
Intern Retreat
This is a two day/two night retreat in Lake Arrowhead in February, attended by all the interns, chief residents, assistant program directors and program director. It is a special time for fun, relaxation and a little introspection.
PL-2 Retreat
This is a one day, off-site retreat that focuses on career and fellowship guidance, fiscal planning, and team building.
PL-3 Retreat
This is a one day, off-site retreat with a focus on evaluating job opportunities and contract negotiations, insurance options and advocacy in practice, with an afternoon of fun and food.
Situated between snow-topped mountains and some of the world's finest recreational beaches, Los Angeles is the vibrant hub of Southern California.
Its relaxed lifestyle and ideal climate offer a multitude of recreational and cultural activities, ranging from surfing, sailing and deep sea diving, to snow skiing, hiking, mountain bike riding and much more.
Los Angeles is one of the few major metropolitan areas where you can be tanning on the beach one moment and skiing through knee-deep powder a quick, two-hour drive later.
Whether your tastes lean toward modern art, space science or natural history, the city offers a world-class array of museums, art galleries and cultural centers, as well as an exciting roster of college and professional sports events.
After the sun goes down, L.A.'s unparalleled nightlife presents an almost endless array of cutting-edge music, dance and theatrical performances, not to mention one of the most remarkable selections of restaurants to be found in any American city.
There are the world-renowned Hollywood Bowl and Greek Theater, both hosting leading names in classical, jazz and pop music under the stars, while the multi-complex Los Angeles County Music Center offers critically acclaimed plays, civic light opera, musicals and symphonic works.
Los Angeles is also home to celebrated regional and small theaters, television and film productions, behind-the-scenes studio tours and cinema playing everything from current blockbusters to art house classics.
For Nearby Attractions, read more.
Employee Assistance Program
Through the hospital's Employee Assistance Program, the hospital retains trained counselors available to help with a variety of issues, including relationship difficulties, family troubles, chemical dependency, work stress, and more. All sessions are completely confidential and free.
Resources for Support & Problem-Solving
Sometimes residents need to talk to someone who has been there before and understands the specific challenges during residency training. Chief Residents, Residency Program Leadership, and the Residency Program Coordinators are available to support and advise our trainees.
Support Services
Residents, with the assistance of trained facilitators, lead monthly "Wellness" sessions. Each residency class meets separately. Professional counselors are available through the hospital's Employee Assistance Program to help individual residents manage a variety of issues, including difficulties with relationships and families, chemical dependency, and work-related stress. These support services are free of charge and confidential.