The George Donnell Society for Pediatric Scientists is dedicated to improving the health of children by training pediatric physician scientists to perform innovative and high quality research. The Society includes pediatric residents, subspecialty fellows, and faculty who are interested in performing pediatric research. It provides mentorship, infrastructure and a community for pediatric scientists in training.
George "Nino" Donnell, MD, was Physician-in-Chief and Chair of Pediatrics at Children's Hospital Los Angeles from 1971 through 1984. Dr. Donnell's commitment to the teaching and mentorship of pediatricians, as well as his numerous clinical and scientific achievements, has shaped a generation of pediatric physicians and scientists at Children's Hospital Los Angeles. The George Donnell Society will honor his contributions by continuing to train the best pediatric physician scientists.
Program Goals
Train high-quality physician scientists within CHLA pediatric residency
Provide an infrastructure and environment to ensure that physician scientists-in-training can learn and produce innovative, high-impact clinical research
Leverage use of CHLA's Enterprise Data Lake for research projects and promote cross-disciplinary data science training opportunities
This program is designed to support pediatric residents interested in pursuing career as physician scientist by providing individualized mentor and financial support.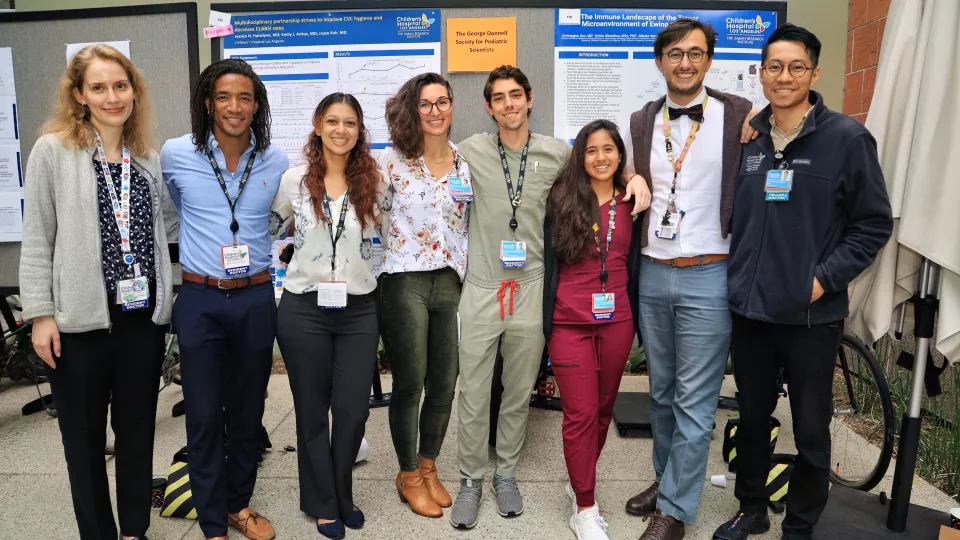 Our Team
Donnell Society Steering Committee
Sonia Michail, MD, FAAP, CPE, AGAF is the Director of the George Donnell Society for Pediatric Scientists at CHLA.
Dr. Sonia Michail is a Professor of Clinical Pediatrics at Keck School of Medicine and director of Inflammatory Bowel Disease research at Children's Hospital of Los Angeles. She has been studying the gut microbiome and how to modify it to benefit children with gastrointestinal disorders especially Hispanic children with Inflammatory Bowel Disease.  She has also developed a Fecal Microbial Transplant Program at the Children's Hospital of Los Angeles. She has been externally funded for many years by several agencies including the National Institute of Health, the Crohn's and Colitis foundation, the American Gastroenterological Association, the Higgins Family Foundation, etc. She has been a fellow of the Gastroenterological Association and has been induced as a member of the Society of Pediatric Research and the Pediatric Academic Society. She has served as a research reviewer and chair for the National Institute of Health, Canadian Institute of Health Research, Crohn's and Colitis Foundation, North American Society of Pediatric Gastroenterology, etc. Dr. Michail is passionate about mentoring trainees of all stages and mentoring young faculty. She has over seventy publications, most of which have been co-authored by trainees. Some of her trainees have become leaders in the field.
---

Bob Adler, MD, MSEd, serves as Senior Advisor to the Chair of the Department of Pediatrics, Chief Medical Officer of the CHLA Health System. He is also a Professor of Pediatrics and former Vice Chair of the Department of Pediatrics at the Keck School of Medicine of USC. Dr. Adler served on the ACGME Pediatric Residency Review Committee, which develops national training guidelines and policies and accredits all pediatric training programs in the U.S.
Serving previously as head of the Division of General Pediatrics, Dr. Adler was involved in primary care. He has served on the board of the American Academy of Pediatrics (AAP) and on the National Task Force on the Future of Pediatric Education. Dr. Adler has been listed in "Best Doctors in America," "Who's Who in Medicine and Healthcare," "America's Top Pediatricians" and "Who's Who in Science and Engineering." He serves on the Advisory Board of the Simms/Mann Institute, the Board of Trustees for the Good Hope Medical Foundation, and the Medical Advisory Board of The Painted Turtle Camp, a camp for children with chronic pediatric illnesses. He was the recipient of the USC Mellon Mentoring Award in 2011, the Los Angeles Business Journal Healthcare Executive Award in 2013, and the Robert M. McAllister Award for faculty mentoring in 2014. He was the inaugural recipient of the CHLA Alumni Recognition Award; in 2015 he was the first physician to receive the prestigious DAISY Award, which is typically bestowed upon exceptional nurses by leadership and their peers for compassionate care at the bedside of sick and injured children; and in 2016 he was the recipient of the AltaMed Healthcare Service Award and the annual Robert Adler Lectureship in Medical Education endowment.
---

Dr. Kohli received his medical degree from the Armed Forces Medical College, India in 1999 and his MS in clinical investigation from Northwestern University in 2006. While at Northwestern he first spent three years as a pediatric gastroenterology and hepatology fellow and then subsequently as a transplant hepatology trainee before relocating to the University of Cincinnati in 2007.
His research work has focused on the pathogenesis of obesity related fatty liver disease (NAFLD). In particular, he has focused upon the role of bile acid signaling as a mechanism for NAFLD resolution after weight loss surgery. His work has also shed light on reactive oxygen stress in the generation and regulation of the extreme stage of this disease; nonalcoholic steatohepatitis (NASH). He has published many peer-reviewed articles including articles in Nature, Nature Reviews, The Journal of Biological Chemistry, Hepatology, Journal of Pediatrics, and The American Journal of Physiology. He is the author of many book chapters and review articles. He also is the recipient of the 2007 George Ferry Young Investigator Award from the Children's Digestive Health and Nutrition Foundation, a Fellowship award from the American Association for the Study of Liver Diseases, Takeda Research Innovation Award from the North American Society for Pediatric Gastroenterology, Hepatology and Nutrition Foundation.
---

Yves DeClerck, MD, is a Professor of Pediatrics and Biochemistry and Molecular Medicine at the Keck School of Medicine of USC, and a pediatric hematologist-oncologist at the Cancer and Blood Institute at Children's Hospital Los Angeles and Associate Director at the USC Norris Comprehensive Cancer Center.
Dr. DeClerck is a physician-scientist leading a research program focused on the tumor microenvironment in cancer progression with a focus on neuroblastoma, the second most common solid tumor in children. He collaborates with colleagues at CHLA, USC, City of Hope, and Weill Cornell. His laboratory has been funded without interruption by the National Institutes of Health (NIH) since 1986. He has published more than 145 papers and review articles and is nationally and internationally recognized as a leader in the field of the tumor microenvironment. He frequently lectures in the U.S. and abroad, and he is an active member of the American Association for Cancer Research, having served on its Conference and Publication Committees, contributing to its Cancer Survivor Outreach Program and organizing several conferences sponsored by the Association. He was a Senior Editor for Cancer Research and is currently Senior Editor for Molecular Cancer Research. Dr. DeClerck has served and continues to serve on multiple NIH review groups, the European Research Council, and the Cancer Research and Prevention Institute of Texas. He was the co-Chair of the National Cancer Institute Tumor Microenvironment Network, a group of 11 leading academic institutions focusing on the tumor microenvironment. At USC-Norris, he co-led the Tumor Microenvironment Program for 24 years and is now the Associate Director for Cancer Research Training and Education.
Dr. DeClerck has mentored multiple postdoctoral fellows and graduate students in his own laboratory as well as junior faculty members. Since 1991, he has been the Principal Investigator of a National Cancer Institute-funded postdoctoral training grant. He is the Research Director for the fellows at the Cancer and Blood Institute at CHLA and the Program Director of the Pediatric Scientist Program of the Department of Pediatrics.
---

Jennifer Dien Bard, PhD, D(ABMM), FIDSA, is a Professor of Pathology with Clinical Scholar designation in the Department of Pathology, Keck School of Medicine, University of Southern California. She is the Director of the Clinical Microbiology and Virology Laboratories and the Chief of Academic and Research Development in the Department of Pathology and Laboratory Medicine at Children's Hospital Los Angeles. Dr. Dien Bard serves on several committees and working groups for organizations including the National Academy of Science (NAS), the Infectious Diseases Society of America (IDSA), the Association for Molecular Pathology (AMP), the American Society for Microbiology (ASM), the Clinical and Laboratory Standards Institute (CLSI) and the Antimicrobial Resistance Leadership Group (ARLG). Dr. Dien Bard is an Editor of Clinical Microbiology Reviews journal, an Associate Editor for the Journal of Clinical Virology and serves on the Editorial board of the Journal of Clinical Microbiology. Dr. Dien Bard has published over 100 scientific papers and is a frequent speaker in the areas of rapid molecular diagnostics for the identification of infectious diseases pathogens. Her clinical research studies explore the application and effects of laboratory diagnostic, particularly molecular diagnostics on patient diagnosis, antimicrobial utilization and overall clinical outcome.
---

Cynthia L. Gong, PharmD, PhD is a Research Assistant Professor of Pediatrics in the Division of Neonatology and the Fetal and Neonatal Institute at Children's Hospital Los Angeles (CHLA), USC Keck School of Medicine. She received her PharmD at USC and completed a residency in pharmacoeconomics at the VA Northern California Healthcare System.  She subsequently earned her PhD in health economics at USC.  Supported by the Teresa and Byron Pollitt Family Chair in Fetal & Neonatal Medicine, Dr. Gong is a core faculty team member developing fetal and neonatal health economics and outcomes research at Children's Hospital Los Angeles. Her research primarily focuses on the costs and cost-effectiveness of therapies and policies to estimate whether changes in clinical treatment, guidelines, or policies represent high-value interventions that can optimize the efficiency of limited healthcare resources to yield the best treatment outcomes possible.
---

Dr. Lorraine Kelley-Quon, MD, MSHS, FAAP, is a practicing general surgeon at Children's Hospital Los Angeles and Assistant Professor of Surgery and Preventive Medicine at USC. She obtained her bachelor's degree in biochemistry and cell biology at the University of California, San Diego, and completed her medical degree and general surgery training at the University of California, Los Angeles, followed by a fellowship in pediatric surgery at Nationwide Children's Hospital at The Ohio State University in Columbus, Ohio. During residency, she completed the Robert Wood Johnson Clinical Scholars Program and obtained a master's in Health Services Research from the UCLA Fielding School of Public Health. Kelley-Quon's research interests include optimizing opioid prescribing for children undergoing surgery, identifying and eliminating health care disparities for children, and translating health services research into health policy.
---

Dr. Neely is a Professor of Pediatrics (Clinical Scholar) at the Keck School of Medicine of USC. He is a Board-certified pediatric infectious disease specialist physician with more than 20 years of experience in patient care, research, and mentoring of more than 40 visiting scholars, fellows and post-docs in clinical pharmacology and pharmacometrics. He serves as the Chief of Infectious Diseases at Children's Hospital of Los Angeles and the Director of the CHLA Laboratory of Applied Pharmacokinetics and Bioinformatics. Dr. Neely's lab created and maintains the Pmetrics population modeling and simulation package for R and the BestDose software to optimize individual patient dosing through applied pharmacometric techniques. He has recently expanded his lab to include hollow fiber capabilities, focusing on optimizing treatment of serious infections in pediatric patients such as Mycobacterium abscessus, Staphylococcus aureus, and resistant Gram-Negative bacteria. He is a National Institutes of Health-funded researcher, lectures and conducts pharmacometric workshops internationally, and has published over 100 peer-reviewed publications and nine book chapters.
---

Jonathan D. Santoro MD is an Assistant Professor of Pediatrics and Neurology at the Keck School of Medicine of USC and serves as the Director of Neuroimmunology and the Director of Research at the Neurologic Institute at Children's Hospital Los Angeles. Dr. Santoro obtained his bachelors, masters, and medical degrees from Tulane University prior to completing his residency in pediatric neurology at Stanford University and neuroimmunology fellowship at Harvard Medical School. Dr. Santoro is a physician-scientist who's research focuses on the neurogenetics of neuroinflammatory disease in children. His NIH-funded research program focuses on autoimmune and inflammatory etiologies of neurologic disease in persons with Down syndrome. Dr. Santoro's clinical and translational research has led to novel therapeutic interventions of individuals with Down syndrome and neurologic disease, most notably moyamoya syndrome and Down Syndrome Regression Disorder (DSRD). In addition, Dr. Santoro leads research investigations in pediatric multiple sclerosis, autoimmune encephalitis, myelin oligodendrocyte glycoprotein related disorders and Aicardi Goutières's syndrome. In addition to his research, Dr. Santoro is a passionate mentor for students and trainees and directs the scholarly concentration efforts in the Division of Neurology at Children's Hospital Los Angeles.
---

Tamara D. Simon, MD, MSPH, is a practicing pediatric hospitalist at Children's Hospital Los Angeles with an interest in improving the quality of evidence in the inpatient health care provided to children with medical complexity. She is a Professor of Pediatrics (Clinical Scholar) in the Division of Hospital Medicine and Department of Pediatrics at USC as well as Principal Investigator at The Saban Research Institute at CHLA. As Faculty Director for Training, Education, Career Planning and Development (TECPAD) and Associate Director for Training and Education at The Saban Research Institute, Dr. Simon assists the TECPAD team in the design and implementation of programs to promote research at Children's Hospital Los Angeles and The Saban Research Institute.
---

Michelle Thompson, MD, is the director of the Pediatric Residency Program at Children's Hospital Los Angeles and an assistant professor in the Department of Pediatrics at the Keck School of Medicine of the University of Southern California. She is Board-Certified in pediatrics and a member of the American Academy of Pediatrics.
Dr. Thompson has a long track record of academic excellence and leadership. She has instructed and mentored hundreds of students, residents and graduates of the program at CHLA, and has also published and developed articles and academic resources on a wide range of pediatric education topics. Dr. Thompson serves on the executive leadership team of the General Pediatric Service (GPS), directs the Pre-Med Observership program that CHLA runs in partnership with Caltech, and previously served as co-chair of Region 9 of the American Pediatric Association (APA). She is a recipient of CHLA's Victor E. Stork Award, Community Teaching Award, Barbara M. Korsch Award for Excellence in Medical Education and Philip E. Rothman Teaching Award. Thompson was also named a "Top Doctor" by Pasadena Magazine.
---

Dr. Amy E West is a Professor of Clinical Pediatrics, Psychology, and Psychiatry & the Behavioral Sciences; Director of the CHLA Child Clinical and Pediatric Psychology Internship; and Associate Training Director for Psychology in the Department of Pediatrics and Children's Hospital Los Angeles and USC Keck School of Medicine. In addition, Dr. West holds a secondary appointment as a Professor in the Department of Psychology at USC Dornsife College of Letters, Arts, and Sciences and is a faculty member of the USC interdisciplinary Center for the Changing Family. Dr. West is a Board-Certified Clinical Child and Adolescent Psychologist and an intervention scientist with clinical and research interests in psychosocial interventions for the treatment of pediatric mood and anxiety disorders, including studying predictors and mechanisms of treatment response, and the application of psychosocial interventions to underserved, ethnic minority populations. She is the developer of child- and family-focused cognitive-behavioral therapy (CFF-CBT), or RAINBOW therapy, which is one of only a few evidence-based psychosocial interventions for youth with pediatric mood disorders. This treatment model was rigorously studied through a NIMH-funded randomized trial (PI: West) and published by Oxford University Press, in their prestigious "Treatments That Work" series. Currently, Dr. West is a co-investigator and the director of CBT implementation for a large PCORI-funded clinical effectiveness trial for pediatric anxiety treatment in urban, underserved, predominantly Latinx youth and families. She is also a co-investigator for the CHLA site of the Adolescent Brain Development (ABCD) Study, a 21-site clinical research study funded by NIH that represents the largest long-term study of brain development and child health in the United States. Finally, she is a co-investigator on several studies funded by DHHS/SAMHSA and focused on intervention development, cultural tailoring, and implementation of substance use prevention and treatment interventions for American Indian/Alaska Native youth and families in partnership with colleagues in the Department of Population and Health Sciences at USC. Dr. West has been funded by NIMH, PCORI, SAMHSA, CA DHHS, and multiple private foundations for her clinical trial, effectiveness, and community-based participatory intervention research. She has mentored over 150 doctoral trainees, and over 60 as a primary research mentor, including as a sponsor on NIH-funded training grants, such as K-awards, T32s, and F31s.  Dr. West received a B.A. in Psychology from Stanford University, her Ph.D. in Clinical Psychology from the University of Virginia, and completed her pre-doctoral internship and post-doctoral fellowship at Harvard Medical School/Children's Hospital Boston.
---

Dr. Jessica Lee Wisnowski is an Assistant Professor of Research with expertise in perinatal brain injury. She obtained a PhD in Clinical Psychology from the University of Iowa and completed a residency in Neuropsychology/Rehabilitation at Rancho Los Amigos National Rehabilitation Center. She completed post-graduate training in Neuroscience and Neuroimaging at the University of Southern California/Children's Hospital Los Angeles. She is a member of the Society for Pediatric Research, the International Society of Magnetic Resonance in Medicine and the Society for Pediatric Radiology.
Dr. Wisnowski's research focuses on the development and application of novel neuroimaging biomarkers to aid in the diagnosis of perinatal brain injury and the management of neuroprotective therapies. She has numerous peer-reviewed publications in the fields of Hypoxic-Ischemic Encephalopathy (HIE), Bilirubin Encephalopathy, Kernicterus, Prematurity, and normal brain development. She is also the author of several book chapters describing the methods and application of neuroimaging techniques, including Diffusion Tensor Imaging and MR Spectroscopy of the neonatal brain. She is currently Chairwoman of the Neuroimaging Core for a NIH-funded, multi-center trial for erythropoietin neuroprotection in neonates with HIE.
---

John Wood, MD, PhD, is Professor of Pediatrics, Radiology and Bioengineering at USC. He also serves as the Director of Cardiovascular MRI and Medical Director of the Clinical Trials Unit at Children's Hospital Los Angeles. Dr. Wood graduated from the University of California, Davis, in 1984 (electrical engineering) and received his MD/PhD (Bioengineering) from the University of Michigan in 1994. He performed his residency and fellowship in pediatric cardiology at Yale University and joined Children's Hospital Los Angeles/Keck School of Medicine of USC in 1999. Clinically, he specializes in the MRI assessment of congenital heart disease and iron overload syndromes.
Dr. Wood has been studying the cardiovascular consequences of hemoglobinopathies for almost a decade. He is one of the pioneers of MRI-based cardiac and liver iron measurements but also studies oral chelation strategies in animals and humans (NCT00447694). He was the Principal Investigator for the Early Detection of Iron Cardiomyopathy Trial (1 RO1 HL075592-01A1), whose goal was to identify earlier markers of cardiac dysfunction in thalassemia syndromes. Dr. Wood also has studied pancreatic and pituitary iron burden by MRI and their functional correlates (1 U 54 HL090511-01, 1R01DK097115-01A1, NCT01376622).
In the past eight years, he has been studying the mechanisms and treatment of peripheral (1RC HL099412-01) and cerebral vasculopathy (1R01 HL095647-01, 1RO1HL136484) in chronic anemia syndromes, exploring the links between abnormal red cell mechanics and vascular dynamics in hemoglobinopathy patients. Dr. Wood was a Principal Investigator of an Excellence in Hemoglobinopathies Award at Children's Hospital Los Angeles (1U01HL117718-01), and a follow-up R01 (1RO1HL136484) focusing on mechanisms and predictors of progressive white-matter damage in sickle cell and thalassemia major patients. He is now extending those studies to patients with acquired anemia syndromes as well as survivors of the Fontan palliation for single ventricle.
---
Donnell Scholars
2023-present

Abhik Banerjee, MD, PhD
Abhik K. Banerjee, MD, PhD received his medical degree from the Keck School of Medicine of the University of Southern California and his doctorate degree in Biology from the California Institute of Technology.
As an undergraduate student at the University of California Los Angeles, Abhik majored in Molecular, Cell, and Developmental Biology, as well as Music Performance. He was involved in biomedical research, first characterizing developmental gene expression in the Drosophila melanogaster fruit fly and later developing a fruit fly model for the Pediatric growth restriction syndrome abbreviated IMAGe Syndrome (Intrauterine Growth Restriction, Metaphyseal Dysplasia, Adrenal Hypoplasia Congenita, and Genitourinary Anomalies). Interestingly, the same gene mutated in IMAGe syndrome is also implicated in a Pediatric overgrowth condition called Beckwith-Wiedemann Syndrome, which he coincidentally later studied in graduate school.
During graduate school, Abhik performed dissertation research in the laboratories of Dr. Mitchell Guttman and Dr. Ellen Rothenberg, specifically examining the roles of RNA-binding proteins in Barr Body formation, genomic imprinting, and early T-cell development. In 2020 as part of the early pandemic response, he volunteered to perform research characterizing the mechanisms of SARS-CoV-2 viral pathogenesis and identified three, RNA-mediated mechanisms used by the virus for host-cell takeover and interferon response suppression. Prior to formally joining a laboratory, Abhik worked with the late Dr. Paul Patterson and helped develop a directed evolution based-method for engineering Adeno-Associated Virus gene therapy vectors with improved sensitivity and specificity to the central nervous system. Outside of the laboratory, he volunteered with the American Physician Scientists Association and served as its national president from 2019-2020.
Abhik will pursue a career in Pediatric Neurology and has clinical and research interests in neurogenetics, gene therapy, and applications of systems biology in neuroinfectious disease.

Ruby Barq, MD
Dr. Ruby Barq received her undergraduate degree at the University of Central Florida. It was during this time that she developed her passion for global advocacy and healthcare with her involvement in the Syrian American Council and work with Syrian refugees. After college, she continued her involvement with global advocacy while enrolled in medical school at the George Washington University School of Medicine and Health Sciences in Washington, D.C. In medical school, as part of a Global Health Curriculum Track, she spent several months working in a refugee clinic in Lebanon and with researchers at the Global Health Institute at the American University of Beirut. It was in Lebanon where she discovered her passion for research while working on a feasibility study to establish funding for the refugee clinic from the United Nations. This sparked an interest that led her to assist with and publish several papers on various clinical topics in medical school and in residency.
Dr. Barq is currently a general surgery resident at Virginia Commonwealth University Health in Richmond, VA. She will be joining the division of pediatric surgery at CHLA as a post-doctoral research fellow in the Health Outcomes and Policy Effects (HOPE) lab led by Dr. Lorraine Kelley-Quon. Her current research examines the impact of prescription opioid use among pediatric populations.
Dr. Barq plans to pursue a fellowship in pediatric surgery after her general surgical residency is complete. She looks forward to working in the HOPE lab, and contributing to the growing body of research that will serve to help guide clinical practice in the prescription of opioids and in the treatment of medically complex infants.

Ekaterina Fomenko, MD, PhD
Dr. Fomenko received her medical and doctoral degrees from the Kursk State Medical University, Russia. After completing her residency, Dr. Fomenko started her Ph.D. training addressing a significant increase in the prevalence of non-alcoholic fatty liver disease ( NAFLD). Her thesis proposed that physiological stress could be a potential factor in "multiple-hit" pathogenesis of NAFLD progression. She continued study of NAFLD as a Fulbright Scholar at the Marion Bessin Liver Research Center at Albert Einstein College of Medicine (NY), where she joined Dr. Yuling Chi's lab. She studied signaling pathways cross-talk in animal and cell culture models of insulin-resistance and hepatic steatosis. Dr. Fomenko also participated in several translational research projects in NAFLD drug development.
Dr. Fomenko is interested in pursuing a fellowship in Pediatric Gastroenterology and looking forward to studying social determinants of health as potential pediatric NAFLD risk factors and developing new pharmaceutical agents.
Taylor Lewis, MD, MS
Taylor Lewis received her medical degree from the Chicago Medical School at Rosalind Franklin University of Medicine and Science.
Prior to medical school, Dr. Lewis spent two years pursuing a Masters of Science in Physiological Sciences at the University of Arizona. She conducted research in Dr. Prabir Roy-Chaudhury's lab group focused on an optimization of a mouse model for arteriovenous fistula (AVF) non-maturation in chronic kidney disease (CKD). During medical school, she collaborated with Dr. Timmy Lee at the University of Alabama Birmingham, expanding her nephrology and vascular access related research efforts, studying venous endothelial cell adaptation in an vitro versus in vivo AVF model. Taylor's research efforts throughout medical school has been recognized by the American College of Physicians (ACP) with the top award for a medical student in the state of Illinois.
Dr. Lewis is considering pursuing a fellowship in Pediatric Nephrology and aims to continue research in the field, focusing on translational and epidemiological nephrology. She is passionate about improving the equitability of health care access and outcomes as well as medical education, and aims to incorporate these interests into her research endeavors. She looks forward to meeting and working with new mentors and engaging with the state-of-the-art research happening within the Saban Research Institute.

Daneka Sterling Stryker, MD, MSc
Dr. Stryker received her medical degree from Drexel University College of Medicine and her master's degree from University College London.
As an undergraduate, Dr. Stryker was introduced to the field of pediatric rheumatology while on a research team led by Dr. Sheila Angeles-Han at Children's Healthcare of Atlanta. Their work involved validating Dr. Angeles-Han's EYE-Q survey: the only uveitis-specific pediatric questionnaire measuring visual functioning & vision-related quality of life. Dr. Stryker also contributed to studies investigating appropriate biologic initiation timing, as well as the relationship between severe uveitis and race. During her master's in Global Health & Development, Dr. Stryker grew her skills in qualitative survey development and data analysis.
In medical school, Dr. Stryker received the Rheumatology Research Foundation Medical Student Preceptorship award to develop a study with her PI Dr. Sabrina Gmuca at the Children's Hospital of Philadelphia. They created a qualitative survey to investigate the coping mechanisms utilized by adolescents with chronic musculoskeletal pain, with the goal of informing resilience-building interventions in this population. An Abstract of their findings was presented at ACR Convergence 2022.
Dr. Stryker aims to further her translational research skills during her pediatric residency with the goal of pursuing a fellowship in pediatric rheumatology. She aims to learn from her patients about how they manage their chronic conditions, as well as their interactions with the healthcare system, in order to provide more equitable care for young people with rheumatologic conditions.
---
2022-present
Steven Kwasi Korang, MD, PhD
Steven Kwasi Korang, MD, PhD received his medical degree and Ph.D. from the University of Copenhagen, Denmark.
He has received most of his research training at the Copenhagen Trial Unit and the GCSRT program at Harvard Medical School. His primary research topic of interest is pediatric sepsis, which was also the topic of his Ph.D. Most of his research projects have been Cochrane reviews. He recently worked under Dr. Khemani and Dr. Iyer on the PALLIC 2 guidelines for Pediatric Acute Respiratory Distress Syndrome, providing both methodological and statistical expertise to the development of the guidelines.
Dr. Korang plans to pursue a fellowship in Pediatric Critical Care after residency. He looks forward to working with the society to build the necessary skillset and network during residency and fellowship to lead RCTs in pediatric critical care.

Adam Che-An Lu, MD, PhD
Adam C. Lu, MD, PhD received his medical and doctorate degree (in neuroscience) from the University of Virginia in Charlottesville, VA.
Since his high school days in Taiwan, Adam has always aimed to apply mathematical tools to understand human biology and pathophysiology. As an undergraduate at Johns Hopkins University, he majored in biomedical engineering, mathematics, chemistry and statistics. He was involved in research investigating the cellular response to mechanical stretch and in research quantifying impulsivity in human decision making. Then as a research assistant in the National Tsing Hua University, he helped develop a computational model for spatial working memory in the fruit fly.
In graduate school, Adam joined the absence epilepsy research team of Mark P. Beenhakker, PhD at the University of Virginia. Using slice electrophysiology, he discovered that different combinations of GABA transporter blockade have surprisingly bidirectional effects on absence seizure-like thalamic oscillations. He then used both computational modeling and dynamic clamp electrophysiology to demonstrate that such bidirectional effects on oscillations could be sufficiently explained by the interaction between the time course of GABAB receptor activation and T-type calcium channel opening. This work identified the modulation of GABAB receptor kinetics as a potential new target for absence seizure treatment.
Adam will pursue a career in Pediatric Neurology and has an interest in participating in both clinical and basic science research for neurological disorders, especially those involving a loss of control. He looks forward to further develop his interdisciplinary skills to help advance the understanding of disease mechanisms and develop new treatments.
Alejandra Mallorga Hernandez, MD, MPH
Alejandra Mallorga Hernandez, MD, MPH received her medical degree from Saint Louis University and her master's degree from the University of Virginia.
As an undergraduate, Dr. Mallorga was involved in clinical research focused on liver transplantation and outcomes under the guidance of Dr. Angel Alsina at Tampa General Hospital. During medical school, she joined Dr. Adriana Montano's laboratory at the Doisy Research Center, where she worked on determining the incidence and prevalence of mucopolysaccharidosis in the US, in addition to exploring potential new technology for newborn screening for mucopolysaccharidoses.
Dr. Mallorga has also conducted QI projects at Saint Louis University (SLU), where she worked on determining the SLU SOM free-clinic area of service and barriers to healthcare using ArcGIS and SAS.
Dr. Mallorga plans on pursuing a pediatric cardiology fellowship and is looking forward to conducting clinical research as well as being a strong community advocate at CHLA.
Indulaxmi Seeni, MD
Indulaxmi (Indu) Seeni received her medical degree from University of California, Davis in Sacramento, CA.
Prior to medical school, Dr. Seeni spent two years working as a research fellow at the National Institute of Child Health and Human Development (NICHD). She conducted research on the effects of air pollution, ambient temperature, and autoimmune disease on maternal, fetal, and neonatal health in Dr. Pauline Mendola's lab group. Dr. Seeni's paper on the effects of acute air pollution exposure on NICU admissions was nominated as a top finding for her lab and division in 2019. During medical school, she expanded her areas of research and investigated dysphagia and aspiration pneumonia in adults in Dr. Peter Belafsky's lab group.
Dr. Seeni is interested in pursuing a fellowship in Pediatric Critical Care while continuing to be an advocate for the pediatric population through public policy and community advocacy. She looks forward to collaborating with CHLA faculty and conducting research at the Saban Research Institute.
---
2021-present

Bugra Egeli, MD
Bugra Han Egeli, MD received his medical degree from Istanbul University, Turkey.
Since the very first years of medical school, he always showed interest in immunology and its clinical applications. For four years, he joined different clinical research projects with the rheumatology division at his medical school. He was fortunate enough to work with patients diagnosed with different autoimmune and autoinflammatory conditions, but his main interest was in periodic fevers. He developed a cohort of 4000 familial Mediterranean fever patients and worked on the prognosis of the disease and different treatment modalities including biologic agents.
Following medical school, he joined the autoinflammatory diseases team at Boston Children's Hospital and continued to work on systemic autoinflammatory diseases and their treatment. In the meantime, he finished his Master's degree at Boston University in Clinical Research.
Dr. Egeli will pursue a pediatric rheumatology fellowship following residency and continue his research efforts in the complications/treatment of these diseases. He is willing to advance his skills and to answer the research questions that appear in this area at CHLA with the help of the society.

Elizabeth Rinaldi, MD
Elizabeth Rinaldi received her medical degree from the David Geffen School of Medicine at UCLA in Los Angeles, California.
In medical school, Dr. Rinaldi worked with Dr. Jamil Aboulhosn at the Adult Congenital Heart Disease Center to improve outcomes in children and adults undergoing transcatheter pulmonary valve replacements. One of her projects involved using CT imaging to assess for anatomical risk factors that could predict failure of the transcatheter procedure. A second project evaluated the risk of endocarditis in patients with transcatheter pulmonary valves and the relationship between immunosuppression and endocarditis development.
Dr. Rinaldi is interested in further training in pediatric critical care and plans to pursue clinical research while continuing to be involved in community advocacy with our population here in Los Angeles. She looks forward to collaborating with CHLA and the faculty at the Saban Research Institute to provide excellent evidence-based care to our diverse patient group and developing lifelong skills in research methods and project development.

Mackenzie Silverman, MD
Mackenzie Silverman, MD received his medical degree from Sidney Kimmel Medical College at Thomas Jefferson University in Philadelphia, PA.
In undergraduate, Dr. Silverman was involved in research at Vanderbilt University investigating the effects of ascorbic acid on blood-retinal-barrier breakdown in diabetic retinopathy. He developed skills including breeding and genotyping, immunoprecipitation, and Western blot. After undergraduate, Dr. Silverman was awarded a Post-baccalaureate Cancer Research Training Award by the National Cancer Institute and worked in the lab of Dr. Karlyne Reilly, Ph.D. There he investigated the genetic mechanisms and impacts of CDCA7L, a novel male-specific oncogene, through both in-vivo and bioinformatic analyses.
In medical school, Dr. Silverman worked in several labs developing skills in tractography as well as database development and management. Most recently, he worked with Gurcharanjeet Kaur, MD to build a database aimed at investigating and optimizing the use of genetic screening and tumor targeted therapies on pediatric patients with brain tumors in the community oncology setting.  
Dr. Silverman will pursue a career in Pediatric Neurology and has a particular interest in developing and implementing tumor-targeted therapies for pediatric brain tumors. He looks forward to collaborating with faculty at The Saban Research Institute to develop the skills to drive the field of personalized neuro-oncologic care forward and explore clinical trial management.
---
2021-2022

Masrur Khan, MD
Masrur A. Khan, MD received his degree from Albert Einstein College of Medicine in Bronx, NY in 2019.
During medical school, he became involved in clinical research in a variety of topics, such as fever in pediatric international travelers, obstructive sleep apnea and hypertension, and medical education-related studies. As he progressed through his training in medical school and residency, he continued to hone his research skills and identify breadth of interests. His ongoing research projects are related to resident wellness and its association with breaks in training, emergency department visits for asthma, and pediatric asthma-related outcomes in the context of social and environmental determinants of health (specifically as it pertains to gentrifying neighborhoods).
Dr. Khan plans to pursue a fellowship in Pediatric Emergency Medicine. He plans to continue his academic endeavors in research as they pertain to physician wellness, medical education, and equitable healthcare distribution.
---
2020-present
Jessica Haladyna, MD
Jessica N. Haladyna, MD received her medical degree from Georgetown University School of Medicine in Washington, DC.
Following her undergraduate career, Dr. Haladyna was employed in the lab of Scott Armstrong, MD, PhD at Boston Children's Hospital training in leukemia mouse models and normal hematopoietic assays. She continued this research at Children's Hospital Colorado in the lab of Kathrin Bernt, MD using in vitro assays, murine transplants, and genome-wide methods to further explore molecular mechanisms of childhood leukemia. Here, she was involved in several projects including 1. small molecule inhibition of an epigenetic modifier (DOT1L) as a therapy for fusion protein-driven AML, 2. mechanisms of cell resistance to the DOT1L inhibitor, and 3. therapeutic potential of a membrane ion channel (Trpm2) in AML.
In medical school, Dr. Haladyna joined the lab of Jeffrey Toretsky, MD exploring mechanisms of action for a novel therapeutic agent used in the treatment of Ewing Sarcoma. This experience helped to improve her proficiency in proteomic techniques and cell-cycle analysis.
Dr. Haladyna will pursue a fellowship in Hematology-Oncology with long-term aims in drug development and translational research. She looks forward to a well-rounded pediatric residency experience followed by rich collaboration at The Saban Research Institute developing critical thinking and project development skills for a research-immersed career in childhood leukemia.
---
2018-2021

Andrew Wei, MD
Andrew Wei, MD received his medical degree from Northwestern University Feinberg School of Medicine in Chicago, Illinois. 
As an undergraduate, Dr. Wei was involved in research at Lurie Children's Hospital of Chicago investigating primary hyperoxaluria, a rare pediatric kidney disease. Then at the Germany Hyperoxaluria Center in Bonn, Germany, he helped develop a clinical assay using IC/MS for the detection of hydroxy-oxo-glutarate (HOG), a metabolite found in patients with primary hyperoxaluria type III.
In medical school, Dr. Wei joined the Jin Lab at Northwestern University, a laboratory focusing on biochemistry/immunology. He contributed to a number of projects resulting in publications: developing personalized peptide arrays to detect HLA alloantibodies in kidney transplantation, investigating oxidative stress in preeclampsia and placental angiogenesis, and researching the effects of post-translational modifications of nuclear antigens in lupus.
Dr. Wei plans on pursuing a career in pediatric critical care, with a research interest in the body's immune response in critical states, such as in acute respiratory distress syndrome and sepsis. He finds caring for medically complex patients and families a rewarding experience. He looks forward to collaborating with faculty at The Saban Research Institute to better understand and identify therapeutics that modulate the immune system during critical illness.
---
2017-2023

Christopher Kuo, MD
Christopher Kuo, MD received his medical degree from Rush Medical College, Chicago, Illinois. He hopes to make an impact in the field of pediatric hematology-oncology, specifically osteosarcoma.      

During his undergraduate training in Cell and Molecular Biology at the University of California, San Diego, Dr. Kuo was involved with basic biochemical research for three years investigating the role of specific proteins (MMP2/9) in breast cancer metastases. He developed basic technical skills in performing genotyping, breeding and project development. After college, he was involved with clinical trials, particularly assisting staff physicians in the assessment of concomitant medication, adverse events and quality assurance.      

Dr. Kuo looks forward to developing clinical training during his pediatric residency. He plans to pursue a fellowship in Hematology-Oncology and envisions working closely with a mentor to perform prospective clinical research and conduct bench research/biochemical research in molecular targets and immunotherapies for osteosarcoma.
---
2015-2021

Eric Nickels, MD
Dr. Nickels received his medical degree from the University of Chicago Pritzker School of Medicine.  He developed an interest in oncology as an undergraduate majoring in genetics. In medical school, Dr. Nickels was drawn to research in the area of familial cancers, in particular, hereditary forms of leukemia.
Dr. Nickels will continue to hone his clinical skills during pediatric residency.  He is interested in further training in pediatric Hematology-Oncology, and plans to pursue research while maintaining and developing significant patient relationships. He envisions a career where he is able to maintain a dynamic interaction between clinical management of patients and work in the laboratory. 
---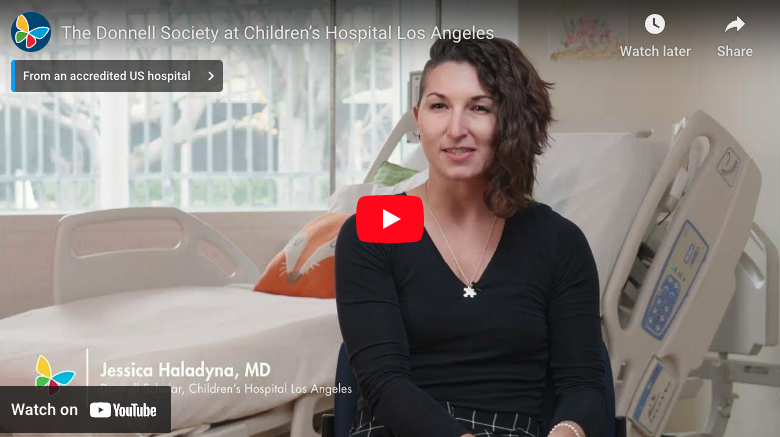 About the Donnell Program
Program Overview
An honorary society of pediatric resident physicians in training who are admitted upon internal application submission and review by Steering Committee; these admitted trainees would be known as Donnell Scholars
Protected research time within the designated IMPACT Program Research Track
A transition research mentor (TRM) who is matched with each Scholar at the start of the program
A scholarship oversight committee (SOC) will be developed for each Scholar, in consultation with the Scholar, TRM and primary research mentor
Regular meetings of Scholars to build community, support projects, network and learn about new tools and opportunities
Enhanced support for clinical data use projects including software and hardware needs
Scholars will be given a travel and education allowance to be used for attending meetings and conferences, or for the purchase of educational materials
Support candidates bridge into fellowship, hopefully at CHLA. For instance, we can explore masters level training followed by a bridge to T32 and/or physician scientists' program.
Application
Eligibility
Any incoming resident in the Children's Hospital Los Angeles's residency programs (Pediatrics, Neurology, Surgery Research Resident) is eligible to apply for the Donnell Society.
Underrepresented minorities in research, per the National Institutes of Health definition, are encouraged to apply.
Prioritization
Applicants with prior research accomplishments and future potential for success as independent investigators will be prioritized.
Application information will be updated in Spring 2024
Contact Information
For further information and to submit your application, please email:
Metzy Soriano, Donnell Society Coordinator    
msoriano@chla.usc.edu
Fatema Dossajee, MPH, Donnell Society Program Manager
fdossajee@chla.usc.edu
Sonia Michail, MD, FAAP, CPE,AGAF, Donnell Society Program Director
smichail@chla.usc.edu
Resources
Mentors
Donnell Scholars are assigned a Transition Research Mentor (TRM) from among the Donnell Steering committee members. In consultation with the TRM, the scholar will choose their primary research mentors. The primary research mentor will assist the Donnell Scholar is creating a three-member Scholarship Oversight Committee (SOC).
Scientific Mentor Requirements
Demonstrated track record in training scientists
Extramural funding
Participation in Donnell Society events
A commitment to training pediatric physician scientists
To view a list of CHLA researchers, please click here.
To view a list of researchers at USC campuses, please click here.