More than 180 Children's Hospital Los Angeles Physicians Named "Top Doctors" in Annual List Honoring the Region's Most Esteemed Specialists
CHLA is, once again, the most recognized pediatric medical facility in Pasadena Magazine's "Top Doctors" issue


Pasadena Magazine released its 11th annual Top Doctors issue for 2018, lauding more than 180 physicians with privileges at Children's Hospital Los Angeles (CHLA), ranked among the best pediatric academic medical centers in the United States.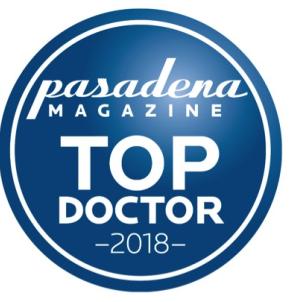 "We are pleased to have so many of our esteemed physicians recognized as "Top Doctors" by Pasadena Magazine – more than any other pediatric health organization in the community," says Children's Hospital Los Angeles President and CEO Paul S. Viviano. "Our dedicated medical staff and affiliated community partners embody CHLA's mission of creating hope and building healthier futures, and we remain resolute in our commitment to provide access to quality pediatric experts and expertise for children and families in Pasadena, the San Gabriel Valley and beyond."
The list includes pediatricians affiliated with CHLA through the CHLA Health Network as well as specialists who are members of the CHLA Medical Group, the largest pediatric multi-specialty medical group in the United States.
"The CHLA Medical Group prides itself in its ability to provide access to renowned world-class leaders in pediatric specialty medicine to our local communities," says CHLA Medical Group CEO Larry Harrison. "We are honored by this recognition from Pasadena Magazine, which serves as a testament to the caliber of our deserving and distinguished medical staff."
The list recognizes CHLA doctors from 44 different specialty areas including cardiothoracic surgery, hematology and oncology, maternal and fetal medicine, neonatal and perinatal medicine, neurology, neurosurgery, ophthalmology, orthopaedic surgery, pediatric cardiology, pediatric gastroenterology and pediatric surgery, among others. Many of CHLA's areas of expertise also rank among the best in the country in U.S. News & World Report's Best Children's Hospitals Survey for 2018-19, which selected CHLA among the top six pediatric medical institutions overall nationally and no. 1 in California.
The September issue of Pasadena Magazine featuring the "Top Doctors" listing is available on newsstands now and can be found online at http://pasadenamag.com/2018-top-docs/.
About Children's Hospital Los Angeles
Founded in 1901, Children's Hospital Los Angeles is ranked the top children's hospital in California and sixth in the nation for clinical excellence with its selection to the prestigious U.S. News & World Report Honor Roll of children's hospitals. Clinical care is led by physicians who are faculty members of the Keck School of Medicine of USC through an affiliation dating from 1932. The hospital also leads the largest pediatric residency training program at a freestanding children's hospital of its kind in the western United States. The Saban Research Institute of Children's Hospital Los Angeles encompasses basic, translational and clinical research conducted at CHLA. To learn more, follow us on Facebook, Instagram, LinkedIn and Twitter, and visit our blog for families (CHLA.org/blog) and our research blog (ResearCHLABlog.org).
About Children's Hospital Los Angeles Medical Group
Children's Hospital Los Angeles Medical Group is composed of 758 physicians and 863 practitioners who lead the multidisciplinary clinical team at Children's Hospital Los Angeles, a world-renowned pediatric academic medical center located in the heart of Los Angeles. The majority of physicians in the group are also full-time faculty members at the Keck School of Medicine of the University of Southern California. Nearly one-quarter of the group's physicians are recognized as being among the best physicians in America as measured by their peers through lists such as "Best Doctors in America" and "America's Top Doctors." CHLAMG physicians provide direct care to patients, teach medical students, residents and fellows and conduct basic, clinical and translational research to advance pediatric health care.