LIFE Cancer Survivorship & Transition Service
Welcome to the LIFE Cancer Survivorship and Transition Service—dedicated to providing comprehensive services for survivors of childhood and adolescent cancer
The "Meaning of LIFE" at our Hospital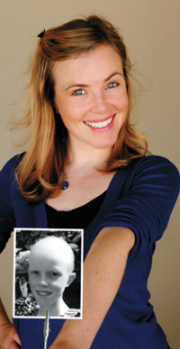 In our service, "LIFE" stands for Long-term Information, Follow-up and Evaluation. The LIFE Service was started in 1992 and is a key component of the Cancer and Blood Disease Institute. The main activity of the LIFE Service is to provide direct clinical care and support for childhood cancer survivors. Survivors may obtain these services by attending the LIFE Clinic, which is staffed by a team of specialists including a physician, nurse practitioners, and a medical social worker who specialize in providing long-term follow up services to survivors of childhood and adolescent cancer. In addition, the LIFE Service conducts research and provides professional training experiences in cancer survivorship. 
Understanding the Need for Survivorship Services 
Success in the treatment of childhood cancer has led to an overall survival rate of over 80%. Today, there are over 300,000 survivors of childhood cancer in the United States. About 1 in every 600 young adult Americans is a childhood cancer survivor—a number that will continue to increase as more patients become survivors! Most survivors are relatively healthy, both physically and emotionally, and enjoy a good quality of life. 
However, research clearly shows that some survivors have to deal with persisting health problems that result from their cancer diagnosis or its treatment. These problems are called "late effects."
Late effects develop because cancer treatments, including surgery, irradiation and chemotherapy, may affect the development of young children, whose cells and tissues are vulnerable to permanent damage. Sometimes late effects may develop early and persist, or they may only become apparent years later. Late effects can be physical, such as problems with the heart, lungs or bones, or they can be emotional, such as sadness, anxiety or symptoms of post-traumatic stress disorder. For some survivors, treatment can affect learning and development. Which late effects are likely to occur depends on what cancer treatments were given, what age the child was when treated for cancer, what genetic risks a person may have for developing certain late effects, and what other health problems a person may have that contribute to the problem.
The Care You Need, The Care You Deserve 
Experts recommend that all childhood cancer survivors receive life-long care to monitor for the development of late effects, to detect them as early as possible, to manage them when they occur, and to prevent or reduce the risk for late effects whenever possible. In addition, each survivor and his/her family should be well-informed about what late effects might occur and how the risks can be reduced by taking practical steps to stay healthy. For this reason, long-term care must include education of survivors and their families about these issues. 
Young Adulthood and Beyond 
Once the childhood cancer survivor becomes an adult, long-term follow-up care should include physicians and other health care providers who are experts in the care of adults. The care should also be provided in an environment that is more suitable for adults than a children's hospital can be. This switch from child-oriented to adult-focused care is called "transition of care." 
However, life-long monitoring for late effects must continue. Many young adult survivors also need assistance with obtaining health insurance, continuing school education, and finding meaningful work that is a good fit for the individual. To meet these needs, the LIFE Clinic offers a special service for continuing care of adult survivors of childhood cancer (See Care of Adult Survivors tab below). 
Putting It All Together
As you can see, there is a lot involved with taking excellent care of a childhood cancer survivor! The LIFE Cancer Survivorship & Transition Service is dedicated to providing the continuing medical evaluation and management, emotional and social support, health education, and assistance with health care transition that are essential to empowering cancer survivors to embrace their future as healthy and fulfilled individuals. 
The LIFE Service: What We Do

Can I be Evaluated in the LIFE Clinic?
The LIFE Clinic team members work to:
Provide a clinic where survivors receive a complete evaluation from our LIFE team
Review each survivor's medical history and provide recommendations for long-term follow up
Provide up-to-date information and resources for survivors and their families
Provide educational programs and support groups for survivors
Assist survivors in their transition from pediatric to adult care providers
Participate in childhood cancer research studies
Serve as consultants to the medical community
Who can be evaluated in the LIFE Clinic?
Survivors who received cancer treatment at our hospital
Survivors who received cancer treatment at another hospital that does not have a long-term survivor program, or that is located in another city
Adult survivors of childhood cancer who have moved to Southern California
In certain cases, survivors of some non-cancerous conditions commonly treated in childhood with cancer chemotherapy (examples include aplastic anemia, Langerhans cell histiocytosis, and hemophagocytic syndrome)
When is a survivor eligible for evaluation in the LIFE Clinic?
In general, patients undego their initial evaluation in the LIFE Clinic within 2 years of completing cancer treatment.
How are survivors referred to the LIFE Clinic?
For survivors treated at our hospital, the primary oncologist will initiate the referral when you are eligible. If you think you are eligible and have not been referred, discuss this with your primary oncologist
For survivors treated somewhere other than our hospital, you should discuss this with your primary oncologist and ask him/her to contact the LIFE Survivorship and Transition Service. Medical records should be forwarded to the LIFE Service office prior to the scheduled visit.
Adult survivors of childhood cancer who have not been followed for many years should contact the LIFE Service directly.
Please feel free to contact the LIFE Service office to discuss the referral process in detail at (877) 222-LIFE (5433)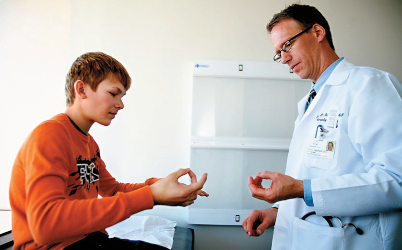 The LIFE Service services are available through the LIFE Clinic, which is staffed by a team of specialists including a physician, nurse practitioners and a medical social worker, with expertise in providing long-term follow up services to survivors of childhood and adolescent cancer. In addition, the team conducts research and provides professional training experiences in cancer survivorship for health professionals.
About Your Visit
During your visit to our LIFE Clinic, we will:
Review your medical history, with emphasis on cancer history and treatment

Perform a physical examination

Order diagnostic tests depending on past cancer treatment, such as blood tests, echocardiograms, pulmonary function tests, bone density scans, etc.

Identify current and potential health problems related to cancer treatment

Assess emotional health, social functioning, health insurance, educational status and career plans/status

Make recommendations for continued health monitoring and management specific to the type of cancer and treatment received

Provide information about potential late effects and how to optimize health and wellness

Provide support for you and your family members

Provide information about community resources that may be helpful to survivors

Provide opportunities for participating in survivorship research
Shortly following the visit, referrals are made as needed to any other specialty doctors or providers. Within a few weeks after the visit, a clinical summary is mailed to the survivor, the survivor's primary care physician and any other consultants to outline the relevant medical issues and recommendations for follow up.
If you are currently experiencing any of the following signs or symptoms, you should have an evaluation by a healthcare professional as soon as possible.
Symptoms
These symptoms may indicate a serious late effect.
T = Trouble seeing or hearing
R = Recurring chest pain
O = Out of breath
U = Uncomfortable hips, knees or other joints
B = Broken bones
L = Low sex drive, hot flashes, menstrual changes or erectile dysfunction
E = Energy down (severe fatigue), sadness, anxiety or memory problems
Signs of Cancer
These signs may be a symptom of cancer.
C = Change in bowel or bladder habits
A = A sore that does not heal
U = Unusual discharge or bleeding
T = Thickness of lumps in breast, testicles, etc.
I = Indigestion or trouble swallowing
O = Obvious change in warts or moles
N = Nagging cough or hoarseness
Source for CAUTION: American Cancer Society/WebMD.
Please contact your healthcare provider or the LIFE team if you are concerned about any of these symptoms.
In addition to long-term follow up for cancer related issues, it is very important for all survivors to have ongoing primary medical care for other health and wellness needs. The following are general guidelines from our care providers regarding things you can do to take care of yourself.
Select a primary care doctor you feel comfortable with and have a complete check up every year.
Make sure you follow the appropriate health steps recommended by doctors for anyone of your age. This includes having a checkup once a year, with a physical examination, blood count, urinalysis and other recommended tests.
Follow recommendations for detection of adult cancers. Your doctor will tell you how often you will need to have screening tests done for cancer of the breast, colon, thyroid and other organs.
Practice breast self-examination (women) or testicular self-examination (men) regularly.
Get annual flu vaccine and make sure your immunizations are up to date. It is highly recommended that you be seen once a year by a doctor to address the health needs and life issues of childhood cancer survivors. Make sure you understand your special health care needs based on the type of cancer and treatment you had and your current state of health.
Get plenty of exercise:

Aerobic exercise - Five times per week for 30 minutes or one hour/day (ages 6-17).
Strength/weight training - Two times per week using proper technique.
Eat regular healthy meals - www.nutrition.gov
Get enough sleep every night (Eight hours per night is best)
Keep alcohol consumption to a minimum
Avoid the use of recreational drugs and tobacco products
Minimize sun exposure and use sunscreen and hats when outside
Practice safe sex

Make sure to let your health care providers know if you change your address, telephone number, or your name so that they will be able to keep in touch with you.
Obtain copies and organize your medical records in a file or binder. Include copies of your cancer treatment summary and recent test results (MRI, CT scan, lab tests, etc.) so that they are available if needed for comparison.
Pay attention to your emotional health as well. Be aware of symptoms of depression and anxiety. These symptoms may include long periods of sadness, irritability, hopelessness, a change in eating or sleep patterns, more difficulty with daily functioning at school/work and problems with interpersonal relationships. There are effective treatments for these conditions and seeking help when problems arise is important. You can contact your primary care doctor or your long-term follow-up clinic for counseling and mental health referrals.
Learn about survivor-oriented resources, support groups, Internet listservs, workshops and/or conferences. Information can be found by searching the Internet and contacting organizations that provide survivor services.
Obtain your high school diploma and then try to obtain the highest degree you can in a field that interests you. Seek out help from a high school guidance counselor or college admissions office to explore your options for higher education. Also, there are many online resources to assist you in choosing an educational and career path. Check out www.knowhow2gocalifornia.org, www.bls.gov/k12/, or www.whodouwant2b.com. Our printable resource guide (found under Information for Survivors tab on this website) has other resource suggestions. And just remember, obtaining a good education will most likely improve your chances of finding a job that offers good health insurance benefits.
Try to maintain health insurance if at all possible. Current federal law allows young adults to remain on their parents' employer-sponsored health insurance until the age of 26 and you can no longer be denied health insurance due a previous medical condition, including cancer.
The most affordable and practical way to obtain health insurance is through group coverage as a job benefit from your employer. Try to maintain health insurance continuously. For example, if you are changing jobs, take advantage of COBRA to have continuous health insurance coverage with no gaps.
You can also apply for health insurance through the "insurance marketplace" which is one of the benefits of the Affordable Care Act. For up to date information on the Affordable Care Act and options for accessing health care insurance, visit www.coveredca.org (California residents) or www.healthcare.gov.
Discrimination against you in the workplace because of your cancer history is against the law. There are many work related protections in place that help cancer survivors as they enter or re-enter the workforce.
Know your legal rights about health insurance coverage and employment laws for cancer survivors. Cancer and Careers (http://www.cancerandcareers.org/en) and Triage Cancer (http://triagecancer.org/) offer assistance to survivors with insurance and employment related questions and problems. We also invite you to explore the website of the National Coalition for Cancer Survivorship (www.canceradvocacy.org) to learn more your rights as a survivor.
About Consultations and Referrals
Patients of any age (including adults) who are survivors of childhood cancer may be referred to the LIFE Clinic for a comprehensive consultation.
Services include:
A review of prior cancer treatment
Current health inventory
Physical examination
Psychosocial assessment
Diagnostic testing (if indicated)
Recommendations for long-term medical monitoring
In-depth discussion with the patient/family
Depending on the preference of the patient and referring physician, this can be a one-time evaluation or include continued annual follow-up. In either case, you will receive a detailed clinical report from our evaluation of your patient.
Contact Us
To discuss referrals or training opportunities:
Call: (323) 361-8953
Email the LIFE Staff
Professional Training Experiences
Health professionals interested in gaining direct experience in childhood cancer survivorship are welcome to participate in a variety of training experiences in the LIFE Service.
Clinical rotations of varied duration are available for residents and fellows from:
Pediatrics
Internal medicine
Medicine-pediatrics
Family medicine
In addition, rotations (or "shadowing experiences") are available for medical students, nurses, physician assistants, social workers, psychologists, and other allied professionals.
Shorter "ambassadorships" are also available for health care administrators, planners and other hospital leadership interested in learning more about the LIFE Service or child cancer survivorship in general.
Providing Healthcare to Childhood Cancer Survivors
A great many resources are available to assist you with caring for childhood cancer survivors in your practice.
The following may be particularly useful:
Children's Oncology Group Long-term Follow-up Guidelines for Survivors of Childhood, Adolescent and Young Adult Cancers (version 5.0).
These clinical guidelines, based on evidence and expert consensus, are updated regularly and can assist the practitioner in understanding health-related risks of cancer treatment and recommended monitoring and preventive practices for individual patients.
Recent publications
Kopp L, Gupta P, Pelayo-Katsanis L, Wittman B, Katsanis E. Late effects in adult survivors of pediatric cancer: a guide for the primary care physician. The American Journal Of Medicine. 2012;125(7):636-641
Seehusen DA, Barid D, Bode D. Primary care of adult survivoirs of childhood cancer. American Family Physician. 2010; 81: 1250-5.
American Academy of Pediatrics (Section on Hematology/Oncology), Children's Oncology Group. Long-Term Follow Up Care for Childhood Cancer Survivors. Pediatrics 2009; 123:906-91
Kurt B, Armstrong G, Hudson M, et al. Primary care of the childhood cancer survivor. Journal of Pediatrics. 2008. 152; 458-66.
We are a comprehensive team of specialists with years of experience and a special focus on survivorship.
The LIFE Service staff includes:
Pediatric oncologist
Nurse practitioners
Social worker
Psychologist
Health educator
Patient assistance liaison
Nurse researchers
Other medical specialists from within our hospital, and from the community, are consulted as needed.
Meet the Team
David Freyer, DO, MS - Director
Professor of Clinical Pediatrics, Keck School of Medicine, University of Southern California
David Freyer, DO, MS, joined Children's Hospital Los Angeles in January 2008. As Director of the LIFE Service, he oversees all aspects of its services, which include clinical assessments of more than 350 patients annually, research regarding their long-term outcomes, and training of fellows, residents and other health care professionals in the care of childhood cancer survivors.
Dr. Freyer's clinical and research activities have focused principally on cancer survivorship and cancer control, including the recognition, management and prevention of short- and long-term morbidity of treatment, as well as health care transition for young adult survivors of childhood cancer, adolescent and young adult (AYA) oncology, palliative care, and decision-making at the end of life. Dr. Freyer is a member of the Children's Oncology Group, where he serves as chair of the AYA Committee, on the Steering Committees for the Survivorship & Outcomes and Cancer Control Committees, and on several protocol and administrative committees.
He graduated magna cum laude from DePauw University, obtained his medical degree from the Des Moines University College of Osteopathic Medicine and Surgery, and completed post-graduate medical training at Chicago College of Osteopathic Medicine and Hospitals, Rush University Medical Center and the University of Michigan Medical Center. In 2007, he obtained a MS degree in Clinical Research Design and Statistical Analysis from the University of Michigan School of Public Health.
Winston Huh, MD – Associate Physician
Associate Professor of Clinical Pediatrics at the Keck School of Medicine, University of Southern California
Dr. Winston Huh is a member of the Leukemia/Lymphoma Program and the LIFE Cancer Survivorship & Transition Service within the Cancer and Blood Disease Institute. Following his residency and fellowship training at the University of Texas Southwestern Medical Center, Dr. Huh was a clinical faculty member in the Division of Pediatrics at the University of Texas MD Anderson Cancer Center from 2005 to 2018. At MD Anderson, Dr. Huh developed clinical interests in sarcomas, rare pediatric solid tumors, and nutrition in cancer patients.
David Tishler, MD – Associate Physician
Assistant Professor of Clinical Pediatrics at the Keck School of Medicine, University of Southern California
David Tishler is an Attending Physician in the Solid Tumor Program in the Division of Hematology, Oncology and Blood & Marrow Transplantation. He is the Chair of the Division Performance Improvement Committee. Dr. Tishler has care and advocated for cancer survivors throughout his medical career. Currently he provides clinical physician support to the LIFE Service, in particular for patients with solid tumors. Dr. Tishler's administrative and research activities are focused on Performance improvement and Quality Outcomes. He provides instruction and supervision to clinical fellows in the Division of Hematology, Oncology and Blood & Marrow Transplantation as well as medical students at the Keck School of Medicine.
Dr. Tishler graduated with honors from Immaculate Heart College in Los Angeles and received the Physician & Surgeon degree from the Autonomous University of Guadalajara, Jalisco, Mexico. He completed post-graduate pediatric training at the University of California, Irvine affiliated hospitals and a fellowship in Pediatric Hematology Oncology at Children's Hospital Los Angeles. He is board certified in Pediatric Hematology Oncology.
Yael (Ellie) Rosenthal – Nurse Practitioner
Yael Rosenthal, RN, MSN, CPNP, is the nurse practitioner who cares for patients with history of leukemia, lymphoma, bone and soft tissue tumors. She earned her BSN and MSN from the University of Pennsylvania. Mrs. Rosenthal has worked at our hospital since 2001 and she joined the LIFE team in 2005.
Barbara Habell, MSN, CPNP – Nurse Practitioner
Barbara Habell is a certified pediatric nurse practitioner. She graduated from San Diego State University with a Bachelor's degree in Nursing and began her career as a nurse at UCLA Mattel Children's Hospital. There, she worked with a diverse pediatric population with a multitude of severe disease processes. She earned her Masters of Science degree in Nursing with an emphasis in pediatrics in 2008 and has been working as a pediatric nurse practitioner since 2009.
Lisl Schweers – Clinical Social Worker
Lisl Schweers, LCSW, is the clinical social worker for the LIFE Service. Ms. Schweers conducts psychosocial assessments and provides supportive interventions and resource referrals to survivors and their families. She earned her Master of Science in Social Work from the University of Texas in Arlington. Ms. Schweers came to our hospital in 1999 and joined the LIFE team in April 2008.
Aimee Cartier-Meyers – Nurse Care Manger
Aimee is a registered nurse who graduated from Cal State University Dominguez Hills with a Bachelor's degree in Nursing. Aimee has worked at CHLA since 2005. She worked as a bedside nurse in hematology/oncology for 12 years, and is now working as a nurse care manager for the LIFE Cancer Survivorship and Transition Service.
Darlene Campbell – Program Assistant
Prior to coming to CHLA, Darlene was senior staff advisor to the Chair at the USC Department of Cell Neurobiology for over 10 years, where she managed the office and issues relating to payroll, personnel, grant submissions, and graduate programs. She came to CHLA in 2012 and provided administrative support for the Division Chief, Director of Clinical Services, and the Leukemia & Lymphoma Program Director. Darlene joined the LIFE team in 2016.
Kathy Calderon-Patient Services Representative
Kathy came to CHLA in December 2015. She is responsible for securing insurance pre-authorizations for the LIFE Clinic consults as well as other teams within the Hematology/Oncology department.
Veronica Ybarra- Care Coordination Associate
Veronica came to CHLA in 2008 where she has worked in outpatient clinical settings. Her current role as Care Coordination Associate in LIFE clinic began in 2019. She is responsible for scheduling patient appointments and coordination of ancillary appointments.
As specialists in follow-up care, we study both the medical and psychosocial late effects of childhood cancer. Factors such as cancer type, treatment and age may influence an individual's risk for late effects. At the LIFE clinic, these variables and others are studied to learn what happens to patients after cancer treatment. The information we learn from these studies will help guide future cancer therapies and development of new interventions for the needs of survivors. During your LIFE Clinic visit, please speak with your provider about what studies are currently available.
In the section titled "About Your Donation," be sure to type "LIFE Service" in the "Donation To Support - Other" text box.
We are grateful to our individual and corporate sponsors who make our work possible. Thank you.
HOPE Behavioral Health, Neuropsychology and Education Service
Psychosocial support services for cancer patients, survivors, and their families, based at CHLA.
Community and Government Resources
Alliance for Childhood Cancer
The Alliance for Childhood Cancer is comprised of more than twenty national patient advocacy groups and professional medical and scientific organizations. The Alliance works to increase awareness of childhood cancer, advance research and policies to prevent cancer and improve diagnosis, treatment, supportive care and survivorship of children and adolescents with cancer.
American Cancer Society
Information on children and cancer as well as survivorship resources.
American Brain Tumor Association (ABTA)
ABTA provides opportunities for survivors with brain cancer to network, learn, and socialize with each other.
American Childhood Cancer Organization
This site offers education, support, service and advocacy for childhood cancer survivors, their families and professionals who care for them.
Americans with Disabilities Act (ADA)
Information on ADA and current issues regarding disability rights.
Be The Match®
Provides education, support, and resources for patients and families affected by bone marrow and stem cell transplantation.
BMT InfoNet
Peer support and education along the transplant continuum.
California Children's Services
Provides specialized medical care and transition services for children (0-21) with an eligible condition who meet certain financial criteria.
California Department of Developmental Services
Regional Centers serve as a local resource to help find and access the services and supports available to individuals with developmental disabilities and their families.
California Department of Social Services
Provides assistance with food, housing, and health care to low income individuals (all ages).
California Department of Rehabilitation
Provides vocational training and job placement services for Californians with disabilities.
Camp Mak-A-Dream
Free camping programs for teens and young adults with cancer. Near Missoula, Montana. Scholarships for air travel to Montana may be available.
Camp Ronald McDonald for Good Times
Fun filled, medically supervised, cost-free, year-round camp programs. Family camps are for patients who are eight years old and younger and older "first time campers." The summer camps are for patients and their siblings who are between 9 and 18 years of age.
Cancer and Careers
Cancer and Careers empowers and educates people with cancer to thrive in their workplace, by providing expert advice, interactive tools and educational events.
Cancer Legal Resource Center
Provides free and confidential information and resources on cancer-related legal issues to people with cancer, their families, friends, employers, health care professionals and others coping with cancer.
Cancer Support Community
The Cancer Support Community provides free support and educational activities people with cancer and their loved ones. Free local support groups, short term counseling, and other educational and support activities for survivors. Online programs as well. In Pasadena, Redondo Beach, West LA, and Westlake Village (and nationally).
Cancer.gov
Late Effects of Treatment for Childhood Cancer (PDQ®) -- information for survivors and their parents.
CANCERcare
Online counseling, support groups, education, and financial assistance.
Centers for Medicare and Medicaid Services (CMS)
CMS administers Medicare and works with state governments to administer Medicaid and State Children's Health Insurance Programs. The CMS website provides details about these programs, laws of interest, eligibility requirements and resources.
Children's Brain Tumor Foundation
Family Gatherings, AYA Gatherings, School and Career Support, Mentorship, Online Groups, Heads Up Summer Retreat, and Individual Support and Counseling.
Children's Cancer Cause
Children's Cancer Cause is the leading national advocacy organization working to achieve access to less toxic and more effective pediatric cancer therapies; to expand resources for research and specialized care; and to address the unique needs and challenges of childhood cancer survivors and their families.
Coach Art
Provides free, personal lessons in the arts and athletics for on-treatment patients, survivors, and their siblings ages 6 to 18 years of age.
Cure Search – National Childhood Cancer Foundation
Provides information on various childhood cancers and treatments, educational issues and legislation.
Elephants and Tea
A digital resource to help adolescent and young adult (AYA) patients, survivors and caregivers experience relief through self-expression, inspiring others during their cancer journey and connecting people with supportive organizations across the nation.
Employment Development Department
Job seeker services include job referral, job search workshops, placement services and special assistance to individuals who are experiencing difficulty in finding work.
First Descents
First Descents offers young adult cancer fighters and survivors a free outdoor adventure experience designed to empower them to climb, paddle and surf beyond their diagnosis, defy their cancer, reclaim their lives and connect with others doing the same.
Health Consumer Center of Los Angeles
Can provide referrals to free or affordable health care and assists with grievance and appeals procedures.
HealthCare.gov
To learn more about access to health care and health insurance, healthcare reform and the Affordable Care Act. A federal government website managed by the U.S. Department of Health & Human Services.
Stupid Cancer
Stupid Cancer is a survivor-led advocacy, support and research organization working exclusively on behalf of survivors and care providers under the age of 40.
Imerman Angels
Imerman Angels matches and pairs a person touched by cancer (a cancer fighter or survivor) with someone who has fought and survived the same type of cancer (a Mentor Angel).
In Home Supportive Services
Allows low-income people who have a disability to remain safely in their homes, by assisting with personal care and related services.
Lacuna Loft
Lacuna Loft provides online wellness support programs and resources, lifestyle encouragement, and a peer support community that young adults need to overcome their challenging health and life circumstances, and thrive.
LIVESTRONG Fertility
LIVESTRONG Fertility is dedicated to providing educational information and access to resources that support cancer patients and survivors whose cancer and its treatment present risks to their fertility.
Los Angeles County Department of Mental Health
Provides evaluations and services for those with mental health problems (all ages).
Medi-Cal
Medi-Cal is California's Medicaid health care program. This program pays for a variety of medical services for children and adults with limited income and resources. Medi-Cal is supported by federal and state taxes.
National Coalition for Cancer Survivorship
A clearinghouse for information on services and materials for cancer survivors. The organization advocates for the rights and interests of cancer survivors.
Pablove Shutterbugs
Pablove Shutterbugs teaches children and adolescents living with cancer to develop their creative voice through the art of photography.
Patient Advocate Foundation
Offers patients free assistance in mediating with insurance companies to assure access to care, maintenance of employment and preservation of their financial stability.
Pediatric Brain Tumor Foundation
PBTF offers information and emotional support to families whose children have brain tumors through camps, workshops, mentoring and more. Programs are available for children, teens, young adults, siblings, and parents.
Supplemental Security Income
Provides cash assistance and Medi-Cal for low income disabled individuals (all ages).
The Children's Oncology Group
Long-Term Follow-Up Guidelines for Survivors of Childhood, Adolescent and Young Adult Cancers. A complementary set of patient education materials, known as "Health Links" accompany the guidelines in order to enhance patient follow-up visits and broaden the application of these guidelines.
The National Grace Foundation
The National GRACE Foundation provides FREE college admissions and financial aid counseling to pediatric cancer patients and survivors.
The NCI Office of Cancer Survivorship
The mission of the Office of Cancer Survivorship (OCS) is to enhance the quality and length of survival of all persons diagnosed with cancer and to minimize or stabilize adverse effects experienced during cancer survivorship.
The SAMFund
The SAMFund helps young adult survivors reclaim their independence and keep moving forward after a cancer diagnosis by providing financial assistance in the form of grants and scholarships.
The Ulman Foundation
The Ulman Foundation provides a community of support for young adults and their loved ones impacted by cancer. Find information, resources, and support activities on the website.
Triage Cancer
Triage Cancer is a national, nonprofit organization that provides free education on the legal and practical issues that may impact individuals diagnosed with cancer and their caregivers, through events, materials, and resources.
United States Department of Education/Office of Civil Rights
The OCR serves student populations facing discrimination and enforces several Federal civil rights laws that prohibit discrimination in programs or activities including the Americans with Disabilities Act and the Rehabilitation Act.
We Spark Cancer Support Center
Support groups and wellness activities for patients, survivors, caregivers affected by cancer.
LIFE Clinic for Adult Survivors of Childhood Cancer
When someone treated for cancer as a child becomes an adult, a number of challenges arise. Experts recommend that all survivors continue to receive regular medical care for the rest of their adult lives. In addition, as they become adults, survivors often need expert assistance with tasks like finding and keeping health insurance, continuing their education, choosing a suitable career, adjusting their role within their families, and developing new relationships.
Health Care Transition Program
To address these needs, in 2010, we launched a special health care transition program for survivors reaching the age of 21 years and older. The main purpose of this transitional care program is to provide care better suited for adults than can be done in a children's hospital, and to match the right level of care with the medical needs of each survivor.
Throughout childhood and adolescence, survivors are followed in the LIFE Service at Children's Hospital Los Angeles. Once they reach 21 years old, their care is shifted with the help of the LIFE Service to adult providers. Survivors at lower risk for later health problems continue their follow-up care with their own primary care provider (e.g., family doctor) using the detailed plan provided the LIFE Service.
Survivors at higher risk for later health problems continue to be followed by our LIFE team clinicians who partner with adult-focused clinicians at the USC Norris Comprehensive Cancer Center, located on the Health Sciences campus of the University of Southern California. Called the LIFE Clinic for Adult Survivors of Childhood Cancer, this innovative program enables survivors at higher risk to receive care designed for adults coupled with the continuing expertise of our childhood cancer specialists - the best of both worlds. It also allows research to be done to improve the health of adult cancer survivors.
Read our LIFE Cancer Survivorship Clinic at USC Brochure for more information.
Criteria for Transition of Cancer Survivorship Care from CHLA
Before moving your survivorship care from CHLA to another provider, our team works with you to ensure that you are……..
Medically stable – This means that any known cancer-related health problems are being managed, and that there is no need to continue routine monitoring for cancer recurrence.
Psychosocially Stable – This means that there are no mental health, insurance or other practical challenges that could prevent getting continued survivorship care.
Personally responsible – This means you understand the importance of life-long survivorship care, know how to manage your health, and know how to reach your health care provider for new problems
Connected to a primary care provider – This means you know who your primary care provider is and how to reach that practitioner for regular care and unexpected health concerns.