Global Health Track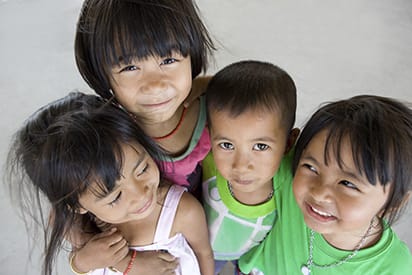 "Of all the forms of inequality, injustice in health care is the most shocking and inhumane."
— Martin Luther King, Jr.
Global health is an important component of general pediatrics residency training. Geopolitical boundaries do not circumscribe health issues and nowhere is this more obvious than in Los Angeles.
At Children's Hospital Los Angeles (CHLA), we serve immigrant and migrant families who cannot be separated from the diseases and social determinants of health that they bring from their native countries. In many ways, each day in the wards or clinics is a class in global health. However, global health is a discipline unto itself.
The Global Health Track offers a unique opportunity for residents to work on the front lines of global pediatric clinical care. The Division of Infectious Diseases, with combined efforts by General Pediatrics, has established partnerships with local and international institutions and faculty to meet resident needs and interests.
Why Global Health Training?

Longitudinal Research Project
There is a growing awareness of health care disparities, especially in pediatric populations
Unacceptably high mortality rates in children less than five years of age are from largely preventable causes
Physicians in developed countries are now expected to have a broader knowledge of tropical and newly emerging diseases, and to maintain cross-cultural sensitivity to the growing number of international travelers and ethnic minority populations
To develop research, analytical and program building skills to achieve equity in health for people worldwide
Increase knowledge of the epidemiology, disease processes and management of key diagnoses with significant health impact in developing world countries
Challenge residents to critically investigate the economic, social and political challenges affecting health care delivery across varied resource-limited settings
Teach research framework for integration into current and future global health endeavors
Provide short-term and longitudinal experiences for residents to envision and incorporate global health into their future career plans
Formal didactics in core global health topics
Learning modules with one-on-one Children's Hospital and USC faculty discussions
Research curriculum including epidemiology, statistics, grant and manuscript writing, and ethics education as part of the IMPACT core curriculum
Journal club discussion group, lead by Global Health Track senior residents
Lectures and trainee sessions with international visiting professors
Part 1: Modules
Global burden of disease
Child survival
Global health priority setting
Global health systems and economics
Major players in global health
Social determinants of health
Research and epidemiology
Part 2: Modules
Maternal and child health
Health of immigrant and refugee children
Environmental health in resource-limited settings
Injury prevention
Preparation for an international rotation
Part 3: Hands-on Workshops and Lectures
Care for children during international disasters
Vaccines and vaccine-preventable diseases
HIV/AIDS
Tuberculosis
Diarrheal illnesses
Parasitology
Malaria and other mosquito-borne diseases
Non-communicable diseases (sickle cell, leukemia, diabetes, etc.)
Projects can be research, educational or intervention-focused in scope.
Residents will work with a CHLA or USC faculty mentor to plan the rotation and develop goals and expectations.
Residents are encouraged to partner with faculty and non-governmental organizations who are already doing work in the country.
A minimum of one clinical or research rotation internationally during the PL-2 or PL-3 year is required.
Residents are required to present an abstract at the annual Saban Research Institute Poster Session.
Residents are strongly encouraged to submit abstracts to major conferences and write a manuscript for publication.
International Rotation
The Global Health Track has established collaborations with various sites in Asia, Africa and Central America. Residents can participate in a clinical or research elective outside the United States during their second or third year of residency. International rotations are completed in one-month blocks. Below are just a few examples of the collaborations we offer.
International Rotation Information
Global Health Speaker Series
Residents in the Global Health Track are required to complete a longitudinal research project as part of their international rotation. For the best longitudinal experience, residents are encouraged to return to the same international site two to three times during their residency training. Residents will also receive funding to assist with rotation expenses such as travel and project supplies.
For residents not in the Global Health Track, assistance is provided to help with arranging an international elective rotation. Funding is available on a competitive basis for residents whose projects serve the international community. Potential rotation projects vary in size and scope, but may include local needs assessments, quality improvement, epidemiology, health services or environmental health assessments.
To receive funding, you must complete a short application describing the dates and location of the placement, including project/research goals, on-site mentor, clinical duties and hours. Residents who receive funding will be asked to present a short talk or PowerPoint presentation about their experience during the rotation upon return. The post-rotation talk would most likely be given as part of a noon conference. Larger and more successful projects may have the opportunity to present at Grand Rounds or other academic meetings.
Quang Tri, Vietnam
July 2019
It was a total of 30 hours of traveling from LAX international airport to my destination in Quang Tri, Vietnam. I was exhausted upon arrival, but was also overwhelmed with excitement and anticipation for this trip and for the people I'm about to meet.
The first few days were composed of meetings with Project Vietnam Foundation (PVNF), a nonprofit medical organization that frequent Vietnam to offer medical care and teachings to various hospitals. Through PVNF, I was connected to Quang Tri General Hospital, where our global health project will hopefully take place. Pending meetings the medical staffs at Quang Tri General Hospital, I happily accepted the offer to help with clinical field work in the rural villages of Quang Tri. It was a great opportunity to get to know the population, practice my native tongue, and meet with potential local stakeholders.
For three consecutive days, I joined the PVNF team to clean up small classrooms in three different rural elementary schools and set up clinics from 8AM to 6PM. Every morning on the bus, I cherished the scenic drive with beautiful green rice patties, cows roaming the street, and the welcoming morning crowing of roosters. On arrival to the schools, we were consistently greeted by a school filled with local villagers who have been waiting since sunrise for a chance to receive care that they otherwise could not afford for themselves and their children. Day one was filled with enthusiasm and hope of making a difference in the lives of the most vulnerable and needy. But one after another, I saw malnourished children with presumed iron deficiency anemia who on a daily basis do not have enough to eat. I saw asthmatic patients who could not afford to purchase their inhalers. So by day three, a new heavy sense of helplessness overcame me. I realized what it means to do global health and why it may be so difficult to create a sustainable solution for the various problems we encounter in low-resource areas. Although initially disheartened, I became motivated to find new ways to help the children of Quang Tri.
I later met and interviewed pediatricians and nursing staffs at the Quang Tri General Hospital. I shadowed in their emergency department and performed a needs assessment that ultimately reassures my team that the WHO Emergency Triage Assessment and Treatment Curriculum will be beneficial for the hospital and the children of Quang Tri. I am thrilled to hopefully bring a sustainable difference, and I cannot wait to bring the remainder of my team to Quang Tri very soon.
Ngoc Bui, MD (Class of 2020)
Ulaanbaatar, Mongolia
July 2019
Our second trip back to Mongolia was filled with a lot of new experiences, old friends, and new connections! We spent our time mostly in the capital city of Ulan Baatar, but we also ventured to new parts of the country during the weekends. I think we can all agree that this time around we certainly felt a stronger connection to the culture and people. We very much felt like "locals" at times navigating the crazy "Taxi" system (anyone in UB can be a "taxi" –hailing a cab in the city is more like hitchhiking for a charge), initiating meetings at restaurants that were already familiar to us, and being more confident in practicing some of the language.
The bulk of our trip consisted of various meetings throughout the capital city. We had several informative and helpful meetings regarding current health issues in Mongolia –specifically focusing on our interest of childhood asthma in relation to the pollution problem. We met with the Minister of Public Health, clinicians and administrators at two of the top medical centers (The National University of Medical Sciences, as well as the Center for Maternal and Child Health), as well as the UNICEF Mongolia team. It was so helpful to learn more about the pollution problem and what was currently being done. One of the new initiatives we learned of during this trip was the use of a new type of electric stove in the Gers that would help to cut down on coal pollution.
Our most memorable cultural activities included witnessing the renowned Nadaam Festival (including horse racing and a parade of people from all the districts within UB), as well as weekend trips to the Gobi Desert and Hustai National Park.
Thanks to the help of our community partners at the National University of Medical Sciences School of Public Health, we were able to implement several focus groups with community providers to discuss their attitudes and perceptions on the pollution problem in Mongolia in relation to childhood asthma. These discussions were eye-opening and really helped us to understand the problem better.
Looking ahead, we are excited about our new partnership with UNICEF and amazed by the work that has already been done to quantify the problem of childhood asthma in UB, Mongolia. Currently we are working on analyzing the data that was collected on this by UNICEF and hope to join it with what we learned during our focus groups into a strong paper. We are hopeful that this will emphasize the problem of pollution and result in much needed change for the Mongolian children!
Karolina Gregov (Class of 2020)
Alexa Monroy (Class of 2020)
Lauren Mills (Class of 2020)
Buenos Aires, Argentina
May 2019
Known as the Paris of South America, I was very fortunate to travel to Buenos Aires, Argentina for my global health project. With my interest in infectious and tropical diseases, my project aims to ascertain the knowledge and practices of U.S. cardiologists practicing in locations with large numbers of Latin American immigrants towards patients at risk for Chagas Disease. I was able to make a connection with the help of our IMPACT track mentors with the pediatricians and researchers of the Chagas Disease Division at the Hospital de Niños Dr. Ricardo Gutiérrez. Similar to CHLA, the hospital was a public hospital accessible to all children regardless of ability to pay, and simultaneously a powerhouse of research and academics.
When I first arrived at the hospital, I was greeted by all the physicians and researchers in the customary Argentinian greeting of kisses on both cheeks. I was immediately made to feel welcome and part of the team. Along with another resident rotating through the division, I was able to see patients who had contracted Chagas through all manners possible. I saw infants of mothers who had been tested positive for Chagas during their pregnancy screening process, as Chagas was part of routine prenatal testing in Argentina and surrounding areas. I saw teenagers who were found to have right bundle branch block by cardiologists and were referred to rule out Chagas' disease, known to be a common cause of this presentation. I saw immigrants from Bolivia who were unsure how they had contracted Chagas as their perinatal history was not accessible. Each case was unique, and the pediatricians gave me teaching points with every patient.
I was also able to have some of the world leading experts in Chagas review the survey we had created and make adjustments based on their experience and knowledge which was invaluable. By the end of my stay, I had made great mentors in another country who were excited to help with my project and collaborate further in the future if the opportunity arose. They even gave me one of their division mugs to really make me feel part of the team. I look forward to going back as the project progresses and getting the opportunity to reconnect with these mentors and continue learning from them.
Sanchi Malhotra (PGY-2)
Mtunthama, Malawi
February 2017
In February 2017 I traveled to Malawi. I visited the same rural village in Mtunthama that I had visited previously in medical school at Tufts University. During medical school, my walk back from the Malawian clinic every night included a visit to the local orphanage (All Saints Mtunthama Anglican Orphanage, AMAO). I fell hard for the culture, medicine and children. Through CHLA's global health program, I was able to create a project with the support of various mentors—both at CHLA, across the country and abroad. I learned how to work through an IRB, plan project details with a statistician and create an intervention from the ground up. Prior to travel, the orphanage caregivers and local clinicians documented the number of children from AMAO with illnesses—including diarrhea, pneumonia and malaria. During my trip, I taught the caregivers about hand washing (based on WHO recommendations) and taught them how to teach. I wanted to create a project that was important and sustainable. Over a week period, the caregivers taught the children at the orphanage. And by the end of the trip, hundreds more were affected.
Before traveling from the U.S., I tried to anticipate everything that could happen. Of course, I ended up with extra copies of quizzes, extra pens and papers. I, however, did not anticipate how quickly the project would capture the surrounding community's attention. At the end of teaching one day, the eldest boys at AMAO asked, "What can we do next?" Unexpectedly, I taught those guys how to teach. These underserved, vulnerable children were then asked to teach the community at the church service the following Sunday and these, now leaders, taught hundreds. The local school headmaster also invited the same group to teach at the local school to hundreds more. The experience was better than I could have ever imagined. Continued research is going on to capture the incidence of illness post-intervention. And of course, I'm trying to figure out where to spread the project next.
— Lauren Rissman (PGY-2)
First Steps, Cebu, Philippines
January 2017
As we looked out the airplane window, we could see green islands scattered across a blue ocean background like painting in which the artist chose to use every shade of green and blue possible to create this work of art. We were on our way to the Philippines to meet with representatives from the government and NGOs in order to work together to address the needs of exploited children in the region. We did not know what to expect, but we were excited to get started!
The days that followed were filled with meetings and interviews, learning about the systems in place to provide protection and rehabilitation to children who had been victims of exploitation. We were impressed with the enthusiasm with which the individuals we met with approached their work. We were privileged to see the inner workings at the intersection of government policy, advocacy, and non-profits working toward a common goal. We were inspired by the possibility of partnering with these passionate individuals and work together with them to provide for the needs of the children they serve.
This is only the beginning. We are planning to return very soon and continue to build on this partnership as we together seek to better meet the needs of this vulnerable population. We have much to learn, but we are grateful for a supportive global health program and mentorship as we navigate this process. We are hopeful that this partnership will contribute to the resilience of the children we serve.
— Justin Jones (PGY-1)
— Ngoc Nguyen (PGY-1)
— Kimberly Petko (PGY-1)
Thailand Experience
April 2015
In April 2015, I had the opportunity to study at King Chulalongkorn Memorial Hospital, a large academic university hospital located in the heart of Bangkok with easy access to all parts of the city via the BTS Skytrain and taxi. I worked with the Pediatric Infectious Disease department primarily, but I also had the opportunity to work with physicians in the Divisions of Pediatric Intensive Care, Hematology/Oncology, Genetics, and General Pediatrics.
I followed the resident's weekly schedule, attending morning report/case conferences, rounds, consultations, specialty and general pediatric clinics. Lectures were done in both Thai/English and the medical staff/residents were very accommodating in presenting their patients in English when I was there. I had many first-hand encounters with patients with confirmed and suspected tropical and regional endemic diseases, such as tuberculosis, meliodosis, dengue fever, typhus, HIV and pneumocystis. I shared my experiences as a resident physician trained in the United States and compared the differences with the Thai medical system in the areas of antibiotic stewardship, public health, and general medical training practices. I also had the unique opportunity to work with HIV-NAT, an organization affiliated with the Thai Red Cross, as a weekend camp volunteer for youth affected by HIV-AIDS. It was a heartwarming experience as I was able to be an active participant in group activities despite language and cultural differences.
During my time, I also had the opportunity to meet and closely work with the pediatric residents and attendings and have made lasting friendships and have expanded my professional network. I had the time to explore the various regions of Thailand on the weekends, became immersed in Thai culture through my experiences at the hospital, dormitory, and surrounding community, and greatly enjoyed Thailand's great cuisine be it in the gigantic shopping mall food courts or down by the river markets. A favorite experience of mine was participating in Songkran, the Thai New Year Water Festival, with the residents in the busy streets of Silom. I had a wonderful month, and I hope that more residents will be able to experience Thailand first-hand.
— Henry Wu, MD (Class of 2015)
Month-long Stay in Mpigi, Uganda
March 2014
Despite the short distance between Mpigi and Kampala, the differences are vast.
Mpigi town is the center of the district and consists of one main road lined with small stores and stalls as well as district offices. There are three small restaurants in town where I ate lunch daily. The menu is limited to a few typical Ugandan dishes such as matooke (boiled plaintain), rice, pumpkin, cabbage, beans, groundnut, and some protein source (fish, chicken, beef).
Electricity is fickle, usually functioning, but shutting off with the slightest change in climate and returning unexpectedly minutes or days later. Water is also a commodity to be valued, as the town may go days without pumped water from the district headquarter. There are no foreign aid or NGOs functioning in the town, thus the people are invariably curious to see foreigners living in the area. Throughout the day people will want to know who you are and what you are doing there; children will yell "Muzungu" (white person) in delight even if you are not white.
The neighborhood in which I stayed was high on the hills above the hospital and overlooking the town. I did a homestay with a young woman, who had a flat within an enclosed compound. Although it was a steep climb at the end of a long day, it was well worth it. I had my own bedroom with a closet, and a door that locked (essential!!), as well as a small plastic desk and chair. I shared a bathroom that had a flush toilet and portable showerhead, though no hot water. Every other toilet facility I saw was a pit latrine (at best). And I much prefer hot water, so I would boil water daily and do bucket showers instead. Cooking took place over a two-burner cooktop attached to a gas tank - no electricity required! The outdoor area of the compound was a nice place to socialize with neighbors and better still as a private place in which to wash and hang dry my clothes, which was a necessary daily occurrence.
My daily work consisted of going to the hospital around 9am for inpatient rounds. I typically participated in both adult and pediatric rounds. Rounds were an interesting event; they never took place at the same time daily and were led by a different clinician daily. Given the poor medical documentation, histories were frequently repeated. As nearly zero vital signs were documented (or taken!), I would often insist on doing them during rounds. The constraint of resources typically prevented ideal medical care from being administered, and there were several instances in which I disagreed with the plan put in place by another clinician. Several of our patients were referred to the National Referral Hospital in Kampala given the lack of resources and severity of illness of the patients.
After wards, I participated in outpatient clinic and/or administer my surveys. I needed a translator for the completion of my surveys, who also recruited participants. He and I would also go on home visits to see pediatric patients who were recently discharged, and to observe their home environments as part of my research into environmental risk factors for diarrheal illness.
The vast majority of these patients lived in more rural areas, requiring transportation to get to town and to the health center. They typically lived in one or two room brick/wooden houses where children did not often sleep on mattresses and there may or may not be mosquito nets available. Cooking was done outdoors in a single pot over a small charcoal burner. Toilet facilities were separate from living facilities and were usually pit latrines (i.e. squatting to urinate/defecate in an opening amidst a concrete slab). Water was obtained from as far as 90 minutes away from various sources such as boreholes, protected wells, or springs. I did not meet anyone who had piped water into [his or her] dwelling.
Home visits were by far my favorite experiences of the trip. It was a humbling privilege to be invited into a family's home life, with complete trust and gratitude on their part for a doctor visiting them at home. After my most memorable home visit, my translator and I were starting the long walk back to town, when we heard one of the children yelling and running toward us. He caught up with us and subsequently presented me with a sugar cane a foot taller than myself. I did not want to accept it, as it was one of the family's cash crops, but I knew it to be rude to refuse. It was the sweetest gift I have ever received, pun intended.
— Lily Chattopadhyay, MD (Class of 2015)
First Few Days at Hospital Obaldía in David, Panama
February 2014
Emily and I decided not to fly from Panama City, but to take the bus to save more money. It was only $15 and 7 hours, so while it did eat up a day it was cost effective and offered us a beautiful tour of the Panamanian countryside.
When we arrived, one of the residents, Ivan, met us at the front desk and showed us to our room. There is Internet here, though it is not very strong and many social media sites are blocked. The accommodations are basic but have everything you could need: bunk beds (bring your own pillow and sheets — heavy ones for the air conditioning), a private bath with hot water from 7 a.m.-7 p.m. roughly, a free laundry room down the hallway and a kitchen with a microwave but no stove. Our meals are provided for from the cafeteria downstairs, but there is also a supermarket/price club/mall right down the street within a 15-minute walk.
On our first day we got a tour of the hospital. It is 9 floors and each has a different pediatric subspecialty. Emily and I were surprised it was only a women's and children's hospital. [We] were expecting adult medicine as well, but it is all geared towards children. The chief resident, Waldo, took us on a tour the first day and he was excellent at orienting us. Really all of the residents have been nothing but welcoming and nice, taking time to show us shortcuts and cool cases.
We have so far been working in the emergency department and with the school-aged children. Here, the general pediatrics wards are divided by age. We have seen pellagra, snake bites with devastating orthopedic consequences, TAPVR, TB, cases of abuse, histocytosis with pulmonary emphysema, horrible hydrocephalus in an infant and many other things, and we haven't even been on every floor! I myself am excited for the NICU.
Of note, if you don't speak Spanish it would be difficult to rotate here [as] all of the educational lectures are in Spanish and the residents don't really speak English. Emily and I both speak some Spanish, so we have been doing well.
— Joanna Parga, MD (Class of 2014)
Siriraj Hospital in Bangkok, Thailand
November 2012
In November of 2012, we traveled to Bangkok Thailand where we studied at Siriraj Hospital, a large academic university hospital. We worked with the Pediatric Infectious Disease department and had a wonderful experience. We followed their weekly schedule, which included morning report, ward rounds, consultations, HIV/TB/ID clinics, journal clubs and chart reviews. We broadened our knowledge of tropical diseases and regional endemics. In addition, we rounded with the hospitals Infection Control team to get overall exposure to the hospitals approach to handling disease spread. We worked in collaboration with a hospital social worker and were able to spend time with the HIV pediatric patients and their families outside of the hospital and take part in their support group.
We were warmly welcomed by the entire team and worked closely with the pediatric residents, ID fellows and ID attendings. We established an international professional network and made long lasting friendships. We not only learned about healthcare in Thailand, we also were immersed and absorbed in Thai Culture.
— Stefanie Kamen, MD (Class of 2014)
— Alicia Sheen, MD (Class of 2014)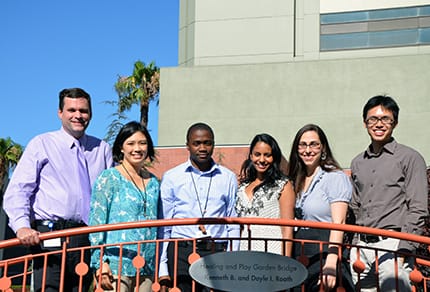 To become a partner, collaborator or mentor, please contact Pia Pannaraj, MD by calling (323) 361-2509 or via e-mail.
Academic Faculty
Children's Hospital Los Angeles
Angelica Benitez, IBCLC
Avaril Supulveda, MS, OTR/L, BCP, SWC, CLC
USC
USC Global Health Program
For more information on global health, visit the USC Global Health website.
The Global Health Track is also proud to host a regular guest speaker series, featuring talks from specialists on a variety of relevant topics and issues.
Click here to view our online lecture database!