Infectious Diseases Fellowship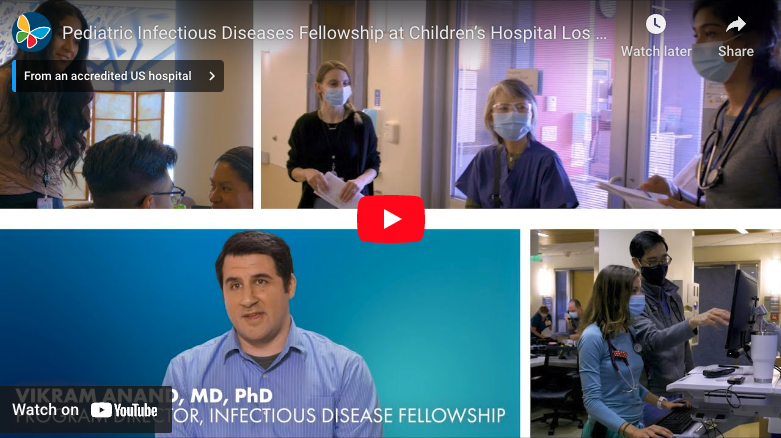 Program Overview
The Pediatric Infectious Diseases Fellowship at Children's Hospital Los Angeles is designed to provide advanced training and broad-based experience for individuals seeking a career in academic pediatric infectious diseases or public health. This is a balanced, flexible, three-year program that provides an optimal environment for fellows to obtain comprehensive clinical infectious diseases training while also developing rigorous research, scholarly, and laboratory skills.
Why Choose CHLA Infectious Diseases Fellowship?
Our pediatric ID fellows have the unique opportunity to develop state-of-the art clinical expertise and learn how to provide superior clinical care at one of the nation's top ten pediatric tertiary care hospitals. The hospital is also a safety net hospital, serving the diverse, multicultural pediatric population of the greater Los Angeles area as well as surrounding regions and states. Fellows also have access to rich learning opportunities at the Los Angeles Department of Public Health and in our internationally recognized Clinical Microbiology Lab. Additionally, while serving an underserved patient population, fellows have access to unparalleled research opportunities and experienced, successful research mentors. Fellows have their choice of basic science, translational, clinical, QI, education, antimicrobial stewardship, infection prevention, public health, global health, and clinical microbiology/laboratory medicine research projects. Additionally, via the Saban Research Center of CHLA and our affiliation with the Keck School of Medicine of the University of Southern California, fellows have access to additional research mentors and opportunities, intramural and extramural research grants, and formal didactic classes (including both certification and master's degree programs). Our goal is to tailor your fellowship training to your specific interests so you can achieve your career and scholarly goals.
Learn More About Our Program
Clinical experience
Over their three-year fellowship, ID fellows will have 12 months of clinical responsibilities designed to mold them into expert ID clinicians ready for independent practice. Clinical service includes both inpatient consultations in the tertiary care hospital as well as the ID outpatient clinic. CHLA is a state-of-the art hospital, and ID fellows will interact with numerous subspecialities, including PICU, CTICU, NICU, oncology and CAR-T/HSCT, solid organ transplantation (liver, intestine, kidney, heart), and multiple surgical services. However, fellows also gain substantial experience with common pediatric infections in healthy patients and with regional and travel-related infections. Finally, our ID fellows also participate directly in the Antimicrobial Stewardship Program, Infection Prevention Program, and Clinical Microbiology Lab. Fellows will have ID faculty supervision and support on all clinical rotations.
Research experience
The Division of Infectious Diseases offers a wide array of research opportunities, and our faculty are engaged in basic science, clinical, and translational research in a variety of fields. Fellows will have the opportunity to participate in National Institutes of Health-funded projects and multicenter collaborative studies. Our fellows have a proven track record of scholarly success.
When you match with us, we start identifying and connecting you with potential CHLA or Keck research mentors who are aligned with your interests.
In your first year, protected research time is provided for refining your interests, choosing a mentor, and forming your scholarly oversight committee (SOC). You will develop your research question and specific aims, complete your literature review, and submit your IRB. All fellows are encouraged to apply for grant funding to gain experience in grant writing. Please note, however, that our fellowship is fully funded, and grant funding is not required.
In your second and third year, clinical time is reduced to provide additional time for developing your scholarly skills. Much of your time will be spent on your primary scholarly project. However, we also encourage fellows to work with their mentor to identify appropriate additional smaller projects and to submit their work for conference presentations and publications. Fellows also conduct a quality improvement (QI) initiative and have additional time to become active on ID division and hospital committees to gain experience in leadership and collaboration.
Teaching Experience
CHLA ID Fellows have robust didactic learning opportunities, including our weekly ID Fellow Lecture Series, weekly Microbiology Lab Plate Rounds, and our weekly ID Clinical Case Conference. We also have a quarterly infectious diseases conference with other ID divisions in Los Angeles. Fellows also participate in a fellowship core curriculum through the CHLA Graduate Medical Education Office. Additionally, ID fellows have numerous opportunities for developing their teaching skills via supervision of other trainees (medical students, residents) on the ID inpatient team and giving didactic lectures and leading journal clubs for the ID division and residency program.
Meet Our Current and Recent Fellows
Dina Kamel
Dr. Kamel went to medical school and completed her pediatric residency training in Egypt before coming to the United States and joining the CHLA ID fellowship program. Her research interests include pediatric and adolescent Long COVID. With her research mentor, she is participating in the NIH-funded multicenter RECOVER research initiative. In her first year, she presented her initial study results at PAS. When not at work, Dr. Kamel enjoys spending time with her husband and 2 young children exploring Los Angeles.
---
Joy Gibson
Dr. Gibson earned her MD/PhD in New York and completed her pediatrics residency at the University of Colorado before coming to CHLA where she initially performed lab research prior to joining the ID fellowship program. Her research interests include pharmacology, Mycobacterial infections, and infections in patients with cystic fibrosis. She earned two Cystic Fibrosis (CF) Foundation Clinical Fellowship Awards during fellowship and has now been awarded a CF Foundation Harry Shwachman Clinical Investigator Award to provide research and salary support as she transitions to a faculty role. She recently joined the ID faculty at CHLA after graduating from her ID fellowship. When not at work, Dr. Gibson enjoys spending time with her daughter and leading her Girl Scouts troop.
---
Sanchi Malhotra
Dr. Malhotra earned her MD in Philadelphia then moved to sunny California to complete her pediatrics residency at CHLA before joining the ID fellowship program. Her research interests include pediatric tuberculosis infection and improving compliance with TB treatment regimens. Dr. Malhotra worked closely with the LA Department of Public Health TB Control to conduct her multisite fellowship research project. During fellowship, she earned a Skirball Fellowship Grant, a PIDS Antimicrobial Stewardship Fellowship Award, and was recognized by the CDC as a 2023 US TB Elimination Champion. Dr. Malhotra recently joined the pediatric ID faculty at UCLA after graduating. When not at work, Dr. Malhotra enjoys traveling and spending time with her boyfriend and adorable cat, Chai.
---
Kaidi He
Dr. He grew up in Orange County before earning her MD in Virginia. She returned home to California to complete her pediatrics residency at Children's Hospital Orange County before joining the ID fellowship program at CHLA. Dr. He's research interests during fellowship were childhood vaccine hesitancy and particularly how it was affected by the COVID-19 pandemic. After fellowship graduation, Dr. He joined a private pediatric outpatient practice in Orange County as both a general pediatrician and ID specialist. When not a work, Dr. He enjoys hiking with her husband and energetic dog, Peenut.
---
Thomas Tarro
Dr. Tarro obtained his MD from Ross University School of Medicine then completed his medicine-pediatrics combined residency at Louisiana State University. He started his ID fellowship at USC but transferred to the CHLA fellowship for additional pediatric ID training. Dr. Tarro's research interests in fellowship included prophylactic antibiotics in patients after the Kasai procedure and infections in transplant and immunocompromised patients. After graduating from fellowship, Dr. Tarro joined the pediatric ID faculty at UCSF Benioff Children's Hospitals and is enjoying living in San Francisco.
---
Program Fast Facts
ACGME Accredited: Yes 
Fellows per year: 1 
Duration: 36 months (12 months clinical, 24 months research) 
Postgraduate Training Required: 3 years 
U.S. Citizenship Required: No, applicants with a visa may apply. Please contact us for more information. 
Salary Minimums:
Post Graduate Year 4: $78,531 minimum
Post Graduate Year 5: $81,677 minimum
Post Graduate Year 6: $84,712 minimum
Post Graduate Year 7+: Compensation will be at the discretion of each division (minimum $87,652)
Benefits Include: Health, vision, dental, and life insurance, 14 weekdays paid vacation + 6 protected paid personal days, yearly educational stipend, monthly meal stipend, 401(k) matching, and yearly housing stipend of $8000 minimum
How to Apply
The Children's Hospital Los Angeles Pediatric Fellowship Program accepts applications via the Electronic Residency Application System (ERAS) and participates in the National Residency Match Program (NRMP). If you are interested in applying, please submit your application through ERAS.
Additional Resources