Extra Life


Extra Life is a community of gamers across the country, both video and tabletop, who come together in support of Children's Miracle Network Hospitals, including Children's Hospital Los Angeles. Similar to a 5K for a cause, Extra Lifers play any type of game to raise awareness and funds for their local hospital.
Since 2010, Extra Lifers have raised more than $2 million for Children's Hospital Los Angeles. Sign up today and dedicate a day of play for the kids at CHLA!
How does it work?
Pledge to play games from your home or online. Play on Game Day, November 5, 2022, or choose your own date to play.
Fundraise & Recruit:
Set a fundraising goal of $100 or more, and choose Children's Hospital Los Angeles as your Children's Miracle Network Hospital. Ask your family and friends to donate to your fundraising and recruit others to join you. You'll also receive fundraising tools to help you reach your goal, and the Extra Life Los Angeles team will share tips and tricks throughout the year.
Play:
Play your favorite games! Raise funds, have fun and help heal kids at CHLA!
How your gaming helps kids
Funds raised through Extra Life are divided between the Children's Fund and the Innovation Studio at CHLA. The Children's Fund is a resource that supports the areas of greatest need at the hospital, which typically are charity care (about 70% of CHLA's patients are on subsidized healthcare or have no insurance) and programs that are not supported by insurance (novel research, Child Life, art therapy, etc.). The Innovation Studio is an in-house tech incubator focused on using technology to innovate pediatric care.
Get your company involved
An Extra Life team is a great way to drive employee engagement. It offers a fun team-building opportunity that connects employees in support of the kids who need it most.
Join the Extra Life Los Angeles Guild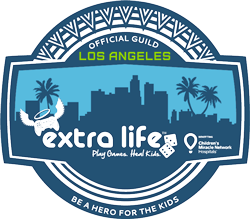 Become a part of the Extra Life Los Angeles Guild. The Guild is a group of Extra Lifers who organize to rally the area's Extra Lifers around gaming and recruitment events throughout the year, including attending conventions, monthly meetings, gaming nights, and the Extra Life United tournament.
Follow the Guild on Facebook, Instagram and Twitter. You can learn more about the Guild here.
Learn More
Program Testimonials
I Extra Life because I want to make sure every child is able to get the care; they deserve especially in this world full of illnesses. I Extra Life to make a difference and to be able to turn a pass time into force for good that allows me to accomplish that is simply amazing.
-Salvador Elizondo, Extra Life Los Angeles Guild Board Member
I've had the privilege of being the Extra Life Program Director for CHLA since 2017, and it's been a true highlight. Extra Lifers bring so much fun and commitment to their efforts to fundraise on behalf of the hospital. The growth the program has seen in recent years is all down to them.
-Emma Standring-Trueblood, Children's Hospital Los Angeles
Webinars
Throughout the year, CHLA hosts webinars to help Extra Lifers learn more about the hospital, the program and best practices. For dates of upcoming events, please check the Extra Life Los Angeles social channels.
Webinar #1 – How Extra Life helps (February 2022)
Webinar #2 – Q&A with a CHLA staff member (May 2022)
Webinar #3 – Fundraising Tips & Tricks (July 2022)
Webinar #4 – Pre-Game Day Q&A (October 2022)
Contact us
Questions about Extra Life? Looking to be a part of the fun? Connect with the Extra Life Los Angeles team at ExtraLife@chla.usc.edu.
Links
About Extra Life
FAQs
Register
Donate to Extra Life
Additional info re CHLA's CMNH partners and programs