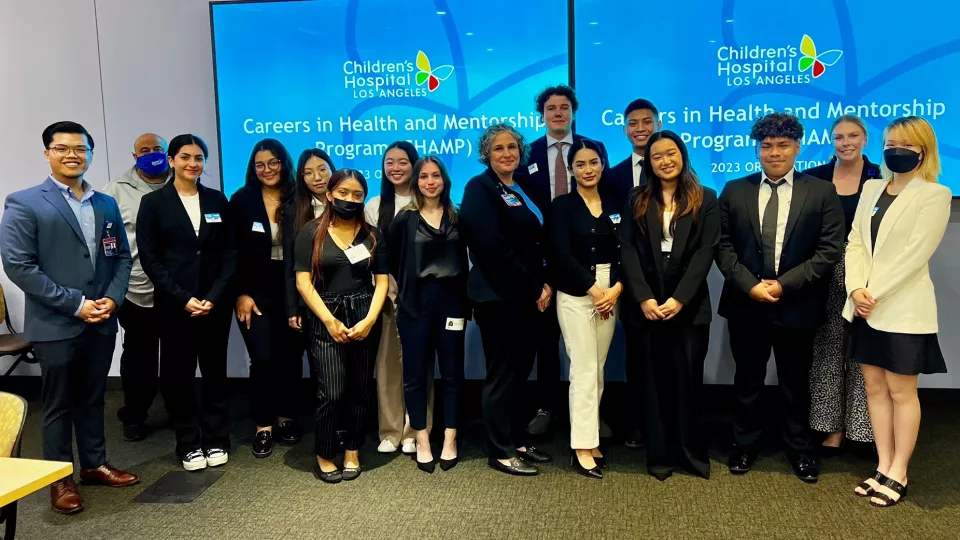 Serving the Community
A New Class of CHAMP Interns: Ten Years of Training the Next Generation of Health Care Leaders
The 2023 cohort of the Careers in Health and Mentorship Program (CHAMP) at Children's Hospital Los Angeles has kicked off, giving young adults the opportunity to gain essential skills and experience on their way to becoming tomorrow's health care leaders—and making a difference in their community.
The 2023 CHAMP Orientation took place on May 22 and was an exciting day for the program's newest interns as well as others in attendance. This year marks the 10th anniversary of the Children's Hospital Los Angeles Careers in Health and Mentorship Program (CHAMP). Organized by CHLA's Office of Community Affairs, CHAMP gives students the opportunity to receive professional guidance and practical experience in the health care setting. Since its launch in 2013, CHAMP has hosted approximately 150 interns, more than two dozen of whom currently work at CHLA in administrative roles.
"The [CHAMP] program and hospital leaders genuinely want to teach you and watch you grow," says George Srapian, MHA, a former intern who currently serves as CHLA's Manager of Strategy and Decision Support Services. "You can feel it in your heart and mind."
Lara Khouri, Executive Vice President and Chief Operating Officer, welcomed the newest "CHAMPers" with inspiring opening remarks, followed by a CHAMP alumni panel, which included Srapian as well as CHLA team members Kevin Lewis, Sonia Badrinath and Ernesto Rodriguez.
Members of the 2023 cohort, who were selected from a large pool of qualified applicants, consist of both undergraduate and graduate students from local and regional colleges and universities. The interns will participate in a monthlong professional development workshop series that will highlight CHLA leaders, followed by a project-based internship involving several teams across CHLA, including Academic Affairs; Pain and Palliative Care; Decision Support Services; Information Services; Research Operations; Diversity, Equity and Inclusion; Patient and Family Experience; and others.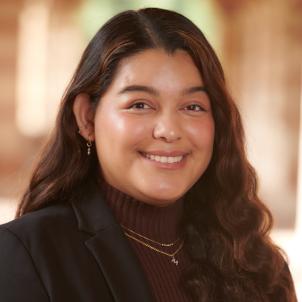 Monica Alferez Merino submitted her application for CHAMP after meeting Children's Hospital Los Angeles President and CEO Paul Viviano at a networking event at UCLA. "We had a great conversation, and I learned so much about CHLA," Merino says. "It reinforced my interest to be part of the internship."
When classes resume in the fall, Merino will continue pursuing her master's in public health with a focus in health policy and management at UCLA.
"I knew that I wanted to work in health care from a young age—when I realized the health disparities present in my community were affecting the health of my family due to lack of access and equitable health care services," she says. "I am very excited to be mentored by the health care leaders that are doing impactful work at CHLA and gain valuable skills that will prepare me to become an impactful public health professional."